5 New York Knicks Who Won't Be Happy with Roles and Minutes Next Season
Jeff Zelevansky/Getty Images
The Knicks will trot out an improved team next season, but some guys are going to be frustrated about their roles on the team.
That's what happens when you put together a deep roster of veteran players. Guys who want to be focal points of the team are pushed to the periphery, and players accustomed to getting significant minutes are marooned at the back end of the rotation.
Managing egos is part of a coach's job. Though Mike Woodson may keep much of the dissatisfaction from leaking out of the locker room, he's going to have to talk to these five guys at some point during the season.
Pablo Prigioni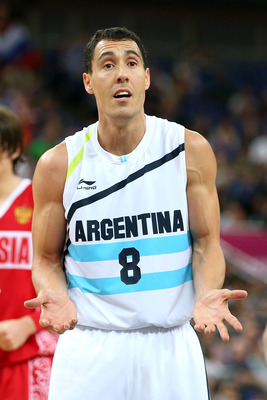 Christian Petersen/Getty Images
This seems like precisely the type of situation Pablo Prigioni has tried to avoid.
Coming to New York as a 35-year-old rookie, Prigioni has crafted a productive career for himself in the Spanish ACB League and for the Argentinian national team.
So why come to the States now? In an interview with ESPNNewYork.com, Prigioni sheds some light on his relationship with the NBA from abroad.
Q: Why did you feel it was the right time to play in the NBA this season, and not continue playing overseas?
Prigioni: After many years in Europe, the only way to go up in my career was the NBA. It was very important the interest that the New York Knicks showed me. They chose me and they were sure that I can contribute with the team.

Q: Were you close to joining the NBA in the past? If so, what happened?
Prigioni: Three years ago, I had a chance to play in the NBA. But I finally got to play with Real Madrid because it was a really good team.
For all the interest the Knicks supposedly paid the point guard, he's still buried on the depth chart behind Raymond Felton and Jason Kidd. If the opportunity to play for a winner drew him away from the NBA before, the Knicks won't give him that chance now. The Knicks may win, but barring an injury, Prigioni will spend the twilight of his career riding the pine.
Kurt Thomas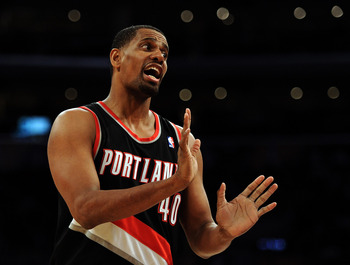 Harry How/Getty Images
Kurt Thomas' return to New York will likely be sullied by another Knick's second stint.
Marcus Camby and Thomas are both back, getting traded from the Houston Rockets and Portland Trail Blazers, respectively, but in decidedly reduced capacities.
In Portland last season, Camby started at center and played 22.9 minutes per game, while Thomas played 15.2 minutes as his backup.
Both of those figures are set to decline this coming season.
With Tyson Chandler playing over 30 minutes per game last season, Camby's playing time won't drop too much, but he won't be averaging over 20 minutes anymore.
As for Thomas, he'll join Prigioni in the third stringer's section, seeing the court sparingly and making his contribution mostly off the court. For a guy who made a career banging around in the paint, Thomas looks like he's going to go out with a whimper.
Jason Kidd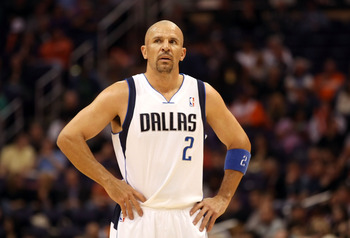 Christian Petersen/Getty Images
Even if we put aside Jason Kidd's recent DWI, his first summer as a Knick has not gone according to plan.
Before he had even officially inked his Knicks contract, Kidd told ESPNNewYork that the opportunity to play for a contender and to mentor a young point guard drew him to New York.
"You look at their roster, you've got some great pieces," Kidd said. "With the intention of signing Lin back, I saw that I can help. Hopefully, (I can) help them win and help Lin. He's a talented point guard, so at this stage of my career, I just felt that I could help those guys win."
Just one problem: Jeremy Lin is in Houston now, and Kidd is backing up Raymond Felton.
Though it's not what he'd had in mind, things can still work out for Kidd. He'll get his 20-25 minutes, and his playoff experience will be invaluable next spring. However, should the Knicks struggle out of the gate, Kidd could be left wondering whether New York has anything to offer him.
J.R. Smith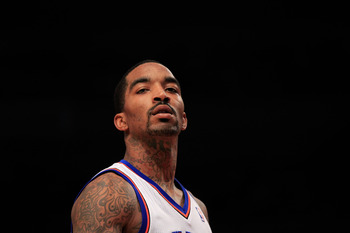 Chris Trotman/Getty Images
With Iman Shumpert out for the first chunk of the schedule, J.R. Smith's season could go one of two ways. Unfortunately, none of them end happily for him.
Behind door number one is a scenario in which Woodson puts an emphasis on replacing his sophomore shooting guard's defensive ability.
In that case, Smith would still get north of 20 minutes per game, but he would be in a timeshare with newly-acquired stopper Ronnie Brewer. Not only would he likely be offended for not getting an earnest opportunity to start, but once Shumpert returns, he'd be splitting backup minutes with Brewer and possibly Kidd.
After starting just seven NBA games in the last three seasons, Smith would want something more. But what if he gets that starting opportunity in Shumpert's absence?
Well, basically the same way. Shumpert is brimming with potential and is the future at shooting guard for the Knicks. Unless Smith shows a level of production previously unseen in his professional career, he'd end up on the bench once again, forced to go from temporary starter to the reduced minutes of a role player.
Smith may not have proven his skills over the course of his eight-year career, but he has certainly displayed his confidence in them. If there's a starting job available and he ends up coming off the bench, one way or another, he will not be happy.
Amar'e Stoudemire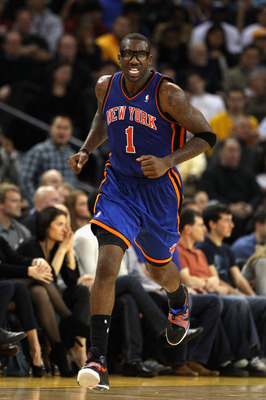 Ezra Shaw/Getty Images
Right now, Amar'e Stoudemire is saying and doing all the right things.
He spent two weeks taking a crash course in post offense with Hakeem Olajuwon, as per The New York Times. "This is the most engaged I've seen him in years," Stoudemire's agent Happy Walters gushes. "He likes the post. He's always wanted to play there, but he doesn't have the moves that would give him that option," his post guru says.
Stoudemire sought out Olajuwon's help at his coach's suggestion, as Woodson's halfcourt offense will not facilitate STAT's pick-and-roll prowess the way Mike D'Antoni's system did. There's no doubt that Stoudemire wants to help his team and is willing to go out of his comfort zone to do it.
The question is whether he really wants to play in the post.
"He could have posted up, but he was so successful," is how D'Antoni staffer Phil Weber puts it. At the same time, if he really wanted to play in the paint, he could have sought out some post training before. That he has not indicates that this career transformation is something he is doing for his coach and his team, not for himself.
It seems like ages since the days when Stoudemire was the primary scoring option in New York. If the team is winning and he is productive in the post, he'll be happy. But if his two weeks with Olajuwon don't translate into post proficiency and the Knicks struggle in the halfcourt, Stoudemire will yearn for the days when the Knicks were his team.
Keep Reading

New York Knicks: Like this team?