Stock Up, Stock Down for Every Buffalo Bills Positional Unit This Preseason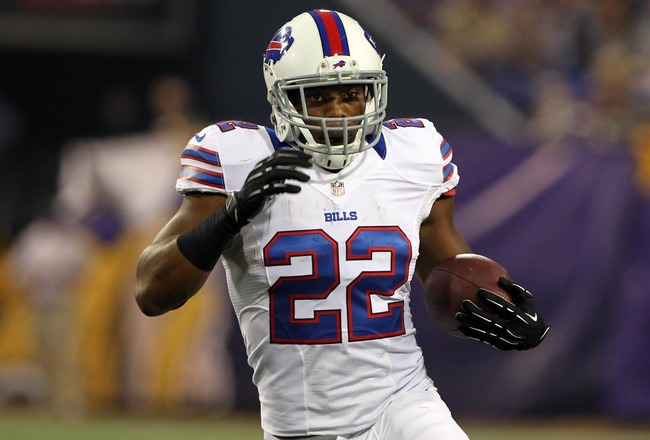 Brace Hemmelgarn-US PRESSWIRE
The Buffalo Bills are halfway through the 2012 NFL preseason, losing their first two games in unexciting fashion. But what really matters is the progress that has—or, in some cases, hasn't—been made at each positional unit.
Though the Bills would like to be 2-0 right now, Chan Gailey and his team understand that the real value of this part of the year is working out the kinks. The Bills have been experimenting with play-calling and personnel as they try to best prepare for the regular season.
Naturally, some positional units have progressed more rapidly than others, and some units still have more work to do than others.
Read on to see which positional units have their stock up and which have their stock down at this point of the preseason.
Quarterback: Stock Up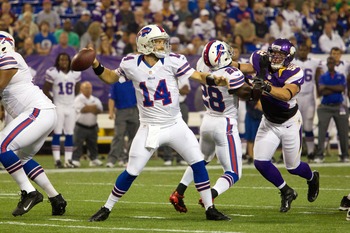 Brad Rempel-US PRESSWIRE
On the surface, it may not seem like the Bills' quarterback position's stock is up. Starter Ryan Fitzpatrick is 14-of-25 (56 percent) for 119 yards and one touchdown through two preseason games. Not terrible, but not spectacular either.
And up until before Week 2's matchup with the Minnesota Vikings, there was no favorite to back him up between Vince Young and Tyler Thigpen.
However, beneath the surface, things are improving at quarterback. And it begins with the starter.
Head coach Chan Gailey has given Fitzpatrick more responsibility heading into the regular season, as evidenced by the no-huddle offense Buffalo showcased in Week 1. For a respected offensive play-caller like Gailey to relinquish some of his duties says a lot about his faith in Fitz.
Also, Vince Young finally made a push to win the No. 2 job with a poised showing versus the Vikings. He dropped a beautiful deep ball into rookie T.J. Graham's hands downfield for a 64-yard hookup. That pass alone should convince the coaching staff to keep Young ahead of Thigpen.
Speaking of Thigpen, he's losing ground on the depth chart, and though the team plans to ride with Brad Smith as the third quarterback, he too has looked unimpressive throwing the ball.
But the big news is improvements at the top with Fitz entering year three in Gailey's offense and Young beginning to make some strides as his backup.
Running Back: Stock Up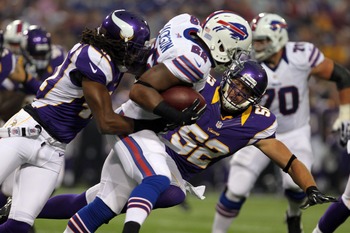 Brace Hemmelgarn-US PRESSWIRE
The Bills haven't run the ball very much so far, especially with the first team. In fact, the team ran the ball exactly zero times in the first quarter of the preseason opener, passing on 16 consecutive plays, per Mark Gaughan of the Buffalo News.
That changed in Week 2, as the very first play on offense was a handoff to Fred Jackson.
With two feared runners in Fred Jackson and C.J. Spiller, Bills fans can rest assured the team will be running the ball plenty come September.
Jackson is fully healed from a broken fibula that ended his 2011 season prematurely, and he looks as good as ever. Meanwhile, Spiller's confidence has risen and he's improved his all-around game, especially pass protection and blitz pickup.
This tandem should have a very successful year and will be a big part of Buffalo's success on offense.
Not to be forgotten, Tashard Choice and Johnny White continue to battle for reserve spots. If both Jackson and Spiller can stay healthy, neither will see much playing time on offense.
Fullback: Stock Down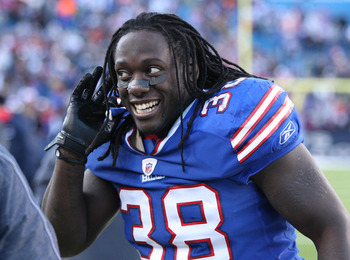 Luc Leclerc-US PRESSWIRE
Nothing against big Corey McIntyre, but the team has hardly used the 33-year-old fullback so far in the preseason.
It's not like Big Mac needs a ton of reps. He's a veteran who is a powerful blocker, and the Bills know what they're going to get out of him.
At the same time, McIntyre's skill set doesn't match Gailey's spread offense very well, and the Bills are going to use a lot of two-back sets with both Fred Jackson and C.J. Spiller on the field at the same time.
That doesn't leave a ton of room for the fullback to see snaps.
When he's lead-blocking for the runners, he shines. The question, though, is how many opportunities he'll have to do so in 2012.
Wide Receiver: Stock Up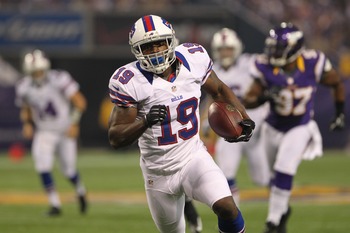 Brace Hemmelgarn-US PRESSWIRE
Steve Johnson has been full-go since being cleared to play after his groin surgery. That is great news for Johnson, the Bills and Bills fans everywhere.
The wide receiver position was a hot topic throughout the offseason, as Buffalo was looking for a consistent complement to Johnson out wide. With an exciting yet unproven group of young players, everyone wanted to see who would step up—or whom the team would bring in.
So far, it's been Derek Hagan, who has taken advantage of every opportunity he's had to win the No. 2 wide receiver job. David Nelson is consistent in the slot. And Donald Jones has also looked great, which hasn't gone unnoticed by Chan Gailey, per Mark Ludwiczak of CBS Sports.
The wild card here is rookie T.J. Graham, the Bills' third-round pick in this year's draft. Buffalo actually traded up to select the speedy wideout, and he's been having a great camp so far.
The news isn't so good for Marcus Easley, who continues to fall behind on the depth chart. After struggling with health issues his first two seasons, Easley has fought hard to gain ground. But he just hasn't made enough plays.
There's a ton of depth at receiver for Buffalo, and it's nice to see some of the guys stepping up. Gailey and his staff will have some tough decisions to make for the 53-man roster, but that's a good problem to have.
Tight End: Stock Up
Timothy T. Ludwig-US PRESSWIRE
Buffalo Bills beat writer Joe Buscaglia of WGR 550 Buffalo recently nominated tight end Scott Chandler as the co-MVP (along with Kyle Williams) of Bills camp. He writes:
Easy catches, tough catches in traffic -- it doesn't matter. Chandler has roped everything in and become one of Ryan Fitzpatrick's favorite two targets. He looks primed to have a better season than his last one.
Chandler has great size and very underrated hands. He's been exceptional during camp thus far, and it sounds like he should continue to see plenty of targets from Fitz—especially in the red zone.
The depth isn't great behind him with Lee Smith and Kevin Brock fighting for reps. Meanwhile, H-back Dorin Dickerson is clawing for a roster spot as well, and he's a good fit in Gailey's system as a speedy pass-catcher who can line up in different spots.
But Chandler's strong showing thus far is great news for the offense. Take note, fantasy footballers.
Offensive Line: Stock Down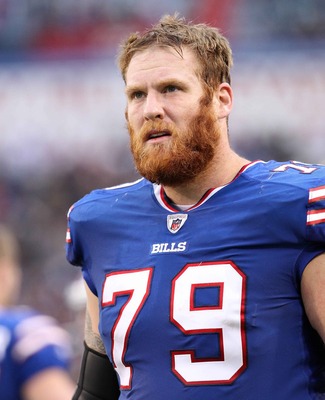 Timothy T. Ludwig-US PRESSWIRE
Despite having so many different offensive line combinations in 2011, Buffalo's offensive line was actually one of the league's best, giving up the fewest sacks in the NFL. It also led the way for a strong run game.
So this isn't a bash on the unit.
Instead, the Bills are eagerly trying to establish some consistency with the big guys on the line. Starting right tackle Erik Pears and starting center Eric Wood have missed a lot of time thus far. They finally made their debut against the Vikings in Week 2 of the preseason and played limited snaps.
In addition, rookie left tackle Cordy Glenn is still developing on the blind side. He's played well and has a bright future ahead, but he has some things to work on.
Buffalo will really need this unit to gel quickly, especially if the offense is going to use more no-huddle plays. They're certainly capable of performing even better than last year, and hopefully that progress will speed up now that Pears and Wood are back in the lineup.
Defensive Line: Stock Up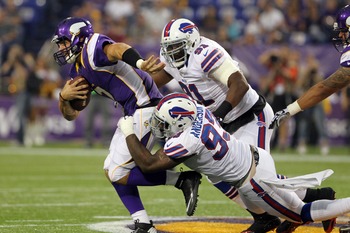 Brace Hemmelgarn-US PRESSWIRE
There's no surprise here. The defensive line is expected to be a strength of the defense in 2012, and so far there's no reason to doubt that.
Marcell Dareus and Kyle Williams each had a sack on the first drive against Minnesota's first-string offense this week. Seeing them push the pocket inside is a great sign, since Mario Williams, Mark Anderson, Chris Kelsay and Shawne Merriman will combine efforts to provide some explosion off the edge.
The staff will need to make some tough decisions with this unit prior to the regular season. Veterans Dwan Edwards and Spencer Johnson are due a good amount of money this year, but they still offer valuable depth.
On the other hand, Torell Troup's time may be running out if he can't finally get healthy, and Alex Carrington has not been able to do much in the new 4-3 other than slip further down the depth chart.
With Kellen Heard also making a push for a roster spot, this should be a very deep group in 2012.
Linebacker: Stock Down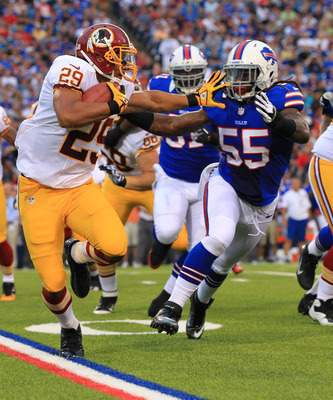 Kevin Hoffman-US PRESSWIRE
With the linebacking corps widely considered the weakest positional unit on the team throughout the offseason, the Bills are hoping to get enough production from it and the secondary to mask their deficiencies at linebacker.
Per WGR 550 Buffalo's Joe Buscaglia, Arthur Moats has been "flying up the depth chart" and "he's now considered the slight favorite to win the starting job" on the strong side.
Second-year pro Kelvin Sheppard will handle starting middle linebacker duties, while Veteran Nick Barnett is plugged in at weak-side linebacker.
Though the starting unit isn't terrible, the depth is thin. Veteran Bryan Scott is officially shifting down from safety this year, so his versatility should be an asset. Kirk Morrison, too, is a dependable player on the strong side.
But the Bills are young otherwise and not exceptional at any one spot. Scott McKillop and Tank Carder are battling to back up Shep in the middle, while rookie Nigel Bradham is hoping to contribute on more than just special teams.
The defense as a whole should be improved this year. Hopefully defensive coordinator Dave Wannstedt can make things work with the guys he has at linebacker in the new 4-3.
Cornerback: Stock Up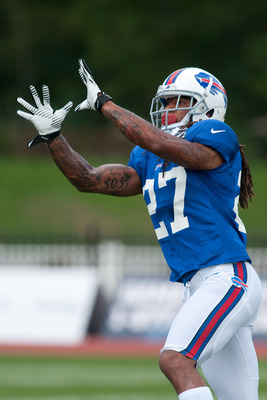 Mark Konezny-US PRESSWIRE
Rookie cornerback Stephon Gilmore has had a terrific camp, flashing all the physical skills and intangible qualities that made him Buffalo's first-round pick this year. He's entrenched as one of the starters and should line up on No. 1 wideouts in his first year in the league.
The Bills also get Aaron Williams back this season, who has been flashing his physicality so far during the preseason. Another rookie, Ron Brooks, has impressed as well.
A lot of the attention has been on veteran Terrence McGee, who has lost a lot of reps to the youngsters due to injury. When healthy, McGee is a quality corner, but over the past few seasons he just hasn't been healthy very often.
Then there's Leodis McKelvin, the former first-rounder who is scrapping to stick on in the final year of his rookie deal. With Justin Rogers emerging last season and Prince Miller looking pretty good, McKelvin has his work cut out for him. He has a couple weeks left to make his case.
With newfound depth and talent at the position, Buffalo is working hard to build a competitive core of corners for the foreseeable future. Playing behind an improved defensive line should only help.
Safety: Stock Up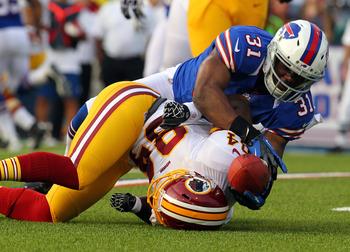 Timothy T. Ludwig-US PRESSWIRE
With the recent emergence of undrafted rookie safety Delano Howell, the safety position has only gotten stronger than it already was.
Bills lead journalist Chris Brown notes his progress on Buffalo Bills.com:
Bills Assistant GM Doug Whaley, who scouted Howell at Stanford last fall, knew the safety had the mental makeup. He's just been impressed with how in a very short period of time he's taken his assignments from the playbook to the field knowing Howell missed OTAs and minicamp.
If Howell can prove to be a contributor in the secondary, he will join forces with current stars Jairus Byrd and George Wilson, along with Da'Norris Searcy, who has been impressive in his own right so far this offseason.
Much as they are at cornerback, Buffalo is beginning to establish some quality depth at safety that the team figures to build around in the coming years.
Specialists: Stock Up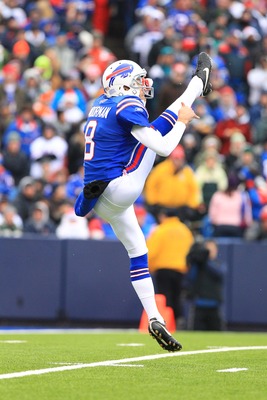 Kevin Hoffman-US PRESSWIRE
Punter Brian Moorman placed the ball very well in Buffalo's first two preseason games. A fan favorite and a proven player for several years, he has had no trouble holding off undrafted rookie Shawn Powell.
At kicker, rookie John Potter continues to fight for a roster spot with his booming kickoffs that sail out of the end zone. But he won't be taking away any place-kicking duties from Rian Lindell. Without Lindell toward the end of last season, the Bills got confirmation of just how valuable a dependable kicker is, especially at the Ralph.
And the team has plenty of talented returners to headline a quality special teams group. They just may not get as many opportunities with the way the kickoff rule has limited return chances.
Keep Reading

Buffalo Bills: Like this team?