UCLA Football: What Brett Hundley Brings to the Table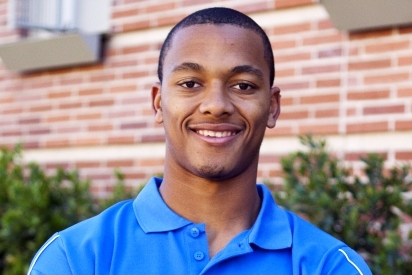 Courtesy of Daily Bruin
For the UCLA Bruins, redshirt freshman quarterback Brett Hundley represents both the present and future.
The Chandler, Ariz. native hasn't taken a snap on the collegiate level, yet there's tons of hype sitting on the signal caller's shoulders. Hundley is expected to shore up perhaps the weakest position on the entire roster and one position that has been problematic—to say the least—for the past decade.
So without further ado, let's take a look at what UCLA's new starting quarterback brings to the table.
Begin Slideshow

»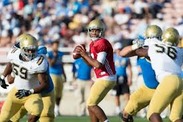 Courtesy of Los Angeles Daily News
Hundley was recruited by former head coach Rick Neuheisel, partly due to his running ability.
The pistol offense is predicated upon zone reads and having the ability to "take off" when the pocket collapses, and Hundley certainly has the ability to do so.
With offensive coordinator Noel Mazzone's spread offense being incorporated, Hundley's ability to use his legs will definitely be showcased and utilized.
The current state of UCLA's offensive line is shaky, at best. Expected starters Jeff Baca, Alberto Cid and Greg Capella are currently sidelined with various physical ailments (concussion-like symptoms and a calf injury).
In addition, the embattled group is relying on sophomore Xavier Su'a-Filo as a lynchpin at left tackle. Su'a-Filo is undoubtedly the most talented member of the unit, but he hasn't played football in over two years due to serving an LDS mission.
As it currently stands, the starting five for the season opener at Rice would include a player who hasn't played in years, a walk-on (Brett Downey) and three redshirt freshmen (Jake Brendel, Torian White, Ben Wysocki) who've yet to see action in a collegiate game.
Hundley's ability to evade defenders and escape the pocket when it breaks down is paramount.
With the offensive line being such a question mark, expect Hundley to be utilized not only on quick throws but also on roll outs and play action plays.
His elusiveness is key—especially to compensate for a beat-up and subpar offensive line. His running capability will give the Bruins an added dimension absent in recent years and offer an exciting outlet, should a play break down due to pressure from the opposing defense.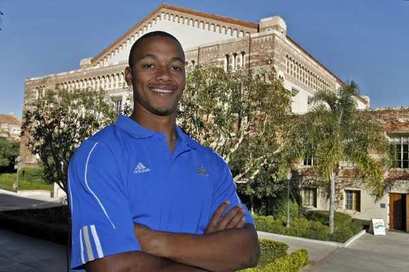 Courtesy of LA Times
The UCLA fanbase is in serious need of some excitement on the gridiron. The product delivered to the Bruin faithful has been uninspiring and downright boring at times.
With Hundley, he offers potential greatness with his ceiling.
Not only is he a former 5-star prospect, but he's also a pre-med major. That combination of talent from a physical and intellectual standpoint has got to excite the UCLA fan base.
At 6'3", 223 pounds, he's very impressive from a physical standpoint. He's got a very strong arm, but also runs a 4.5 in the 40-yard dash.
Hundley has the ability to be the best Bruin quarterback in recent memory. As a redshirt freshman with no actual game experience, it'd be foolish to think that his transition from the sidelines to the field will be completely without any bumps in the road.
However, he has the talent to make the team markedly better this upcoming season.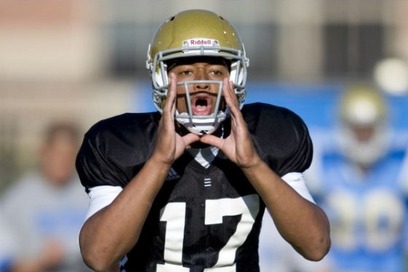 Courtesy of OC Register
Last season, the UCLA pass offense was nothing short of anemic.
A group led by seniors Richard Brehaut and Kevin Prince ranked second-to-last in the conference in both passing yards and pass attempts per game.
Some of that had to do with the conservative nature of the former staff, but much of it had to do with a lack of ability at the position.
If the Bruins are to ascend from mediocrity, they have to throw the football with more efficiency and effectiveness. Play at the quarterback position has been a key reason as to why the program has fallen so much.
Thus far in the fall camp, Hundley has commanded the huddle well, and he's shown a maturity far beyond his years. He's also displayed great awareness in terms of reading what the defense is giving him.
To temper expectations a bit, Hundley isn't expected to be the second coming of Andrew Luck right off the bat. Nevertheless, a certain amount of pressure will exist. Play at the position has been quite pedestrian for years, and Hundley hopes to reverse that trend this season.
Some of that pressure is alleviated, however, knowing that the redshirt freshman quarterback has potential all-conference performers in senior tailback Johnathan Franklin and senior tight end Joe Fauria to rely on. The duo should help in the transition of having Hundley gain experience on the collegiate level.