Washington Nationals: 5 Reasons to Listen to Leo Mazzone on Strasburg Mess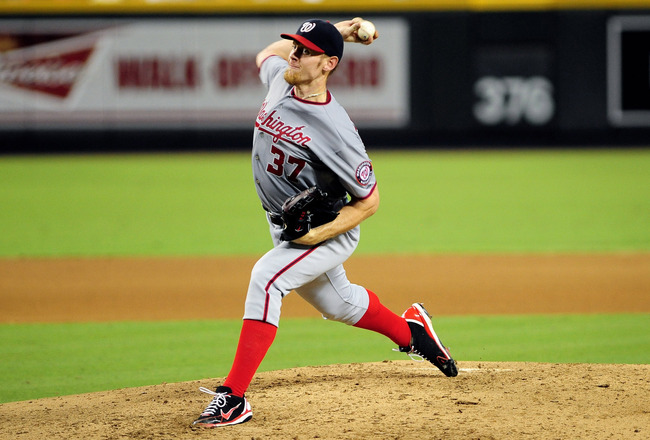 Jennifer Stewart-US PRESSWIRE
At this point in the season, even the most casual of baseball fans is likely aware of Stephen Strasburg and the infamous innings limit that has been placed upon him this season.
The Washington Nationals and general manager Mike Rizzo are determined to look out for their young phenom, and they will do whatever it takes to keep him healthy in the long run.
At 75-46, the Nationals own the best record in baseball and will likely be making a strong push for the National League pennant this season. Much of their success this season has been because of stellar pitching, and Strasburg has been one of the many dominant arms the team possesses.
With Strasburg shut down, the Nationals have one fewer weapon at their disposal every fourth game in the postseason. Replacing Strasburg with Ross Detwiler is a clear downgrade, and one that the Nationals may not be able to afford to make.
Regardless, the innings limit is in place. Although there is no set mark, Rizzo has been adamant about shutting Strasburg down.
Many different baseball personalities have their own take on the subject, but former Atlanta Braves pitching coach Leo Mazzone has perhaps been the most outspoken.
First, Mazzone's Take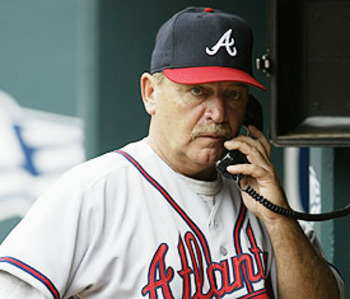 For those of you that are not yet aware of Mazzone's take on the subject, here's the audio file from his interview on 95.7 The Game in San Francisco.
If you'd rather read the transcript of the interview, you can do so here.
So, now we can all see that it's quite clear how Mazzone feels on the subject—words like "pathetic" and "ridiculous" come to mind—and it's safe to say that he's not alone. Fans, coaches and players alike likely share his views.
With the Nationals owning a legitimate shot at the World Series title this season, they would be very smart to listen to Mazzone.
1. Mazzone Has Dealt with Young Pitchers Before
Let's briefly go back to 1991.
Mazzone, the pitching coach for the Braves, led a young trio of pitchers into the thick of the postseason.
These three starters—Steve Avery, Tom Glavine and John Smoltz—were very important pieces of a team that made it to Game 7 of the World Series.
That season, those pitchers totaled 210.1, 246.2 and 229.2 innings, respectively.
While Glavine was 25 and Smoltz was 24, Avery was just 21 at the time.
Now, we'll fast forward to 1993.
With the Braves trying to keep up with the San Francisco Giants in the National League, Avery gave Mazzone some encouraging words. Now 23 years old, Avery told Mazzone "we don't get going until we get to 150 [innings]."
Mazzone had success with the Braves pitching staffs of the 1990s, mostly through treating the young pitchers like established veterans by stretching them out and allowing them to pitch deep into the season.
2. Strasburg Has Been Dominant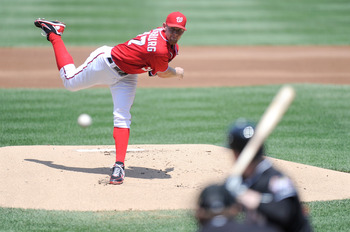 Greg Fiume/Getty Images
The fact that Strasburg has been dominant in nearly every start this season needs no explanation. Just look at his statistics.
He owns a 14-5 record with a 2.91 ERA through 139.1 innings.
Over 139.1 innings, he has struck out 173 batters and sports a WHIP of just 1.127. He has struck out a league-leading 11.2 batters per nine innings, and he also owns an impressive home-run rate of 0.8 per nine innings.
To take it even further, opposing hitters are hitting just .225 against him on the season.
Strasburg and his electric stuff have been firing on all cylinders through his 24 starts this season, and there's no reason to believe that he'll slow down once he tosses 20 more innings.
3. You Can Limit Him Without Shutting Him Down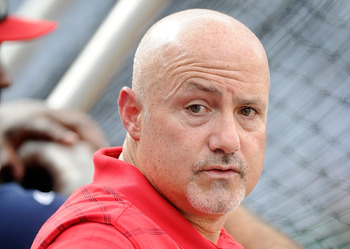 Greg Fiume/Getty Images
Rizzo has always been adamant about completely shutting Strasburg down when he reaches a certain innings mark.
He does not want to skip him in the rotation, he does not want to limit him to five innings per start and he definitely does not want to shut him down now and then reactivate him for the postseason.
Rizzo wants to treat Strasburg like a "normal" starting pitcher—that is, until he reaches his innings limit.
While I'm not a fan of shutting him down now and then reactivating him later, I like the idea of limiting his innings per start. This could potentially earn him an extra start or two down the line.
I think the best way to handle the situation, though, is to treat Strasburg like the Chicago White Sox have treated Chris Sale.
Although Sale is not coming off of Tommy John Surgery, the Sox have taken great care of their prized left-hander. To date, he has tossed 145.2 innings.
Most of those innings have come as a starter, but every so often, manager Robin Ventura will put Sale in the bullpen for about 10 days or so. This gives him time to recuperate while still staying on a regular throwing schedule.
He gets to keep fresh, help the team and limit his innings at the same time.
If Strasburg has to have his innings limited this season, I like the White Sox's method from here on out.
4. They're World Series Contenders!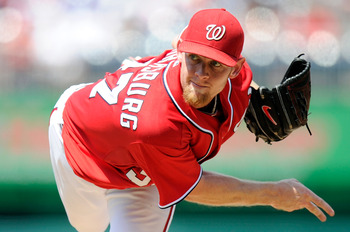 Greg Fiume/Getty Images
The Nationals are in unchartered territory in terms of success this season.
They were the first team in baseball to 75 wins this season and own the best record in baseball.
They have overcome countless injuries throughout the course of the season, and they are now in great shape to finish the season on a strong run. With most of their veterans healthy and ready to play, there's plenty of reason to be excited in Washington.
When a team has a chance to win the World Series, the GM had better be extremely sure of himself if he is making such a risky move with the team's best pitcher.
I admire Rizzo for being so keen on keeping Strasburg healthy in the long term, but it's hard to argue with a shot at winning the World Series. While most of the team should remain intact for next season, there's no guarantee that they'll be in the position that they are in right now come 2013.
The game of baseball is all about winning the World Series, and that's something that the Nationals have a legitimate shot at doing.
I'm not saying that shutting down Strasburg will destroy Washington's title hopes, but it will certainly make it significantly harder to accomplish.
5. It Could Be Lethal to the Team's Morale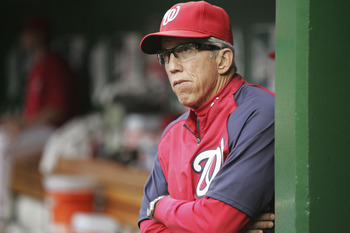 Jonathan Ernst/Getty Images
Davey Johnson has done a fantastic job managing his club to the best record in baseball despite all the controversy surrounding Strasburg, the injuries and Bryce Harper's early call-up, but his biggest challenge yet could be rallying his team together after Strasburg is shut down.
While the staff boasts a collection of very strong pitchers, it's clear that Strasburg is the most talented of the group. With the best pitcher on the team shut down as the playoffs near, the players may be upset that their chances of winning this season have gotten worse.
Right now, the players are playing hard because they know that they're working on something special in D.C. With a good mix of veterans and young stars, the Nationals are clearly headed in the right direction as a franchise.
That being said, no combination of veterans would be able to increase the team's morale after having their best pitcher shut down in the thick of a pennant race because he reached an innings limit that was never actually given a solid number.
Who knows? The Nationals could be 100-percent fine in Strasburg's absence. On the flip side, they could also get significantly worse every fifth day.
Keeping Strasburg active and pitching is the best thing for Washington to do at this point. Sometimes you have to sacrifice the long term to win now, as there's no guarantee as to what could happen in the future.
Keep Reading

Washington Nationals: Like this team?