Alabama Football: 7 Guys Who Need to Finish Camp Strong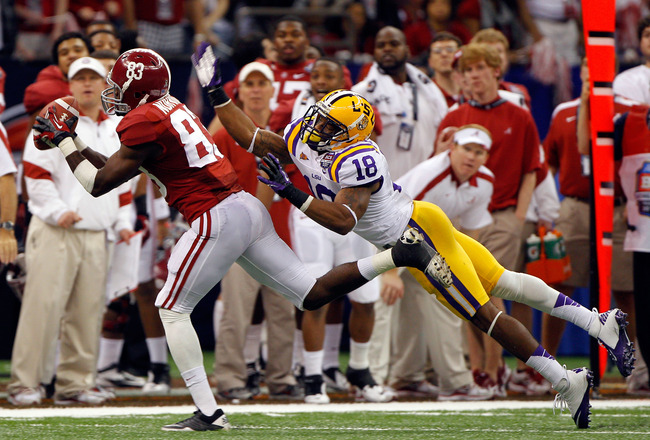 Chris Graythen/Getty Images
Fall football camp is the place where heroes are born. It's a place where collegiate careers can be either built or broken. At Alabama, the difference between being limited to special teams play and being a starting linebacker can often be minuscule. Fall camp is the time where coaches will make decisions like these.
It is also where the tone for an entire season is set. Alabama is in what could be called a transition mode. Numerous superstars were lost to the NFL and newer, less experienced talent is replacing them. The success of the Alabama program this season will depend on the quality of its leadership, and head coach Nick Saban is looking to his most seasoned veterans to make the transition an easy one.
The Alabama coaching staff is watching closely to see who is going to step up for the Tide this season. They are looking for leadership as well as big-time players in key positions.
The month of August will answer these questions for Saban and Company and those who finish strong will surely reap the rewards. With this in mind, let's take a look at a few young men who need to finish camp on a positive note.
Jalston Fowler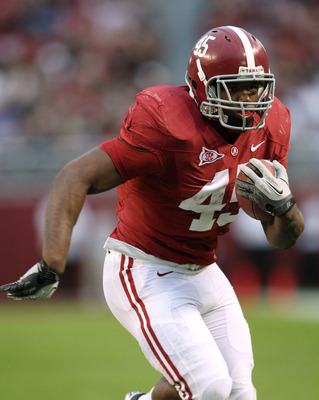 Mike Zarrilli/Getty Images
Alabama is going to have the advantage of using four quality running backs this fall. Junior Eddie Lacy is the incumbent starter going into the fall while freshmen T.J. Yeldon and Dee Hart have both worked hard to earn playing time also.
Junior Jalston Fowler is trying to make sure that there is enough sugar in the bowl for him to get his share of carries as well. Fowler came to Tuscaloosa with less hype than any of his three fellow ball-carriers. He is not quite as flashy and he does not have significantly blazing speed.
Sure, Fowler was pretty impressive in limited playing time last season, but that was often against second-string opponents. Assuming that Lacy holds on to the feature back role, Fowler will need to hold off both Hart and the quick learning Yeldon to get quality carries.
If he fails to hold off the freshmen, Fowler may never be more than a third-down or mop-up back at Alabama. Fowler needs to finish camp at the top of his game, earning the right to play backup to Lacy or to at least keep himself in the top two if he wants to see daylight in the form of carries.
Kevin Norwood and Kenny Bell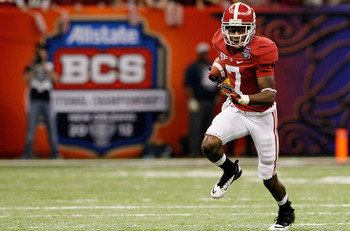 Kevin C. Cox/Getty Images
Alabama comes into the 2012 season without any of its top five receivers from a year ago. Juniors Kenny Bell and Kevin Norwood have been impressive in both spring and fall practice thus far in effort to cement their respective places in the starting lineup.
Like Fowler, Bell and Norwood came to the Capstone with less hype than some of the newer talent that is circling the Alabama practice field like vultures, just waiting for their chance to dive in and get their piece of the pie.
These two are now halfway through their collegiate careers but have combined for only 28 career receptions. Sophomores Christion Jones and DeAndrew White will be joined by a pair of all-planet recruits who would love to topple Bell and Norwood off their places on the playing time ladder.
They have paid their dues and waited their turns, but fall camp is where Bell and Norwood need to separate themselves from the newcomers and claim their rightful place in the starting lineup. If they don't, and starting jobs are lost, there is a good chance they will never be regained.
Freshmen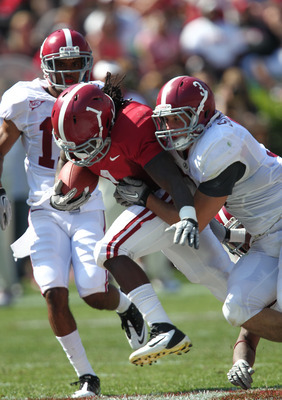 Marvin Gentry-US PRESSWIRE
Eddie Williams, Amari Cooper, Dee Hart, T.J. Yeldon and Landon Collins all have quite a bit in common. They are all freshmen at Alabama. They all have tremendous pedigrees. They all are likely to see playing time this season. And they all have the potential to be freshman All-Americans.
Unfortunately for them, though, Alabama has some serious talent in front of them, reluctant to give up any playing time to some freshman. Each of these youngsters is likely to be a household name in the next couple of years (not that they aren't already in some Alabama circles), but to become one as a freshman would be quite a feat.
Yeldon and Cooper have been notably impressing the coaching staffs since spring practice and are most likely to join the elite first, but with strong fall camps, any of these five can earn their way into the starting rotations quickly.
Remember, freshmen are like Christmas presents. They are instant favorites as soon as they arrive, but if it takes too long to get the wrapper off, they may never even make it into the toy box.
Barrett Jones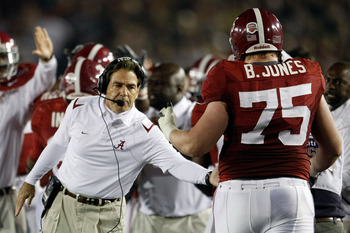 Jeff Gross/Getty Images
All-American offensive lineman Barrett Jones is one of the men who Saban will look to for leadership. He has been a leader since he arrived in 2009 and has been one ever since.
Jones remembers what it was like to win a BCS title as a freshman, only to lose it a year later as the team was admittedly over confident and under-focused. It is the senior that Saban will expect to show the team what it means to "finish." One of Saban's many mantras, the term "finish" has been rolling out of the head coach's mouth since he arrived on campus in 2007.
Like A.J. McCarron and Nico Johnson, Jones needs to finish fall camp strong—not for his own benefit—but for the benefit of the entire team. If this group makes it back to yet another BCS title game, it will be in large part due to the leadership of guys like Jones.
Adrian Hubbard and Trey DePriest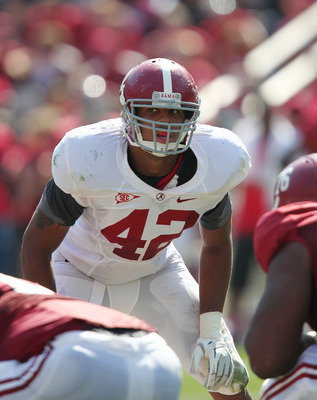 Marvin Gentry-US PRESSWIRE
A pair of sophomore linebackers, Adrian Hubbard and Trey DePriest have both caught the attention of the coaching staff this fall. Hubbard was expected to emerge as one of the Tide's new generation of defensive studs this season, while DePriest has impressed through his play more than many expected him to.
Alabama has a long line of superior linebackers that goes back for generations. Both Hubbard and DePriest have the ability to etch their names in the Tide history books along with their linebacking forefathers, but must take advantage of the playing time they each will get this fall in order to do so.
Saban has already lined up a highly touted class of linebackers behind them, so the window of opportunity is unlikely to be open for too long. As all 'Bama fans know, jobs are both won and lost on the practice field and if these two have hopes that are as high as their fans', they need to "finish" their way to the top of the heap in fall camp.
Phillip Ely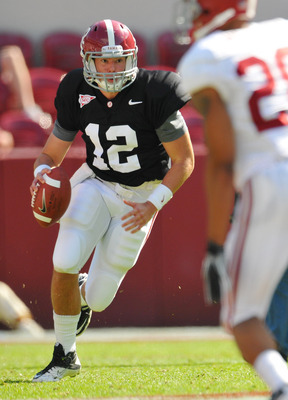 Kelly Lambert
When backup quarterback Phillip Sims left Alabama this offseason to seek brighter pastures at Virginia, Alabama was left with A.J. McCarron and, well, not much else. Freshman Phillip Ely has seemingly earned the role as backup to McCarron much earlier then even he might have expected. If McCarron were to go down to injury, Ely would likely be left to run the Tide offense.
Ely comes to Alabama relatively unheralded by most measures, and was not ranked among the top 30 quarterback recruits by any of the major recruiting services. Still, his high school performance was impressive enough for Saban to give him a scholarship and that's good enough for me.
Fortunately, the Alabama offensive line, arguably the best in the nation, should be able to protect McCarron and keep him on the field. But right now is the time for Ely to earn the trust and respect of his teammates. If anything were to happen to McCarron, and Ely were to be shoved into action with little or no notice, he would need his offense to believe in him in order to succeed.
Cade Foster and Jeremy Shelley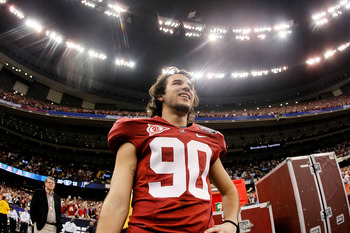 Kevin C. Cox/Getty Images
As good as the Alabama offense has been for the last three seasons, the ability to perform in the red zone has been one of the most troubling concerns. Place kickers Cade Foster and Jeremy Shelley have been handling the kicking game, with Foster taking the longer kicks while Shelley has handled extra points and kicks under 40 yards.
Still, the two have had their troubles, particularly in the first LSU game last season in Tuscaloosa where the Tide missed more field goals than they care to remember. Enter freshman kicker Adam Griffith. From Calhoun, Georgia, Griffith was one of the most sought-after high school kickers in the land a year ago and would just love to upset the apple cart by earning his way onto the field as a freshman.
Foster and, probably more importantly, Shelley, will have to be at the top of their game in order to fight off the youngster if they wish to maintain their roles in the Alabama offense. Griffith is the future of the Alabama kicking game, but the two returning kickers would prefer to delay his debut for another year.
Keep Reading

Alabama Crimson Tide Football: Like this team?