7 Reasons Charlie Manuel Needs to Keep His Job as Phillies' Skipper for 2013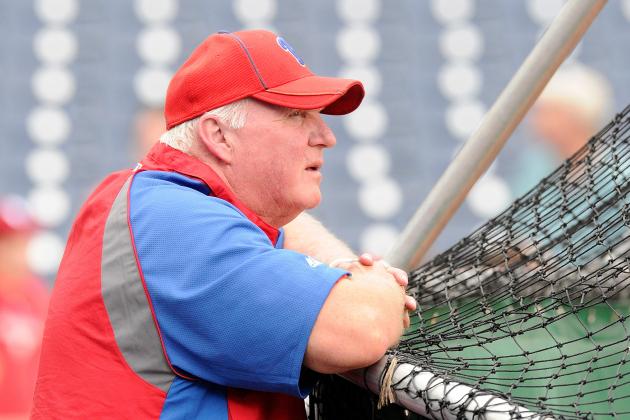 Greg Fiume/Getty Images

With the way the Philadelphia Phillies 2012 season is going, it should really come as no surprise that seven-year skipper Charlie Manuel's managing decisions have been questioned.
As typically happens when a team is underachieving the way many believe the Phils have this year, Manuel has found that his job is anything but safe.
Of course, the record and overall inconsistent play has been a source of concern for the Phillies and their fans. Manuel just hasn't been able to get the job done this year with the players that he has had to work with. He has done the best that he could, but as critics will say, there is a lot that he could have done differently.
Who knows if the Phillies would be looking at making the playoffs if Manuel did things a little differently? No one really and with the bullpen's utter failures, it is hard to believe that any manager could have made this a playoff-caliber team.
Part of the reason why Manuel's future with the team is in question is because of Ryne Sandberg.
Currently managing the Phils' AAA affiliate, the Lehigh Valley Iron Pigs, Sandberg, despite having just four years of minor league managerial experience, has already been tabbed as the potential successor to Manuel. The players are high on him and he was recognized as the 2011 International League Manager of the Year.
For the Phils and the fans, promoting Sandberg could seem like the perfect choice. After all, he was already scouted by both the St. Louis Cardinals and the Chicago Cubs, the organization Sandberg built his Hall of Fame career with, for jobs last year. The Phillies had to sweat it out and wait as fortunately neither team chose him.
The Phillies, who made the regretful decision to trade the young Sandberg when he was just a prospect in the system, are not going to make the mistake of letting him leave again. They are committed to giving him a chance as right they should.
It just shouldn't be next year, though.
In order to thoroughly explain why Manuel deserves to keep his job, the best way to do so is to compare him to Sandberg, his would-be successor. After the comparisons, it should be clear that Manuel, and not Ryno, should be the Phillies manager at least until his contract expires following the 2013 season.
Begin Slideshow

»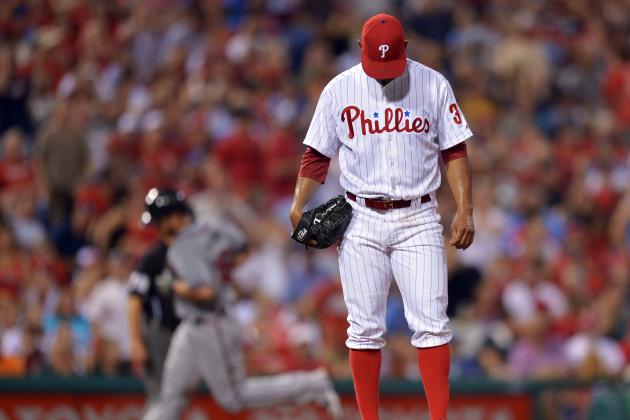 Drew Hallowell/Getty Images

In 2008, the Phils had one of the best bullpens in the entire league and no doubt won the World Series because of it. From top to bottom, every member of the pen was absolutely phenomenal, so much so that the MLB Network decided to feature the Phillies bullpen in the one-time series, "The Pen."
It is somewhat ironic that the Phillies bullpen was featured in a reality show because this season, the implosion of the once 'perfect' pen has felt anything but realistic.
The scene is the complete opposite as it was four years ago as every single person that has spent time in the Phillies pen has been somewhat of a disappointment, perhaps with Jonathan Papelbon, who has had some struggles as well, being the one and only exception.
It is really not fair to single out any individual performances because as a whole the bullpen is as shaky as imaginable. All season long, fans have held their breath when Cliff Lee or Cole Hamels or Roy Halladay didn't go at least eight innings. Kyle Kendrick and Vance Worley typically only go about six, so in each of their starts, the nightmare that is the bullpen has been a factor.
A sign of how bad this pen has been is the fact that of the Opening Day roster, only three (Papelbon, Bastardo and Kendrick, who is once again a starter) remain with the team. Since that time, guys like Josh Lindblom, brought over in the Shane Victorino to the LA Dodgers trade, and Sandberg's own Iron Pigs in Jeremy Horst and Raul Valdes, have had shots to make the team.
Some of the implants have stuck, others have been worse than their predecessors and some are still with the team for the sheer reason that they are the best of the worst of what's readily available.
While I will acknowledge that Manuel has made mistakes with this pen, I have no blame for him in this department. Sure he could have left Kendrick in during a game against the Atlanta Braves instead of putting in Bastardo who gave up a grand slam to Brian McCann, which sadly I had the pleasure to witness in person.
The problem, however, is that every team needs a bullpen. Kendrick has had ups and downs this season and leaving him in for that extra inning, let's just say would have been a gamble in and of itself. Hamels, Lee and Halladay also can't be expected to go eight or nine every time out. The bullpen exists because these guys need a break, too.
So maybe these players were good enough in AAA with Sandberg, but Manuel as the manager has had no effect on their lackluster performance. Simply put, the 2012 pen is out of place. It is a pen good enough for the minors, but its AA and AAA performers just haven't cut it in the big leagues.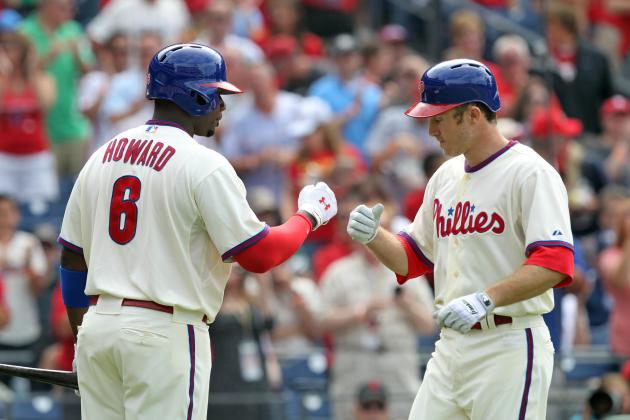 Hunter Martin/Getty Images

Another obvious reason why the Phillies have had a mediocre season is the fact that both Ryan Howard and Chase Utley spent about half of the season on the DL and that Roy Halladay missed significant time as well.
In losing Howard and Utley, the Phillies were without the two players that have been the team's biggest and most proficient run producers since the beginning of the Manuel era in 2005. Howard's entire career has spanned that time, and most of Utley's, including his MVP-caliber 2007 season, have occurred under Manuel as well.
Utley and Howard are the heart and soul of this team. Without them, not only did the line-up look bare, but a lot of the confidence, swagger, personality and passion of this team was missing. It was almost as if the players knew things were going to be rough without these two and that they overcompensated for this at the plate.
Hunter Pence and Shane Victorino were tasked with picking up some of the power numbers, but unfortunately, it didn't fully work out as planned. Pence had his ups and downs and Victorino was just flat all season. As a result of the miniature fire sale, both of these players found themselves traded before the end of July.
The biggest criticism on Manuel is his reluctance to play small ball. He himself was a power hitter in Japan and has brought that philosophy over to his managerial career. Fortunately for him, he had guys like Howard, Utley, Pat Burrell and Jayson Werth that were certified home run bashers. When these players were gone, however, Manuel looked almost lost.
He still refused to play small ball and there is no doubt that this hurt the Phillies. He could not adapt to the personnel he had and as a result the team limped to the break, obviously trying to summon power they just didn't have.
In terms of the Sandberg comparison here, he has played a bit of small ball down in Lehigh Valley and unsurprisingly it has put the team in a great position for the International League playoffs. He seems very equipped to adapting to this style, while Manuel on the other hand does not.
It may seem like a knock on Manuel, but it is actually for this very reason that Manuel needs to be the manager of this team in 2013.
Both Howard and Utley are under contract for 2013 and both should be back healthy and ready to go for the start of the season. These two are Manuel's guys and with them back in the line up the illusion that Phils should be playing small ball really goes out the window.
So with these two coming back, there is no reason that Manuel shouldn't, either, because in a full season with these two and a better bullpen, this team once again should find themselves in the playoffs.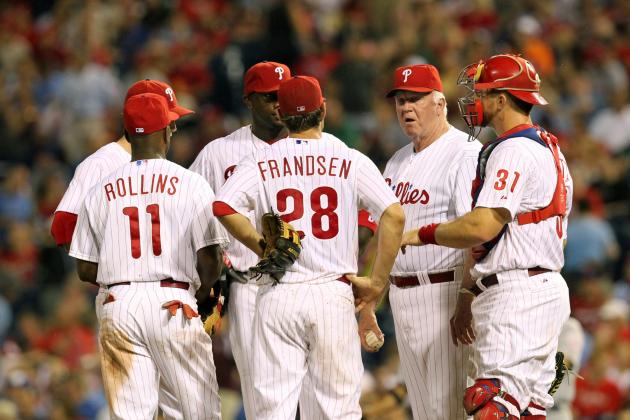 Hunter Martin/Getty Images

When it comes down to it all, sports are really a matter of, 'what have you done for me lately?"
As a result, it seems that everyone is so willing to forget that in seven years as the Phillies skipper, Manuel has really only had one bad season. He managed this team to the playoffs when Ryan Howard, Chase Utley and Cole Hamels were just breaking through and during a period that was very transitional for the Phils.
In his first few years, he did a lot with a very little and made it so that big-name players once again wanted to call Philadelphia home.
Essentially what I'm trying to say is that Manuel has really been a bright spot for this team.
He brought a new style and was proclaimed a "players' manager." In his first year with the team, Manuel's coaching experience won out and his team with a handful of nobodies and rookie unknowns came just one game away from the playoffs. In 2006, despite the phenomenal and unanimous MVP campaign of Ryan Howard, Manuel's team once again finished just outside of the playoffs.
2007 however was a different story as the Phillies with a strong close to the season finally made it back to the playoffs. Although they were swept by the Colorado Rockies in the NLDS, the Phils resolve and determination didn't waver.
Following '07, the Phillies have made the playoffs every year including winning it all in 2008 and setting a franchise high in wins in 2011. Through all of these seasons, through all of the transitions, Manuel has been at the helm.
Sandberg, on the other hand, has only led a minor league team to a first place finish once. He does not have the experience nor the resume to take over. Plus, 2012 is the first hiccup in Manuel's time with the Phillies.
Obviously, there is criticism against Manuel because of the Phillies' recent playoff slump. Despite making the playoffs since 2007, the team peaked in 2008 and have been climbing down the ladder ever since.
There is no excuse for this in terms of player personnel and Manuel himself has admitted to overworking Cliff Lee in September, perhaps causing his slip up in the NLDS against the Cardinals.
Some of the playoff failures however have also been the cause of just bad offense. Game 5 of the NLDS is the perfect example as with ace and top five finisher in the NL Cy Young voting, Halladay was on the mound. He lost the game to Chris Carpenter by a score of just 1-0.
Like I said before, when things go wrong the manager is often the first to get the blame. Anyone on the outside can say that he could have made different decisions, like maybe pinch hitting for Halladay but if he had, I think it would have gotten more criticism, as you don't pull your ace when he is pitching a game as well as he was.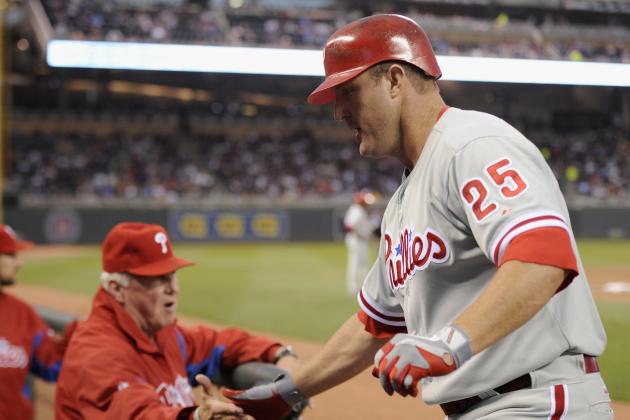 Hannah Foslien/Getty Images

"Charlie stood by all of us. Charlie built confidence in us. Charlie pounded his fist on the table and (said) 'I believe in these guys. I want these guys on our club. "He instilled confidence.... 'When you go to home plate, you're the man, YOU'RE the guy.' "Charlie has been very, very special to me throughout my career. I dedicate a lot of those home runs to him because he's been there with a lot of confidence. And in times of struggle he built us up and pep talked us." - Jim Thome, Phils former 1B courtesy of Yardbarker.com
Coming from Jim Thome, this quote says a lot.
Many people don't know this but when Manuel was first working in the Cleveland Indians organization, his attention was not on the then 18-year-old Thome but rather another first baseman as it was believed that Thome didn't have the skills to be an everyday player.
When Manuel saw Thome's commitment and how he was learning from the tips Charlie was giving to the other first baseman, Manuel came to a realization and as he said in an interview with philly.com: "'Hey, man, I've been working with the wrong guy."
Over 600 home runs later, I think it is safe to say that Manuel made the right decision to put his focus on Thome and away from the other prospect, Mike Davis.
Although this story obviously happened a long time ago, it is something that still stands today. Players like to play under managers that believe in them and that trust in their abilities. Manuel is this guy.
It is for this reason that the Phillies have had an incredible winning record of over 60 percent during the second half of the season under Manuel. It is for this reason that he is a good manager to lead both rookies and seasoned vets and perhaps most importantly, it is for this reason that if anyone can make Domonic Brown a major league player, it is him.
Now for all of the praise Manuel has gotten as a "players' manager" there is also a fair amount of criticism. Most notably is the fact that Manuel's loyalty has sometimes been detrimental to the team including his insistence on batting Jimmy Rollins lead off, despite his reluctance to work out walks and his poor on-base percentage.
While I do agree that Manuel may be over loyal in some instances, I don't necessarily think this is a bad thing. Sure with Rollins it hasn't worked out, but there have been tons of other players that have benefited from this style including guys like Wilson Valdez and more recently Eric Kratz and Kyle Kendrick.
Manuel is not quick to give up on guys and it helps build confidence. I really can't state it any better than Thome in that Manuel gives the players what they need to succeed. He pushes them to be their best and as Jim stated, gives them the necessary confidence.
Now that is not to say that Sandberg does not do this as well. From the likes of Kratz, Kevin Frandsen and Brown, all former Iron Pigs have been quick to praise their former manager as he too has been dubbed a "player's manager."
Both guys are managers that players seem to want to play under, something that cannot be undervalued these days. Both are motivational and of all the reasons for Manuel stay, this might be the one that is really a toss up between him and Sandberg. I still have to give the edge to Manuel, however, because of his experience factor.
Plus Thome's comments kind of speak for themselves.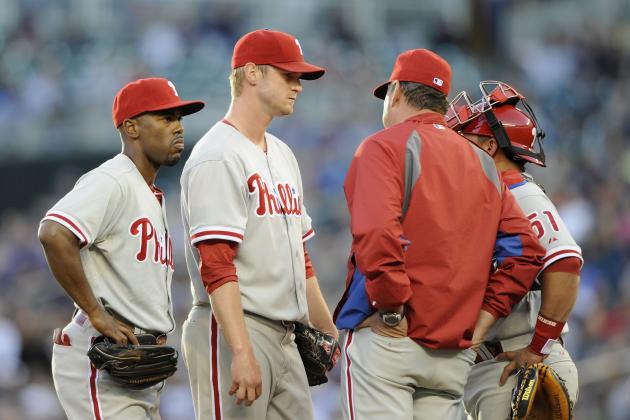 Hannah Foslien/Getty Images

Baseball teams nowadays can be likened to melting pots. They are composed of both young and old, rookies and veterans, and of course players from all over the country and all over the globe. For this reason, a baseball manager needs to be relatable.
They need to have a managing style that can be translated and transferred from player to player. They also need to be able to offer more help to certain players and to offer trust in those that have it together.
Charlie Manuel has proven that he is this kind of manager.
Over the course of his managing career, he really has had the opportunity to manage a variety of different players and in all of his time, no one player has really professed excessive criticism for his style of managing.
He has shown the ability to be a teaching manager. For rookies and for other young players, Manuel has instilled confidence. He works with players and helps them to define their skills.
As he proved with Thome, sometimes even the roughest players can become major league greats and this is something that Manuel has been known to stress.
With the veterans and the All-Stars, Manuel has been the kind of manager that the players can go to for anything. It can also be said of Manuel that although he is a players' manager, he does check egos at the door. It really is a big part of his career success that he has never had to deal with clubhouse cancers.
Despite his age, Manuel really is able to relate even to the youngest players. He is a big part of the reason why Domonic Brown and Kyle Kendrick for example are still with the team as he does not easily give up or write off players.
Although neither of these players are going to end up like Thome, both of them have seen some recent progress, no doubt at least partially coming from the confidence and pep talks Manuel has recently given.
"He (Kendrick) responded good," Manuel said. "That's what we talk about. We talked about the consistency part. At times, he's shown you he can be good. He can be very good." - courtesy of The Chicago Tribune
What is interesting and another showing of his managerial talents is the fact that these two players are at different points in their careers and Manuel has been able to help them in the way that best fits them. For Kendrick it was reassurance and confidence, and for Brown it has been more of a teaching method.
The point I am trying to make is that Manuel has experience working with these players and has shown that he knows how to handle them. Not that Sandberg doesn't or that he won't, but it only makes sense for him to spend at least one season as part of the coaching staff so that he can learn his personnel before he becomes the manager.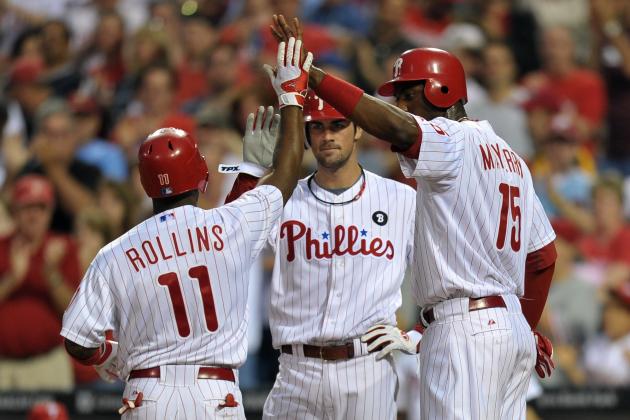 Drew Hallowell/Getty Images

Ever since GM Ruben Amaro made the now well-known statement that the team is not rebuilding but retooling, many have questioned what exactly this really means for the future of the organization. His way of explaining was simple, that it is about improvement and about winning.
"It's my job to try to put the pieces together in the right fashion," Amaro said. "We have a lot of decision to make, but the one thing that is clear is that we're committed to winning. We're committed to bringing another championship if we can do that. And we're committed to continue to try to improve, whether it be during the course of this deadline, whether it be beyond that in the off season, our job in the front office is try to do what we can to improve the club." - courtesy of Phillyburbs.com
Certainly talk about improving the club is something that Amaro has stressed since day one. His commitment to winning can't be questioned and although it meant having to part with Shane Victorino and Hunter Pence, his decisions to trade these two shouldn't be questioned, either.
Going along with the retool, rebuild issue is the fact surrounding Manuel and his contract. Personally, if the Phils are in fact retooling or reloading as Amaro says, then it makes absolutely no sense to part with the manager now.
Manuel has been the guy at the head of the reins ever since the last "retooling" phase took place. At the time, the Phillies organization was focused on improving the team and doing what they could to bring a championship to the city. As it turned out, this worked and unlike Larry Bowa, the man Manuel replaced, I do not think Charlie has yet worn out his welcome.
Although it is hard for many Phillies fans to admit, it seems the window to win another World Series Championship is closing and that it could be shut tight as soon as next year. It only makes sense then that the man who brought the franchise its second championship stay on board for at the very least the duration of his contract.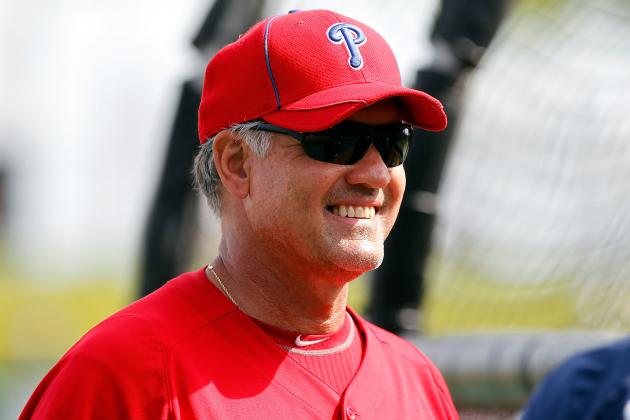 J. Meric/Getty Images

Maybe more important than all of the reasons Manuel needs to stay are the reasons why Sandberg is not quite ready for the job. Most importantly, is the lack of major league experience, something Sandberg could garner spending just a year with the coaching staff.
Rather than just give him the reins to the team as his first major league coaching job, it only makes sense for the Phillies to give him a chance to be a coach first. This offers multiple benefits not the least of which include getting much needed experience and of course the opportunity to really get to know the other coaches and players he could one day be managing.
An interesting spot for Sandberg could be as a hitting coach as it is unlikely Greg Gross will be brought back next season based on the offensive struggles of the team.
Not only would this give Sandberg an opportunity to learn the players, but it would also give him a chance to influence the style of play and to begin to have a say in the decisions of the team.
Another opening that could work well for Sandberg is as the bench coach. From this position, Sandberg would be Manuel's No. 2. He would be his top adviser and would even get the chance to step in when Charlie gets thrown out. This would probably be the perfect learning position for Sandberg but the only problem is that Pete Mackanin currently holds the job.
Promoting Sandberg obviously means someone has to lose their job. Right now however, I just don't think that should be Manuel. Upgrading Sandberg to the major leagues should be enough to keep him with the Phils and not taking a manager job with another team.
Sandberg has expressed a desire to manage with the Phillies, and the organization has expressed a desire that they don't want to lose him.
"One of my goals is to be at the major-league level, and right now the Phillies are close to my heart as far as having this opportunity and going back to the place where they originally drafted me," Sandberg said. "I enjoy the organization and the people I've been around the last two years. There are a lot of familiar faces going to way back when. In a lot of ways, it would be the ultimate to get that chance here." - courtesy of philly.com
One day Sandberg will get this chance and I for one do hope it is with the Phillies. It just shouldn't be in 2013. He needs experience and who better to learn the reins from than the guy who has led the Phillies to five straight playoff appearances, a World Series Championship and who has the most wins all-time of any Phillies manager?