Colts vs. Steelers: Live Preseason Week 2 Report Card for Pittsburgh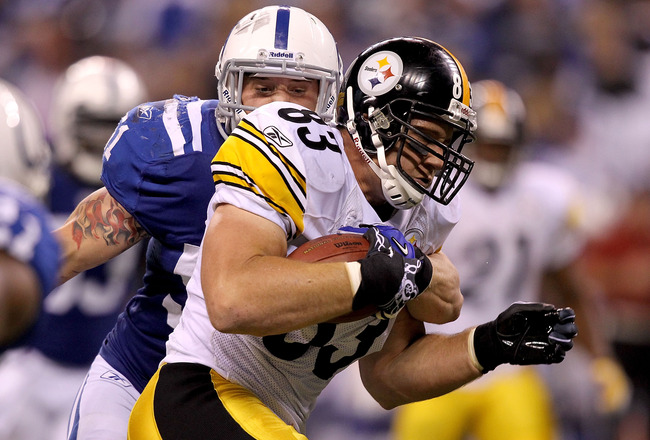 Both the Steelers and the Colts were very different teams when they met in the 2011 regular season.
Matthew Stockman/Getty Images
The Pittsburgh Steelers host their first preseason game of the year on Sunday night, taking on the Indianapolis Colts.
This game is rife with interesting storylines. It marks the return of former Steelers offensive coordinator Bruce Arians to Pittsburgh, operating under the same capacity for the Colts. It's the second time we'll be seeing Colts rookie quarterback, Andrew Luck, and the first time he'll face one of the league's best defenses.
And with questions still lingering about the Steelers' offensive line, run game and young receivers, it is hoped some of them will be answered tonight.
Throughout the game, I will be providing live, quarter-by-quarter grades for the Steelers' offense, defense, special teams and coaching, and once the game is over, I'll be highlighting players of note, both good and bad. So keep it here for all of your Steelers' preseason analysis.
Offense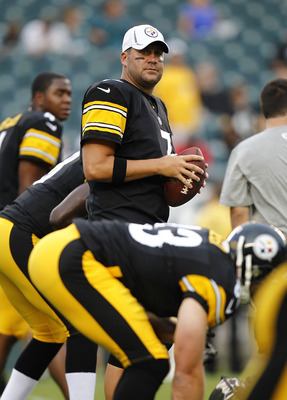 Can the Steelers' new new-look offensive line keep Ben Roethlisberger's jersey clean?
Jeff Zelevansky/Getty Images
Q1: A-
The Steelers' offense were operating on their Plan B in terms of the run game, so it was unsurprising we saw a heavy dose of the run in the first quarter.
Most unsettling, however, is the Steelers having to rapidly switch from Plan B to Plan C, with speedy hybrid receiver/running back Chris Rainey suffering an apparently head or knee injury. That meant lot of handoffs to Jonathan Dwyer at the beginning of the first quarter.
Rainey, however, came back in near the end of the first, in a surprising and also positive development.
In the passing game, it was a mixed bag of results. Quarterback Ben Roethlisberger threw a foolish interception to Colts cornerback Jerraud Powers but followed that up with a touchdown bubble screen to receiver Antonio Brown in the next series; Brown showed off his trademark shifty speed with the 57-yard score.
Q2: C
The second quarter started with Roethlisberger under center and a bit of a conservative approach, with a lot of running and an incomplete up-the-middle pass to Brown.
The second offensive series of the quarter saw Charlie Batch under center. He handed off to Dwyer, who broke off a 23-yard run (helped along by a good block by left tackle Mike Adams). Batch saw himself under a great deal of pressure, however; Adams again looks stronger in run-blocking rather than pass protection.
Q3: C
It was a vanilla, conservative offensive attack from the Steelers in the third quarter. Charlie Batch remained in and mainly worked the handoff game, trying to help Baron Batch gain some significant yards.
Unfortunately, the Steelers' offensive line didn't comply that well. Rookie left tackle Mike Adams continues to be strong in run blocking but is still struggling in pass protection, leaving Charlie under duress during many of his dropbacks.
Baron Batch, on the other hand, needs a better offensive line to run behind before we know what he's really capable of.
In the receiving game, David Gilreath made a case for himself being the Steelers' No. 5 receiver, despite a bone-headed punt return. He's been seeing the most of the targets in this quarter. Rookie tight end David Paulson, who appears to have bulked up, also saw a few targets.
Q4: C
The fourth quarter saw Jerrod Johnson take over under center. The bright spots in this quarter included completions to wide receiver David Gilreath, who by merit of this performance now is the front runner for the No. 5 receiving job, and the fact that Chris Rainey remained in the game.
Newly-signed running back Jason Ford showed flashes, but left with an undisclosed and severe-appearing injury in the quarter.
Overall: C
The offensive line depth is very questionable and the run game looks troubled by the lack of both Redman and Mendenhall. At least Rainey is apparently healthy.
Defense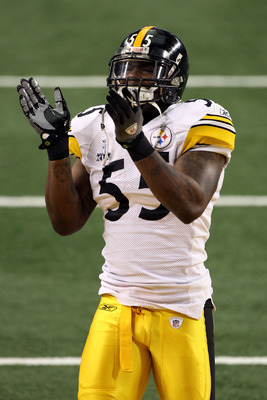 Linebacker Stevenson Sylvester is the latest injured Steelers defender.
Streeter Lecka/Getty Images
Q1: A-
The Steelers' defense fielded a triage unit of sorts against the Colts, with linebacker James Harrison on the active PUP list after undergoing knee surgery, his backup Jason Worilds still off the field while rehabbing his wrist, and now, according to Gerry Dulac of the Pittsburgh Post-Gazette, inside linebacker Stevenson Sylvester will miss time with an MCL tear.
However, it didn't prove to put the Steelers at much of a disadvantage in the first quarter. Linebackers Lawrence Timmons and Carter were successful in coverage—for the most part—and held the Colts to no points in the first 15 minutes.
Luck did have success against corner Keenan Lewis, who knew he'd be tested in this game. On a third-and-six, he gave up a first-down completion to Colts receiver Lavon Brazill.
Near the end of the first quarter, cornerback Ike Taylor picked off Luck for six points, extending the Steelers' lead to 14-0. In Luck's next possession, he was sacked by linebacker LaMarr Woodley and nose tackle Steve McLendon, marking McLendon's second impressive performance of the preseason.
Luck had some success in feeling and evading pressure, allowing him to therefore convert a number of third downs via the pass. Luck looks far more prepared to be an NFL quarterback than any rookie we've seen in quite some time.
Q2: C
The second quarter saw more and more of the Steelers' first-team defenders off the field and it showed, with Luck carving up the secondary on a number of high-yardage plays. Luck handed off to Donald Brown on a third-and-goal, the result being a touchdown.
The Colts' second possession of the second quarter also resulted in a touchdown, but in controversial fashion, with Luck sliding in for a score—something that literally does not happen in the NFL, because it cannot. Chalk that up to the replacement officials, I suppose.
Q3: C
The Steelers' defensive stands became far softer in the third quarter as starters exited the game. They clearly had better success against the pass with Drew Stanton in for the Colts rather than when Andrew Luck was under center. The Steelers' depth against the run also leaves one wanting.
Q4: D
Coverage softened up even further in the fourth quarter when it came to pass defense; the Steelers gave up two third-down pass conversions. Their depth is literally only fighting for special teams coverage.
Overall: C-
Special Teams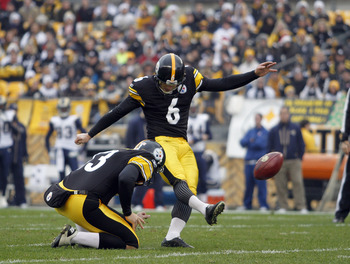 Can Shaun Suisham successfully hold off Daniel Hrapmann?
Justin K. Aller/Getty Images
Q1: B+
Chris Rainey started the night as the Steelers' kick and punt returner but, while being knocked out of the game, the job fell to undrafted rookie receiver Marquis Maze.
Maze, while fast, simply isn't as impactful a runner as Rainey and he struggled getting meaningful return yards.
On coverage, the Steelers looked fairly sharp.
Q2: B
It was a pretty by-the-books special teams outing for the Steelers in the second quarter. Nothing of note, either good or bad. They get a grade of B for the quarter simply because it was fully inauspicious.
Q3: C
The only special teams play of note in the third quarter for the Steelers was a bad one: Wide receiver David Gilreath was back to return, caught the ball in the end zone and ran with it... to the 13. Clearly, taking a knee would have been far smarter.
At least as a receiver, Gilreath did manage to somewhat redeem himself.
Q4: C
Special teams were pretty much as expected—not perfect, not garbage.
Overall: C
Coaching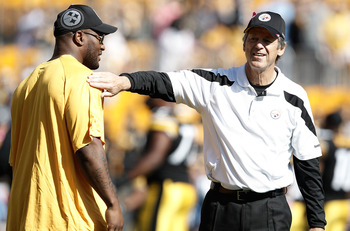 Does Steelers' defensive coordinator Dick LeBeau have Bruce Arians' number?
Jared Wickerham/Getty Images
Q1: A
The coaching battle in this game may be one of the most compelling storylines of this contest. For the Steelers, there's Hall of Fame defensive coordinator Dick LeBeau, architect of the league's best pass defense last season. For the Colts, there's offensive coordinator Bruce Arians, who performed the same job for the Steelers from 2007 until earlier this year.
The offensive playcalling is much as expected, with a lot of running to test out the depth chart and short passing to running backs, as is Todd Haley's signature.
Head coach Mike Tomlin successfully challenged an Austin Collie no-catch, which left the Colts with a third-and-six. Unfortunately, the Steelers allowed a conversion, but the coaches cannot be blamed for that.
Q2: A
The Steelers continued to examine their run game in the second half with both Jonathan Dwyer and Baron Batch, which was much as expected.
Quarterback Charlie Batch did attempt to throw deep on occasion, with no positive results, but again, that doesn't really matter. It's about Batch simply getting reps so that he can be judged against Byron Leftwich, who was the No. 2 quarterback last week.
In the preseason, coaching is coaching. The only thing that stands out is when major mistakes are made, and the Steelers have yet to make one.
Q3: A
A mishmash of running and passing for the Steelers in the third quarter was more to test their offensive line than any other positional group. It had mixed results, but again, this is not the coaching staff's problem.
On defense, the Steelers were likely told by LeBeau to soften up their coverage and play a lot of zone. They did so, and it was marginally successful. Again, these are players who are fighting for roster spots—likely on special teams this year—and not potential 2012 starters.
Q4: A
You can pretty much assume that whatever the Steelers' coaches had in mind for the fourth quarter, they instructed their offense, defense and special teams to execute as best as they could. There can't be any fault given to the coaches for any missteps by any group.
Overall: A
Players of Note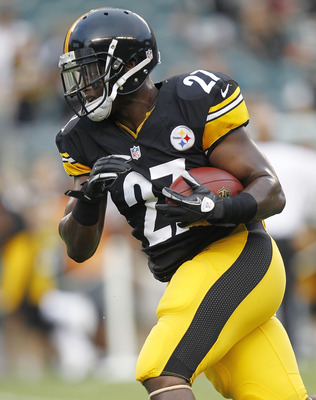 Jonathan Dwyer performed well as the Steelers first-team starting running back.
Jeff Zelevansky/Getty Images
Stocks Rising:
FS Ryan Clark
In the first half, Clark was all over the field, with his eyes both on receivers, running backs and the ball. He played at full speed when he didn't need to. Clark looks poised for a real leadership role in a Steelers defense rife with talent.
RB Jonathan Dwyer
Dwyer was used as the starting running back this week and he looked every bit the part, carrying the ball eight times for 43 yards—a 5.4 yards-per-carry average. If he needs to fill in for Isaac Redman while he recovers from his hip injury, it's not a significant downgrade.
RB/WR Chris Rainey
Though Rainey's yardage wasn't impressive tonight, his toughness was. Leaving the game in the first quarter with a reported knee and head injury, he returned in the second quarter and made appearances all the way through the rest of the game. For tenacity alone, Rainey's stock is up.
NT Steve McLendon
Again holding his own enough to make an argument to keep the starting nose tackle job even when Casey Hampton is ready to take the field, McLendon also assisted on a sack on Colts quarterback Andrew Luck. It's been two strong weeks in a row for McLendon.
LB Mortty Ivy
Ivy made his stock rise tonight by blocking a punt that gave the Steelers a short field. Blocking a punt is neither an easy thing nor something that happens very often, so he's a standout player of the game.
WR David Gilreath
None of the Steelers' young receivers have yet to separate themselves from the pack, but tonight's performance from Gilreath makes him the front-runner to take the No. 5 receiving job. He caught all four passes thrown his way, worth 78 yards.
Stocks Falling:
QB Ben Roethlisberger
It's only the preseason and obviously Roethlisberger isn't going to lose his job, but he played as though he simply didn't care. From his poor-vision interception at the beginning of the game to his seeming reluctance to extend plays, it wasn't a good day for Big Ben.
LT Mike Adams
Adams suffered a knee injury last week but was able to play against the Colts, albeit he was not the team's starting left tackle.
Adams again looked relatively sharp in run blocking, but his pass protection is—at best—a work in progress. At this point, it doesn't seem likely he'll be the starting left tackle when the regular season begins.
CB Keenan Lewis
Lewis was picked on repeatedly by Colts quarterback Andrew Luck—Colts rookie quarterback Andrew Luck, may I remind you—and still couldn't take care of business. He may not have the starting job on lockdown after tonight.
Keep Reading

Pittsburgh Steelers: Like this team?