Chicago Blackhawks: Goalies the Blackhawks Could Take a Chance On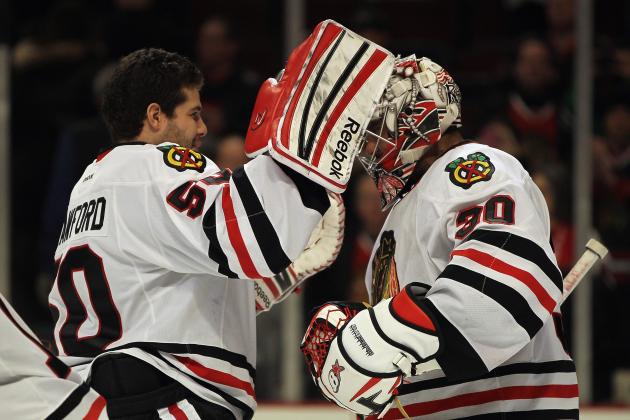 Jonathan Daniel/Getty Images

The Blackhawks have somewhat of a dilemma. Despite being possibly the top offensive team in hockey, their defense and goaltending has been too much of a liability the past two seasons for them to win a playoff series (or finish above sixth in the conference, for that matter).
The young Corey Crawford can show some talent every once in a while, but he is fairly inconsistent.
Journeyman Ray Emery has played decent at times, but like Crawford, he is very inconsistent.
The Hawks have hardly done anything at all in terms of movement this offseason, and signing or trading for a goalie may be all they need to do in order to put them at the top of the league again.
Here's a look at some of the goalies that Chicago may want to take a look at.
Begin Slideshow

»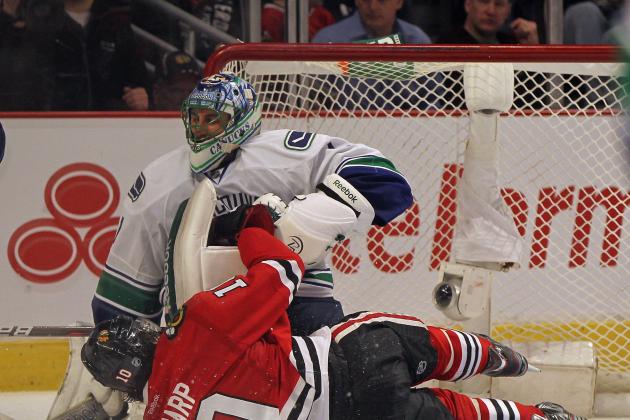 Jonathan Daniel/Getty Images

With the Canucks promoting Cory Schneider to the starting role this season rather than star goalie Roberto Luongo, we may see Luongo be traded from Vancouver.
Luongo has been great during the regular season throughout his career, but he has been inconsistent in the playoffs. He should still, however, be a better option to have between the pipes than Crawford or Emery.
The Hawks would have to put together quite a package in order to pry Luongo from their arch-rivals, but he would be a huge help to the team if Stan Bowman could pull off a deal.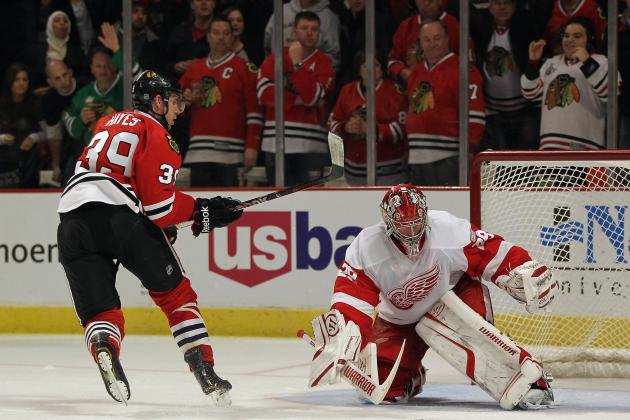 Jonathan Daniel/Getty Images

Ty Conklin is a veteran goalie who has had some decent years, but has struggled recently.
He spent the last three seasons with St. Louis and Detroit as a backup, posting less-than-stellar numbers; however, he split starts with Chris Osgood in Detroit in 2009 and arguably played better than him despite Osgood carrying the Wings to their second straight Stanley Cup Final.
Conklin would likely not be as good as Crawford, but signing him as a backup rather than Emery may be a decent move if the price is right.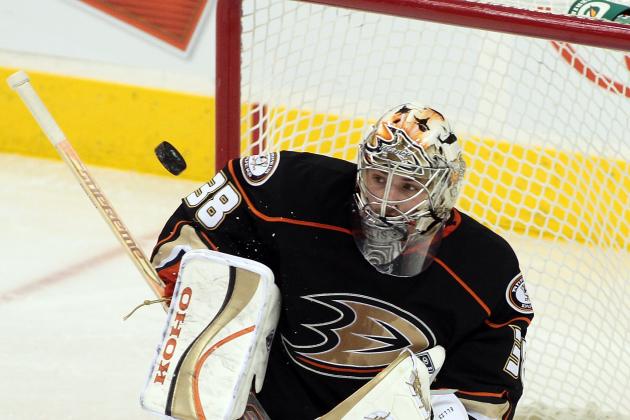 Marianne Helm/Getty Images

Dan Ellis is a free-agent goaltender who has spent most of his career as a backup.
He could be a decent addition the the Blackhawks, but he would not be considered an improvement from Corey Crawford.
Ellis has had some success in his career—such as in 2008 when he gave the Detroit Red Wings some trouble in the playoffs as the starter for the Nashville Predators—but since then he has been pretty shaky.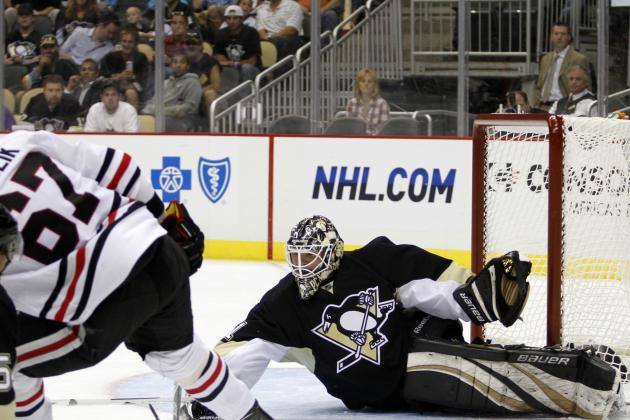 Justin K. Aller/Getty Images

Johnson has been a stellar backup most of his career and put up some good numbers in recent years with the Pittsburgh Penguins.
Last year, he was not the same goalie that he was the year before, but one bad year doesn't always mean the end of the world. He could still be a decent backup or even starter for the Blackhawks if he could return to his form from 2011.
The problem with Johnson is that he is 35 years of age, but if he could still play like he did two seasons ago, he would help the Blackhawks tremendously.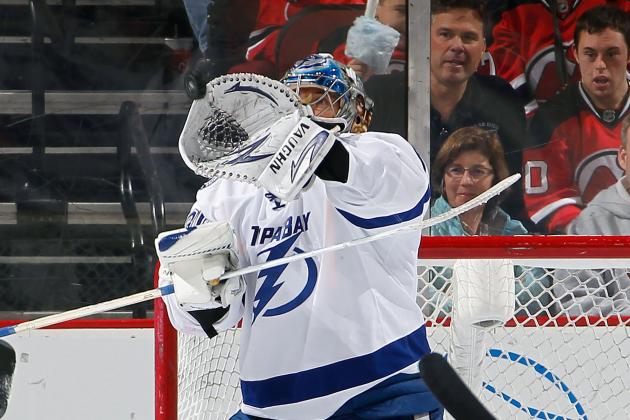 Paul Bereswill/Getty Images

Dwayne Roloson is 42 years old, but he has had a great career...if you ignore last season.
The veteran Roloson led the Tampa Bay Lightning to an improbable conference finals appearance in 2011, but he faltered in 2012, being part of the reason the Bolts were one of the worst teams in the conference.
He is a free agent now, but nobody has taken a chance on him, likely because of his age.
If he plays like he did in 2011, however, he could definitely help Chicago with the goalie issue.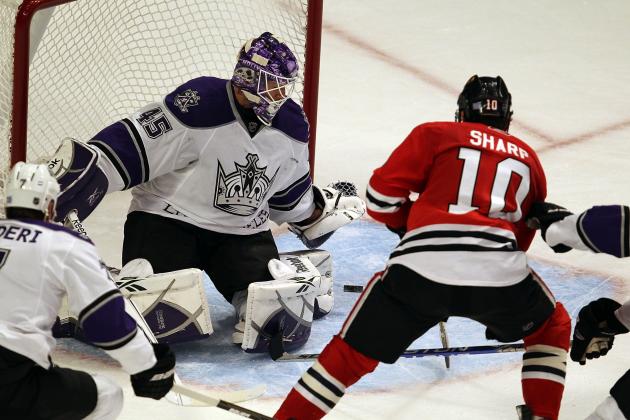 Jonathan Daniel/Getty Images

Bernier is the backup to Jonathan Quick in Los Angeles, but he may be too good to be a backup goalie and he is on the trade market because of it.
Chicago could really use a goalie like Bernier on the list, and I wouldn't be surprised to see Bowman make a move for him if the price is right.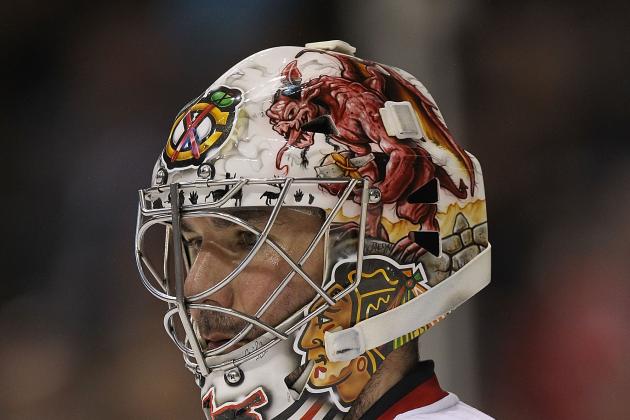 Ronald Martinez/Getty Images

The Blackhawks already tried the Turco experiment and it didn't work.
They could take another chance at him, but he's not the same goalie as he used to be and nobody should expect Chicago to offer him a contract.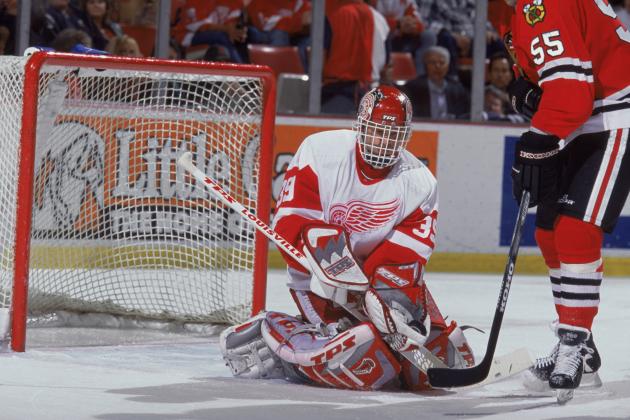 Tom Pidgeon/Getty Images

Dominik Hasek was one of the best goalies in hockey history, but he is 47 years old and has not played in the NHL since 2008.
However, as many hockey fans know, he is considering making yet another NHL comeback.
Hasek was the only goalie to win back-to-back Hart Trophies for league MVP in history, and he is known for being one of the most flexible and creative goaltenders in history.
His age, however, is a red flag, but imagine if Hasek comes back with the team it all began with, and somehow makes it work.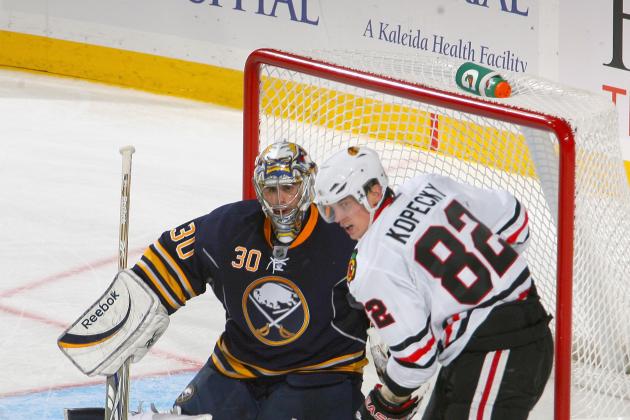 Rick Stewart/Getty Images

It may sound crazy, but there have been a lot of rumors floating around that the Blackhawks and Sabres could pull off a move involving Ryan Miller and Patrick Kane.
Jhonas Enroth played decent last year with the Sabres, and if Crawford is sent in the deal, the Sabres could still have a decent goaltending pair while adding a star like Patrick Kane.
As for the Blackhawks, they would get the type of goalie they need while giving up a part of their extremely deep offense.
Kane would go back to his hometown of Buffalo, and Chicago would gain a top goalie, lose someone who has had a history of trouble but not lose all of their huge surplus of offense.
Seems like a win-win to me.