Why Dana Holgorsen Should Never Leave the West Virginia Mountaineers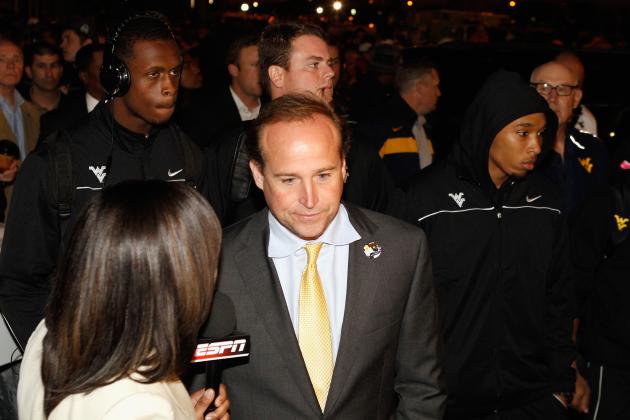 J. Meric/Getty Images

In early August, West Virginia finally locked its head coach, Dana Holgorsen, into a long-term contract, one that will keep the offensive guru in Morgantown for six years (via WVUSports.com).
Of course, the term "locked" is always very loosely defined when it comes to the contracts of college-football coaches.
Every single year, the FBS coaching carousel twirls around and casts coaches off to new destinations.
Sometimes, a coach departs for greener pastures after as little as a single year in his previous position (see: Todd Graham).
However, Holgorsen shouldn't be like Todd Graham.
Instead, he should remain in Morgantown through 2017 and beyond. Here's why.
Begin Slideshow

»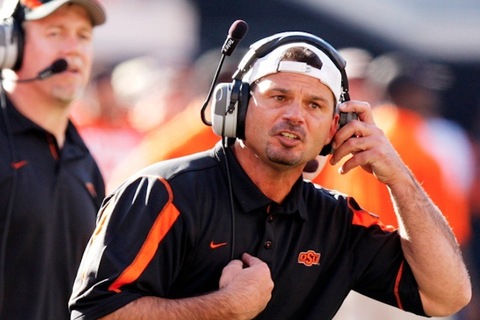 Photo Credit: WV Illustrated | http://www.wvillustrated.com/story/16657477/joe-deforest-turns-focus-to-wvu-defense
At the end of the 2011 season, former WVU defensive coordinator Jeff Casteel followed former WVU head coach Rich Rodriguez to Arizona.
This marked the departure of one of the final pieces of the Bill Stewart-era coaching staff, as now only special teams coordinator Steve Dunlap—a West Virginia alum—remains in place.
Other than Dunlap, the relatively young staff is composed of a crew handpicked by Holgorsen himself.
Many of his assistants worked alongside him at his previous stops, while others were brought in simply because of their abilities as coaches.
One thing they all have in common though, is their positive impact on the players and the program.
Of course, as the Holgorsen coaching tree branches out, many of these assistants will depart to take on coordinator and head-coaching positions of their own.
No matter what, though, the staff will be all his, and he will always be able to fill it with assistants who subscribe to the Holgersonian philosophy.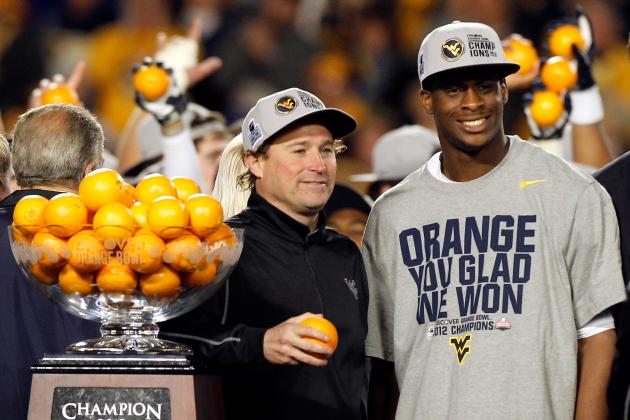 J. Meric/Getty Images

With his staff in place and his friends all around him, Holgorsen can now focus forward, to the future, a future that appears to be very promising.
Holgorsen even said it himself during his on-field interview after West Virginia's marvelous 70-33 Orange Bowl victory last season:
[The seniors] just wanted to lay the ground work for where we're headed as a football program, and I can't imagine it being any brighter than it is right now. I think the future's pretty bright at West Virginia.
In the offseason, the brightness was only amplified when the Mountaineers officially made the transition to the Big 12.
With that will come more respect; better competition; and, perhaps most importantly, more money.
With that will come better facilities, making it easier to snare some of the most talented recruits in the country.
This year, WVU finds itself ranked No. 11 in both the preseason AP and USA Today coaches' polls; its highest preseason ranking since 2008.
It's clear that West Virginia football is on the rise, and everyone in Morgantown is buying in.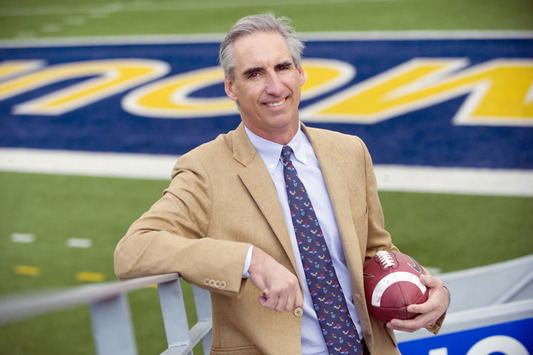 Photo Credit: M.G. Ellis, WVU University Relations via University of Texas School of Law | http://www.utexas.edu/law/magazine/2012/01/17/full-circle/
Fortunately for Holgorsen, that buy-in has begun at the top with his boss Oliver Luck, who happens to be one of the best athletic directors in the business.
Luck brought Holgorsen to Morgantown for one reason: to revive the WVU football program.
The hardworking, intelligent and connected Luck has exhaled a breath of life into the entire WVU athletic department, as nearly everything he has touched since his arrival has turned to old gold.
He has already made major strides in multiple areas, and many plans are still in place for the future.
Making improvements in college athletics is a never-ending process, and this is something Luck fully understands.
Holgorsen and Luck have both expressed interest in making some upgrades to the football facilities, and you can bet they won't stop there.
Of course, Luck's big claim to fame in Morgantown has been the move to the Big 12.
The transition brought an immediate improvement for nearly every program, but there's no question that the move was made with the football program in mind.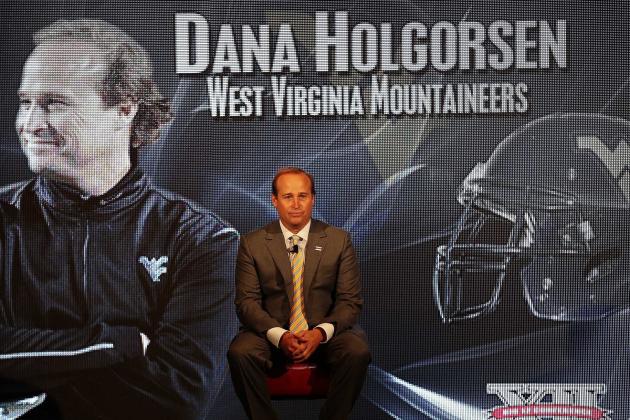 Kevin Jairaj-US PRESSWIRE

The transition to the Big 12 has not only brought on more recognition and more income, but it has also put West Virginia in a unique situation.
While the move was in the works and once it was announced, a common denouncement of the switch was the perceived geographical challenge.
In reality, the geographical shift will only help WVU, a fact that has already been apparent on the recruiting trail.
Seven states are so far represented among the Mountaineers' 13 commitments for the class of 2013 (h/t ESPN.com).
WVU has proven that it can now recruit Texas, one of the largest recruiting hotbeds in the nation, but still continue to recruit Florida, home of some of the fastest prospects in the country.
Meanwhile, the WVU staff can still recruit close to home in fertile recruiting grounds such as Ohio, Pennsylvania and the D.C./Maryland/Virginia area—giving the Mountaineers a tactical advantage over other Big 12 programs.
The states currently constituting WVU's recruiting base are Ohio, Pennsylvania, Florida, New Jersey, Texas, West Virginia and Maryland—and the Mountaineers aren't done yet.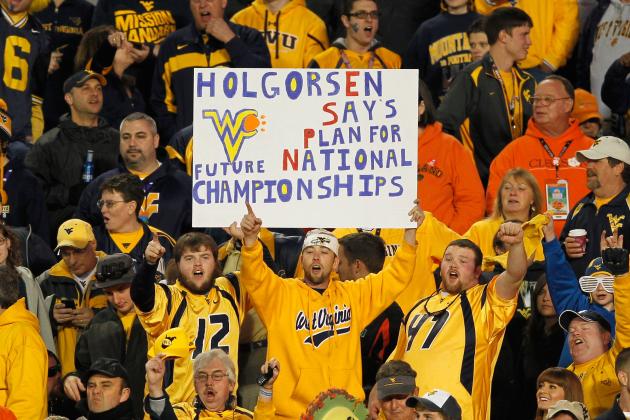 Streeter Lecka/Getty Images

Holgorsen was almost instantly a cult hero in Morgantown.
When his hiring was announced, many in Mountaineer Nation quickly came down with Holgorsen fever.
It started after a disappointing loss in the 2010 Champs Sports Bowl in which West Virginia mustered just seven points against NC State to finish the year at 9-4.
The next night, WVU fans watched as Holgorsen was chugging a Red Bull on the sideline while his Oklahoma State offense put up 36 points en route to its 11th win of the season.
Since the days when Pat White, Owen Schmitt and Steve Slaton were lighting up the scoreboard out of the West Virginia backfield, Mountaineers fans have longed for an explosive offense.
In 2007, WVU averaged 39.6 points per game. After that, the offense became stagnant, averaging between 24.5 and 26.2 per contest over the next three years.
Last year, "Touchdown City" became Touchdown City again, as the Mountaineers averaged 37.6 points per game.
The fans disliked Stagnant City, but they love Touchdown City—that's why they would love Holgorsen to stay in town for a very long time.