WWE vs. TNA: Who's Been Better This Week? (Aug. 12-18, 2012)
Image: plzdonttry.blogspot.com
Welcome to the second of my weekly articles where I review and compare WWE's and TNA's outputs to see who's done better.
Last week's opener provoked some good debate, so let's see how the two promotions shaped up in the week where TNA had its Hardcore Justice PPV and WWE was in its final buildup to SummerSlam.
Begin Slideshow

»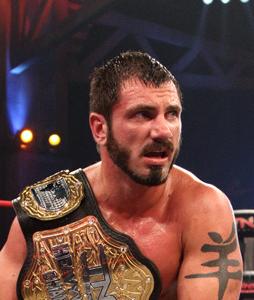 Image: wrestleenigma.com
The recaps of PPVs in this series will likely be brief, as the main aim of these articles is to contrast the TV shows—being as they don't have PPVs on the same weeks, there's no fair comparison.
TNA PPVs have been consistently good stretching back for some time. For me, though, TNA by its nature doesn't quite have the same potential to deliver memorable, spine-chilling moments in the way WWE can, such as with 2011's Money in the Bank or Mark Henry's defeat of Randy Orton, to name the most recent examples. The closest came with Austin Aries' title win at Destination X, even though I didn't think the match was as good as expected.
Slammiversary in my view was the best PPV from either company this year so far, albeit let down a little by its main event (though I understand why it was done that way). Nevertheless, TNA's PPVs have contributed just as much as Impact to its solid run in recent months.
One of my worries heading into Hardcore Justice was that the promised Aces and Eights interference would be overdone, and it seemed it might be following an early attack on The Pope (which I can't decide whether he sold brilliantly or hammily).
My other big worry was whether the Knockouts title would change hands by the obviously hinted at method, and though Madison Rayne did win via some Earl Hebner-based confusion, at least it wasn't wilful bias on his part (he has in fact looked rather bewildered throughout the whole situation). Still, Madison Rayne fancying Hebner gives the AJ Styles infidelity storyline a run for its poorness. My guess was that the storyline would wrap up when Hebner officiates her a fair loss of the title and she immediately falls out of love with him, but I was already proven wrong by the following Impact.
I did wonder how a four way tables match would work. It is of course usually that the person who goes through the table loses, but that can only work for if there's two competitors or teams. I guessed it would be the person to put one of the others through a table, and I'd not heard the word "elimination" mentioned (though I would have very much enjoyed that). Presented early on was an almost double-suplex through a table with commentary then questioning who would have got the points, so it's actually a bit of a flawed concept if not under elimination rules. But whatever else, it was good entertainment.
A three-person powerbomb superplex move stood out for me. What I really like to see in the ring is things I've not seen before or rarely, or of real spectacle. That was a good example. The only other Aces and Eights interference came during the tables match, but at least it wasn't too overbearing.
Austin Aries vs. Bobby Roode was a bit too convoluted for my liking, though my heart sank when Aries dived headfirst into the title belt and looked to be the loser for certain, which is a surefire sign I was invested nonetheless. The descending into accidentally taking out referees was slightly comedic. Knock out one, shame on you. Knock out two and you'd think they'd have learnt where and where not to stand by now. The double referee, double count false ending does have the value of being something I've not seen before, but it was silly and overbooked.
The ladder match was the best of the night, four fantastic wrestlers giving their all to put on a great match. Another highlight came from Taz on commentary during the title match: "What a chop! That'll definitely swell up an areola or two!" When was the last time you heard Michael Cole say that, eh?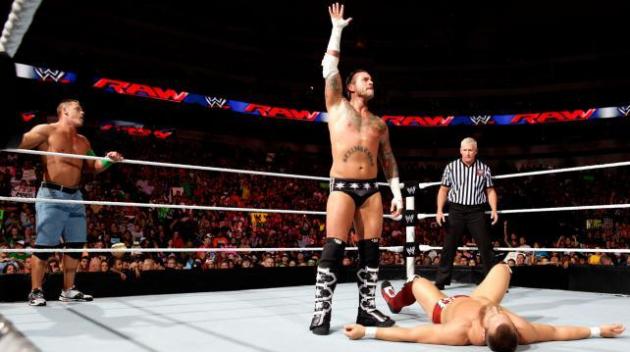 Image: wwe.com
Raw opened with CM Punk coming to the ring for a match, which I thought was a great start—straight into the action. Then I saw his opponent was The Big Show and immediately knew there'd be no clean finish. Sure enough, Daniel Bryan interfered—presumably because John Cena's too much of a goody two-shoes to, even though he's the one actually in the feud.
Inevitably AJ comes hopping out to make a tag match, the WWE's usual solution to using up main event talent on TV without risking any of them looking weak by sustaining a clean loss. All that was missing was her saying "It's not gonna go down like that, playa" and she would have been Teddy Long.
I never thought I could say I hate someone as ostensibly inoffensive as AJ, but I find her mannerisms (the triad of skipping, head tilting and affected speech I pinpointed last week) are just irritating. Still, she gives us CM Punk and John Cena vs. Big Show and Daniel Bryan to look forward to, in which Bryan will no doubt take the pin.
I don't consider myself as being of any special insight pro-wrestling wise, so if I was almost psychic in seeing what would happen next during Raw, I can't have been the only one. As soon as JTG was sent to the ring by AJ, I knew he'd be squashed by Ryback. R-Truth facing Heath Slater could only mean The Prime Time Players were going to show. Shawn Michaels could only be there again to receive the beating from Lesnar we expected last week.
A Divas tag team match lasted about four minutes and ended in a quick roll-up pin. Commentary mentioned during that match that Kaitlin could be a future Divas champion, but surely there needs to be a title defence more than every six months for that. It's not until Sin Cara beat Tensai (a man who beat Cena in his first match, let's not forget) that this stream of predictability was broken (Albert chants aside).
A frankly baffling Piper's Pit segment with Chris Jericho culminates in a three way match between Y2J, Dolph Ziggler and The Miz. After thinking the night before during Hardcore Justice that I'd not seen a powerbomb superplex before, we get one here too. Maybe it was a coincidence, maybe it was copying, or maybe it happens every week and I've a poor memory. Nevertheless, this was a really great TV match in a show that could use more of them.
CM Punk and John Cena vs. Big Show and Daniel Bryan had more going for it than I expected. Sure enough Bryan took the pin, but there was a lot of fun in the meantime. For a start, I enjoyed seeing the Big Show brickwall a Cena shoulder tackle. Whether he does something like that or not changes with how pushed he is, but it takes advantage of the one good thing about Big Show in the ring: his size.
Punk and Cena mocking each other's schtick was especially funny and memorable. So good stuff, though it showed Cena as possibly the only superstar (at least capable of taking one) who won't be beaten by a surprise roll-up. The match and what briefly followed really did good work for the title match build, and I'm certainly interested to see what happens with the top strap at SummerSlam.
Christian vs. Damien Sandow was notable for me. So far as I recall, removing the turnbuckle pad and using the exposed steel ring is DQ-worthy, but hitting your opponent's head repeatedly into the steel steps isn't? I do like both men, but I'm not sure I like Sandow so much that I want him to defeat Christian so easily. Or maybe that's a sign of how much I like Christian, a man I firmly believe should still be considered at main event level.
The Lesnar vs. HHH contract signing didn't really have anything new. Heyman spent some time on the mic but said nothing that hadn't already been said, and watching Lesnar and HHH stare at each other silently for minutes on end is not interesting.
What's silly about this feud is, despite the logical ways it could have some personal meaning between the two men, they've gone the silly way of making it personal by having Heyman and Lesnar mention that HHH has a wife and children. Not even saying anything bad about them, just mentioning them is enough to be personal.
I don't object to the match, but if we're going to have the buildup recapped twice every TV show for a month, a bit of genuine substance would have been nice. Making it personal by beating up Shawn makes sense, so why didn't they do that earlier during the build for the match? At the very end of the show, Lesnar finally beats up Shawn and so fires Chekhov's gun (as well as breaking his arm).
That's Raw then, as mixed a bag as ever, but containing one of the best WWE TV matches of recent times with the triple threat. I do want to make special note of one commentary gem from the show (regarding Ryback): "I wouldn't want to make this man angry." Gee, really?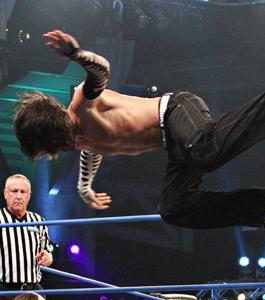 Image: impactwrestling.com
Most of this week's Impact was based around the Aces and Eights threat again. They made occasional appearances and the upshot is they'll be there facing the locker room next week. If anything, this week's is a buildup to next week, but with some good matches in the meantime. We open with Austin Aries on the mic, who's then joined by Jeff Hardy and Bully Ray.
As I said last week, opening with a mic segment is a good way of getting the Impact Zone audience into it. A fortnight ago the show opened with a tag match and the crowd was noticeable by its deadness.
Samoa Joe vs. Magnus was a fairly good match. Joe won, as you'd expect, and then Magnus turned heel in the classic straightforward way by hitting him with a chair.
AJ Styles confronted Daniels and Kazarian backstage to say after he wins his Bound for Glory series match with Daniels, he'll take a paternity test; otherwise if he loses he'll accept he's the dad. I was conflicted about this; I want this storyline resolved and put aside quickly, but I want Daniels to win. Christopher Daniels is my favourite in the company, and he's been the best thing about the Clare Lynch storyline (not that that's difficult). Another good TV match sees AJ get the win, meaning we'll have a paternity test to look forward to.
Miss Tessmacher won her Knockouts title rematch after Brooke Hogan did something quite sensible and banned Earl Hebner from officiating Knockouts matches. Jeff Hardy vs. Bully Ray closed with Jeff winning. A slightly silly moment happened when Jeff dived on the observing James Storm from the outside, which Storm had to step in front of to get hit by. The show closed with Aces and Eights attacking Storm, confirming they weren't working for him after all.
A fairly low-key Impact then. A few run-ins from the locker room to confront Aces and Eights made it feel like big things were going down, but really it was all a buildup for next week.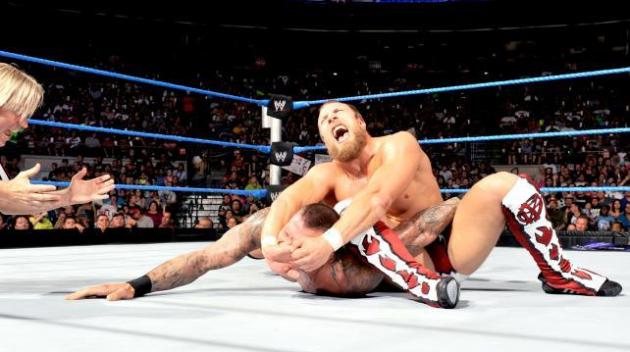 Image: wwe.com
SmackDown opened with a recap of last week's Sheamus and Alberto Del Rio stuff and Booker T saying the championship match at SummerSlam is off. My issue is, having someone beaten up doesn't stand out in terms of heel actions, and considering Sheamus ruined his car, I've far more sympathy with Del Rio. Jericho interrupted Del Rio on the mic, which had me guessing we'd be getting Sheamus and Jericho vs. Ziggler and Del Rio. But, in a much-needed step away from predictability for WWE, we didn't.
Curt Hawkins and Tyler Reks squashing two jobbers stood out for me. Not for the odd sort of striptease routine that Hawkins and Reks did beforehand, but for the fact they were squashing jobbers. Imagine those two jobbers against Ryback.
Eve defeated Kaitlin to become Booker T's assistant. By what logic winning a match makes someone better suited for what Cole calls an administrative role I don't know, but then it probably makes sense in a universe where a mad woman's made general manager of the company's A show. And to be fair, it's not as if Brooke Hogan had much qualification to run the Knockouts over on TNA either.
Daniel Bryan vs. Randy Orton was the best match of the show. Not only was there another of Bryan's shouty fan interactions, it had some great action then sullied by a fairly pointless pseudo interference. I'd have given Bryan the win. With Orton not scheduled for SummerSlam it's a loss he could absorb and Bryan would look very strong going in.
Santino was on commentary for Antonio Cesaro vs. Zack Ryder. I hate Ryder and I hate Santino—both for character reasons, but Santino's in-ring work is entirely informed by his buffoonish character, so him moreso. I really hope Cesaro wins at SummerSlam, if only to salvage the US title's reputation. The belt's standing seemed pretty high after a long reign by Dolph Ziggler, only to be dragged through the dirt after being gifted to Ryder for the sake of a quick pop and then passed via Swagger to Santino. The situation isn't helped by the rarity of title defences either.
Ziggler attacks Jericho backstage before he faces Del Rio. The match itself was nothing particularly special, with Jericho acting hurt from the attack and Del Rio geting the win. Sheamus comes out declaring how his name is Sheamus he loves to fight, so Booker T reinstates the title match at SummerSlam. I can't fathom why we had this weeklong match cancellation. It's killed any hype stone dead, though at least Sheamus seeming more injured than even before when he was attacked with the car bonnet makes me think Del Rio might have a chance, even though he probably doesn't.
I've not heard of any non-kayfabe reason for why the match may have been cancelled and then reinstated. The backstage clip of Booker T saying the match was off was posted last weekend on wwe.com and then repeated on Raw, so anyone who didn't catch the last few minutes of SmackDown could still think there's no World Heavyweight Championship match for SummerSlam, and that likely wouldn't do the buyrate any favours.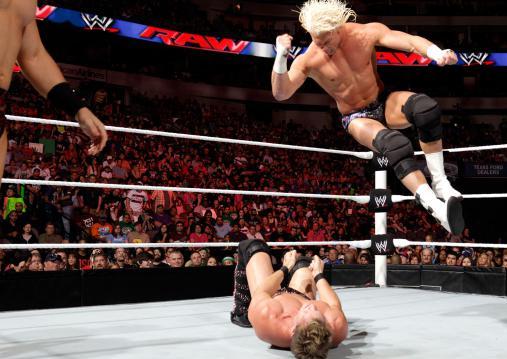 Image: wwe.com
Show of the week: TNA Impact
This, of course, excepts PPVs, as the main purpose of this series is to compare the TV shows. It's not so much that Impact did a lot brilliantly as that the other shows went wrong.
What Impact did, it did competently, and there wasn't really any filler. I've thought about it and WWE's problem may be the effective end of brand extension, something I haven't really minded in principle. Even though there wasn't that much crossover this week, with the top stars of both shows appearing on either brand, it crowds out the lower card. Therefore the lower card remains undeveloped and the top storylines (such as Sheamus and Del Rio) are spread too thin.
There's little genuine progression week on week for things like the tag titles or Ryback, and so it feels like filler. TNA has two hours of main TV a week whereas WWE now has five, so from that perspective it's probably easier for Impact to keep a low-filler show. Nevertheless, I'm more excited for SummerSlam than I have been for most recent WWE PPVs (mainly for the WWE title match, Jericho vs. Ziggler and Kane vs. Bryan), so there's still much to recommend the WWE.
Match of the week: Dolph Ziggler vs. Chris Jericho vs. The Miz
Again, this means TV matches so not including the PPV. This was easily the winner, and has me buzzing with anticipation for the Ziggler vs. Jericho match at SummerSlam (and I was excited already). The runners up are Randy Orton vs. Daniel Bryan and AJ Styles vs. Christopher Daniels, but by some distance.
Thanks for reading, and all comments are appreciated.