Cowboys vs. Chargers: Live Preseason Week 2 Report Card for Dallas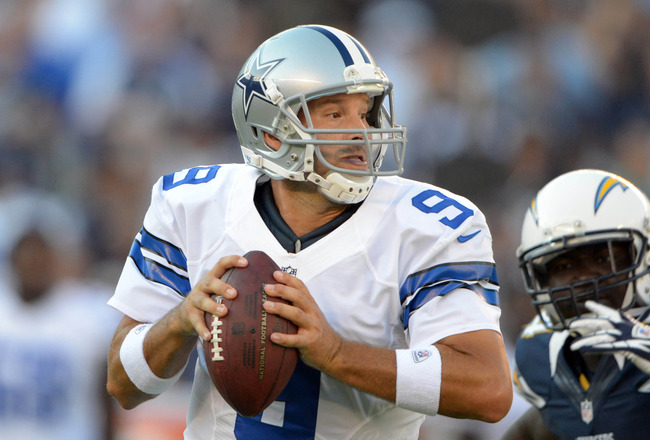 Kirby Lee-US PRESSWIRE
The Dallas Cowboys fell short on the scoreboard, but the depleted squad actually made quite a lot of progress in their second preseason game in San Diego.
The B/R NFC East blog watched the game like a hawk and was able to provide you with a live quarter-by-quarter report card.
Is that instant enough for you?
Here are the final grades.
Quarterbacks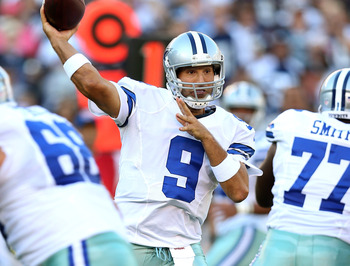 Stephen Dunn/Getty Images
Q1: A
Q2: B
Q3: C-
Q4: A
OVERALL: A-
Tony Romo started better than he did last week, completing six of his first seven passes. He was really in the zone, but it helped that he faced almost no pressure. When he did face a good rush late in the quarter he did a great job escaping but nearly threw a pick in the end zone. He loses a point for that decision. Overall, though, it was a great performance, especially considering it came without Jason Witten.
Kyle Orton relieved Romo in the second quarter and looked nearly as good, completing four of his first five balls and making a great throw to Kevin Ogletree to convert a third down prior to the two-minute warning. He did throw a pick a minute later, but that was the only big mistake either quarterback made in the first half.
Stephen McGee faced a lot of pressure in the third quarter, but he didn't look good regardless. He made some bad decisions and had a bouncer or two. Then in the fourth quarter he threw a stupid pass into blanket coverage and was intercepted. There's little doubt that he's the third wheel here.
Fourth-stringer Rudy Carpenter was very good in his garbage-time action. He and undrafted rookie Cole Beasley had a ton of chemistry. Carpenter led a touchdown drive in the final minutes.
Running Backs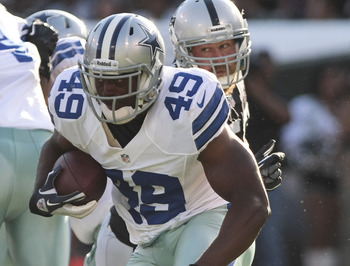 Kelley L Cox-US PRESSWIRE
Q1: A-
Q2: B+
Q3: B
Q4: B-
OVERALL: B+
DeMarco Murray was great as both a back and a receiver in the first series. He ran with aggression and looked elusive but was removed very early.
Undrafted rookie Jamize Olawale showed great power on his second-quarter touchdown and made several nice moves throughout the first half. He was impressive again, and the Cowboys are giving him plenty of work.
But Felix Jones looked subpar again, losing four yards on his first two carries, failing to haul in two Romo passes and getting stuffed after catching a swing pass on a 3rd-and-short. He's been a disappointment.
I'm starting to wonder if there's a remote possibility that the Cowboys eventually part with Jones in favor of Olawale, whom they really seem to like. Olawale is a hard runner and a bruiser. He's gonna make this team.
Javarris Williams won't make the team, but he looked good in limited reps in the third quarter. On one particularly stellar play, he bounced off the line and found the edge for a six-yard gain, making something out of nothing.
Wide Receivers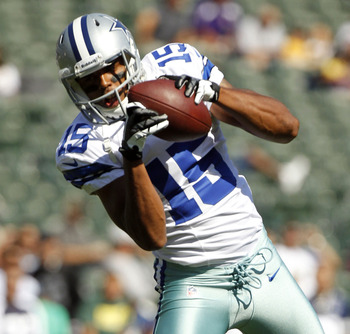 Cary Emondson-US PRESSWIRE
Q1: A-
Q2: A
Q3: B
Q4: A
OVERALL: A
Kevin Ogletree is still the No. 3 receiver, and he started in place of Miles Austin. I don't know if it's a seniority thing there, but Ogletree looked good, making two grabs in the first quarter and then following that up with a fantastic catch in double coverage in quarter two.
Dez Bryant looked good and almost made an incredible catch but was out of bounds at the back of the end zone.
Dwayne Harris was solid, but Cole Beasley was right there with Ogletree in the race to make an impression. All four quarterbacks used him, and he was active all night. Andre Holmes made a pair of catches but really fell off after being the team's best receiver in the opener.
One minor criticism: With Romo in the game, the receivers could have done a slightly better job at getting open considering how much time Romo had to work with.
Tight Ends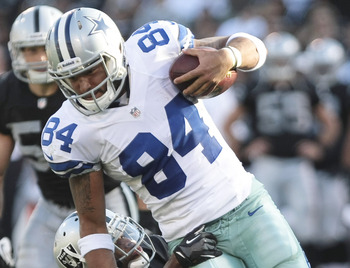 Kelley L Cox-US PRESSWIRE
Q1: B
Q2: C+
Q3: B+
Q4: B
OVERALL: B-
John Phillips was there as a safety valve when everyone was covered and Romo had to get rid of it on the second series. Unfortunately, that play was wiped out due to a penalty. They're counting on Phillips to step up and become Romo's security blanket with Jason Witten out.
If that doesn't work, they might have something in James Hanna, who made a great play and broke a tackle on a 13-yard reception in the second quarter. He also made a first-down grab in the second quarter and was fairly steady in the second half.
However, Hanna also took a tough holding penalty that negated a big play and essentially killed a drive.
Offensive Line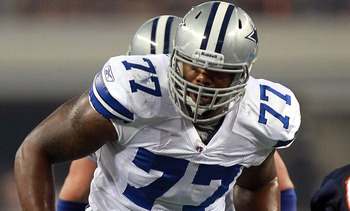 Ronald Martinez/Getty Images
Q1: B
Q2: A-
Q3: D
Q4: C-
OVERALL: B
The pass protection was solid throughout the first half, and the line did a better job paving the way for the backs. The biggest miscue was a David Arkin holding penalty in the San Diego red zone in the first quarter.
The second unit struggled, especially with Stephen McGee in the game. McGee was pressured heavily twice in his first series, and Shaun Chapas was beat badly for a sack. Chapas had a terrible night, but the whole line struggled against San Diego's reserves, and McGee was harassed. He was pounded on a strip sack in the fourth quarter. In that instance, they were just overmatched by the blitz.
Defensive Line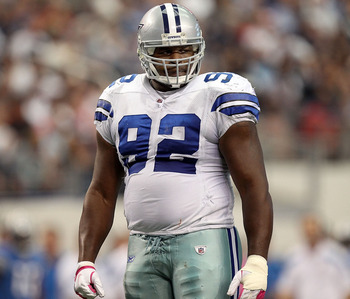 Ronald Martinez/Getty Images
Q1: B+
Q2: A
Q3: B-
Q4: C-
OVERALL: B-
Despite not having Jay Ratliff and Jason Hatcher, the first team looked great, stuffing the Chargers on the ground and gaining lots of penetration. San Diego had just 18 yards on seven carries in the first half.
The third quarter was equally as good from a run-stuffing perspective, but the pressure wasn't there. That's on the line and the linebacking corps.
The second- and third-teamers in the front seven had a chance to make a statement with a goal-line stand after a Shareece Wright interception, but Jackie Battle scored quite easily from a yard out. I don't fault them too much for that, obviously, but it was a missed opportunity for someone trying to make the roster.
The depleted front seven struggled to get pressure and even had some trouble against the run down the stretch.
Linebackers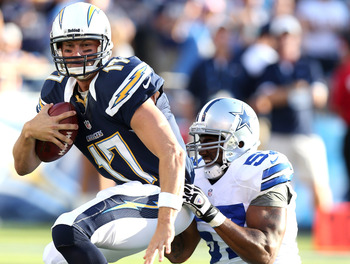 Stephen Dunn/Getty Images
Q1: A+
Q2: A
Q3: C
Q4: C-
OVERALL: B
Victor Butler had a great solo effort with his sack on Philip Rivers on the second play of the game. He's pushing hard this summer. DeMarcus Ware and Anthony Spencer didn't play, which hurt the pass rush a bit, but they still got lots of pressure on Rivers and defended the run well.
Although, no one stood out aside from Butler.
Dan Connor didn't look especially good, but that's been the case all preseason. Connor was beat by Randy McMichael on a 28-yard pass from Charlie Whitehurst on the first drive of the second half.
Defensive Backs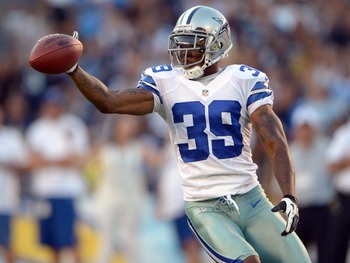 Kirby Lee-US PRESSWIRE
Q1: B+
Q2: B+
Q3: D-
Q4: D
OVERALL: B-
Barry Church made his first mistake of the preseason when he missed a tackle in the open field on Ronnie Brown, but he bounced back to make a solid tackle on the very next play. The play after that? Great, athletic interception from Brandon Carr.
Carr wasn't done there. He showed some amazing hand-eye coordination in another interception in the second quarter. This starter looked smooth.
Rivers made a great play on a third-down conversion in the second quarter, escaping a near-sack from Danny McCray. That wasn't on the secondary.
Overall, Rivers was 13-of-15 in the first half, but the majority of those completions were on dinks and dunks. He didn't even hit the 100-yard mark until the final play of the half.
In the second half, the pass defense struggled early against Charlie Whitehurst, who was 5-of-6 on the first drive. Whitehurst hooked up with Vincent Brown to beat Akwasi Owusu-Ansah for a touchdown to cap that drive, and it looked as though Owusu-Ansah got away with pass interference on a deep ball later in the quarter.
Overall, it was a bad night for both Owusu-Ansah and Mario Butler. They were embarrassed on a fourth-quarter touchdown pass, too.
Special Teams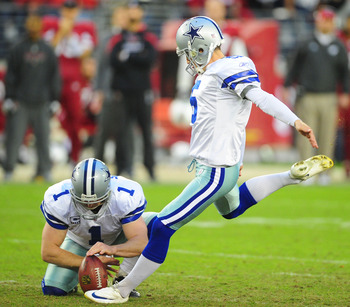 Mark J. Rebilas-US PRESSWIRE
Q1: B+
Q2: C+
Q3: B+
Q4: C-
OVERALL: B
Dan Bailey made both of his field goals, including one from 49 yards out.
Punter Chris Jones dropped the ball as he prepared to unleash a punt, which is bad. But Jones gained position and ran for the first down, which was impressive but mainly lucky. It was a positive play in the books, but a negative play in preseason terms.
The punt and kick coverage was very good in the first half, but they missed some tackles and gave up a decent-sized punt return midway through the third quarter, and then did the exact same thing on another return in the fourth.
Keep Reading

Dallas Cowboys: Like this team?