Arsenal vs. Stoke: 6 Areas Gunners Must Improve on from Sunderland Game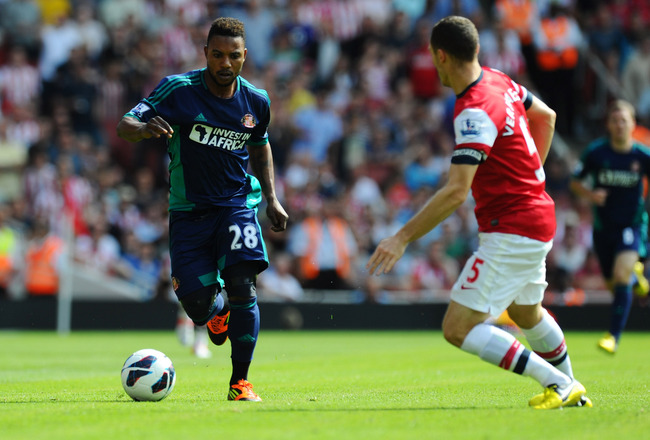 Mike Hewitt/Getty Images
Well, after many days of waiting, the Premier League is finally back. Each team has taken the time to improve their squads over the transfer window so that they can put their new additions to use in their matches.
With Santi Cazorla, Lukas Podolski and Olivier Giroud as a part of the lineup, but no Robin van Persie or Alex Song, the Gunners looked to open their season in a positive manner.
In some ways, their were some positives to the match, but due to the accompanying negatives, Arsenal ended the match with an 0-0 draw.
It wasn't the best start to the season, but it was certainly not bad.
However, now that the first game of the season is in the books, Arsenal's next away match against Stoke City will be a crucial one.
So with this, here are six areas the Gunners must improve on so that they can beat Stoke.
The Back Four Needs to Be More Compact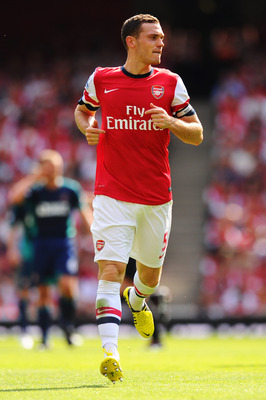 Mike Hewitt/Getty Images
Despite the fact that the Gunners maintained a clean sheet by the end of the match, there were still a few holes in the Arsenal defense that could have proven to be costly if Sunderland managed to finish their chances.
Early in the match, James McClean received a pass that went right between Per Mertesacker and Thomas Vermaelen. McClean then turned, but his shot was saved by Wojciech Szczesny.
Arsenal had a few more defensive lapses that led to good Sunderland chances, but The Black Cats couldn't score.
Against Stoke, these kind of defensive lapses are bound to result in goals.
So ultimately, the back four needs to tighten up and not make mistakes. It will be too costly and will result in a disappointing loss.
The Gunners Must Produce More Good Chances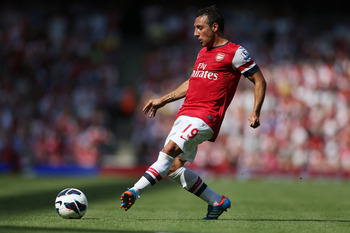 Julian Finney/Getty Images
In the match against Sunderland, Arsenal did have quite a few chances to score. Santi Cazorla made a huge impact in his debut by being the leader of the attack. It was he who was producing a large amount of the Gunners' chances.
Early in the first half, Cazorla had a blistering run in which he charged down the center. He then had a great left-footed shot that was eventually saved by Mignolet.
Then, in the second half, Olivier Giroud had a couple of good chances. One was a volley off a cross that went over the crossbar. His other chance was probably the best of the match. He received a clever pass from Cazorla into the box, but then, Giroud just couldn't finish unfortunately.
The Gunners had a good amount of chances against Sunderland, but no goals resulted from the opportunities.
Against Stoke, Arsenal will need to produce more chances to be able to score goals and win the match.
Arsenal Must Convert More of Those Chances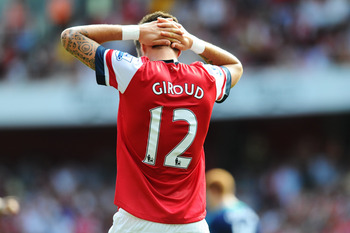 Mike Hewitt/Getty Images
Out of the good chances Arsenal managed to produce, none of them were able to become good goals.
One of the first good chances of the match came from Arsenal's new Spaniard, Santi Cazorla, when he charged through the field and took a strike from outside the box It was a good shot, but it was not good enough to get by Mignolet.
Another good chance came from Abou Diaby a bit later, as he took a good shot from just outside the box. The Sunderland goalkeeper managed to get his hand to the shot to keep the match at 0-0.
What was arguably the best chance of the match for Arsenal came in the second half from Olivier Giroud. The chance was produced by Cazorla; he made an incisive pass that provided Giroud with a right-footed attempt. What seemed like an easy shot turned out to be a disaster as he put the attempt wide of the goal.
In the upcoming match against Stoke, the Gunners just have to be able to finish their chances. With the number of chances Arsenal had against Sunderland, it is a surprise that Arsenal didn't score.
The forwards will need to be more clinical with their finishing if they are to beat their upcoming adversary.
Crossing Needs to Be Improved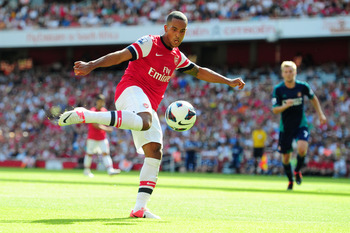 Mike Hewitt/Getty Images
Throughout the season opener, Arsenal had many chances to score, as mentioned earlier. Of those, some of them were crosses that just weren't good enough to reach a Gunner in the box.
With a forward like Giroud who will be in the box, the crosses will need to be good so that Giroud can get his head to the ball.
Then, the ground crosses must be strong, incisive ones as well so that it can reach a player in the box.
In the first match, the Gunners didn't have any great crosses, so this is an area that Arsenal will need to improve ahead of their next match.
The Gunners Need to Use Set Pieces More Effectively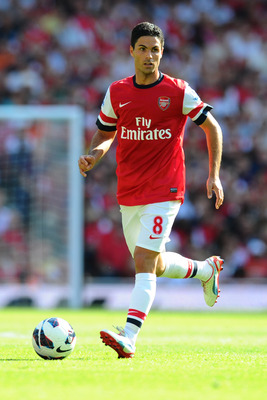 Mike Hewitt/Getty Images
Arsenal did have quite a few set-piece opportunities against The Black Cats. They had numerous corners and some free kicks as well.
With the free kicks, Mikel Arteta had a strike that went quite above the crossbar. Then, Lukas Podolski had a free kick chance with his strong left foot; his opportunity went just over the bar.
In terms of corners, the Gunners just couldn't capitalize on their chances with aerial threats such as Olivier Giroud and Per Mertesacker.
Set pieces are a strong part of Arsenal's play, so the Gunners should make better use of these chances when they receive them against Stoke City.
Arsenal Needs to Keep a Fast Pace Throughout the Match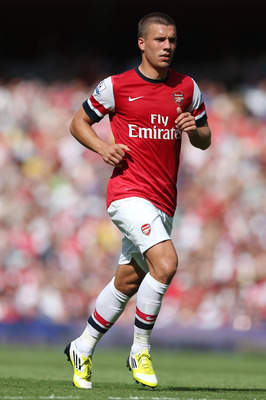 Julian Finney/Getty Images
The Gunners managed to maintain a high quantity of possession against Sunderland. They managed to produce quite a few chances as a result of their possession.
However, there were some periods of time where the Gunners had a few lapses in their possession, where they weren't making much productivity with their attack.
When Arsenal was making quick, precise passes, many good chances rose from what seemed to be nothing.
When the pace of the match was slow, it became gradually difficult to find a good opportunity to score.
Keeping a fast pace going throughout the match will be crucial for Arsenal to beat Stoke. It could be the most important part of the Gunners' game plan against Stoke.
Quick passing and off the ball movement will allow Arsenal to get in a rhythm and score; it won't only allow Arsenal to beat Stoke, but any other team in the Premier League.
Keep Reading

Arsenal: Like this team?