Liverpool FC: Reaction and Reds Player Ratings vs. West Bromwich Albion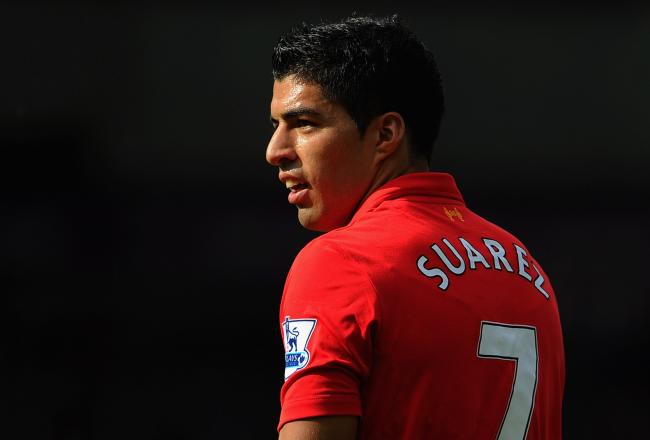 Luis Suarez and his Liverpool team mates look back on a disappointing start to the new Premier League season vs. West Brom
Michael Regan/Getty Images
Liverpool started the new campaign much as they ended the last, with a dispiriting away loss to a team not expected to be in title contention.
Last season it was Brendan Rodgers' Swansea team who humbled the Reds, this time it's Steve Clarke (who was Kenny Dalglish's top assistant that day) and his West Bromwich Albion side with a shocking 3-0 win over Liverpool.
Again borrowing a script from last season, Liverpool dominated possession in the first half, as evidenced by their 61% dominance in the opening half hour. Time after time they threatened the Baggies defense, but failed to capitalize on their opportunities.
Luis Suárez in particular looked his old threatening self, but once again, channeling his form from most of 2011-2012, he failed to find the target, none more glaring than when Glen Johnson found him wide open in the box, only to see the Uruguayan head over bar from four feet out.
Unsurprisingly, their profligacy would come back to haunt them. A needless foul by Glen Johnson resulted in a West Brom free kick being put out for a corner.
Restart of play saw the corner kick deflected out to Zoltan Gera, who controlled nicely before lashing a 43rd minute laser past a helpless Pepe Reina and West Brom would take the lead into the half.
If the first half was disappointing for Liverpool, then the second half was nothing short of a disaster. Steven Gerrard saw his wayward pass fall to Shane Long, who immediately put pressure on Daniel Agger, forcing the Dane into a foul.
For Liverpool and Agger, it was a costly foul as the infraction was adjudged to have taken place inside the penalty box (despite replays suggesting otherwise), and that Agger was the last defender/denied an obvious goal-scoring opportunity, resulting in a straight red card.
As harsh a turn of events as that may have been for Liverpool, they were given a reprieve in the form of a poor penalty kick by Long, coupled with terrific goalkeeping by Reina to conspire to keep West Brom from scoring.
The reprieve was short-lived, however, and the Baggies were awarded another penalty just a couple minutes later, when Martin Skrtel was adjudged to have brought down Long in the penalty box.
Replays showed that contact was extremely accidental, with the West Brom player just nipping in to steal the ball as it was about to be played. Unaware of Long's presence, the defender inadvertently tripped Long, setting up Odemwingie's penalty kick, this time with Reina having no chance.
By the book it was a foul, and as such, a penalty. Still, to call it harsh would be an understatement, and one of a series of calls that failed to go Liverpool's way on the day, including two offside calls that were marginal, at best. Nonetheless, Liverpool were as poor as the officiating was spotty, and were deserved losers in the end.
One final item by Chelsea loanee, Romelu Lukaku, and Liverpool were left having to answer more questions than they would have thought this early into the season. Rodgers now knows that there is much work still to be done, and the players must ask questions to themselves after today's performance.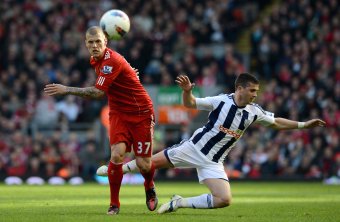 West Brom's Shane Long goes to ground, earning a penalty vs. Liverpool
Gareth Copley/Getty Images
As always, player ratings are presented by position (back-to-front) below, along the following guidelines:
10: Exceptional—superlative performances only.
9: Excellent—outstanding performance.
8: Impressive—very influential game.
7: Very good—eye-catching game.
6: Average—good game, but nothing overly impressive.
5: Below Average—decent performance, but with some faults.
4: Poor—many faults, performance stands out for all the wrong reasons.
Additionally, any performance that affects the outcome of the game will increase or decrease a player's rating by half a point (.5).
Reina—the Spanish custodian was the difference between a resounding loss and sheer embarrassment. He had no chance on Gera's upper corner rocket, nor did he on Odemwingie's penalty. Did brilliantly on Long's penalty, waiting until the penalty taker was committed before moving, and his instincts were right, as they were throughout the game. Grade 8
What is the biggest take away from the match
Martin Kelly—with José Enrique being a late scratch, Glen Johnson was shifted to left back and Kelly inserted into the right back role. It was an unsteady performance by the generally reliable Kelly as he was caught out of position on a couple occasions, and misplayed a couple more passes. He did show a willingness to contribute to the attack and tracked back well enough to salvage a performance that on balance was average. Grade 6
Martin Skrtel—Livepool's player of the year last season, the Slovakian will be disappointed by his overall performance on the day. His slip on the Gerrard pass is what allowed Long to get in behind the defense, and earlier he needlessly gave away a corner after a miscommunication with Reina. He lingered and was caught in possession by Long, resulting in the second penalty. Grade 4.5
Daniel Agger—much like Skrtel, Agger too would be disappointed with his performance, although he was hardly at fault on the first penalty. Overall his effort was decent, but was at-sea versus Long. Grade 5
Glen Johnson—Johnson was busy early, creating a number of decent opportunities for his teammates. Whatever the positives in his play, they were more than overshadowed by the negatives, and a review of the tape would find him in the frame on every West Brom highlight. He was the defender who closed out Gera on the Hungarian's long range goal, which itself was set up by his careless foul on Odemwingie. He was also on the far post on Lukaku's goal, seemingly more concerned with covering the post than the player. Grade 4.5
Stewart Downing (Jamie Carragher 58th)—Downing had another typical performance in a Liverpool shirt, which as supporters know all too well, is bad news for the Reds. He did create one terrific opportunity for Borini, who failed to get on the end of his right sided cross with the goal mouth begging. Other than that, he drifted inside far too often rather than pushing end line for crosses (perhaps by design?), and noticeably failed to link with Gerrard on several short passing plays. Grade 5
Lucas Leiva (Joe Cole 69th)—returning two months ahead of schedule following cruciate ligament injury, the Brazilian international was far from his best, but even then was better than the teammates around him. He did squander a decent chance in the box, and picked up a mystery yellow card after being clattered by Jonas Olsson, but neither were his fault. Grade 6.5
Steven Gerrard—the Liverpool captain will have to search hard to find another performance that was as poor as today's. Not only was he guilty of putting his defense under needless pressure, resulting in the Agger red card, but time after time he tried to thread passes to the forwards, only to see the ball intercepted by the Baggie defense. Far too often he trotted back on defense after the giveaway, and his body language would hardly have served to inspire confidence into his side once things started to go downhill. It was hardly a 'captain-like' performance. Grade 4
Joe Allen—it was an inauspicious start for Allen, not for what he did, but rather for what he did NOT do, which is distinguish himself. The Welshman will have to pick up the slack if he is to avoid being "Jordan Henderson 2.0", as one person remarked to this writer during the game. Grade 5
Fabio Borini—had a disappointing Premier League debut for Liverpool, as all the promise he showed during the preseason dissipated at kickoff. He shockingly looked out of depth at several points during the game, needlessly giving the ball away, and failed to capitalize on what few opportunities fell his way. Grade 5
Suárez—easily could have been Liverpool's man of the match, if only his finishing was half as decent as his build up play. He completely bossed the game early, and it seemed a matter of time before he scored, but this sadly was not to be as he wasted opportunity after opportunity, much to Liverpool's detriment. He needlessly (a repeated theme today for Liverpool) earned his way into Phil Dowd's book with his petulance at the start of the second half, and never was a factor after the interval. Grade 6.5
Substitutes
Carragher—it is becoming increasingly clear that he has no role left on the pitch. Attempted to take a professional foul on Lukaku late in the game, only to be effortlessly shrugged off by the Belgian, underscoring the distance he has fallen as a player. Grade 5
Cole—he came, he subbed, he foundered. Limped off with an injury less than ten minutes after coming on for Lucas. Grade N/A
Andy Caroll—did not get much of an opportunity to make an impression after replacing Cole for the final 10 minutes of regulation, but did show a willingness to hustle, and even got a critical defensive head on a shot on goal. Grade Incomplete
This article is
What is the duplicate article?
Why is this article offensive?
Where is this article plagiarized from?
Why is this article poorly edited?

Liverpool: Like this team?