MLB Prospects: 7 Prospects Who Could Be the Next Don Mattingly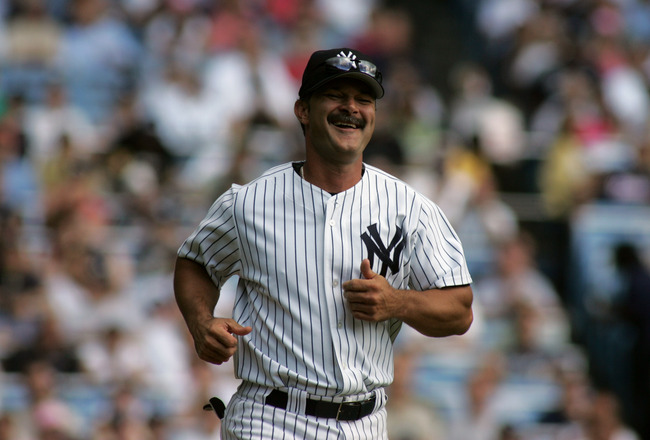 Jim McIsaac/Getty Images
It's not at all surprising that Don Mattingly is a great manager. For 14 years as a member of the Yankees, he was continually lauded for baseball intelligence, leadership and professionalism. I mean, one isn't given the nickname "Donnie Baseball" without reason.
In Mattingly's illustrious and storied career, the first baseman played in six All-Star games, won nine Gold Gloves and was named the 1985 Most Valuable Player of the American League.
That season, the left-handed hitter batted .325/.371/.567 with 48 doubles, 35 home runs, 145 RBI, 56 walks and 41 strikeouts in 159 games.
As we look at today's crop of up-and-coming prospects, it's always fun to draw bold, speculative comparisons to legendary players. So, here are seven players who could be the next Donnie Baseball—ideally, the mustachioed version.
7. Kolten Wong, 2B, St. Louis Cardinals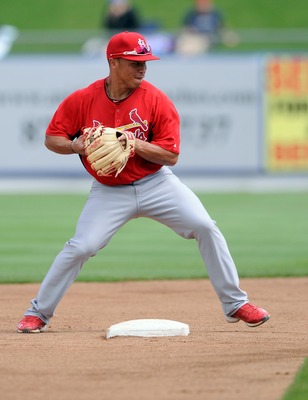 Brad Barr-US PRESSWIRE
Position: 2B
Height/Weight: 5'9", 190
DOB: 10/10/1990
Bats/Throws: L/R
Drafted/Signed: 2011, first round (Hawaii)
2012 Stats
Double-A: .286/.348/.402, 32 XBH, 21 SB, 64 K/40 BB (111 G)
A polished left-handed hitter with mature plate discipline, Wong's hit tool is nearly big-league-ready, and he's drawn rave reviews for his defense at second base. As a team, the Cardinals' second basemen are batting .248/.330/.384 this season. So when Wong is ready, his offensive upside will clearly be an upgrade.
The only question is whether the organization will want to send him to Triple-A for more experience or just throw him into the mix once they deem him ready for a promotion.
6. Garin Cecchini, 3B, Boston Red Sox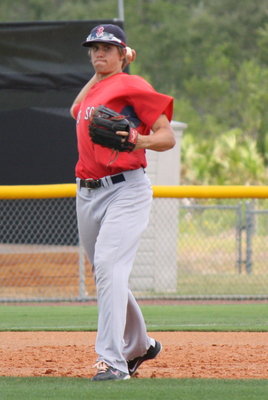 Courtesy of scout.com
Position: 3B
Height/Weight: 6'2"/200 pounds
DOB: 4/20/1991
Bats/Throws: L/R
Drafted/Signed: 2010, fourth round (HS—Lake Charles, LA)
2012 Stats
Low-A: .307/.387/.430, 39 XBH (32 2B), 55 RBI, 40 SB, 81 K/49 BB (104 G)
As a 19-year-old, Cecchini was impressive in his first professional season in the New York-Penn League. However, a hit by a pitch broke his wrist and subsequently ended his promising season after only 32 games.
A left-handed hitter, Cecchini has excellent bat control and an advanced feel for the strike zone. He already has plenty of gap power, which leads scouts to envision a 20-30 home run season. His hand-eye coordination and fluid swing—along with an inside-out approach—will allow for Cecchini to hit for average.
A shortstop in high school, 2011 was Cecchini's first season playing third base, so expect growing pains. He has the arm and instincts to handle the position, but will have to clean up his actions and improve his footwork.
His bat was advanced enough to begin the season at Low-A, despite missing most the previous season, and he has been racking up doubles and stolen bases. The Red Sox could have a good problem on their hands, as Cecchini, Bogaerts and Middlebrooks continue to make their way into the organization's long-term picture.
5. Nolan Arenado, 3B, Colorado Rockies
Jerry Lai-US PRESSWIRE
Position: 3B
Height/Weight: 6'1", 205
DOB: 4/16/1991 (Age: 22)
Bats/Throws: R/R
Drafted/Signed: 2009, second round (HS: El Toro, Calif.)
2012 Stats
Double-A: .276/.334/.419, 44 XBH (10 HR), 48 RBI, 54 K/36 BB (119 G)
Arenado has a flat bat path that can look awkward at first sight. However, he's strong enough that the swing allows him to hit through the ball and generate backspin. He has average plate discipline that should improve with further seasoning in either Double- or Triple-A.
After shedding nearly 20 pounds prior to the 2011 season, Arenado showed significant improvement at third base and has the potential to be a decent defender in the major leagues. He's always possessed the arm strength and instincts to handle the position, but now, his athleticism is finally catching up.
After amassing 55 extra-base hits last season at High-A Modesto, Arenado's power numbers are down this season at Double-A. But the plate discipline and consistent contact to all fields is still there. Attribute last season's power to the hitter-friendly California League if you will, but he's simply not driving the ball like he can.
With a strong season, it seemed as though Arenado would make his big-league debut late this season, especially given the Rockies' struggles. However, things haven't gone as expected, so it'll be interesting to see how things unfold in September. If I were them, I'd call him up for at least two weeks in September, let him get his feet wet and have him begin the 2013 season at Triple-A.
4. Daniel Robertson, 3B, Oakland Athletics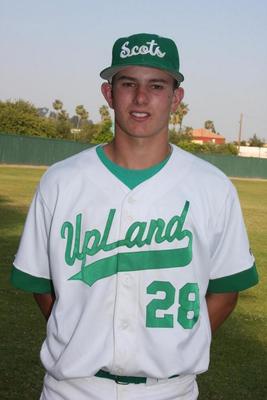 Courtesy of athleticsfarm.com
Position: 3B
Height/Weight: 6'1"/190 lbs
Bats/Throws: R/R
DOB: 3/22/1994
Drafted/Signed: 2012, first round (HS—Upland, Calif.)
2012 Stats (R, SS)
.291/.390/.535, 19 XBH (5 HR), 23 K/18 BB (36 G)
A right-handed hitter, Robertson is a naturally projectable hitter whose abilities at the plate play up due to an approach that's well beyond his years. He has a polished, short swing that allows him to lace the ball to all fields. Although he's currently more of a doubles hitter, the first-rounder has all the ingredients to one day hit for above-average power at the hot corner.
Barely an average runner, he's extremely agile at third base and takes a great first step. However, it's his plus arm that steals the show, as Robertson throws absolute darts across the diamond that register in the low-90s.
Given his highly advanced approach at the plate, compact, line-drive swing and quiet athleticism, Robertson has the potential to have a Kevin Youkilis-like impact on offense.
One of the primary reasons young hitters spend considerable time in the minors is to develop a big-league-ready approach. Robertson, on the other hand, is already ahead of the curve.
3. Kaleb Cowart, 3B, Los Angeles Angels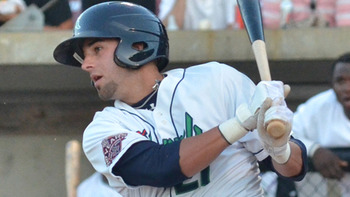 Courtesy of MiLB.com
Position: 3B
Height/Weight: 6'3"/190
DOB: 6/2/1992
Bats/Throws: S/R
Drafted/Signed: 2010, first round (HS—Adel, GA)
2012 Stats
Minors (A-, A+): .291/.375/.480, 50 XBH (15 HR), 90 RBI, 14 SB, 94 K/61 BB (118 G)
A switch-hitting third baseman, Cowart handles the bat significantly better from his natural right side, though he's made significant strides this season as a left-handed hitter. His bat speed and fluid stroke from both sides suggests plus power. Given his progress this season, it seems as though he may even have a chance to hit for a respectable average.
Left-handed, his swing can be a bit choppy and lacks the fluidity showcased from the right side, although he flashes plus power from that side as well.
At third base, Cowart's athleticism and instincts foster above-average range and smooth defensive actions. His arm—which was mid-to-upper-90s off the bump in high school—is ideal for the position, although he has a tendency to get out of sync with his footwork and miss his target.
This season, Cowart has gone from a prospect with questions about his bat to a hitter with constantly improving plate discipline. There's still not a ton of power there, but as his hit tool improves, his power his power should too.
2. Jedd Gyorko, 2B/3B, San Diego Padres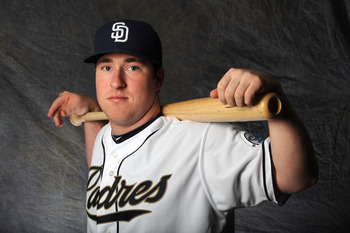 Rich Pilling/Getty Images
Position: 2B/3B
Height/Weight: 5'10", 195
DOB: 9/23/1988
Bats/Throws: R/R
Drafted/Signed: 2010, second round (West Virginia)
2012 Stats
Minors (AA, AAA): .314/.375/.539, 51 XBH (24 HR), 85 RBI, 79 K/43 BB (110 G)
A right-handed hitter, Gyorko has a clean, compact swing that should allow him to consistently hit for a high batting average. He recognizes pitches, has a feel for the strike zone and, given his balanced swing, is comfortable using the whole field.
His power will never be anything special—especially at PetCo Park—but he should still tally plenty of doubles and consistently drive in runs.
It's been clear since the beginning of the season that Gyorko has been on the fast track to the major leagues. Despite batting only .262/.356/.431 in 34 games at Double-A, he was promoted to Triple-A Tucson, where he has since thrived.
His offense at second base will be a major upgrade, and he has enough pop in his bat to fit at third base if the team were to trade Chase Headley. He may only receive a September call-up, but it seems likely that Gyorko's being prepped to take over full-time at some point in 2013.
1. Joe Panik, SS, San Francisco Giants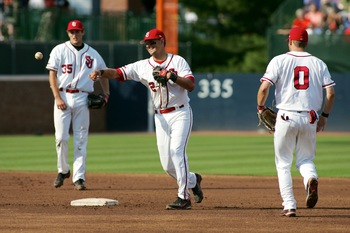 Peter Casey-US PRESSWIRE
Position: SS
Height/Weight: 6'1"/190 lbs
Bats/Throws: L/R
DOB: 10/30/1990
Drafted/Signed: 2011, first round (St. John's)
2012 Stats
High-A: .287/.364/.403, 36 XBH (25 2B), 69 RBI, 49 K/54 BB (115 G)
One of the more advanced hitters in the 2011 draft class, Panik ran away with Northwest League MVP honors in his first season after posting robust numbers across the board. A left-handed hitter, he goes to the plate with a plan every at-bat but still knows how to work a count and, more importantly, battle when behind in the count.
He probably won't jump the yard too often, but he hits enough doubles to profile as a big-league No. 2 hitter—especially considering that he swings it from the left side.
While he's currently being developed as shortstop at the moment, Panik's future is probably at second base, where his average arm is a cleaner fit. Regardless, he has soft hands and positions himself based upon counts and hitter types. Therefore, while his range is only slightly above-average, it plays up in game settings due to his advanced baseball IQ.
He hasn't produced at the level that both the Giants and scouts were expecting this season, but he's such a smart player that it's not surprising he's enjoying a second half of the season.
Keep Reading