Alex Kovalev: 5 Reasons the Montreal Canadiens Should Stay Away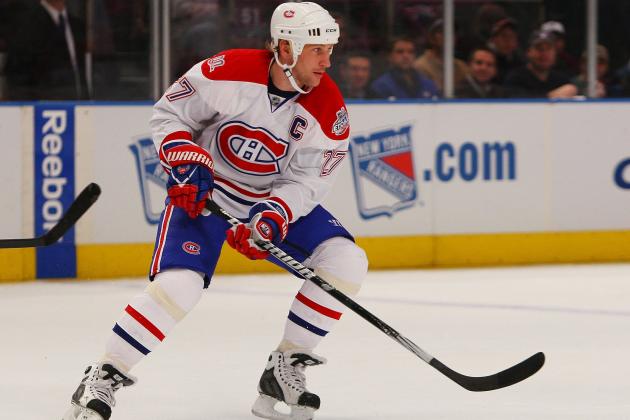 Mike Stobe/Getty Images
Former-Montreal Canadien Alex Kovalev.
There was a time Alex Kovalev could do no wrong in Montreal. Of course, I mean big picture. In between all the taken-out-of-context quotes during interviews and nightly shifts off, the man was beloved…for whatever reason.
Call it nostalgia for eras past when the Habs boasted legitimate superstars who were just as talented (but, opposed to Kovalev, played like it), or even a shared taste for vodka and borscht. In any event, hundreds of people rallied outside the Bell Centre in an attempt to convince then-General Manager Bob Gainey to bring the enigmatic winger back to Montreal when he became an unrestricted free agent in 2009.
Of course, to those who will always have a soft spot in their hearts for the soft Russian who once upon a time gave up the puck in humiliating fashion to Boston Bruin Glen Murray in a playoff game, allowing a game-winning breakaway by feigning an injury: Life's not fair.
No clearer was that made then when, all the while that this rally was taking place, Habs captain Saku Koivu was allowed to walk away without so much as a wave goodbye from the team or fans for which he had played all his career and on more than one occasion bled, sweat, and cried.
Instead of re-upping Kovalev, who had taken his sweet time mulling over an offer from Gainey (yes, despite it all, Gainey did end up making him an offer), Montreal moved on and the Habs promptly signed Michael Cammalleri, Brian Gionta, Jaroslav Spacek and Hall Gill en route to their most successful post-season run since their 1993 Stanley Cup victory. Coincidence?
So, amidst reports that Kovalev (via the Toronto Sun) is considering a return to the National Hockey League and has received several tryout offers, here are five reasons the Habs should stay away.
Begin Slideshow

»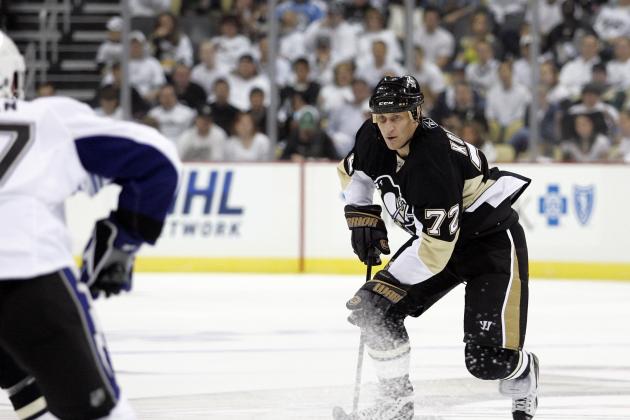 Justin K. Aller/Getty Images
Alex Kovalev during his last stint with the Pittsburgh Penguins.
With the de facto top line of David Desharnais Max Pacioretty and Erik Cole presumably set in stone, there is potentially a top-six spot open beside Tomas Plekanec and Gionta.
There's no denying a line of Kovalev, Plekanec and Gionta would look pretty good on paper, well, at least four or five years ago when Gionta was still basking in the glow of a 90-point season, Plekanec was just starting to shed the defensive-forward label most had typed up for him, and Kovalev was preparing for what would be his defining season with the Habs.
Indeed, in 2007-08, Kovalev put up an unreal 84 points as a 34-year-old. That year, not only did he cement his status in Habs lore by leading the team to the best record in the Eastern conference, he did so in spectacular fashion.
In the process, he forever proved all the haters wrong, that he wasn't just a one-season wonder forever leeching off the success of a single 95-point campaign from when he was still in his prime and playing on a team with Jaromir Jagr and Mario Lemieux. The man really was talented, but the emphasis on "was" is there not just because there was ever any doubt, but also because it's the past tense.
Sure, talent doesn't just magically disappear, but it does fade away.
Since that 84-point season, his point totals dropped drastically in each of the next three seasons to the point that he was practically given away to the Pittsburgh Penguins by the Ottawa Senators for a seventh-round pick in his last season, and that was only out of GM Ray Shero's desperation, having lost both Sidney Crosby and Evgeni Malkin to injury.
So, no, this isn't five years ago.
Gionta is now as banged up as a beaten-down bongo drum (and still just slightly taller) and Plekanec has become a singular threat again, but this time as a second-rate offensive player posting a plus/minus -15 last year instead of the +15 he did playing alongside Kovalev that one magical season.
And Kovalev, himself? He's pushing 40 and is fooling himself thinking he's still got it, because he barely ever had it to begin with.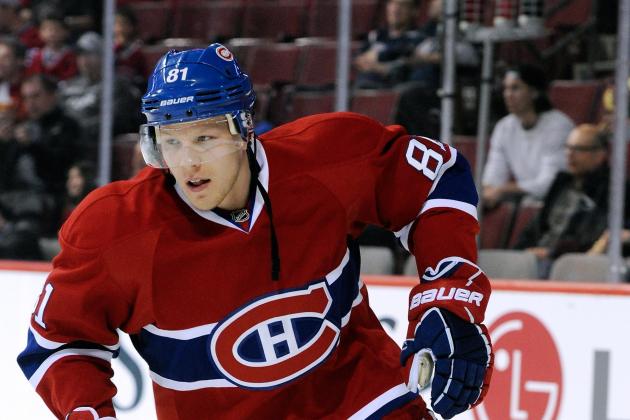 Richard Wolowicz/Getty Images
Montreal Canadien Lars Eller.
Assuming Montreal does sign Kovalev to a reasonable $1 million contract and he does secure that aforementioned spot on the second line, whose spot would he be taking in the process? Louis Leblanc's? Lars Eller's?
During that 2007-08 season, incredibly, seven different Habs scored 50 or more points. All you need to know, though is that the last remaining player of those seven currently with Montreal, Andrei Markov, is on his last legs, literally.
All due respect to Kovalev, Montreal only needs one Russian with a history of knee problems.
There's a changing of the guard taking place if it didn't already during the 2009 offseason. Montreal is in rebuilding mode and even if Kovalev was put on the fourth line and given power-play time, that time would be better suited being awarded to one of the team's younger players.
Even if Kovalev lights the league on fire, what would be the purpose? To get Montreal close to the playoffs, maybe even in, just so they could get knocked out in the first round and Kovalev can retire at the end of the season on a relatively high note?
There are few high notes remaining in Kovalev's career, at least none that would last an entire season, and, put simply, Montreal just doesn't have the team to win, with him or without him.
The Habs should live and die with who they've got now, because the only thing signing Kovalev would accomplish is the stunted development of their future stars and much aggravation in the process.
Phillip MacCallum/Getty Images
Alex Kovalev, when he was an Ottawa Senator.
Admittedly, time and again, Kovalev was preyed upon by the local media looking for a post-game quote.
English is not Kovalev's first language and it seems fair to give him the benefit of the doubt for a large portion of the times all he was guilty of was accommodating a reporter looking for an honest answer who then misrepresented what was said for the sake of good talk radio.
However, what about the times those answers were in Russian?
On one occasion is probably enough, but it happened on several that reports and interviews originating from his native Russia surfaced stating that Kovalev was unhappy in Montreal, that he wasn't being given a fair shake because the head coach didn't like Russians (via CBC), that his at-times sub-standard production wasn't his fault but that of elves who lived only to tamper with his equipment at night and make him look bad, etc.
Basically, there's only so many times you can throw the organization as a whole under the bus and then cry wolf without even the most less-than-astute hockey executive eventually realizing a wolf didn't actually lure everyone into the street, break into the team Greyhound, put it in gear, and then run them over.
It wouldn't be fair to call Kovalev a cancer in the locker room, because, aside from the reporters who are given post-game access to it on a regular basis, few have even a glimmer of an idea as to what goes on in there. And, during those post-game scrums, even those reporters are privy to only a public relations department-approved version of the team, its inner workings, and the words that come out of players' mouths.
However, the old fool-me-once adage applies here.
Kovalev, even if out of ignorance, failed one time too many to put the team ahead of his needs to air his grievances, and, try as he might, a leopard just doesn't change his spots.
Granted, Kovalev tended to choose his spots carefully, but that had more to do with a general lack of consistency on the ice than his character off it.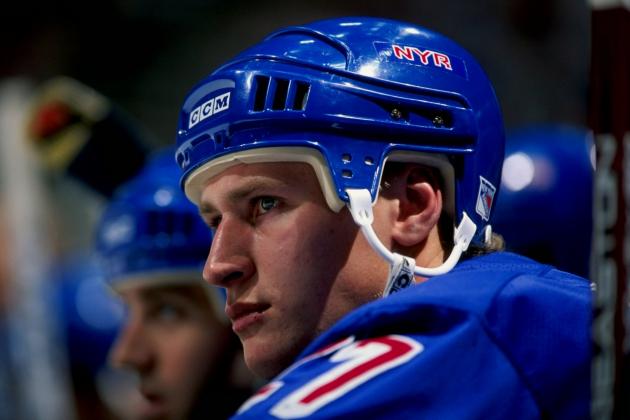 Al Bello/Getty Images
Alex Kovalev, from when he was with the New York Rangers (first stint).
Oddly enough, as cold as it gets in Montreal, the city is always hot for hockey. It's kind of sad, actually, speaking as one of the afflicted many souls who would rather stay in on Saturday night to watch the game than go out and have fun (because, let's face it, watching Habs games has become more torture than fun in the recent past).
In any case, the point is this: With hockey fans in Montreal as passionate as they are, the thought of hockey players not giving it their all night in, night out just doesn't compute, especially with them being paid millions of dollars to play what is essentially a game for a living.
So, to those familiar with Andrei Kostitsyn's transgressions who would rather see their team suffer through a season of an unretired Sean Avery's antics than sign the former, let me break it down for you thusly: Kostitsyn learned from the best, and I'm sure as hell not talking about Alexander Radulov. I mean, where's the commitment if all you do is go back to the Kontinental Hockey League the second things get rough instead of taking a breather every second shift here?
I can cite many of Kovalev's disappearing acts, but none better exemplify his career as a whole than his first season as an Ottawa Senator. In one game against the Philadelphia Flyers, Kovalev notched four goals and one assist. Just over one month later, he went 12 games without scoring…a point.
Kovalev can go from stealing a game for his team one night to disappearing completely the next. It would be a neat trick, were it not for the fact that it's technically true of every player in the league. Kovalev's not special.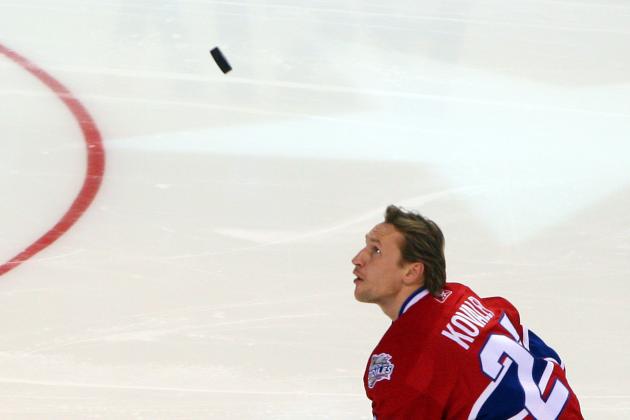 Mike Stobe/Getty Images
Alex Kovalev displaying his talents at the 2008-2009 All-Star Game.
During his career, even at its low points, everyone built Kovalev up to be a legend, but he was more accurately a legend in the vein of the Loch Ness Monster…one that no one ever sees for themselves. "One of the most talented players out there," they'd say, for some reason voluntarily putting him in the same league as a Wayne Gretzky.
Huh? Does Kovalev have some Russian mafia connections I don't know about that make everyone so deathly afraid of hurting his feelings?
Did he win a single Hart Memorial Trophy? A single scoring race? Even so much as score 50 goals in a season?
The answers to those questions in no particular order: no, no, no and I definitely hope not.
Honestly, before he became a Canadien, Kovalev wasn't even the best player on any of his previous NHL teams. Granted, playing with Lemieux will do that to a guy, but the fact remains that Kovalev was never as valuable a player as he was made out to be.
Is he talented? Sure, but every NHL player is talented. Most every player, whether a grinder, goon or plug, scored prolifically at some level of hockey below this one.
Being a Canadiens fan, I was legitimately impressed by his 2007-08 season, but, by and large, the only talent he consistently displayed during his four-plus years as a Canadien was being able to cycle around with the puck in the offensive zone and cough it up almost every time he got too fancy.
When Montreal acquired him from the New York Rangers, they got him for next to nothing: Josef Balej and a second-round pick who similarly amounted to nothing as far as the NHL is concerned. So, yes, the deal is justifiably considered Gainey's best from his time as GM of the Habs if for nothing else than that superb single season Kovalev authored. But it was one season and it happened a long time ago.
This whole discussion might be for naught seeing as there have been no reports indicating Kovalev is close to returning to the Habs. He did at one point say he could envision himself retiring a Canadien, but, then again, that was right after he signed with the Ottawa Senators, so…yeah, another distraction waiting to happen, one the Canadiens don't need right now or ever again.
Kovalev had his time with the Habs, but that was the past. Right now is all about the future.