Lions vs. Ravens: Baltimore's Hurry-Up Offense Produces Mixed Bag of Results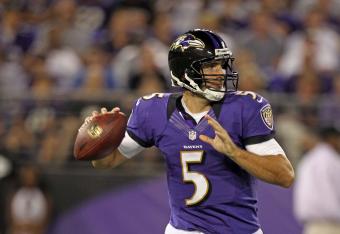 The Ravens' no-huddle didn't look much different from their 2011 offense.
Mitch Stringer-US PRESSWIRE
The Baltimore Ravens unveiled their new-look no-huddle offensive attack in earnest against the Detroit Lions on Friday night. Dubbed the "sugar huddle," its ultimate results were both sweet and sour for the Ravens' offensive starters.
While the quickness did manage to throw off the Lions' defensive front seven, and while the attendant five-step drops kept quarterback Joe Flacco protected behind an offensive line still trying to find its footing, the result looked like a continuation of what we saw out of the offense in 2011, just faster.
That means checkdowns—lots of checkdowns, and otherwise short passes. According to ESPN's tally, the vast majority of Flacco's throws were short and thrown out of the no-huddle.
Short passing made sense in this game, considering both starting tight ends—Dennis Pitta and Ed Dickson—as well as wide receiver Torrey Smith were all sidelined with injuries.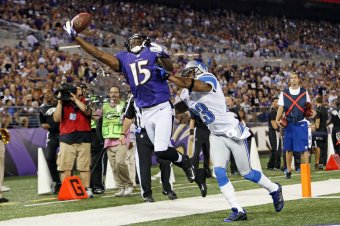 Mitch Stringer-US PRESSWIRE
That left Flacco with a paucity of receiving options which necessitated a lot of shorter throws. While LaQuan Williams and Anquan Boldin were both on the field, the Lions defense could easily key onto the two receivers, leaving Flacco few other options.
The hope is that once the Ravens are back to full offensive strength, the no-huddle, quick-passing approach will have better returns and allow a more versatile passing game. The point of speeding up the offense is to throw defenses off guard, and while it did that to an extent in this game—it doesn't allow for defensive substitutions after all—if the Ravens simply use the same approach as they did last year, it doesn't matter if they speed it up because opponents know what they'll be seeing regardless.
Flacco ended his night completing seven of his 12 passing attempts for 79 yards. The only first-team scores resulting from this quicker approach were field goals, which makes the ultimate returns of this faster strategy quite mixed.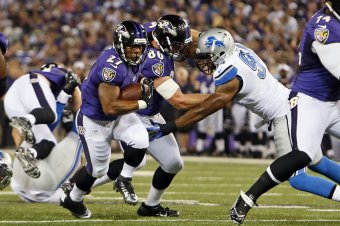 Mitch Stringer-US PRESSWIRE
We won't really see the effectiveness of the "sugar huddle" until all of the Ravens' offensive starters are on the field together. In this preseason test run, however, it looked simply like fresh icing on the same cake from last season.
While that has provided the Ravens with success in the past, one of the biggest knocks against Cam Cameron's system is its simplicity and predictability. Running the same plays, but faster, doesn't represent enough of a change to call the Ravens' offensive strategy new-look, but again, it's still early. With Smith, Dickson and Pitta on the field, this could provide a major shot in the arm to a Ravens' passing game that needs it.
The fact that no one on the first-team offense seemed to struggle mightily with the new speed is a good sign; and that there is built-in protection for Flacco makes it even better. But when it comes to the Ravens' no-huddle, only time will tell if this is ultimately a success. This dress rehearsal earns an incomplete grade.
This article is
What is the duplicate article?
Why is this article offensive?
Where is this article plagiarized from?
Why is this article poorly edited?

Baltimore Ravens: Like this team?