WWE Top 5 Worst of the Week: Piper, Ryback and More!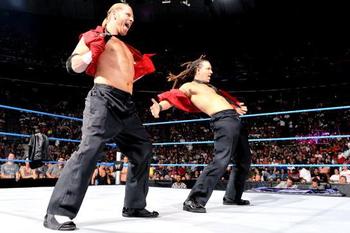 Well, it's been a long build, but we've finally arrived at SummerSlam!
This past week of WWE programming revolved around the last push for the show. It's arguably the second biggest event of the year, and the time was right for some strong angles to get people talking.
Raw ended on a high note with the Lesnar-HHH-Michaels angle. It's too bad that so much of the show revolved around recaps of the feud instead of interviews with other wrestlers for their matches, but nothing's perfect.
And some things are so far from perfect that they're downright terrible. These are those moments from the week that are best forgotten.
This list looks to uncover the top five faux pas before WWE's party of the summer. Here is WWE's top-5 Worst of the Week from August 12th-18th.
5. Ryback's Music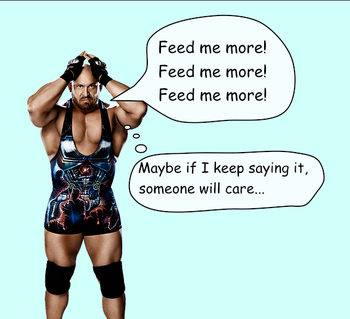 For the love of God, Ryback, I get it. "Feed me more!"
I heard you the first time!
Besides him saying "feed me more" literally a dozen times every time he's on TV, did they really need to add that to his theme song?
Did Goldberg walk out to "Who's next? Who's Next? Who's Next?"
No, he didn't, and Ryback, if you're going to be a copy of Goldberg, you should follow him on this one.
You can say "feed me more" once. Maybe twice.
But please, just stop after that.
4. RawActive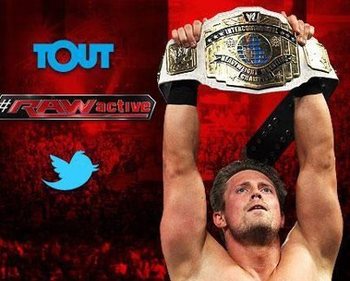 What would you rather have: an ice cream sandwich or a kick in the nuts?
Now go online and vote!
Those are basically the level of choices that WWE gives us each week.
We had the choice of picking who was going to be on Piper's Pit. Anything could happen! Except our choices were between two mid-card heels and one of the most popular wrestlers of the past 20 years.
I imagine it was a really tough choice for fans.
It's just annoying that WWE tries to make fans feel like they're in control of the shows, when they're obviously just picking who WWE creative would have anyway.
If A.J. is supposedly crazy, why doesn't she come up with some wacky and unpredictable options? For Piper's Pit, will Roddy Piper wrestle a badger, interview Gallagher or re-enact the fight scene from They Live?
That would actually get me to vote.
3. Smackdown Strippers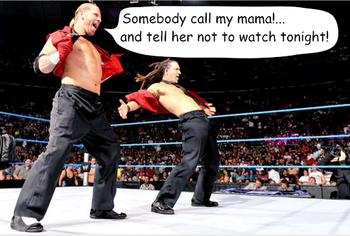 This isn't going to work.
Doesn't WWE remember The Dicks? Minus squirting oil on each other, this is basically the same gimmick.
Male strippers just don't work in wrestling. Even more odd is that we're now in the PG era. It's kind of out of place.
Before Hawkins and Reks' match against two jobbers, they started to do a little strip dance for the crowd. It didn't get any crowd heat, though. The fans just looked bored.
Let's hope this is just part of a storyline where they're trying different things to "get noticed." But either way, that's a bad storyline to be in.
Why can't the duo just be noticed for being a bad-ass tag team? Is that not creative enough?
Apparently, WWE thinks dancing men equals money, and, apparently, we don't see enough people dancing on the show as it is.
2. Pauly D. Social Media Ambassador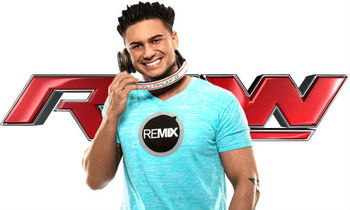 photo from blogs.thescore.com
Does any wrestling fan really care what Pauly D. thinks?
Do they just not trust guys like Sheen and Pauly to be in the arena? Why do they have to stay at home? What exactly is a "social media ambassador?"
It's just a little confusing with WWE's PG product that they promote celebrities that are notorious for being…well, very un-PG.
The constant push of Tout and Twitter annoys most fans, and adding in the new role of social media ambassador is just making it that much worse.
Also, is there any celebrity that WWE doesn't want? How about Dave Coulier from Full House? He hasn't been relevant in years too, but he's at least wholesome.
1. Piper's Pit Stain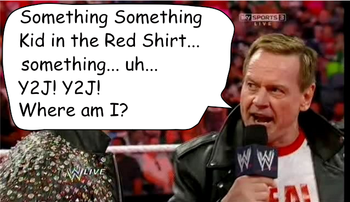 When Piper is on, he's fantastic. When he's off, he's kind of embarrassing.
This was one of those embarrassing efforts.
He tried multiple times to get a Y2J chant started. He interrupted the other wrestlers, and for some reason pointed to a kid in a red shirt in the crowd.
Through the whole segment, he had one good line, "I don't remember any of that," when Jericho reminded him of beating him up at WrestleMania.
The rest was kind of uncomfortable. It was kind of sad watching one of the greatest talkers in the history be so off his game. Maybe next time he should actually watch the program and plan out what he's going to say.
Keep Reading