Boston Bruins: 5 Rookies Who Could Make Their NHL Debut in Boston in '12-13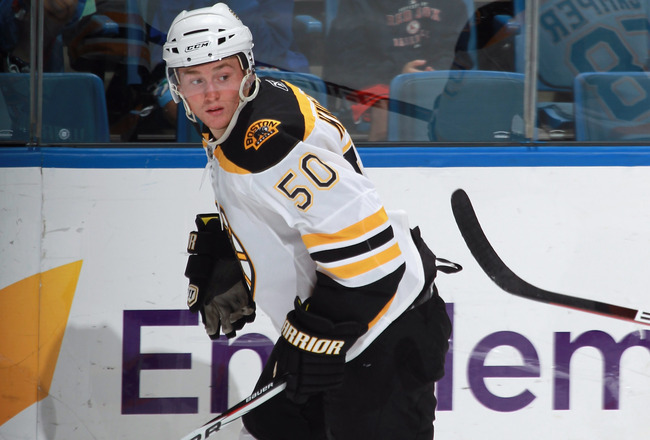 Bruce Bennett/Getty Images
Dougie Hamilton is one of 20 players listed on the Boston Bruins official roster who has yet to play a nanosecond of regular-season NHL action.
Assuming there is a 2012-13 season, Hamilton is all but a lock to break his NHL ice, quite possibly right out of training camp. A smattering of others figure to go back to their major-junior teams, while the majority will be in Providence for at least the start.
The AHL-bound, in particular, will be vying to match the feat of four presumptive teammates―Carter Camper, Torey Krug, Lane MacDermid and Max Sauve―who made their NHL debuts last season when an injury bug struck.
Besides those four, there will be competition from the likes of Chris Bourque, Colby Cohen, Garnet Exelby, Christian Hanson and Aaron Johnson, all of whom have seen NHL time with other organizations. Third-year Bruin Matt Bartkowski, who saw slivers of time in The Show each of the last two regular seasons, is not likely to retract either.
With all of that said, there are at least four solid candidates to add their names to the Providence-Boston pipeline in 2012-13. One other prospect with plenty of remaining major-junior eligibility is a possibility to get a quick sliver of action on Claude Julien's watch as well.
The Bruins' five most likely NHL newbies for the next season―specifically those not named Hamilton―are encapsulated as follows in alphabetical order.
Michael Hutchinson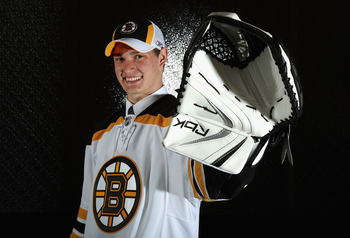 Andre Ringuette/Getty Images
Hutchinson dressed as Tim Thomas' backup on March 4, the day after Tuukka Rask went down with a season-ending injury.
Hutchinson figures to be this year's organizational third-stringer, with Anton Khudobin backing up Rask. But just as Khudobin allowed Thomas to rest for the playoffs in an April 5 bout with Ottawa, Hutchinson could get a chance to take the next step and actually scrape some NHL blue paint this season.
Jared Knight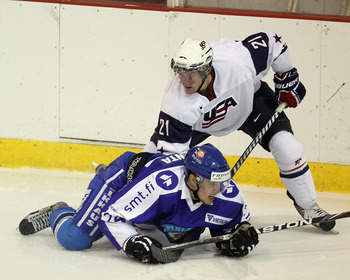 Bruce Bennett/Getty Images
It is almost a foregone conclusion that Knight will see regular-season action with the spoked-B on his chest next season, though not to the same degree as Hamilton. He could lose the right to be the 13th forward at training camp to fellow first-year professional Ryan Spooner or to Bourque, Camper, Hanson or Sauve.
Even in that event, though, the revolving door would more than likely open to him at some point during the year.
Kevan Miller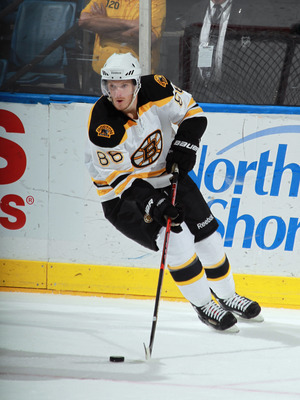 Bruce Bennett/Getty Images
One of only two Providence regulars to finish in the plus/minus black last season, Miller trumped runner-up Calle Ridderwall for the team lead at plus-20. In the AHL as a whole, he tied Abbotsford's Krys Kolanos for 12th in that category.
That jutting stat is no accident, but rather a reward for grit and unyielding physicality, as the P-Bruins coaching staff observed in a Providence Journal feature late last season.
The blue-collar backstop Thomas may have pulled the plug on his remarkable saga, but a fellow Vermont Catamount alumnus could be penning a somewhat similar log en route to employment in Boston.
If Miller follows up on his rookie year with the P-Bruins, he should be given a look for a few NHL shifts as a starting point in 2012-13.
Ryan Spooner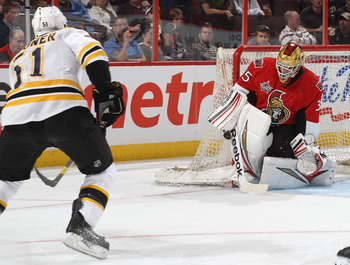 Jana Chytilova/Freestyle Photo/Getty Images
Spooner, Knight's fellow second-round pick in the 2010 draft, promises to be one of his topmost challengers for a roster spot on the parent club, with the loser taking a big-minute role in Providence.
But once the regular season is underway in both leagues, the odds will favor Boston's 13th forward ultimately being demoted for conditioning. In turn, the top prospects will be summoned to fill the resultant vacancy, as they will in case of various voids created by injuries and illnesses to the established NHL core.
Malcolm Subban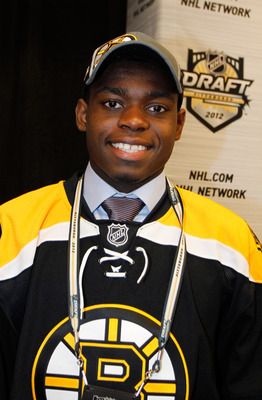 Justin K. Aller/Getty Images
With the current crowd of Tuukka Rask and Khudobin at the top level and the aforementioned Hutchinson and Niklas Svedberg in Providence, this is a bit of a long shot.
However, if Subban makes enough of an impression in Belleville despite a non-playoff run or early playoff exit, the Bruins' latest first-round draft pick could get the call to offer Rask or Khudobin a night off in late March or early April.
Keep Reading

Boston Bruins: Like this team?