Bengals vs Falcons: Atlanta's Biggest Winners & Losers from Preseason Week 2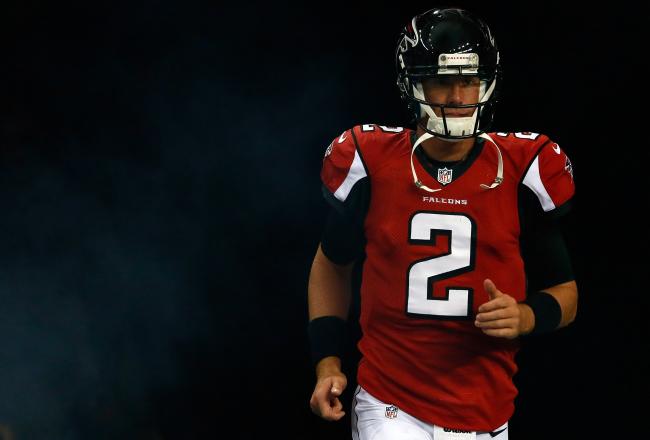 Kevin C. Cox/Getty Images
The Atlanta Falcons took on the Cincinnati Bengals in the Georgia Dome Thursday night, losing by a score of 24-19 to drop to 0-2 on the preseason.
It was a rough start for the first-team offense, which came away empty on its first two possessions before Matt Ryan was able to orchestrate two consecutive scoring drives.
On the other side of the ball, the Falcons' starting defense was able to bring consistent pressure on Andy Dalton, but did give up a 50-yard touchdown pass to A.J. Green early in the second quarter.
The game gave plenty of information on the team's progress, so let's take a look at some of the Falcons' winners and losers from their second preseason contest.
Winner: Matt Ryan

If you thought Matt Ryan wouldn't be a good fit in a passing offense, think again.
The fifth-year quarterback looked comfortable in the pocket on Thursday night (when he had time), showing patience and poise going through his reads. Ryan displayed his ability to make a range of throws as well, from throwing darts with pinpoint accuracy on quick throws inside to achieving near-perfect touch on deep balls down the sideline.
Ryan completed 11 straight passes to start the game before finishing 18-of-21 for 174 yards and a touchdown through a quarter-and-a-half of work.
Perhaps most revealing is the following: The Falcons ran 27 plays against the Bengals with Ryan at quarterback. He threw on 21 of them.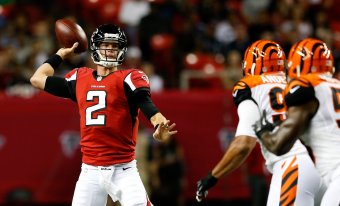 Kevin C. Cox/Getty Images
From the looks of things, the Falcons are finally taking the reins off Ryan and letting him prove he can carry this team through the air.
From the looks of things, it's about time.
Loser: Michael Turner
Michael Turner touched the ball just six times in Thursday night's preseason match-up, but it was enough to conclude it's not setting up to be a promising campaign from him in 2012.
Turner looked sluggish for the second week in a row, finishing with minus-three yards on three carries.
The offensive line may be partly to blame, but it's difficult to say it deserves all of it when backup running back Jacquizz Rodgers is making plays on the ground behind the same line.
It's also possible the Falcons aren't having Turner run too hard seeing as it's preseason, but the fact remains Turner looks to have lost the burst and power that have made him such a dominant runner these past few years.
Unless he's able to turn it around once the regular season begins, Turner could go from seeing a slight dip in his carries to taking a backseat to Rodgers and Snelling altogether.
Winner: Peria Jerry
The Falcons defensive line was on fire against the Bengals, rushing Andy Dalton on many of his throws and getting consistent penetration in the backfield.
But that's to be expected from the likes of John Abraham and Jonathan Babineaux.
Who wasn't expected to be playing this well was Peria Jerry.
Jerry followed up a great first preseason game last week with an even better one against Cincinnati, finishing the night with two solo tackles and a sack.
Snap after snap Jerry was getting in Dalton's face and stuffing the run inside, and while he did get called on a late hit, it could be argued he was simply finishing the play.
It would appear Jerry is finally beginning to live up to his first-round status, and that can only be good news for him and the Falcons.
Losers: Offensive Line
The team's starting offensive line were winners in my book last week, but they were far from it this time around.
Wait, you might say: Matt Ryan completed 11 straight passes to start the game and wasn't sacked once!
While that may be true, the stats don't quite tell the same story as what happened in the game. Ryan was running for his life on numerous occasions, at one point having to run nearly 10 yards back the moment the ball was snapped to avoid taking a sack.
Quick throws and play action passes had the big guys up front appearing to be doing their jobs, but the reality was they struggled mightily on straight drop-backs and were even worse blocking in the running game. Many of Ryan's early completions came on short throws after being given little time to set up for a deep pass.
The line appeared to have settled down following the team's second possession, but that inconsistency shouldn't exactly be reassuring for Ryan and new offensive line coach Pat Hill.
Winner: Dominique Davis
Prior to Thursday night's game, the question for Dominique Davis was whether he could repeat his performance against the Baltimore Ravens from a week earlier.
Against the Bengals Davis not only repeated his performance, but improved on it.
In just over five minutes of play, Davis completed 11-of-18 for 121 yards and a touchdown despite his intended receivers dropping many of his passes.
The former ECU quarterback showed flashes of his abilities for the second week in a row, doing everything from staying tall in the pocket to making deep throws down the sideline, to hitting his short targets right in the chest to even making plays on his feet when needed.
At this rate, this undrafted free agent's spot on the team should be all but secured come final cuts.
Losers: Marcus Jackson, Kenny Stafford and James Rodgers
With so many receivers fighting for one spot, it's those who make the most of their snaps that will get a shot at the final roster.
On Thursday night, Marcus Jackson, Kenny Stafford and James Rodgers didn't do themselves any favors.
Yes, they finished with three catches for 40, two for 17, and 2 for 20, respectively.
But they also finished with some untimely miscues as well.
Jackson, Stafford and Rodgers let some perfectly-thrown balls fall to the turf and looked to be hearing footsteps on a few other passes, and that simply won't cut it at the NFL level.
The three will be lucky to make it past the first cuts on August 28 if they don't limit their mistakes in next week's game.
This article is
What is the duplicate article?
Why is this article offensive?
Where is this article plagiarized from?
Why is this article poorly edited?

Atlanta Falcons: Like this team?