Atlanta Braves: 4 Reasons Tim Hudson Should Pitch Potential 1-Game Playoff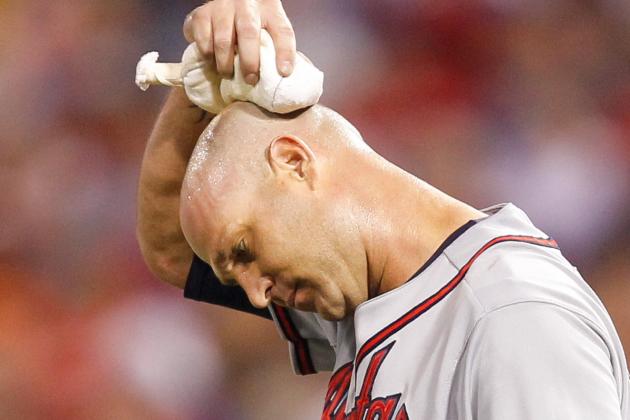 Brian Garfinkel/Getty Images
Tim Hudson deserves a chance to start any one-game playoff for the Braves.
After being a bit of a disappointment in the first half of the season, the Braves have seen their starting rotation pitch better since the All-Star break. The signing of Ben Sheets, the trade for Paul Maholm and the conversion of Kris Medlen from reliever to starter have been big reasons why the rotation has stepped up.
In fact the Braves have been pitching so well of late that it appears the team is set to go with a six-man rotation once Tommy Hanson returns from the disabled list. Considering the Braves struggled to find more than three solid starters in the first half and lost their best pitcher to injury, things have come a long way.
One decision the Braves will need to make is who they will start if they head to a one-game wild-card playoff. My choice is Tim Hudson, and this article gives four reasons why I believe that should be the case.
Begin Slideshow

»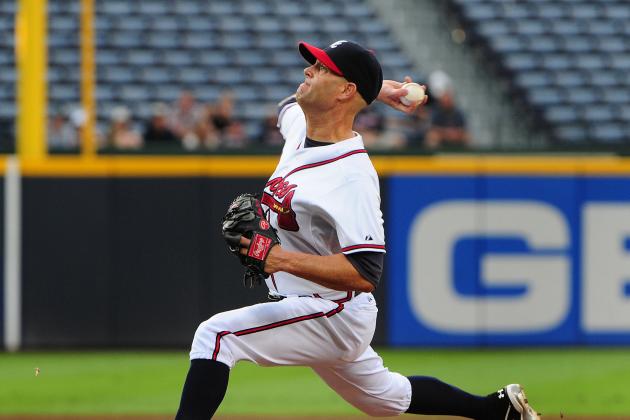 Scott Cunningham/Getty Images
Tim Hudson is a veteran that still wins games.
One thing about Tim Hudson is that he seems to be the veteran leader of the group, and has been for the last few seasons. Hudson's work ethic and ability have helped him to remain a strong pitcher at the age of 37, as well as set a good example for the younger pitchers on the staff.
Hudson has won a total of 193 games in his career, and is currently sitting at 12-4 with a 3.59 ERA in 20 starts this year. His stuff isn't what it used to be, but he's still a guy that averages more than six innings per start despite his age and the fact that he had back surgery in the offseason.
There just isn't a better mix of veteran presence and ability on the staff right now, and Hudson has plenty of big-game experience throughout his career.
Brian Garfinkel/Getty Images
Ben Sheets may be Tim Hudson's toughest competition.
Taking a look at the Braves' roster, it is pretty easy to pick out the best starter so far this year. Obviously that guy is Brandon Beachy, but with him out due to injury, that honor belongs to Tim Hudson.
Mike Minor and Randall Delgado have been up and down all season, while Tommy Hanson and Jair Jurrjens have had disappointing seasons by their standards. That leaves four other guys in the picture, and three of them just don't have the number of starts to beat out Hudson.
That is because Hudson's top competitor, Ben Sheets, didn't even sign with the Braves until the halfway point of the year after being out of baseball since 2010. As good as Sheets has been, he's only made six starts on the year.
Kris Medlen has spent the bulk of the year in the bullpen and Paul Maholm just recently came over in a trade, though he's more of a strong back-of-the-rotation pitcher.
Hudson is clearly the best starter the Braves have this season, and also has the longest track record with the team this year.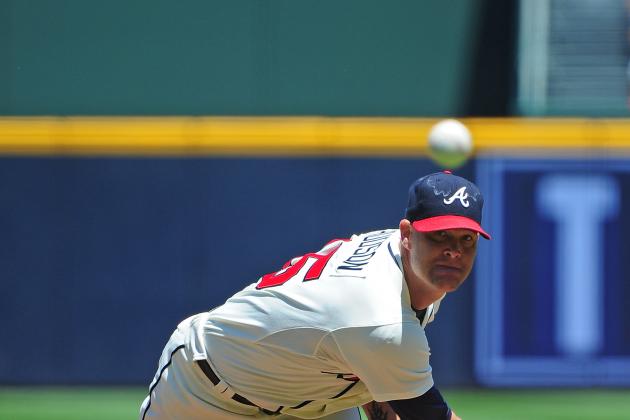 Scott Cunningham/Getty Images
Tim Hudson knows how to handle the bat as well as pitch.
In a one-game playoff with the season on the line, intangibles become a big part in decision making. This is another thing in Tim Hudson's favor, as his ability to handle the bat separates him from the rest of the Braves pitchers. The former Auburn University star is actually one of the better hitting pitchers in the game.
For the year Hudson is hitting a very solid .211 in 38 at-bats with a pair of doubles. This doesn't even include his ability to move runners over, as he has four sacrifice bunts and a pair of sacrifice flies among his five RBI. Hudson is second among Braves pitchers in batting average, and leads the group in hits, sacrifice flies, RBI and extra-base hits.
This is especially important in the playoffs as Hudson may be allowed to stay in the game instead of getting pulled in favor of a pinch hitter. Giving Fredi Gonzalez this option could potentially make a big difference in a close game.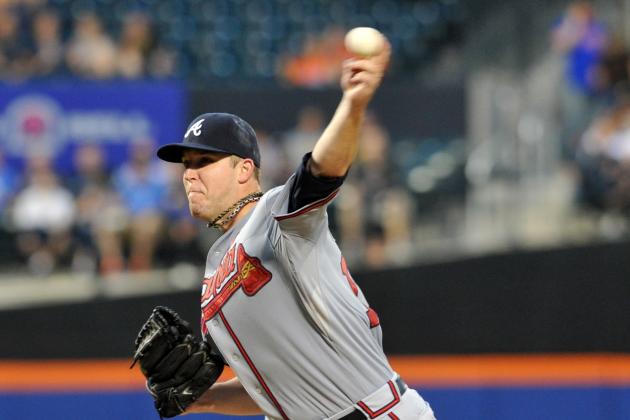 Jason Szenes/Getty Images
Paul Maholm has no playoff experience, just like most of the Braves' starters.
Tim Hudson has appeared in 10 playoff games in his career, including nine starts, coming over the course of six different seasons between his time with the Braves and the Athletics. He has gone 1-3 with a 3.46 during that time, but has managed to post a 1.14 WHIP. This is by far the most impressive playoff resume out of all of the pitchers on the Braves' roster.
Tommy Hanson made one playoff start, and got hit hard. Hanson is the only other member of the projected six-man rotation with any playoff experience as Ben Sheets, Mike Minor, Kris Medlen and Paul Maholm all have yet to pitch in a postseason game.
When one game decides the whole season, it will be extremely hard for the Braves to give the ball to a guy with no playoff experience. The way last season ended only puts more pressure on management to win now and make it deep into the playoffs.