Floyd Mayweather Jr.'s 5 Greatest Performances and How He Became "Money"
Al Bello/Getty Images
Floyd "Money" Mayweather is the pound-for-pound biggest moneymaker in boxing. He has been part of some of the highest grossing pay-per view matchups in history. According to Forbes Magazine, the undefeated fighter from Grand Rapids, Mich., was the highest-paid athlete in the world last year. How did this former Olympic bronze medal winner's name become synonymous money?
Here is a list of the five fights that made Floyd "Money" Mayweather the biggest name in boxing and the highest-paid athlete in the world.
Floyd "Pretty Boy" Mayweather Jr.'s World Title Fight vs. Genaro Hernandez

Hernandez vs Mayweather final round

In September of 1998, at the tender age of 21—a time when most guys his age are just happy to be able to get into a bar—Mayweather was fighting for his first world title.
Genaro Hernandez was the toughest opponent to date for the young Mayweather. Hernandez sported a record of 38-1-1 with 17 KO's coming into the bout with his lone loss suffered at the hands of future Mayweather opponent Oscar De La Hoya.
After putting on a boxing clinic for eight rounds, the Hernandez corner had seen enough and the bout was stopped between rounds. At 21, the man who would one day become known as "Money" won his first world title.
Chico and the Man

Floyd decimates Diego Corrales

In January of 2001, Floyd Mayweather would take on a man that many fans and experts thought would be too big and strong for him—Diego "Chico" Corrales.
Going into the fight Corrales' mind may have been on other things as the domestic violence charge he was facing still loomed over his head. In what would eventually be an ironic twist, considering his later trouble for a similar incident, Floyd dedicated the fight to the battered wives of America.
If Mayweather was looking to make a statement he certainly did. He knocked Corrales down five times en route to a 10th round TKO victory when the Corrales corner decided "Chico" had had enough.
The Corrales fight may still be the best performance of Floyd's career considering both fighters where thought to be at their physical peaks.
The Destruction of the Blood and Guts Warrior Arturo Gatti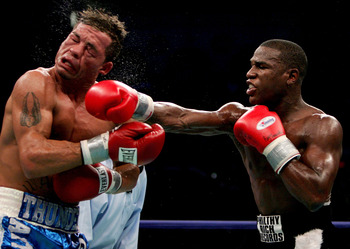 Gatti vs Mayweather 2005
Al Bello/Getty Images
By the time Floyd Mayweather stepped into the ring with Arturo "Thunder" Gatti he had already won championships in two weight divisions and was looking for his third.
The fight, which took place in June of 2005, would mark the first time that Mayweather would be the headliner on pay-per view. The fight that had been dubbed "Thunder and Lightning" was all lightning and no thunder.
Mayweather came out in the first round and made a statement dropping the fan favorite in his home arena of Boardwalk Hall, Atlantic City, N.J. The next five rounds would be more of the same as Gatti had no answer for the pound-for-pound Picasso's blazing hand speed. After the sixth round, trainer Buddy McGirt had seen enough and called a halt to the one-sided drubbing.
The Golden Boy Passes the Torch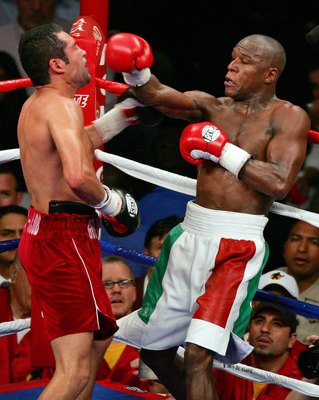 The end of an era.
Ethan Miller/Getty Images
The passing of the torch from boxing's biggest superstar took place in May of 2007. It happened when Floyd Mayweather Jr. took on Oscar De La Hoya on what has become one of boxing's biggest weekends, Cinco de Mayo in Las Vegas.
The fight between the two is the highest grossing pay-per view fight in boxing history. With the fight generating 2.15 million buys and $120 million in revenue, it seemed as though "Money" had finally arrived.
The fight was close on the scorecards and saw Floyd win by majority decision. In reality, though, it was a one-sided affair that saw Floyd land punches at will and use his superior defense to thoroughly best boxing's then-reigning money man.
The Man Is Money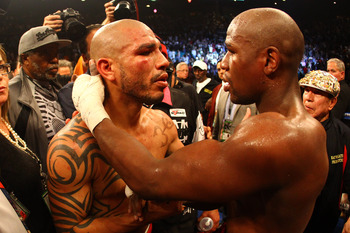 Al Bello/Getty Images
Since taking the reigns from De La Hoya, "Money" has become an even bigger star with his shining moment being his last fight. On Cinco De Mayo weekend this year, "Money" took on Miguel Cotto.
Cotto had seemingly resurrected his career after avenging his loss to Margarito in devastating fashion. The Puerto Rican Cotto, although he put up a good fight, was no match for "Money" and was thoroughly dominated on the judge's scorecards.
The biggest story wasn't that Floyd was willing to mix it up with his opponent more then we had previously seen or even that he may have lost a step. It was how much money he made. His purse alone for the fight was a record-setting $32 million. In addition, he also received a percentage of the pay-per view buys.
Everyone Wants Some of the "Money" Man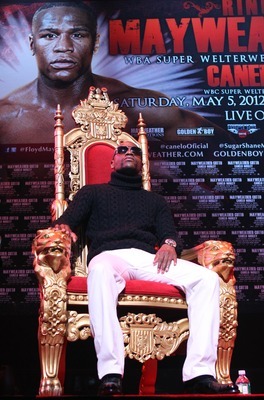 Boxing's money king.
Ed Mulholland-US PRESSWIRE
At 35, Floyd "Money" Mayweather is the highest-paid athlete in all of sports. Fighters are lining up not so much at a shot to beat him, but to collect a record payday from "Money".
Keep Reading