One Fight from Each Division I Would Make If I Was Joe Silva for a Day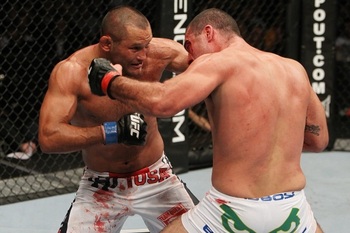 There are matchups in the UFC I'd personally love to see that will never happen.
I'd like to see Jon Jones vs. Anderson Silva, or Jones vs. Junior dos Santos. Heck, I'd like to match Aldo up with anyone and see how it plays out. But sadly I can't.
What I can do is give you one ideal and awesome matchup that I would create with fighters from each of the eight divisions.
Some of these matchups could happen, and some have been announced. All are exciting and fan friendly.
If you have other matchups you'd like to see, please let me know.
Heavyweight: Junior Dos Santos vs. Alistair Overeem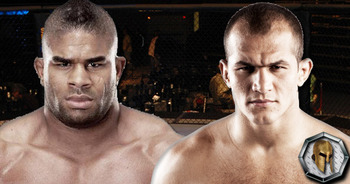 This is one fight that very nearly came to fruition, until Overeem failed a drug test and wrecked what would have been an incredible fight.
This fight may still happen when Overeem returns from his supension, so I can still hope.
I would make this matchup because it's an incredible fight between two high-level strikers with 26 KO/TKO victories between them.
Mnay feel Overeem is the one striker who can beat dos Santos at this point. I hope to see this fight myself one day because the striking pedigree of both these fighters is so good.
It can only be a fan-friendly epic fight.
Light Heavyweight: Shogun Rua vs. Dan Henderson 2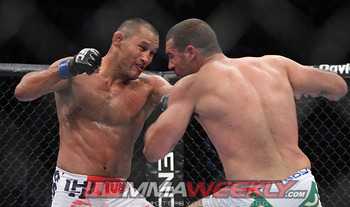 After watching UFC 139 and seeing Hendo and Shogun go to war for five rounds, two thoughts went through my mind.
1) Wow, what an incredible fight!
2) I wish that I could see another great fight between those two.
Well, on this list, that's exactly what I've done. The first fight was awesome. It was filled with back-and-forth action as both fighters left it all in the cage.
This fight is being hailed as one of UFC's best fights. So who wouldn't want to see another five rounds?
Middleweight: Anderson Silva vs. Chris Weidman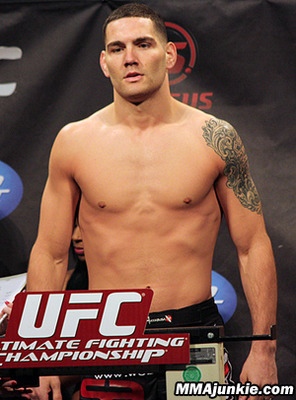 This matchup could happen one day. Weidman is now seen as a top challenger to Silva's belt after his destruction of Mark Munoz. I personally believe he needs one more fight, but he makes my personal list.
Weidman has a very well-rounded skill set. He's an excellent wrestler who has a good submission game and underrated striking. This fight could spell the end of Silva's title reign.
Now bear in mind this is Silva we're talking about. Best fighter in the world. I think this would be a good fight. Maybe I'm right, maybe I'm wrong.
I think Weidman has as good a chance as any fighter against Silva. It would be an interesting fight, to say the least.
Welterweight Georges St. Pierre vs. Nick Diaz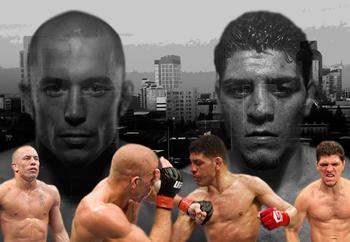 This possible matchup truly excites me.
It's a fight between opposites. GSP is the good guy, Diaz the villain. Diaz has gotten under GSP's skin before, and I would expect nothing less if this match were to be made.
GSP is one of the best fighters in the world today, and Diaz is very good in his own right.
Both have great skill sets. Diaz has his boxing, slick submissions and cardio for days.
St. Pierre has excellent striking, cardio wrestling and submissions.
This fight would be great, especially if Diaz were to taunt GSP beforehand. It would be a wicked showdown.
Lightweight: Donald Cerrone vs. Anthony Pettis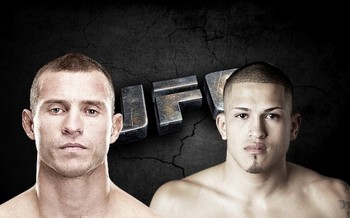 This matchup has been officially announced, which brings joy to my heart and I'm sure to the hearts of many fans.
At lightweight there are so many possibly combinations of matches I could have made. I chose this one for a few reasons.
Both of these fighters are excellent in all facets of MMA. They both have excellent stand-up skills, great submissions and the will and heart to fight as hard as they can.
There is also a rivalry growing between these two. Cerrone has verbally called out Pettis multiple times before finally getting the fight.
This could easily be a fight-of-the-year candidate.
Featherweight: Jose Aldo vs. Chan Sung Jung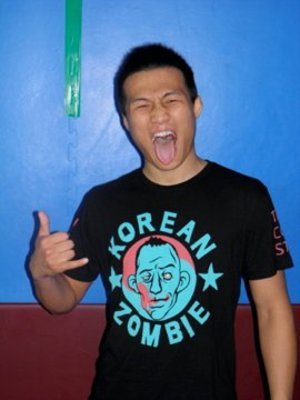 Another possible matchup is between Jose Aldo and "The Korean Zombie." I really like this matchup because of the two competitors themselves.
Aldo is one of the best fighters in the world today. His punishing Muay Thai style makes it hard for his opponents to do much against him.
Likewise, Jung has looked amazing since his UFC debut.
He has three UFC victories, one by twister, a seven-second KO and a fourth-round Brabo choke after an epic fight with Dustin Poirier.
If these two fighters keep winning, I'm sure a bout in the near future isn't out of the question.
Bantamweight: Michael McDonald vs. Urijah Faber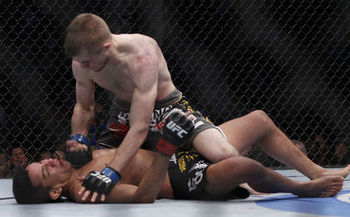 I'm a big fan of Michael McDonald. He's a young kid, and very exciting.
I would like to see this fight because I believe McDonald is ready for a big-time fight, even at the tender age of 21.
He has wicked KO power rarely seen at bantamweight as evidenced by his wins over Alex Soto and Miguel Angel Torres.
Faber is a big name who could provide a stiff test for the young McDonald. Faber is a good striker with excellent wrestling and championship experience.
I think this would make for a fast-paced, fan-friendly fight.
Flyweight: Joseph Benavidez vs. Demetrious Johnson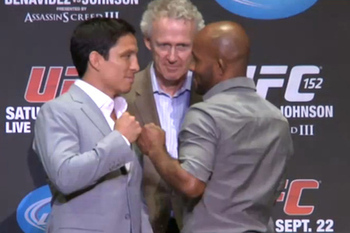 Finally, we make it to the flyweights. This matchup is going down September 22nd in my backyard of Toronto.
This is one fight I've been wanting to see for a while and for good reason. Both fighters set a non-stop, action-filled pace that keeps fans on the edge of their seats.
Both fighters are excellent wrestlers, with Benavidez also having legitimate power at 125 pounds.
This should be an excellent main event for the Toronto MMA fans as these two men compete at the highest level and always leave it all in the cage.
Leave me a comment for your own dream fight.
Or check out my Twitter @FuscoNation16. Tweet me and I'll be sure to reply!
Keep Reading