Bengals vs. Falcons: Live Preseason Week 2 Report Card for Atlanta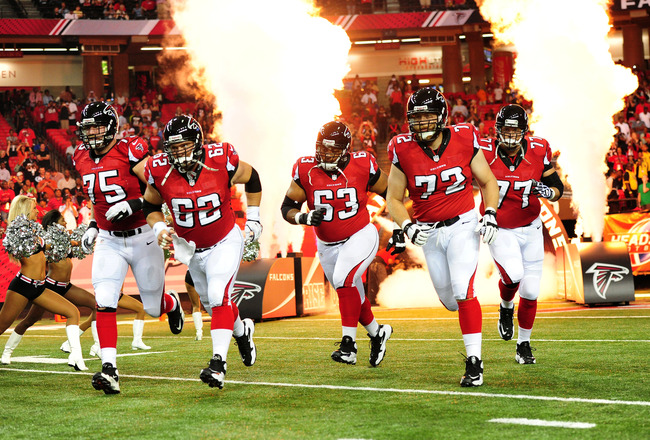 Scott Cunningham/Getty Images
Live Game Grades Intro:
Follow below for how specific Atlanta Falcons players perform against the Cincinnati Bengals in Thursday's preseason Week 2 game. Grades are in real time. Final grades are not an average, but my take on how each player performed.
After each quarter I'll update the grades for the following positions as a whole: quarterback, running back, wide receiver, tight end, offensive line, defensive line, linebacker and defensive back. I'll also hand out quarterly grades for the entire special teams unit and the coaching staff.
Check out each slide for live, in-game reaction.
QBs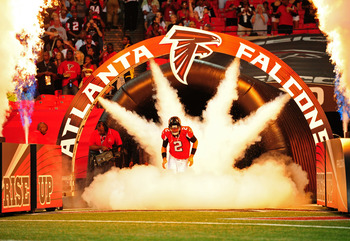 Scott Cunningham/Getty Images
Q1: A
Matt Ryan was 9-for-9 in the first quarter and had to do some nifty dodging of the pass rush as his offensive line let him down a bit. Ryan hit up the Bengals for 66 yards in the first quarter.
Q2: A
Matt Ryan finished his time in the second quarter with a bang, hitting Lousaka Polite on a 2-yard touchdown pass. For the day, Ryan was 18 of 21 for 174 yards and a score.
Over the course of both preseason games Ryan has a completion percentage of 79 percent and has two touchdown passes on 329 yards passing.
Chris Redman came in to spell Ryan and went 5-for-8 for 50 yards.
Q3: D
Redman went 5 of 7 for 5 yards in the third quarter but had some trouble with short-hopping receivers. But the major fault in Redman's time, and the reason for the low grade, was his interception as the team was driving for a score.
There's never a good time to throw an interception, but when your offense is about to score, a quarterback is supposed to play it safe. Especially a backup quarterback.
Q4: B+
Dominique Davis played some inspired football on Thursday in the fourth quarter. He was 11-for-18 for 121 yards and threw a touchdown pass to get the Falcons within striking distance of the Bengals.
Davis would have had a better completion percentage had Kenny Stafford and James Rodgers not dropped passes on the final drive of the game.
Davis wasn't always perfect (he threw short on an easy would-be completion to end the Falcons chances) but he showed enough to earn more reps in practice next week.
Final Grade: A-
Take out Redman and Wilson and the Falcons would have graded out higher. Ryan and Davis performed admirably and Davis may have won a practice-squad spot.
The quarterback landscape after Ryan is surely going to get shaken up when the Falcons hit the practice field on Saturday.
RBs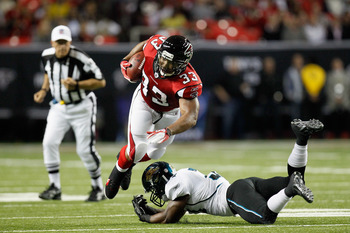 Kevin C. Cox/Getty Images
Q1: C
Michael Turner ran the ball three times for -3 yards. His inability to gain yards wasn't because he's not capable (although he didn't look as spring as a chicken) but because his offensive line had trouble opening holes.
Turner did catch the ball three times, which is very unlike him. Mike Cox and Jacquizz Rodgers also had a reception each.
Q2: A
With Michael Turner on the sideline, the Falcons moved to Jacquizz Rodgers as the main back. Rodgers ran the four times with a six yards per carry average. He also caught two passes for 18 yards.
Atlanta's offense was very pass-happy in the first half with 29 passes and seven rushes. This is uncharted territory with the Falcons in regard to run-pass balance. Don't expect that to happen in the regular season.
Q3: B
The Falcons ran the ball seven times with a mixture of Antone Smith and Dimitri Nance. As a group they averaged 4.57 yards per carry with each gaining 16 yards in the third quarter, Nance on four carries, Smith with three.
Smith was the leading receiver in the third quarter 31 yards receiving on two catches.
Q4: N/A
The Falcons played from behind in the fourth quarter and didn't attempt a run play. Quarterback Dominique Davis scrambled twice for 21 yards, but those were the only Atlanta rushing yards of the fourth quarter.
Final Grade: B
The offensive line seemed to be laser-focused on pass protection and the run blocking suffered. Turner wasn't nearly as effective as Atlanta would have liked but Rodgers had flashes of three-down back material.
WRs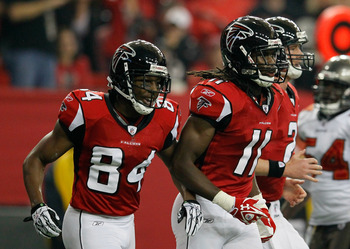 Kevin C. Cox/Getty Images
Q1: B
Roddy White caught two passes in the first quarter, one a great grab in traffic that White paid the price for with a big hit from Bengals safety Reggie Nelson.
The Bengals showed that the only way to stop Julio Jones was to trip him. Jones burned coverage and would surely have scored a touchdown but was tripped and Cincinnati called for pass interference.
Q2: A
The Falcons threw the ball 20 times in the second quarter and gained 158 yards through the air. Jones caught three passes for 41 yards as did Harry Douglas who went for 27 yards. In all, nine players caught passes for the Falcons, who spread the ball around well.
Q3: D
Both receivers vying for the fifth and final spot on the depth chart, Kevin Cone and Drew Davis, dropped passes in the third quarter. Cone did grab one pass for nine yards, Davis did not.
The Falcons only caught five passes in the third quarter and Smith and Lousaka Polite grabbed three of them. This wasn't a great quarter for receivers.
Q4: C
The Falcons threw the ball quite a bit in the fourth quarter, passing for 126 yards. But 47 of those yards went to tight end Lamark Brown, three went to tight end Chase Coffman and eight went to Dimitri Nance.
When the wide receivers were targeted, they dropped passes. Had Dominique Davis not orchestrated two superb drives, the Falcons would have suffered more than the 24-19 score showed.
Final Grade: B-
The wide receiver corps is an example of the opposite ends of the spectrum. The first- and second-team receivers shined while the bottom of the depth chart struggled.
TEs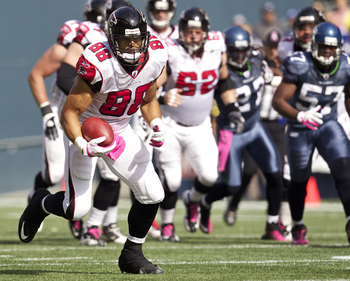 Stephen Brashear/Getty Images
Q1: A
Tony Gonzalez was targeted twice and came down with two receptions for 23 yards. Gonzalez got 21 of those yards on a nice route and catch.
Q2: B
Gonzalez caught one pass for 21 yards in the second quarter, but let a sure thing go through his hands in the end zone.
A shining point for the tight ends was Michael Palmer, who was targeted three times and pulled down two catches for 24 yards.
Q3: D
Tommy Gallarda was targeted once in the third quarter, but he failed to catch a pass. No other tight end was targeted.
Q4: A
Lamark Brown caught four passes in the fourth quarter and hauled in his first profession touchdown pass. Brown tallied 47 yards through the air and Chase Coffman caught a pass for three yards.
Final Grade: B
Gonzalez is a future Hall of Famer but let a pass go through his fingertips in the end one Thursday. Don't fret too much over that, it's a rare occurrence and likely won't happen again.
Thursday belonged to Palmer and Brown who both raised their stock a bit with 71 yards combined receiving on six catches.
Offensive Line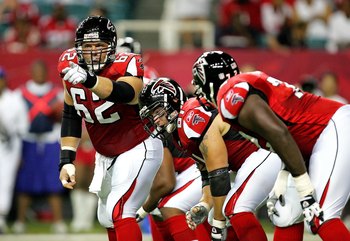 Streeter Lecka/Getty Images
Q1: D
The starting offensive line had its troubles Thursday night. In the first two series Matt Ryan was forced to move outside the pocket twice. He wasn't hit, but Ryan wasn't comfortable in the pocket, nor did he have a lot of time.
The line also failed to open any kind of running lanes for running back Michael Turner.
All in all, this was not the stellar offensive-line play the Falcons got in preseason Week 1.
Q2: B-
The offensive line calmed down dramatically in the second quarter, giving Atlanta's quarterbacks much more time to throw the ball.
The Falcons also started rolling in backups and letting position battles play out. Rookie Peter Konz looked very good in his time in the quarter and could really push Garrett Reynolds in the coming week for the right guard position.
Q3: C
The offensive line did a better job in the third quarter in the run game, but mental mistakes killed the unit.
The Falcons were penalized three times in the quarter, one of them came from the offensive line. Will Svitek was called for a false start and line coaches hate false start penalties because it's a penalty that is mostly mental.
Q4: B
The third-string offensive line was asked to pass-block exclusively for quarterback Dominique Davis in the fourth quarter. For the mot part they gave the undrafted rookie passes a fair amount of time.
Davis was sacked once and had to scramble twice, but the times Davis took to his feet were more a result of coverage than blocking.
Final Grade:
Offensive line coach Pat Hill will have a few choice words for this unit that regressed from Week 1 of the preseason to Week 2.
Defensive Line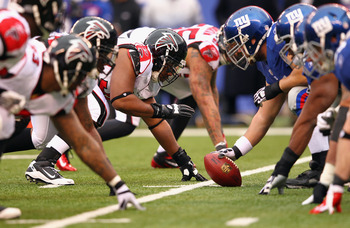 Al Bello/Getty Images
Q1: A+
The Falcons defensive line was fantastic in the first quarter, led by tackles Jonathan Babineaux and Peria Jerry.
Babineaux and Jerry were block walls in the run game and even got great up-field pressure in pass-rushing situations.
The defensive ends made multiple plays at Bengals quarterback Andy Dalton, forcing him to throw early and run to evade being sacked.
Q2: A
There were still no sacks in the second quarter from the defensive line, but the pressure was there. That's a very similar story to last season, but the pressure felt different, a little more directed and controlled.
Ray Edwards spent a number of plays in the backfield moving the quarterback around and had a big-time tackle for a loss.
Q3: C
The starters were removed from the game and the reserves gave up 58 yards rushing in the third quarter. There wasn't the frenzied pass rush like in the first half either.
Rookie Travian Robertson was penalized for roughing the passer well after the play was away from him. That was a very bad mental mistake.
Q4: A
Lawrence Sidbury had a tackle for a loss and another assist while Jonathan Massaquoi ad Micanor Regis each brought down two ball carriers.
Sidbury has a definite roster spot for the 2012 season but Massaquoi and Regis are battling.
Final Grade: A-
With pressure like the Falcons got tonight from their front-four, sacks will come aplenty in 2012. Babineaux was in midseason form and Peria Jerry looked energized and ready to step up and play like a first-round pick.
LBs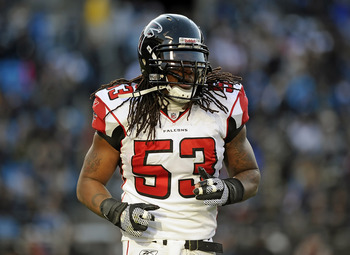 Jared C. Tilton/Getty Images
Q1: B-
The linebackers did well in run pick up, but had a few mix ups in coverage. Sean Weatherspoon did well in pursuit but did have a huge missed tackle on Cincinnati's second drive of the game.
The Falcons started the game in nickel coverage, likely because the team's starting middle linebacker, Akeem Dent, is injured and out for the game because of a concussion.
Q2: C
Sean Weatherspoon made two tackles and showed he was the type of linebacker that's going to play everywhere and be around the ball.
Stephen Nicholas was good against the run but got burned once bad in coverage and had a few other moments of weakness.
Q3: B
Robert James was a bright spot in an otherwise vanilla quarter at linebacker. He has a tackle and an assist and a great special-teams play.
The starters did not play in the third quarter.
Q4: C
A lot of the tackles were made in the secondary and up front in the fourth quarter, but a few members of the linebacker corps got into fray.
Rico Council had a tackle and an assist and Jerrell Harris and Pat Schiller each had an assist.
Final Grade: C+
This wasn't the best showing for the linebacker corps. Early on the unit got some pressure on the quarterback or runners in the backfield, but there were too many coverage snafus all around and not enough tenacity from the second and third units.
DBs
Chris Graythen/Getty Images
Q1: A-
Asante Samuel and Brent Grimes both had big plays in coverage on Bengals star wideout A.J. Green. But the biggest moment for the defensive backfield came with a hit and forced fumble by William Moore.
The secondary also shuffled things up a bit, which is a goal of Mike Nolan. The safeties will set the play early and then try to confuse the opposing quarterback. Once, Moore even lined up outside on a wide receiver.
Q2: C+
Dunta Robinson played extremely well in the slot and made one of the biggest hits of his days in Atlanta. That big hit wasn't Robinson's only tackle in the second quarter.
Brent Grimes came up with some big coverage in the second quarter, but got caught looking once and only his superb athleticism allowed him to break up the pass.
Asante Samuel got absolutely toasted on a 50-yard touchdown pass from Andy Dalton to Green.
Q3: B
The second- and third-string secondary held Cincinnati to 2-for-5 passing but gave up a 12-yard touchdown pass. The play was set up by a 31-yard scramble and a 16-yard rush prior to the throw that hit the end zone.
The secondary made six tackles in the quarter with Chris Hope dragging down a runner for a loss.
Q4: C
Cincinnati only threw for 44 yards in the fourth quarter, but the Falcons secondary seemed taxed.
Robert McClain was flagged for illegal contact and Darrin Walls took a 20-yard pass interference penalty that led to an easy touchdown for Cincinnati.
Final Grade: B-
The first-team secondary still looked improved over last year but at moments were tested, and even bested, by Cincinnati's offense.
The units behind the first team still have a lot of work.
Special Teams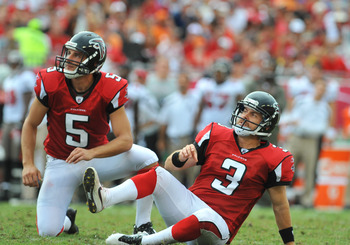 Al Messerschmidt/Getty Images
Q1: B+
Punter Matt Bosher knocked down both of his punts inside the 20-yard line, but he looked like he wanted more on his first one that landed on the 19-yard line.
Jacquizz Rodgers looked good on his kick returns, bringing one out 29 yards.
Q2: C
There wasn't much happening on special teams in the second quarter. Matt Bryant hit a 22-yard field goal, but Bosher never had to punt.
The only kick return was by Jacquizz Rodgers for 16 yards and Dominique Franks had two punt returns, one for six yards and the second for seven.
Q3: B-
Bosher drove another punt inside the Bengals 20-yard line but the return game faltered with a negative return of one yard on Cincinnati's only punt.
Q4: B+
Bosher had his fourth punt land inside the 20-yard line. He had a great game for the Falcons.
James Rodgers returned a kickoff for 18 yards and just got back to the 20-yard line. Tim Toone returned a punt for 13 yards.
Final Grade: B
Bosher was the bright star Thursday night with four punts that landed inside the 20-yard line for no return.
Bryant was 2-for-2 on field goals with an extra point but the return game left a lot to be desired.
Coaching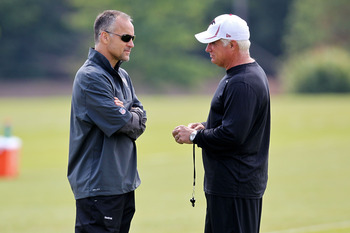 Daniel Shirey/Getty Images
Q1: B
Mike Nolan continues to try and confuse defenses with his coverage looks and his pass-rush schemes worked extremely well.
Dirk Koetter's offense rushed three times and threw nine times in the first quarter. Atlanta won't run this pass-happy of an offense, but the days of run-first may be over for the Falcons.
Q2: A
Head coach Mike Smith left the starting offense in the game for the better part of the second quarter which equated to more playing time in this game compared to last week.
Koetter also showed much more of a pass-happy feel than expected. In the second quarter Atlanta threw the ball 20 times and only ran it four times. The pass-run balance in the regular season will likely look more 50-50 than Thursday's lopsided tendencies.
Q3: B
It was evaluation time for the Falcons coaching staff as the backup quarterback battle began to play out and a lot of reserves attempted to make names for themselves.
Q4: A
It was great to see Mike Smith open up the offense in the fourth quarter and give undrafted rookie Dominique Davis a chance to win the game on Atlanta's final drive.
Final Grade: B
The Falcons were killed by penalties with 11 on the night, three being personal-foul calls. That has to be fixed.
Overall though, Atlanta looked great on offense and the play calling by Koetter shows the NFL that the Falcons can pass with the best of teams.
Atlanta did not game-plan for the Bengals at all prior to Thursday night's game?
Keep Reading