Ronda Rousey's Impersonation Video Fuels Hype for Fight vs. Sarah Kaufman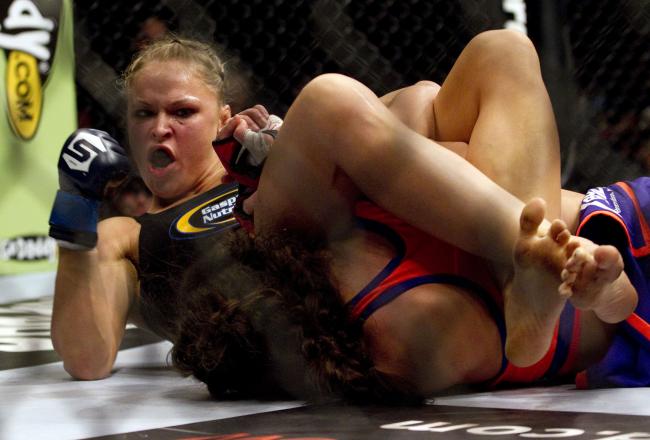 Greg Bartram-US PRESSWIRE
Though nearly every match on this Saturday's Strikeforce fight card (broadcast starting at 10 p.m. ET on Showtime) provides some level of intrigue, all eyes will be on media darling Ronda Rousey's (5-0) bantamweight (135-pound) championship defense against Sarah Kaufman (15-1).
Rousey, a bronze medalist in judo at the Beijing Summer Olympic Games in 2008, has taken the MMA world by storm in her short career.
In just five professional bouts, Rousey has had a meteoric rise up the ranks. After joining Strikeforce in August 2011, the 25-year-old continued her undefeated ways, submitting opponents in the first round of each match en route to capturing the bantamweight title from Miesha Tate on March 3.
In addition to her in-ring prowess, Rousey has become the biggest female MMA celebrity since Gina Carano's heyday.
Just five months have passed since Rousey defeated Tate, but the young star has already appeared in ESPN The Magazine's "Body Issue," been a guest on Conan O'Brien's talk show and been the subject of a recent Showtime All Access special.
Widely credited with becoming the first female MMA-er to dabble in smack talk, Rousey's targets have been wide-ranging, from fellow opponents to celebrities like Kim Kardashian (video credit: ESNews).
Perhaps looking to give Rousey a taste of her own medicine, Kaufman made her trash-talking presence known in the buildup to this fight by offering two tickets to the best fan impersonation of Rousey.
Perhaps Kaufman, Strikeforce's first bantamweight champion, simply was sick of Rousey taking all the media spotlight. After all, Kaufman comes into the fight with a winning streak equal to Rousey's entire Strikeforce career record.
Or perhaps Kaufman was simply taking the lead from Rousey and feeding into the WWE-like hoopla of the situation.
It doesn't matter because the best submission came not from one of Kaufman's fans, but from Rousey herself.
Granted, Rousey's video is one of the five most obnoxious things you'll see this week. But seeing the 135-pound champ grapple with a vacuum cleaner is enough to usurp whatever point Kaufman was trying to make.
Regardless, all of this pre-fight hype does nothing but pad the wallets of Showtime and Strikeforce, both of whom will gladly allow these two women to talk trash right up until the opening bell.
Let's just hope the real fight lives up to the pre-fight billing.
This article is
What is the duplicate article?
Why is this article offensive?
Where is this article plagiarized from?
Why is this article poorly edited?