Breaking Down the Effect Jahvid Best's Injury Has on Detroit Lions
Leon Halip/Getty Images
Jahvid Best just made the Detroit Lions' offense a little less explosive.
According to Adam Schefter of ESPN:
Detroit Lions running back Jahvid Best, who has not played since suffering another concussion last October, likely will start this season on the physically unable to perform list and miss at least the first six games, according to a source familiar with the situation.

The team does not want to rush him back to action. Best suffered at least two concussions last year, one in the preseason and another against the San Francisco 49ers on Oct. 16.

Best also suffered at least one significant concussion during his last college season at California.
On the bright side, this is a smart move by the Lions. There's no reason to risk Best's health after playing in just six games last season.
Yes, it's a blow to the Lions' offense, but it will only allow him to be more effective down the road. Still, the Lions will have to make some adjustments. To that end, let's check out how Best's health forces Detroit to approach the 2012 season.
Kevin Smith Has to Take on a Bigger Role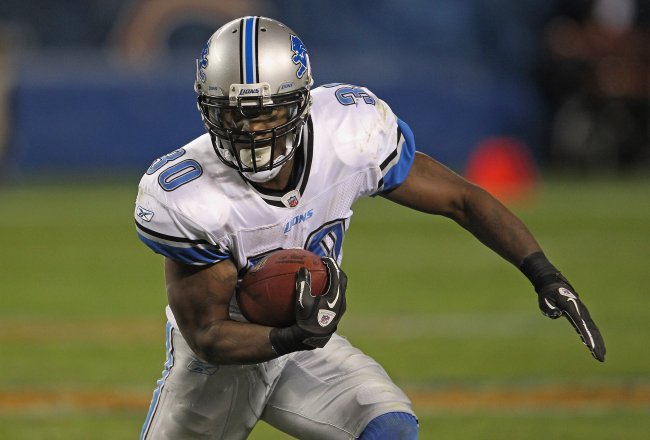 Jonathan Daniel/Getty Images
If there was ever another opportunity for Kevin Smith, this is it.
The dual-threat back was an impressive producer in 2008 and 2009 when he combined for 1,262 and 1,162 total yards each season, respectively. He then finished strong in 2011, too. But 2012 just became Smith's biggest opportunity yet.
As a runner, receiver and pass-blocker, Smith has to be the Lions' main running back.
On the ground, he's a good outside threat and possesses enough quickness to work inside on counters and traps. In the passing game, Smith must become a dangerous presence to defenses on screens and checkdowns.
This will draw attention from linebackers and open up the underneath routes a bit more. In short, this takes some pressure of Calvin Johnson, as well. As a blocker, though, Smith has to impact the game in a major way.
Defenses aren't going to shy away from remaining aggressive against Detroit, simply because applying pressure to Matthew Stafford is the best way to slow down a pass-heavy offense with the league's best receiver.
The more protection Smith can offer, the more options it gives the Lions' offense.
The Passing Game Cannot Go into a Funk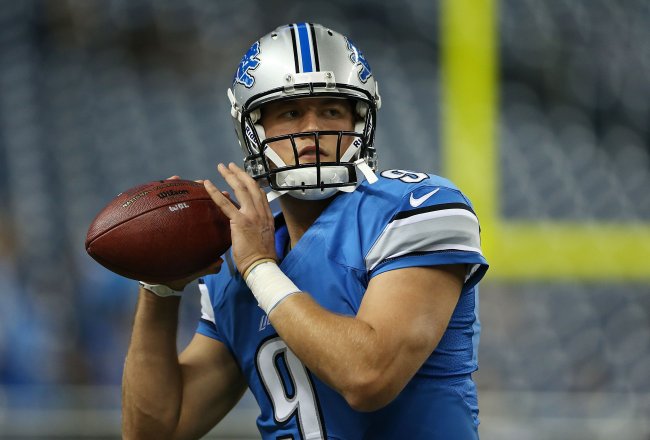 Leon Halip/Getty Images
It's no secret that the passing game is Detroit's forte.
As dominant as the Lions were in 2011, any inconsistency in 2012 will be costly. Best accounted for 85 receptions through his first 22 NFL games and averaged just over nine yards per catch.
When a running back can practically move the chains with every snag, defenses often have to utilize zone schemes to take away the middle of the field. It forces linebackers to spy—which makes them vulnerable to play action fakes—and reduces the inside help for the corners on the outside.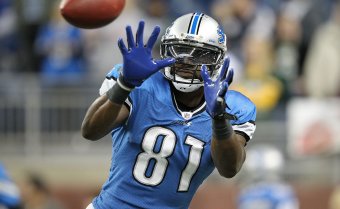 Leon Halip/Getty Images
Smith certainly has the capability to be as productive as Best here, but the Lions had a major advantage with two backs who could offer varying attacks while maintaining an explosive tempo. Now we just have to expect more from the No. 2 and slot receivers.
Defenses will still double-team Johnson and attempt to blitz. Expect defenses to do anything they can to interrupt the rhythm and timing between Megatron and Matthew Stafford. Therefore, sending receivers and tight ends over the middle and Smith to the flats will generate quicker-developing plays.
These are also safer options to avoid being inconsistent, which can lull a defense to sleep. That's when Johnson gets his downfield chances.
Find a Conveniently Effective Pass-Run Ratio
How does the Lions' 2012 regular season pan out?
When Best played his enter rookie season, he caught 58 passes for 487 yards in 2010.
That year, he was third in receptions for Detroit and had the Lions' fourth-most receiving yards. And before going down in 2011, Best had accumulated 287 yards on 27 receptions through six games played. So it's clear that the Lions must now get more production on the ground to complement the passing attack.
In 2010, the Lions passed the ball 61 percent of the time. They ran on 39 percent of their offensive plays. Then, in 2011, they passed 65 percent of the time and ran 35 percent of the time. It's not surprising that Detroit was so pass-happy, when you consider the defense, which allowed over 23 points per game each season.
For as effective as that philosophy was in 2011, however, something closer to a 60-40 pass-run ratio would be even more beneficial. A more balanced attack helps control the game's pace, which ultimately takes pressure off the defense.
Detroit can still be extremely explosive, though, as the passing game possesses the talent to execute effectively. Establishing a little more on the ground could surprise opponents, though.
At some point, the Lions do need the rushing offense to develop as a threat. Then, whenever Best returns, his presence will only make Detroit's ground game that much more emphatic.
Follow John Rozum on Twitter.

This article is
What is the duplicate article?
Why is this article offensive?
Where is this article plagiarized from?
Why is this article poorly edited?

Detroit Lions: Like this team?