Syracuse Basketball: Why Jim Boeheim Coaching in the Olympics Is Good for Orange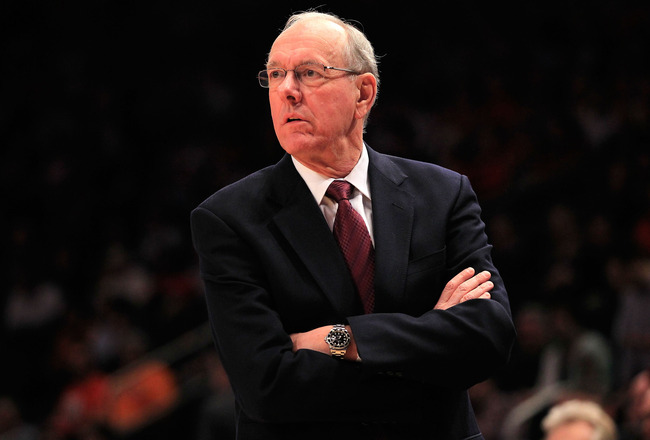 Chris Trotman/Getty Images
Team USA assistant coach Jim Boeheim returned victoriously from the 2012 London Olympics, and he also returned with a new bag of tricks for his Syracuse squad.
In his reports with Syracuse.com, he reflected on his past few summers with Team USA.
The Orange icon noted that he's gained a wealth of knowledge from his experiences overseas and collaborating with Mike Krzyzewski and the rest of the United States staff.
He learned new strategies, better ways to interact with players and he actually learned from some of the players themselves.
It's only going to make Syracuse a more formidable program next year and beyond as they transition to the ACC.
Continued Education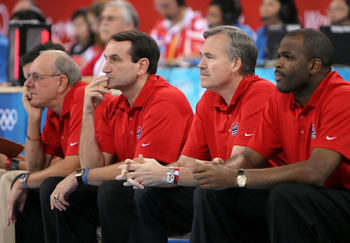 Streeter Lecka/Getty Images
With Hall of Fame status, championship pedigree and 36 years of head coaching experience, it would be easy for us to believe that Jim Boeheim has it all figured out. Sometimes his confident demeanor as King of Syracuse leads us to believe this.
But, he'll be the first one to tell you that he still has learning to do, and the Olympics in 2008 and 2012 have been instrumental in improving his basketball acumen.
Boeheim notes that he's implemented some of Coach K's tactics, Mike D'Antoni's offense and strategies from the entire Olympic staff.
Versatility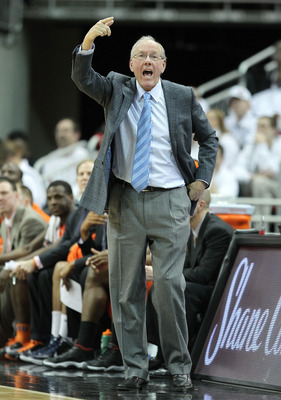 Andy Lyons/Getty Images
Along the lines of continuing education, Boeheim has become a more versatile coach as a result of his Olympics experience. Dealing with the variety of international programs and working with a non-Big East coaching staff strengthened his skills.
Not only did he learn to incorporate new offensive and defensive schemes, but he learned new ways to convey those schemes, lead his team and communicate to his players.
Spending time alongside veteran coaches like Mike Krzyzewski, Nate McMillan and Mike D'Antoni was invaluable.
Boeheim gleaned new interpersonal skills and adjustments to help him adapt to any situation the college game throws at him. The Orange will improve from a basketball and locker room standpoint.
Great Preparation for ACC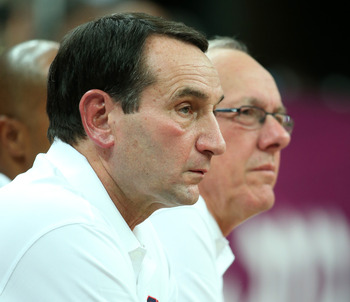 Christian Petersen/Getty Images
Syracuse will be making a full transition to the Atlantic Coast Conference in 2013, and its preparation for that transition begins now.
Jim Boeheim has been coaching in the Big East since Jimmy Carter was president, so naturally there will be an adjustment to make in a new league and a new schedule.
He's an elite coach, so he would have made a successful transition anyway, but the Olympics gives him an added edge from working with Coach K for a summer.
Working with Krzyzewski gave Boeheim a feel for the ACC mindset, his man-to-man prowess and the kind of ball movement necessary to win in the conference.
Working with Personalities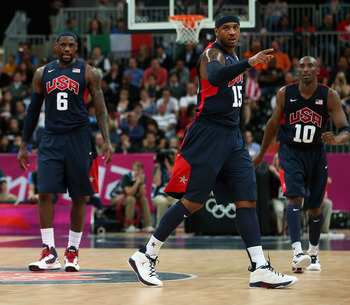 Ezra Shaw/Getty Images
Team USA might have made it look easy, but getting 12 megastars to play cohesively was no easy task.
It takes strong leadership, a transcendent message and articulate individual tutoring to get big egos to play together.
Coach K got ball-dominators like Kobe Bryant and Carmelo Anthony to work with the two best players in the world (LeBron James and Kevin Durant, for those of you wondering).
Boeheim has had his fair share of egos come through Syracuse, and he's done a decent job of working with them. But there's room for improvement, and a summer coaching these living legends will prove valuable in his future interactions with Orange stars.
Guiding an Athletic Roster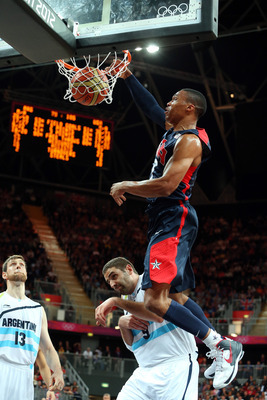 Christian Petersen/Getty Images
Having an ultra-athletic squad is a blessing, but it's also a challenge. Jim Boeheim knows all about those blessings and challenges, especially after coaching the 2011-12 Orange, one of the most athletic squads in Big East history.
Controlling tempo, moving the ball in the half-court setting and maintaining defensive discipline is often tricky with athletic units, and Team USA occasionally struggled with these tasks.
Juggling these issues in London will undoubtedly help Boeheim perfect Syracuse's attack.
Also, even though Boeheim is a pro-zone coach, it never hurts to improve your man-to-man situational defense. Implementing a man-to-man with an athletic group can be a lethal tool, and it's a card Boeheim will use effectively in the future.
For more Syracuse, NCAA and NBA discussion, follow Daniel on Twitter: @Danielobleacher
Keep Reading

Syracuse Basketball: Like this team?