The 8 Greatest Manchester United Comebacks in History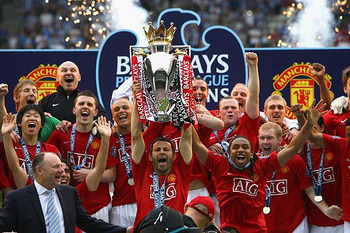 One of the things that makes football the "beautiful game" is its ability to shock and inspire you at any given moment.
Even when a game seems beyond all hope, a side can find something from deep within to fight back and defy the odds.
As recently as three months ago Manchester City pulled off one the greatest comebacks in footballing history, scoring two goals in the last four minutes of their final-day match with QPR to win the Barclays Premier League title.
Any good United fan will still cringe just at the thought of that moment.
But, lets face it, perhaps it was footballing karma restored?
United have made a habit over the years of being the side that scores late in a game to create the heartbreak that we all felt that Sunday afternoon.
Here are just eight of the best times that the Red Devils managed to snatch victory from the jaws of defeat and send their fans into jubilation.
1999 FA Cup 4th Round: Manchester United 2-1 Liverpool
In the same season that saw Manchester United take the treble back to Old Trafford, United got one over on one of their oldest and most bitter rivals.
After just two minutes of play Michael Owen put Pool ahead, and for nearly the entire 88 minutes that followed the scoreline stayed the same way.
However, with just two minutes left on the clock, United, Trinidad and Tobago legend Dwight Yorke, stepped up and scored an equalising goal.
The Reds from Merseyside were dejected. They had come so close to knocking Manchester United out at Old Trafford, and now they would have to settle for a replay at Anfield.
At least, that was until Ole Gunnar Solskjaer grabbed a late second for Fergie's men, sending the Old Trafford crowd into pandemonium.
United later went on to beat Newcastle 2-0 in the FA Cup final.
Amazingly, as I'm sure most United fans are more than aware, this wasn't even the Red Devils' greatest comeback of the '98-'99 season...
2001-02 Premier League: Tottenham Hotspur 3-5 Manchester United
In one of the most remarkable games that I can recollect in Premier League history, United managed to pull off another of their greatest-ever turnarounds.
Tottenham were at the time languishing in the mid-table positions of the league, and had been for some time unable to really make a challenge for the UEFA Cup and Champions League places.
On top of that, their record against the big clubs in England was dire, with more losses tallied in the past five seasons than wins and draws combined against the teams that would eventually finish in the top four spots.
As such, nobody really held out much for them against a United side that included the likes of David Beckham and Ruud van Nistelrooy.
However, as halftime approache, the Spurs somehow found themselves leading by a whopping three goals to nothing.
Nobody could say that the lead was undeserved, with the London club doing most of the attacking and pressing in the United half.
It seemed that a giant killing was about to occur.
But when the two teams came out for the second half, parity was well and truly restored.
In the 46th minute Andy Cole scored for United and Spurs fans suddenly had a familiar sinking feeling in their stomachs.
In the 76th minute of the match, after a rejuvenated performance from Sir Alex's boys, Juan Sebastian Veron scored the goal that put United 4-3 up.
And if that wasn't enough, David Beckham ensured a healthy margin of victory for his teammates by knocking in a screaming long-range drive.
Tottenham still haven't gotten over their Man United duck.
2010-11 Premier League: West Ham 2-4 Manchester United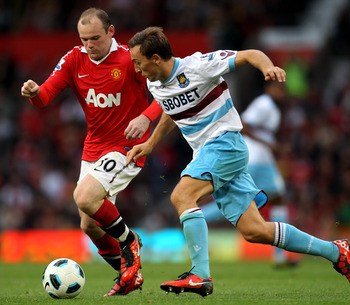 Alex Livesey/Getty Images
This was a crucial game for the outcome of the 2011 Premier League season, with United needing a win to keep up the pressure on Arsenal, who at the time seemed as though they could well end their trophy-less drought.
United were 2-0 down to the relegation-threatened Hammers—a result that would leave them just one point ahead of the Gunners, having played a game more than them.
Amazingly, it wasn't until the 64th minute that United even managed to break down the West Ham defence effectively enough to score.
However, from the time his first goal went in, it took Wayne Rooney only 14 minutes to complete a hat-trick that would see United go on to victory.
Javier Hernandez polished the result of in the dying minutes of the game to make the final score 4-2.
The result was critical in the title race and gave United a massive boost going into the final few games of the season.
Eventually they would finish nine points clear of nearest rivals Chelsea, to win their 19th English League title (breaking Liverpool's record).
2006-07 Premier League: Everton 2-4 Manchester United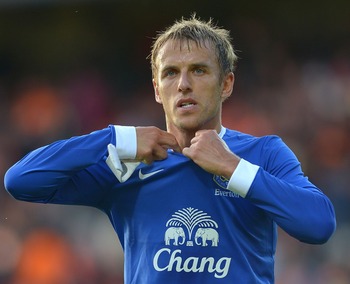 Mark Runnacles/Getty Images
In a repeat of the fixture that will see United kick off their 2012-13 campaign, Fergie's men travelled to Goodison Park, knowing that a win would put them in the driving seat for Premier League glory.
United trailed 2-0 after 50 minutes, before a United old boy (some fans jokingly suggest that perhaps he was doing his mother club a favour!) Phil Neville accidentally brought the Reds back into the match with an own goal.
United surged from here, and the points were all but confirmed when Chris Eagles (remember him?) scored a cracking goal to make it 4-2.
As it turned out, Chelsea had managed no better than a 2-2 draw on the same day with mid-table Bolton Wanderers, and as such the results were pivotal in United's eventual Premier League glory.
Amazingly, it was the first time that Sir Alex had won the league in four seasons.
1999 Champions League Semi-Final (Second Leg): Juventus 2-3 Manchester United
In the same season that saw more than one spectacular comeback from Man United, they once again repeated the magic here.
The first leg of the fixture had seen Juventus dominate a far-from-elite-looking United side, leading for most of the match before a lucky last-minute equaliser had given the Red Devils a fleeting hope coming into the match in Turin.
After just 11 minutes of football, Juventus had stormed into a 2-0 lead—3-1 on aggregate—and seemed almost completely out of sight.
However, with 24 minutes on the clock, United captain Roy Keane converted from a corner.
Suddenly the game was back on. With away goals counting double, United simply needed to score once more without conceding to go through to the final.
The fans didn't have to wait long, with the two sides being level before halftime.
Somehow United managed to withhold wave after wave of attack from the Old Lady of Football, before eventually scoring a winner themselves through the boots of Andy Cole.
Some pundits actually credit the enormity of the task against a side of Juventus' quality as being a greater achievement than the later victory in the final itself...
But that's just their opinion!
1984 European Cup Winners Quarter Final: Manchester United 3-0 Barcelona
Obviously the game in question wasn't much of a "comeback" itself, but the aggregate score was.
United went out and completely outplayed a Barcelona team that included the great Diego Maradona himself, scoring in the 22nd, 50th and 52nd minutes of the game to run our comprehensive 3-0 victors.
What defined this as a fantastic turnaround was the fact that United had lost the first leg of the fixture 2-0 at the Nou Camp.
Many had completely written off Ron Atkinson's men as having any chance of progressing through to the semifinals.
But United being the team they are, they proved all the critics wrong again, storming to victory against one of history's greatest sides.
United would go on to lose 3-2 on aggregate to Juventus in the semis.
The other semifinal was contested between Porto and Aberdeen, with a certain young Scottish manager at the helm for the Highland side...
2011-12 Premier League: Chelsea 3-3 Manchester United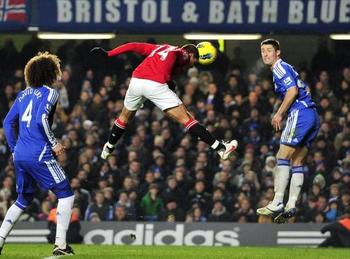 Unfortunately, in the end this result didn't really mean much to the overall title picture.
In fact if you're really being cynical, you could credit the fact that United couldn't quite go on to pick up all three points as a reason why they didn't end last season as Premier League Champions.
You would be a pretty unreasonable person to think that, though.
No, this was still a fantastic comeback from Fergie's men.
Having found themselves 3-0 down at Stamford Bridge, against a Chelsea side that would later go on to win the UEFA Champions League, all hope of getting anything from the game seemed lost for United.
Somehow, though, they managed to battle back and score three goals in the space of 20 minutes to take a point from the fixture.
It says a lot about how well United played last year that on a 12-game run, this was the only fixture where they dropped any points...and there are people out there who claim United didn't deserve to win the league last season?
1999 Champions League Final: Bayern Munich 1-2 Manchester United
Nobody should be shocked to see this game topping the list.
After the aforementioned heroics from Aguero and Co. on the final day of last season, there will be a debate raging in football no doubt from now until the next great comeback as to which was more impressive and dramatic.
As this was just the third United game I ever saw (the first being the 3-2 against Juventus, and the second the 2-0 FA Cup final victory) in it's entirety, this is one of my earliest memories in football.
It made me fall in love with the club, as I'm sure it did for many fans of my age and even older followers.
The magic of this match epitomises the wonder that surrounds Manchester United and it's theatre of dreams.
I won't bother explaining what happened in those fantastic last five minutes, as I'm sure most of you are well aware.
Just watch the video and remember one of the golden moments in the history of world football.
Keep Reading

Manchester United: Like this team?