Stanford Football 2012: Breaking Down the Cardinal's Defensive Line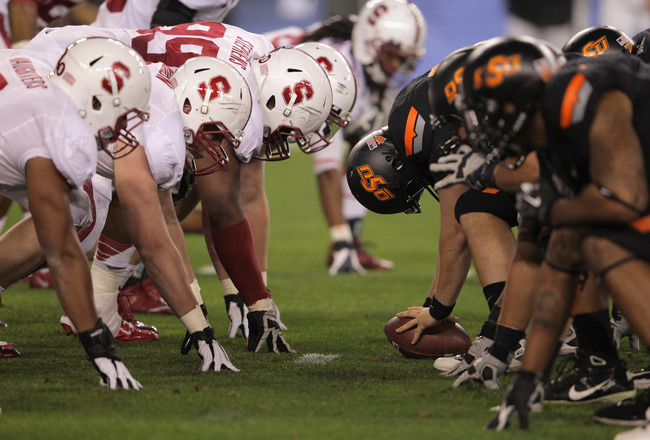 Doug Pensinger/Getty Images
Over the past two seasons, Stanford Football has gone through a lot of turmoil. It started with the loss of Coach Harbaugh to the NFL which was followed by star quarterback Andrew Luck being drafted No. 1 last season by the Indianapolis Colts.
While the offense will have to be reshaped, and will likely focus on running back Stepfan Taylor more, the defensive line will be as solid as ever.
Last season this line gave up only 84.4 rushing yards per game, sixth in the country, and had three sacks per game which was good for 11th nationally.
This article will tell you everything you need to know about Stanford's defensive line for the 2012 season.
Very Little Player Turnover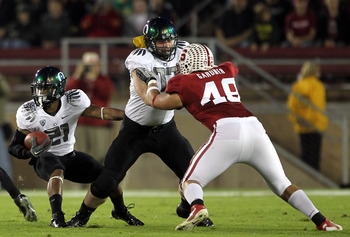 Ezra Shaw/Getty Images
Since last season, only one starter has left the defensive line. Matt Masifilo, a defensive end who had eight tackles for loss last season will be gone but that is about it.
The team returns defensive end Ben Gardner as well as nose guard Terrence Stephens, who started eight games, from their starting line.
Currently, Josh Mauro and Henry Anderson are in competition for the other starting end job and it is not clear who will win the starting job for the season. Either way, they both should be effective backups and see a lot of playing time.
The lack of turnover will be important for this defensive unit going forward. The defensive line will have a better year because almost all of their players are returning with experience.
Ben Gardner Will Have a Stand-out Year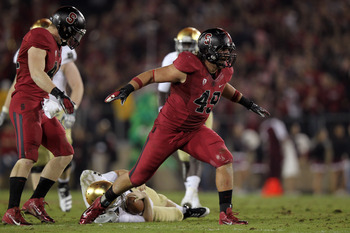 Ezra Shaw/Getty Images
Last season, junior defensive end Ben Gardner started alongside Terrence Stephens and Matt Masifilo. He had 4.5 sacks to go along with 35 tackles and 10 tackles for loss, which are solid numbers for a defensive end in a 3-4 formation.
Along with those numbers, Gardner was picked to the second team All-Pac 12. This year, however, he will make the first team All-Pac 12 as his numbers and play both go up.
There are two reasons that Gardner will post a better season than last with the Cardinal. First, it was insinuated by defensive line coach Randy Hart that Gardner only plays well when he is really trying, something he doesn't do all of the time.
This season, Gardner will be under the pressure of being Stanford's best defensive lineman, as well as a veteran for the team, and will likely put in plenty of effort for the whole season.

The second reason he will succeed this season is simply that he has much more experience as a starter. That experience alone should allow him to grow as a player and ultimately make the first team All-Pac 12 after the season.
A Lot of Depth Along the Line
One of the biggest strengths that this defensive line unit has coming into this year is depth.
While there are two guaranteed starters coming into the season, Ben Gardner and Terrence Stephens, the other spot at end is completely open and Coach Randy Hart believes that he has at least two other ends who are starting quality in Josh Mauro and Henry Anderson.
Beyond those four players, there are four others that are expected to get some playing time. Redshirt freshmen Charlie Hopkins and J.B. Salem are expected to push for some playing time at defensive end, while David Parry and redshirt freshman Anthony Hayes will likely see time at nose guard.
To total that up, that's four quality starters as well as four solid backups to vie for playing time at two end spots and at nose guard. That depth will certainly serve them well, especially when attempting to keep up with fast paced offenses like Oregon's.
A Good Recruiting Class of Lineman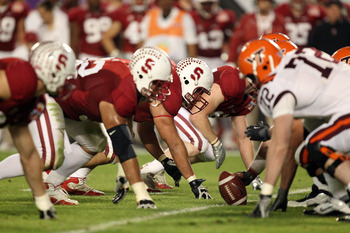 Streeter Lecka/Getty Images
This slide isn't about this year's team so much as it is about Stanford's defensive line for the next few years, since Stanford already has a deep rotation and will not need to rely on freshmen.
Despite that, it is worth looking at the defensive line haul that Stanford has coming.
First off is Aziz Shittu, a five-star defensive end according to Rivals.Yahoo.com. Aziz is 6'3, 275 pounds and is coming out of Atwater, California.
Next up is Luke Kaumatule, a four-star defensive end out of Honolulu, Hawaii. Luke is even bigger than Aziz, coming in at 6'7 and 268 pounds.
Finally, the Cardinals pulled in four-star defensive tackle Jordan Watkins. Watkins is 6'5, 265 pounds and comes from College Park, Georgia. While Jordan has the makings of a good playing for Stanford, he will need to bulk up a bit to play nose guard.
This new influx of talent into the defensive line is important to recognize. Even if they aren't going to make an immediate impact, this group will certainly make their names known soon enough.
This Year's Line Will Be as Good as Last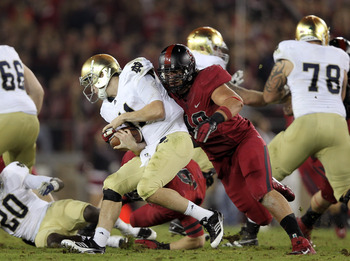 Ezra Shaw/Getty Images
All of the last four slides add up to one thing: Stanford's defensive line in 2012 will be as good as last season's, if not better.
This year's team has depth, talent and experience. They have a potential first team All-Pac 12 player in Ben Gardner and should be able to hold themselves at every other position.
While last season's defensive line seemed great statistically, there is no reason that this year shouldn't be just as good.
Next season, this defensive line unit will be at least as good as last year's and anchor a solid overall defense at Stanford.
Keep Reading

Stanford Football: Like this team?