If Forced to Choose, Does Oklahoma City Keep Serge Ibaka or James Harden?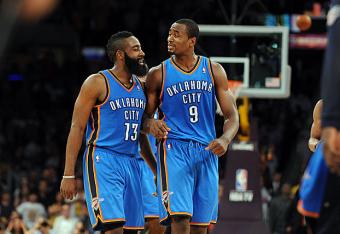 Come next summer, the Oklahoma City Thunder may be finding themselves in quite a pickle.
Serge Ibaka and James Harden are two staples for the Thunder and they are a big part of the successful core that led Oklahoma City to the NBA Finals last season. However, with the way things are shaking out with salary-cap restrictions and luxury taxes in the new CBA, the Thunder may find themselves having to choose one or the other.
Assuming both Harden and Ibaka will be looking for a big payday to reward their hard work on their rookie deals, Oklahoma City may simply be unable to keep both of their beloved players. If this is the case, which one of the two is worth paying a big contract?
First, you have James Harden. Known for being the NBA's best sixth man and sporting the biggest beard in the league, Harden is a lovable player for OKC fans and has taken his role in stride.
Harden is the leader of Oklahoma City's second unit and, though he could easily be a starter over Thabo Sefolosha, accepts the responsibility given to him by Thunder head coach Scott Brooks. He has improved year after year and has becoming a nice scoring compliment to Kevin Durant and Russell Westbrook.
Harden brings a good offensive game to the table and an improving defensive presence on the perimeter as well. Additionally, Harden may very well overtake Sefolosha over the next few years and find himself in the starting shooting guard spot for the Thunder.
Serge Ibaka is certainly a player worthy of a long-term extension in his own right. After leading the league in blocks last season, Ibaka earned his way into the NBA's All-Defense First Team and finished second in Defensive Player of the Year voting. The 22-year-old from the Congo is also a fan favorite in Oklahoma City and his exciting play on both ends of the ball has definitely added to that adoration.
Who should the Thunder keep in this scenario?
For the long-term picture, Ibaka is still improving and could still continue to be the starting power forward in OKC for the foreseeable future. His defense is unquestionably good and his shooting range helps to space the floor on offense.
Both players have their pros and cons, which makes this hypothetical decision all the more excruciating. However, I honestly believe that the difference-maker here occurred on the eve of June 28th, 2012.
To be honest, before that night, I would confidently say that this decision was even harder than it is now. That was because of the events of that June night and what it meant for the future of the Oklahoma City Thunder.
All the way at the 28th in the first round of the 2012 NBA draft, the Thunder found themselves with an arguably top-10 pick level talent still sitting on the draft board. Perry Jones III from Baylor had a lot of buzz coming out of college, until medical red flags devastated his draft stock. That's where Oklahoma City came in.
The Thunder got a steal by getting Jones III, even if he may be damaged goods. Scouts also noted his low-level work ethic in college, something that will change dramatically in the Thunder's basketball culture.
By drafting Jones III, Presti was obviously picking the best player available, but perhaps he was also preparing for the future as well.
What I am getting at here is that Presti may have made this decision as a means of finding an eventual replacement at the power forward position, in the event that Ibaka's salary demands grow too rich for the Thunder's blood.
Therefore, I truly believe that if it really boils down to picking between Harden and Ibaka, the Thunder have already made a decision.
Though it may be too early to tell how well Jones III develops or if the Thunder will even ever have to make this tough choice, but the way I see it, Harden is the man to pay.
This season will certainly be an interesting one for Oklahoma City, who is looking to continue to improve on its postseason runs of recent years. The offseason, however, may be even more intriguing as the future of the Oklahoma City Thunder may be looking different.
This article is
What is the duplicate article?
Why is this article offensive?
Where is this article plagiarized from?
Why is this article poorly edited?

Oklahoma City Thunder: Like this team?