Michigan State Football: Power Ranking the Schedule from Easiest to Toughest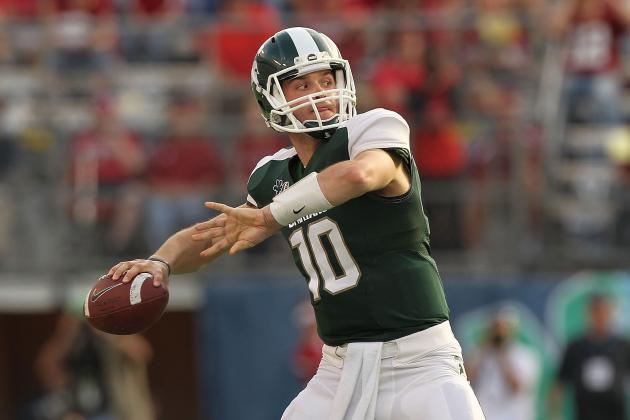 Mike Ehrmann/Getty Images
Michigan State's new starting quarterback Andrew Maxwell.
Michigan State has lost a ton of offensive talent ever since the team was defeated 42-39 by Wisconsin in the inaugural Big Ten Championship game in 2011. Not only do they have to replace Kirk Cousins as the starting quarterback, but running back Edwin Baker, receivers B.J. Cunningham, Keshawn Martin and Keith Nichol are all departed as well. Furthermore, there are vacancies to be filled at both starting tight end positions.
Needless to say, Michigan State is going to take some time to get going offensively in 2012.
However, the defense could prove to be not only the best in the conference, but possibly even the nation. With William Gholston and Marcus Rush forming one of the Big Ten's most dynamic pass rushing duos, offenses are going to have some serious trouble with Mark Danotonio's front seven.
In the secondary, Isaiah Lewis and Darqueze Dennard are both great playmakers. Their ball skills are among the most elite in the NCAA, so they have the potential to wreak havoc on opposing teams.
However, as talented as this Michigan State team is, their schedule is among the toughest in the country. Not only do they play their conference foes, but their non-conference schedule includes both Notre Dame and Boise State.
Let's take a look at every game on the Spartans schedule, starting with the least challenging opponents and working our way all the way up to the nationally ranked powerhouses.
Begin Slideshow

»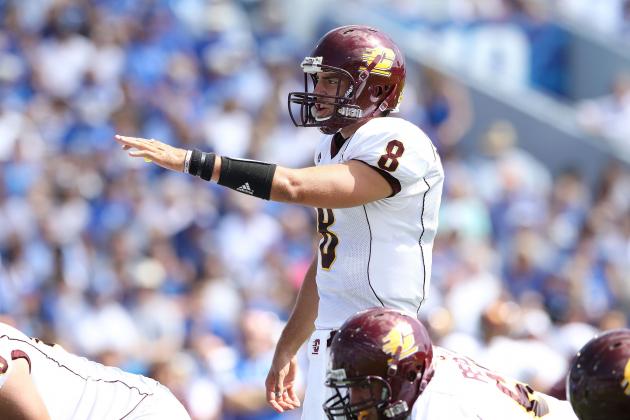 Andy Lyons/Getty Images

To say Central Michigan had a rough go of it in 2011 would be an understatement. The team struggled its way to a dismal 3-9 record, including a 45-7 loss on the road at Michigan State.
Injuries played a major part in the Chippewas disastrous 2011. Out of the 12 defensive linemen on the roster, only four played in all twelve games. Furthermore, there were serious injuries to the linebacker core as well. Although the offense made strides as the year progresses, Central Michigan's defense never gave the team a chance to stay competitive.
The Chippewas will return a lot of starters from a year ago. However, this team still has a long way to go to even become a factor in one of the least competitive conferences in the FBS. Look for the Spartans to roll in this one.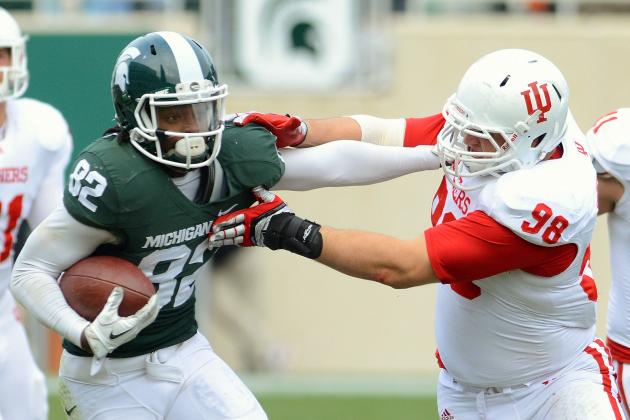 Mark A. Cunningham/Getty Images

To put it lightly, Indiana was a terrible football team last season. At a school that lives for its basketball program, football has never been more than a sideshow in Bloomington. In fact, since 1900, the Hoosiers have only won two Big Ten titles.
The 2011 team's 1-11 overall record did not include a victory over an FBS opponent. However, it wasn't like there was an injury bug that derailed their season. The fact of the matter is that this team just was not very talented a year ago. Simply put, the offense could not move the ball, and the defense could not stop anybody.
However, there is a glimmer of hope for the Hoosiers in 2012. As the team began to fade basically once the 2011 campaign got underway, their was a youth movement of sorts for head coach Kevin Wilson. With quarterback Tre Roberson returning for his sophomore season, look for IU to be slightly improved.
That said, they are not beating Michigan State any time soon. While the program has potential, it just isn't at that level yet.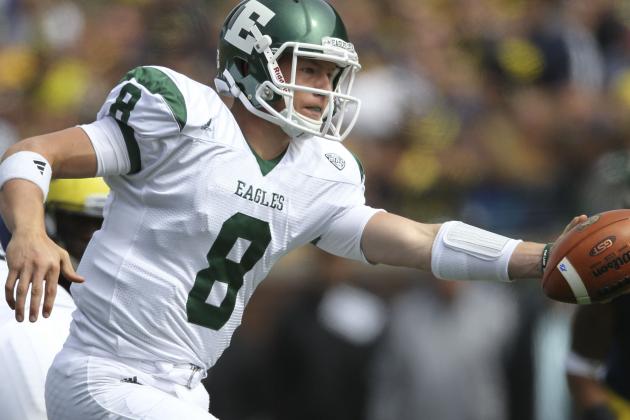 Leon Halip/Getty Images

Eastern Michigan will live and die by its rushing attack in 2012. With quarterback Alex Gillett returning for his senior season, along with Javonti Greene, Dominique Whiteand and Dominique Sherrer in the backfield, there is a cautious optimism that his team will be able to improve over their 6-6 mark a year ago.
However, Eastern Michigan will not beat Michigan State by running the ball. The Spartans' defense is too good up front to be beaten by a team that possesses a one dimensional offense. Michigan State should take care of business in this one.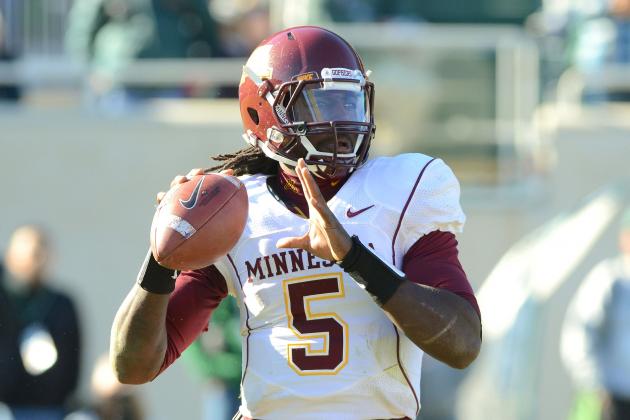 Mark A. Cunningham/Getty Images

The Golden Gophers return not only their starting quarterback in MarQueis Gray from a year ago, but seven starters on defense as well. In Jerry Kill's second season as head coach, we should see some improvement over the 3-9 mark the team posted in 2011.
It's not that the talent is much better, but there is significantly more experience on this team than there was even last season.
Michigan State will win this game on the road, probably pretty easily too.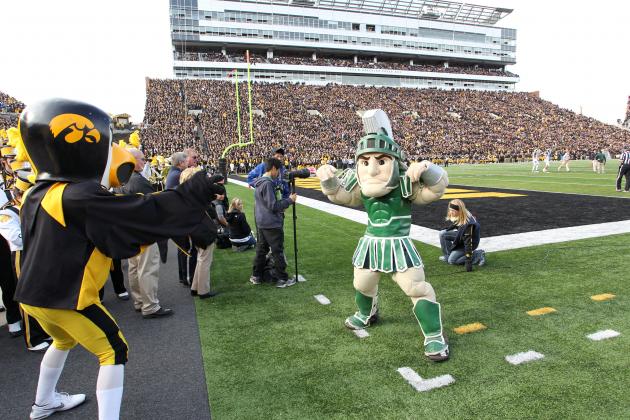 Reese Strickland/Getty Images

Iowa will most likely fail to improve upon its 7-6 record in 2011. Not only did the team lose its best all-around player in running back Marcus Coker from last season, but their top receiver is departed, along with three starting offensive linemen.
Iowa also figures to have issues in the secondary as well. With both Shaun Prater and Jordan Bernstine gone, there is going to be a lack of experience in that area.
Look for Michigan State's defense to take advantage of an inexperienced offensive line from Iowa and control the trenches throughout the contest. If all goes well, the Spartans should win this game comfortably.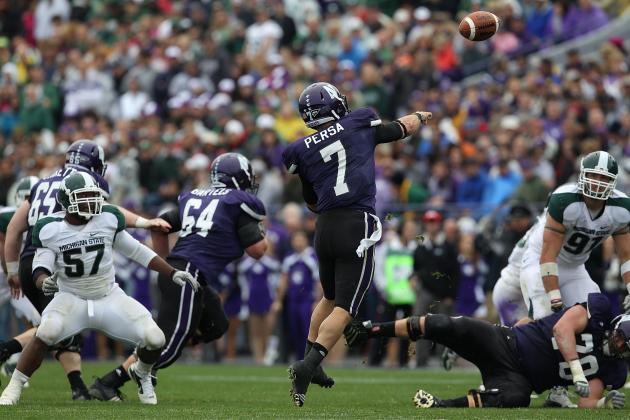 Jonathan Daniel/Getty Images

For the Wildcats to make a move in the Big Ten this year, several players are going to have to step up in a big way. With quarterback Dan Persa out of the picture, Kain Colter must be ready to produce as the team's full time starter. For that to happen Demetrius Fields must develop into a true No. 1 wide receiver.
With a talented linebacker core and front four, Northwestern should be relatively competitive in the Big Ten in 2012. They do not possess the talent of Michigan State, but they are clearly a team on the rise.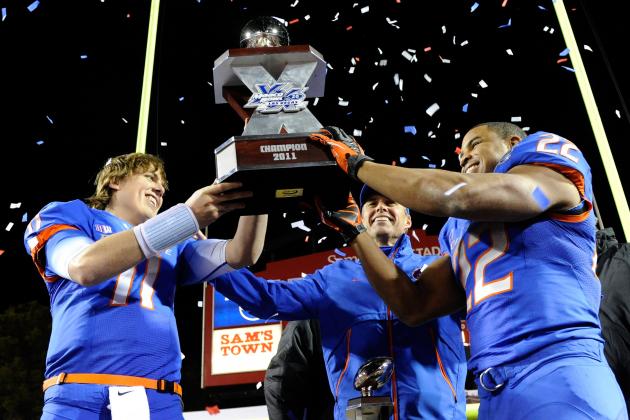 Ethan Miller/Getty Images

Boise State has basically lost every major contributor from their 2011 squad. Kellen Moore (QB), Doug Martin (RB), Tyler Shoemaker (WR), Kyle Efaw (TE), Nate Potter (OL) and Thomas Byrd (OL) are all gone, and figure to be replaced by younger, less experienced players.
On defense, the team lost its' top four tacklers from 2011. While Boise State will remain a powerhouse program for many years, this will not be one of their better teams in 2012.
The weak schedule the Broncos will play could keep them lingering in the Top 25. However, Boise State plays their best opponents early on in the season, including their opener on the road against Michigan State.
Although the long standing debate on whether Boise State should be given more BCS considerations is coming to a head, this specific team will most likely not merit those discussions.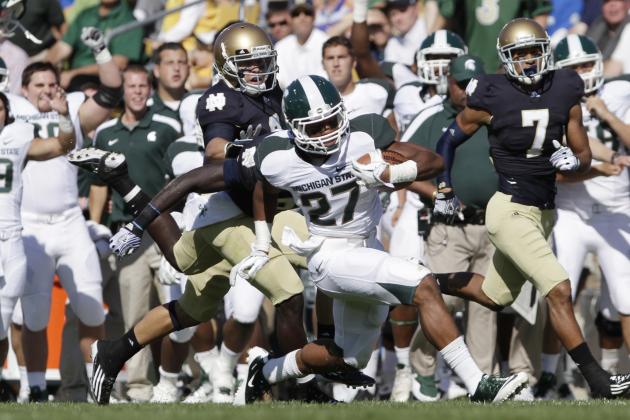 John Gress/Getty Images

When examining Notre Dame's 2011 campaign, it's hard to fathom how they did not fare better than their 8-5 record. The Irish had an extremely talented team last season, but they were held back by a coach who could not decide on a starting quarterback, and by countless turnovers at pivotal points in their contests.
Check out this sobering, yet frightening statistic from Bill Connelly via SB Nation:
Notre Dame lost five games in 2011; in only one (Stanford 28, Notre Dame 14) were they beaten beyond the turnover points margin.

South Florida 23, Notre Dame 20. Turnover Points margin: minus-33.7 points. The Irish outgained South Florida by 254 yards but lost a staggering three turnovers inside the USF 10, one of which was returned 96 yards for a touchdown.
Michigan 35, Notre Dame 31. Turnover Points margin: minus-8.1 points. Notre Dame outgained Michigan by 61 yards and built a 24-7 lead in the third quarter, but they lost two more turnovers in the Michigan red zone, and eventually the Wolverines' offense allowed them to catch up.
USC 31, Notre Dame 17. Turnover Points margin: minus-21.9 points. The Irish overcame an early 17-0 deficit to USC and were driving for the tying score, then gave up an 80-yard fumble return for a touchdown.
Florida State 18, Notre Dame 14. Turnover Points margin: minus-8.2 points. The Notre Dame defense held Florida State to 290 yards and even returned a fumble for a touchdown of their own, but they threw two interceptions inside the FSU 30 and lost.
If Notre Dame can settle on a quarterback in either Tommy Rees, Andrew Hendrix, or Gunner Kiel, and then find a number one wide receiver, they could be tough to beat in 2012. That's easier said than done, but the Irish will be competitive with the Spartans this season.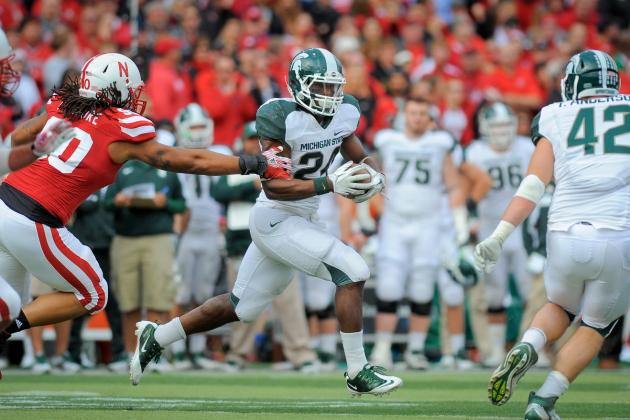 Eric Francis/Getty Images

With quarterback Taylor Martinez and running back Rex Burkhead returning, the Cornhuskers will look to have a formidable rushing attack in 2012. However, that is not to say that they do not have their own questions to answer either. The team loses three starters on the offensive line and they do not possess a clear-cut number one receiver. Both of these issues must be solved quickly if Nebraska wants to compete for a Big Ten championship in 2012.
The Cornhuskers return a lot on the defensive side of the ball. Although their leading tackler from 2011 in LaVonte Davis is gone, all five starters on the defensive line are returning. There is some serious potential for this unit to do some damage in the Big Ten this season.
For Nebraska to stay competitive in this game, they will have to find a balance within their offense. Taylor Martinez can be an effective weapon when utilized as a running quarterback, but not if the defense stacks the box with eight players. It will be interesting to see how Nebraska's offense stays competitive with Michigan State's vaunted defense.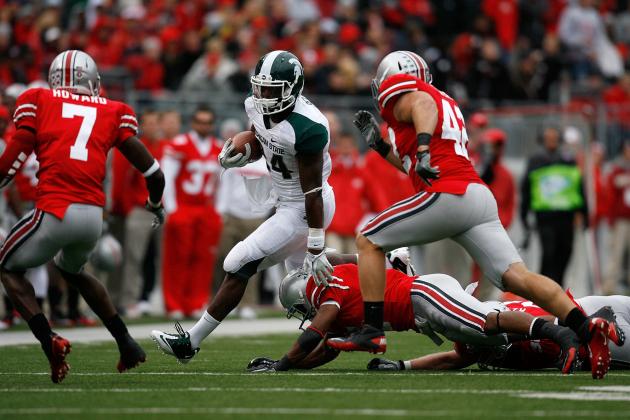 Kirk Irwin/Getty Images

The only thing holding Ohio State back from greatness in 2012 is their motivation to succeed...and the NCAA sanctions that prohibit them from taking part in any postseason play. However, all that aside, there is talent riddled throughout the entire roster. Although top receiver DeVier Posey and running back Dan Herron are gone, quarterback Braxton Miller has a chance to be among the best players in the conference this season.
With that, the defense looks formidable with 10 returning starters, including linebacker Ryan Shazier, who could be the best player in the Big Ten at his position.
Ohio State will be the first team on the Spartans' schedule that has a truly special offense, with a great defense to back it up. If the Buckeyes come to play this season, this particular game should be a nail-biter.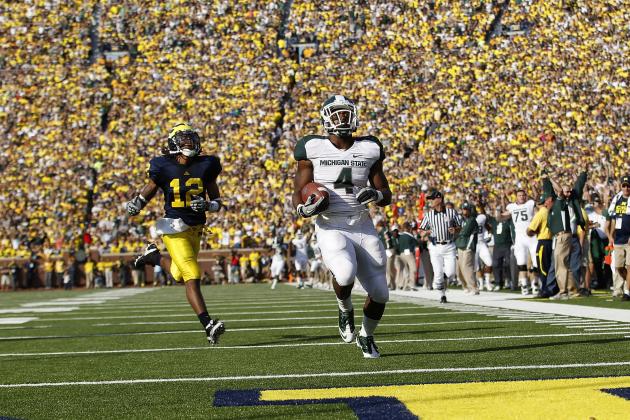 Leon Halip/Getty Images

This is a game that both teams have already circled on their schedules as potential breaking points in their respective seasons. Barring any unforeseen circumstances, the winner of this contest will more than likely play for the Big Ten championship and a trip to the Rose Bowl.
After losing to the Spartans 28-14 on the road last season, Michigan will surely be looking for revenge at The Big House in 2012. With quarterback Denard Robinson and Fitzgerald Toussaint both returning, defenses are going to have a hard time matching up with the Wolverines' skill position players.
The only questions on the Michigan offense are on the offensive line, where center David Molk and right tackle Mark Huyge are both gone. However, with Denard Robinson's speed and elusiveness, this concern is not as important as it would be to teams with traditional pocket passers.
The defense returns three starters in the secondary and a very talented linebacker core. There are questions on the defensive line, but overall, this unit looks solid.
Michigan State is built to win this game. Their staunch defense should be able to contain Denard Robinson, and in effect the entire Michigan offense. However, anything can happen in college football, especially on the road at Michigan.
Not much commentary is necessary for the two classic games these two teams played last season. They were two unbelievable matchups, with the Spartans winning the first on a Hail Mary pass at the end of regulations, and the Wisconsin Badgers winning the second game by a mere three-point margin while clinching the Big Ten championship.
The biggest issue for the Badgers this upcoming season will be finding a new starting quarterback to replace Russell Wilson. Both front-runners John Budmyer and Curt Phillips have lingering health issues, so the competition may not be as clear-cut as one would think. However, with running back Monte Ball returning, Wisconsin will once again have one of the nation's top rushing attacks.
On defense, the team loses five starters, but returns Chris Borland and Mike Taylor. If those two guys can become a formidable linebacker combination, everything else should take care of itself
With Ohio State out of the picture, Wisconsin will almost surely play for the Big Ten Championship. If Michigan State takes care of business against Michigan, we could see another rematch with a trip to Pasadena on the line.