Boise State Football: Predicting Where Broncos Will Rank in Preseason Top 25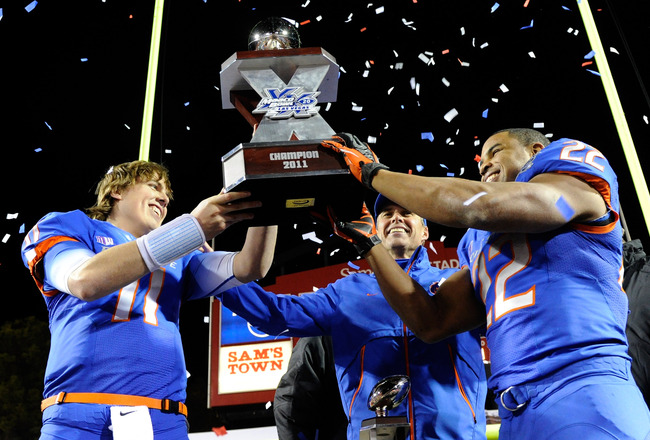 Ethan Miller/Getty Images
No. 22...Nope, not speaking about former Boise State (now Tampa Bay) player Doug Martin. Twenty-two is where the Broncos were ranked in the preseason USA Today poll. At the end of the 2011 season, USA Today had the Broncos at No. 6, while the AP poll slotted BSU at No. 8.
Between that poll and the current one, Boise State graduated a lot of talent, some of which are vying for spots on NFL rosters. ESPN's power rankings have the Broncos at No. 24. Sports Illustrated's poll, just released, ranks BSU at No. 23.
Those are really just numbers and merely an appetizer to the season ahead. The season will determine who the best team in the country is and where teams rank along that way. So where will the Broncos rank when the AP Top 25 preseason poll releases?
Before getting to that, let's look at why the Broncos will be ranked in the Top 25.
Experience on the Offensive Line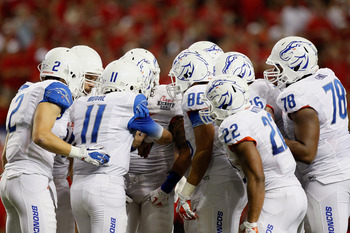 Kevin C. Cox/Getty Images
Joe Kellogg (6'3", 305 .lbs) is one of the more experienced of the offensive linemen returning for the Broncos in 2012. The red-shirt senior missed one game in the past season due to injury, but was crucial in the left guard position. And the blocking doesn't stop there.
Redshirt juniors Matt Paradis (6'3", 289 .lbs) and Charles Leno (6'4", 294 .lbs) also saw a lot of action in 2011, with Paradis also utilized as a center. Spencer Gerke (6'3", 296 .lbs), another red-shirt junior, also was part of the offensive line rotation last fall.
Experience at Key Offensive Skill Positions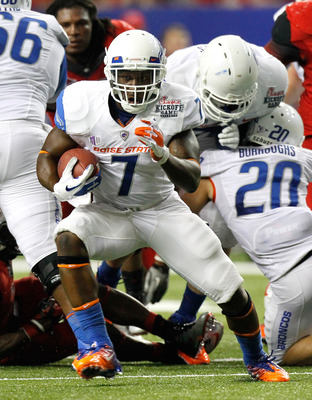 Kevin C. Cox/Getty Images
D.J. Harper is a sixth-year running back, and Matt Miller is a preseason conference pick at wide receiver. Both have been widely touted on B/R, as well as other publications. The Broncos have some younger running backs in the fold who could contribute during the course of the season, like Jay Ajayi and Jack Fields (if the latter is not redshirted).
The receiver corps is deep with Miller leading the charge, followed by Mitch Burroughs, tight ends Chandler Koch and Gabe Linehan, Kirby Moore and Chris Potter, to name a few.
Joe Southwick has experience under center backing up former Bronco Kellen Moore. But Southwick has competition for the starting job in red-shirt sophomore Grant Hedrick, red-shirt freshman Jimmy Laughrea and true freshman Nick Patti.
When you know there is someone in the wings waiting to replace you, it has a tendency to stoke the flame of competition.
Experience Across the Defense
Kevin C. Cox/Getty Images
The defensive secondary has speed and experience coming back, and the line is anchored by Michael Atkinson (6'0", 306 .lbs). J.C. Percy (6'0", 227 .lbs), a red-shirt senior linebacker, was fifth on the team in tackles in 2011 with 48 total.
Big things are also expected from Demarcus Lawrence (6'4", 243 .lbs), a red-shirt sophomore transfer from Butler Community College.
The Coaching Staff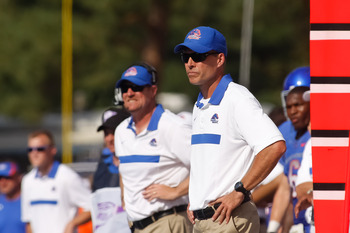 Otto Kitsinger III/Getty Images
Head coach Chris Petersen's record is a gaudy 73-6 through six years. Obviously, the one way to shake up the rankings early will be to post a win over BSU's Aug. 31 season-opening opponent, Michigan State. BSU has fared pretty well recently over ranked foes on opening day.
The Broncos are 6-0 over the past six years, but three of those opponents (Idaho State, Weber State and Sacramento State, played from 2006 through 2008) are not close to the caliber BSU has played recently. The Broncos' last three wins were over Georgia, Virginia Tech and Oregon. Each of those teams held a Top 25 preseason ranking.
Granted, Petersen has lost some coaching experience from his staff. Brent Pease, the architect of the Bronco offense for the past six years, is now at Florida. Robert Prince is taking over the reins of offensive coordinator. Prior to joining BSU's staff, Prince was coaching in the NFL.
Where Will BSU Be Ranked in the AP Poll?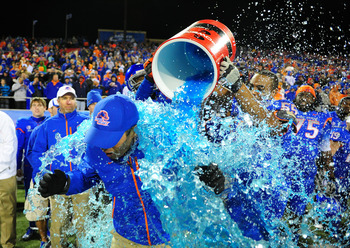 Mark J. Rebilas-US PRESSWIRE
As much as it all sounds great, the reality is that there are a lot of people waiting for BSU to falter. Yes, the Broncos graduated a lot of talent, but the stable is not exactly empty.
Try telling that to voters, though. BSU should be no lower in the polls than No. 20, possibly as high as 18. But the reality is that they may check in at No. 22 or 23.
Keep Reading

Boise State Football: Like this team?