Robin Van Persie's Departure Signals a Changing of the Guard at Arsenal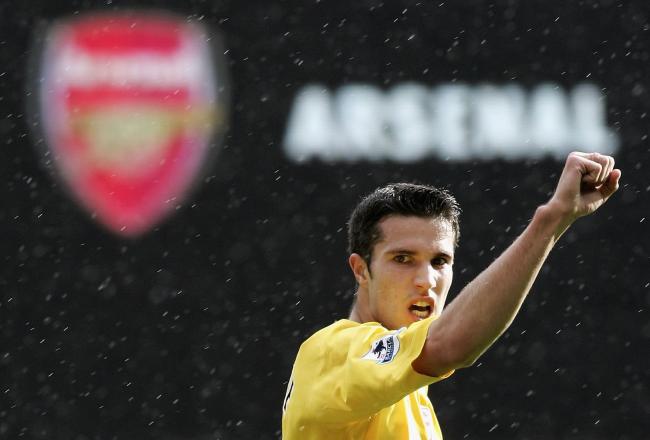 Phil Cole/Getty Images
Robin van Persie's departure—a mere formality at this juncture, as all that remains for him to do is trade Arsenal red for Manchester plaid (have you seen their new home jersey?)—is perhaps the most painful, and maddening, thing to happen to the club in quite some time.
Cesc Fabregas's move to Barcelona was a ticking clock, and Samir Nasri—well, who cares about him anyway.
Van Persie seemed different. He said all the right things, led by example and bagged ample amounts of goals.
But he wanted something else—something that Arsenal could not give him.
Back in June, when the rumors about Van Persie's departure changed from a dull moan to a keening roar, I felt overcome by severe rage.
I hadn't felt that level of anger since last August, when Nasri and Fabregas both jetted off from north London in search of home (Cesc) and money (Samir).
How dare Van Persie join them, I thought. How dare he repay his manager's unflinching faith in him with such petulance.
Arsene Wenger had stood by Van Persie during the heat of a rape scandal. He'd stood by him even as Van Persie's on-field antics threatened the well-being of the team. He'd stood by him as the injuries piled up, threatening to choke off an immense well of talent before it could ever be fully tapped.
Van Persie was the latest Pygmalion project for Wenger—a player whom the Frenchman could mould from troublesome youth to consummate professional.
For years, it seemed a lark. For every sublime piece of skill or impressive run of games—that volley against Charlton, those goals at Stamford Bridge and Anfield over the course of a month in '08—there came some mishap that sent him crashing back to earth.
Through it all, Wenger stood by his man, giving him a new contract even when Van Persie had never shown he could remain fit for an entire season.
And 19 months ago, Van Persie finally looked as if he was ready to repay that faith. He embarked upon a historic run of form, scoring goals with near-ethereal consistency.
By the time 2011 had come to a close, he'd broken Arsenal legend Thierry Henry's record for goals in a calendar year and just missed out on Alan Shearer's EPL record.
No matter, Van Persie told us. He'd get Shearer's record in 2012.
By the time the dust had settled on this past season—even with a lull in his strike rate toward the final run of games (from March 21 to April 21, a span of seven games, he scored "just" one goal)—Van Persie had accounted for 40.5 percent of his side's goals in league play. He had 30 out of a total of 74, smashing the respective percentages of his EPL rivals.
He was justly awarded Player of the Year honors by the Professional Footballers' Association, and borne the brunt of Arsenal's push toward a third-place finish—unthinkable back in September, when they'd languished in 17th place, just one spot removed from the relegation zone.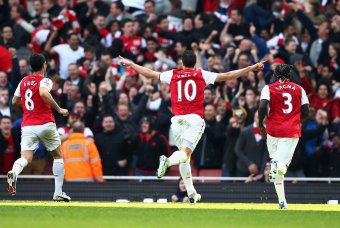 Clive Mason/Getty Images
But now all that is forgotten. Van Persie is readying a push toward titles with Manchester United, and he is preparing to partner up front with, in all likelihood, Danny Welbeck.
At 29, one would think he is entering the autumn of his career, but it appears to more closely resemble an Indian summer.
Arsenal will move on without him. They will have to move on without him. Former legends such as Ian Wright and Thierry Henry have issued statements along those lines. (OK, Wright's words were a bit different than Henry's, but still.)
The question thus becomes, where do Arsenal go from here. Thankfully, a contingency plan had been set in motion before this past season had even ended. Like any astute observer of life, Arsene Wenger learned from the crippling mistakes of last autumn, when Arsenal were torn asunder by the departures of their two midfielders.
A scramble to buy at the summer window's close (five players were brought in that final week) was a much-needed transfusion of talent, but like any transplant it took time for the body/team to acclimate.
That shouldn't be as much of a problem this season, if at all.
A Changing of the Guard in Cologne
Van Persie's loss will hurt terribly, but Wenger had already begun to effectively move on from his star captain this preseason.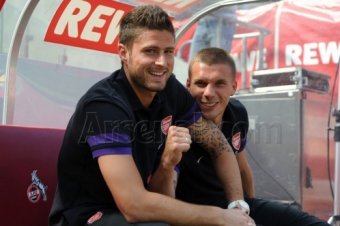 Despite Van Persie's early exit at the European Championships, he did not join the likes of Alex Oxlade-Chamberlain and Theo Walcott—both of whom had played for England at the tournament—on the preseason Asia Tour.
And in Cologne, for the final friendly ahead of Saturday's opener against Sunderland, Wenger's choice to start Olivier Giroud up front and Lukas Podolski out on the wing sent a near-unequivocal message.
Both players had been brought in before July, both had enjoyed enough time to acclimate themselves to their new surroundings. While Santi Cazorla's transfer wasn't hammered out until last week, the fact that he still had a game to get his feet wet before the furor of the EPL season begins cannot be discounted.
All three of those players are superb additions to the squad, and while the question of whether any can "replace" Van Persie rankles—that's impossible—seen together, they will provide a vital infusion of talent and experience to the squad. Giroud, the youngest of the three, is 25.
Van Persie's goals will be sorely missed, but if he did not desire to remain at Arsenal, then there was no point in keeping him until his contract expired at this season's end.
So while we could look back at proclamations such as these from the Dutchman, there's really no point in miring oneself in the muddle.
"My heart is with Arsenal and I just can't picture myself in a different shirt. I just can't see it now because I love this Club so much. If you look at the last five years, look at the steps I have made every season, if you look at the support the Boss and the whole Club gave me, the fans gave me, my team mates gave me – this is the right decision."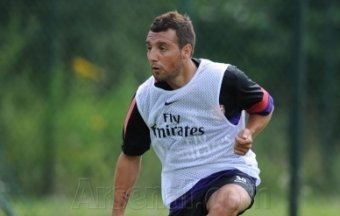 Arsenal are moving forward, and moving at a faster clip than we've ever seen them. By the time Van Persie had even entered that match against Cologne in the 69th minute, for Podolski of all people, the Gunners had already scored the four goals that would see them to victory.
Cazorla had looked masterful in midfield; Giroud had displayed the attacking chops that made him the revelation of Ligue 1 last season; Podolski did what Podolski does best—combine neat interchanges with his teammates with a predatory sense for finding the back of the net.
It's highly unlikely any of them will ever score 30 goals in a season (RVP had 37 in all competitions) for Arsenal, but that won't be needed. Arsenal found themselves depending upon Van Persie's saving graces far too often last season, and now the torch has well and truly passed.
Van Persie was the final key contributor in this Arsenal side to have tasted silverware, coming in just his first season with the club (2005 FA Cup).
Now, the weight of responsibility passes to the new guard—the Oxlade-Chamberlains and the myriad other talented youngsters who seem a notch above the previous batch to have cycled through the Emirates.
Many of those players—Carlos Vela, Nicklas Bendtner, Denilson—have left or are in the process of leaving, like Van Persie.
This time around, it will be different. Maybe it'll even be better.
This article is
What is the duplicate article?
Why is this article offensive?
Where is this article plagiarized from?
Why is this article poorly edited?

Arsenal: Like this team?