Real Madrid vs. Valencia: 5 Key Matchups in the La Liga Opener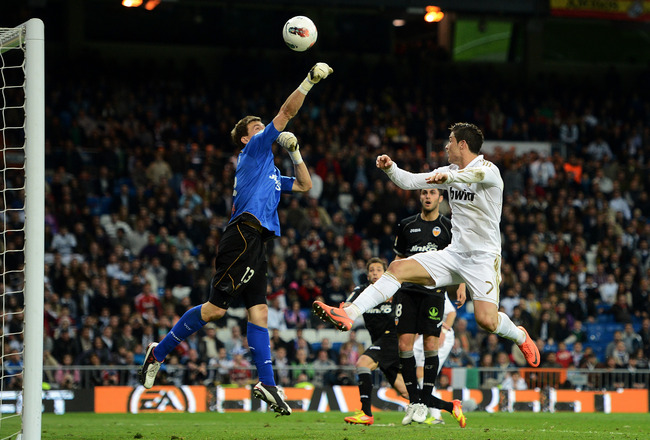 Jasper Juinen/Getty Images
Real Madrid vs. Valencia—the headliner for La Liga's opening weekend.
Los Che has revamped its squad all the way to the manager and looks a stronger side than last season on paper.
Los Merengues have yet to make any major signings this summer, but there is a strong chance that Luka Modric will be in white for the opener.
Jose Mourinho knows he is in for a tough bout.
The last time these two faced each other, they gave fans the most enjoyable 0-0 draw in years.
In the previous match, last December, Real won a cracker after a controversial non-call in the dying minutes of the match.
As reigning champions and with the stronger team, Real Madrid will be favorites against Spain's third-best team.
Here are five key matchups as Real Madrid goes up against Valencia in their season opener.
João Pereira vs. Cristiano Ronaldo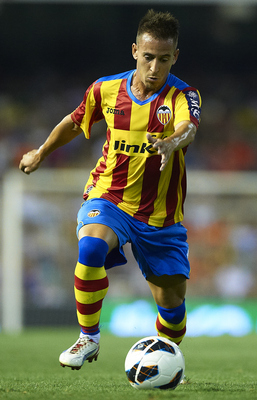 Manuel Queimadelos Alonso/Getty Images
João Pereira was one of Valencia's big signings this summer, and will have a lot of work to do right off the bat.
The former Sporting Lisbon man will need to help neutralize national teammate Cristiano Ronaldo. This is a tall task for anyone to do, but with a little help, Pereira can do it.
The bigger problem for Real Madrid will be limiting Pereira on the right flank. He is known to get well down the pitch to aid in the attack.
Marcelo is likely to start, and he's a bigger defensive liability than Fabio Coentrao is. This could present problems for Real.
If Pereira is allowed to get on the ball in the final third, he is a solid passer and can give Roberto Soldado a chance to score.
This will be a key matchup on the evening.
Karim Benzema vs. Adil Rami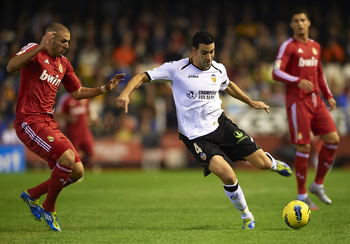 Manuel Queimadelos Alonso/Getty Images
Here is another matchup that pits national teammates against each other.
Both Adil Rami and Karim Benzema will be looking to forget about a disappointing Euro 2012 campaign as soon as possible.
Nothing helps a player forget about a poor performance faster than beating a rival.
The most dangerous thing about Real Madrid is that they don't have just one very dangerous weapon.
If Ronaldo gets shut down on the outside, they still have Karim Benzema and Mesut Ozil roaming the middle of the pitch.
This is where Rami will need to have a big night in shutting his French teammate down.
Having such a big, strong defender at the back will weaken Madrid's aerial game and will likely cause the focus of attack to shift outside—probably to Valencia's weaker left flank.
Rami will be hard to beat, but Benzema will likely have tons of opportunities to score with Ronaldo and Angel di Maria running wild on the flanks.
Angel di Maria vs. Jeremy Mathieu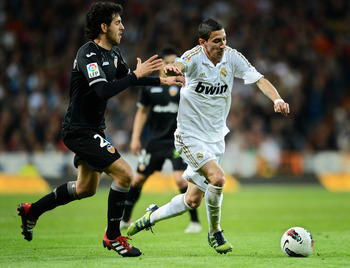 Jasper Juinen/Getty Images
This could be the key to the entire match. After being linked to countless left-backs this summer—and even signing one—Valencia still hasn't replaced Jordi Alba.
No disrespect intended to Mathieu, but the Frenchman simply isn't good enough to shut down someone like Di Maria.
That is not at all an insult, though. There are very few full-backs in football who can shut the Argentinian one-on-one.
Mathieu will have a very difficult time all night. With Ozil and Benzema causing problems in the middle, Victor Ruiz will be very busy, and Valencia's left-back will struggle to limit the damage on his side.
If Angel di Maria can find space on the right side, Benzema needs just a few moments to put the finishing touches on any pass.
Roberto Soldado vs. Sergio Ramos and Pepe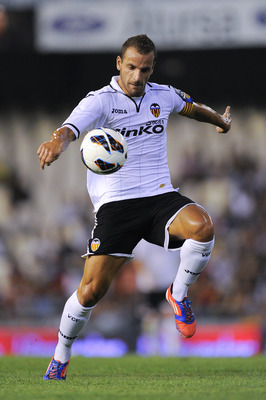 David Ramos/Getty Images
Whether Soldado is fit to play or Jonas has to play up front, Real Madrid knows their hands will be full in defense all night.
Valencia's No. 9 is as clinical as they come and his speed, technique and touch will trouble Real Madrid's center-backs all night.
If Soldado is fit, he could have a big match against his former club. If he is not, Jonas is ready and waiting to step up.
Jonas has had a great preseason and has many Valencia fans thinking that the Brazilian can match Soldado's goal output this season.
With both Ramos and Pepe known to be reckless and often caught out of position by venturing too far forward, look for Valencia's striker to have a couple of breakaway chances against Iker Casillas.
Real Madrid vs. Vicente Guaita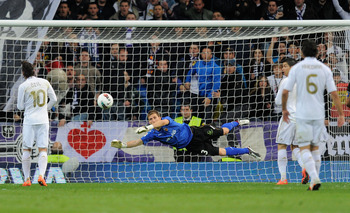 Denis Doyle/Getty Images
As I said in the intro, the last time these two teams played, we were treated to a match far too enjoyable for a 0-0 draw.
The reason is that Vicente Guaita gave a career performance. He was almost unbeatable, especially in the second half.
He outshone Iker Casillas in Madrid by keeping Europe's best attacking team at bay for 90-plus minutes. When the final whistle blew, Guaita had made 10 saves after Real took 32 shots.
In what was arguably the best individual performance of the season, Guaita proved that he was as good as they come in Spain.
It would take another epic performance to keep another clean sheet against this Madrid squad. It's highly unlikely, but if anyone can do it, it's Guaita.
Keep Reading

Real Madrid: Like this team?