Fantasy Football 2012: Why Chargers' QB Philip Rivers Is Worth Round 1 Pickup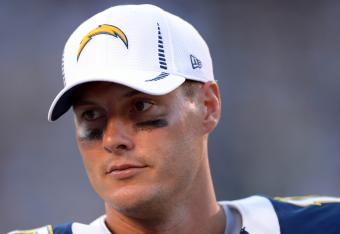 Jake Roth-US PRESSWIRE
Inconsistency was the virus that plagued Rivers from escaping the shadow of mediocrity last season. Despite his uncharacteristic 2011 season, he still managed to toss 27 touchdowns and 4,624 yards through the air. A feat that was good for the No. 9-ranked fantasy quarterback point scorer.
If it isn't one thing, it's another. His run-in with bad fortune resurfaced in his 2012 debut. After forcing the ball into a nonexistent window, it wound up in the arms of the Green Bay defense.
The light drizzle translated to a thunderous rain when Ryan Mathews suffered a fractured collar bone. Now, Rivers, one of the NFL's most proficient deep ball quarterbacks, will resort to his bread and butter.
Why should Rivers still be your first-round draft choice?
Away from all the turmoil of the coaching personnel and head-cases that contributed to 2011, Rivers did manage to quietly put together a reasonable campaign.
His 4,624 yards through the air were just 86 yards fewer than his league-leading 2010 season of 4,710 passing yards. The efficiency with which he achieved the mark wasn't in the same manner as his previous seasons. Nonetheless, he reached the benchmark.
Mind you, Rivers was without Jackson for the majority of the 2010 season and still managed to turn his no-named receiving core to stardom.
I physically cannot buy into the fact that Rivers is on the decline. After one season went awry, there is nothing for me to believe that he cannot rebound.
Where does Rivers fall on your Fantasy draft?
He has an expansive arsenal of weapons under his wing this season. In San Diego, the pressure to perform is evident. But with No. 85 looking rejuvenated and healthy once again, the burden of trying to carry the team can be lifted off of Rivers' back.
What about the offensive line?
Point the fingers wherever you want, but the offensive line was cancerous last season. It seemed that a prototypical pass play was a defensive jailbreak waiting to happen. And injuries didn't help the handcuffed situation. Without the security of a left tackle, Rivers was a sitting duck.
However, 2012 is a different story. The front returns three starters with Nick Hardwick paving the way. In addition, the Bolts tagged two stellar offseason attractions in veterans Rex Hadnot and Mario Henderson, and drafted Michigan lineman, David Molk.
Like the receiving core, there is no definitive answer. Success will be measured on their group effort for giving Rivers the necessary space and time.
For Rivers to return to form, he needs Norv's permission to let him thread the ball down field. Norv's position is on the hot seat, so why not let loose and seize the moment's opportunity? The time is now, and the risk is worth the reward in No. 17's hands.
If Rivers can cut down his feeble attempts at trying to force the absent situation, the Bolts will return to their winning ways. He is the leader and captain of this team, and he will find a way to redirect this ship. The Chargers have put their trust in him, and I have invested my trust in him as well.
Sure he is a safe late-round bargain, but if you are willing to make a commanding statement, Rivers will not disappoint as a first-round pick. He is a fiery competitor who knows how to get the job done.
This article is
What is the duplicate article?
Why is this article offensive?
Where is this article plagiarized from?
Why is this article poorly edited?