4 Ways Melky Cabrera's PED Suspension Impacts the Giants-Dodgers NL West Race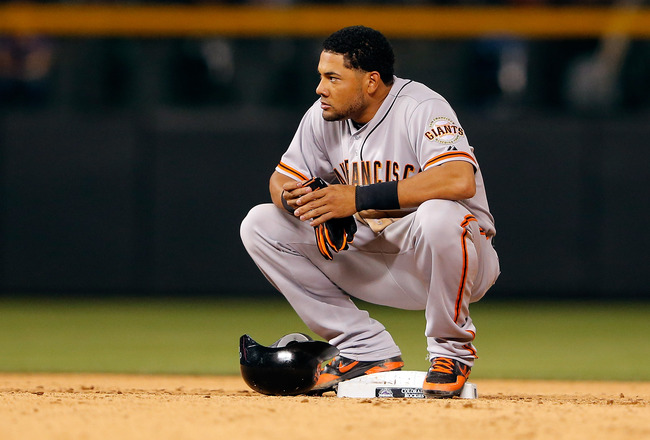 Doug Pensinger/Getty Images
The San Francisco Giants and Los Angeles Dodgers are locked in a battle for the NL West title that was shaping up to be one of the best in the history between these longtime rivals.
The Giants and Dodgers were tied atop the division with identical 64-53 records entering Wednesday night's games. But that could all change with the breaking news that San Francisco left fielder and 2012 All-Star Game MVP MLB" href="http://espn.go.com/mlb/story/_/id/8271981/melky-cabrera-san-francisco-giants-suspended-50-games">Melky Cabrera has been suspended for 50 games (via ESPN.com) for violating Major League Baseball's Joint Drug Prevention and Treatment Program.
Cabrera is now the second high-profile MLB player to test positive for a banned substance in the past year following Ryan Braun's offseason test result that has since been overturned.
But unlike Braun, who vehemently denied taking any banned substance, Cabrera has admitted that his positive test was indeed the result of him taking "...a substance I should not have used...".
The fallout from this news will have far-reaching implications, including jeopardizing Cabrera's attempts to negotiate a contract extension with San Francisco. Here are four ways that his suspension will impact the Giants' ability to challenge the Dodgers for the NL West crown.
Giants' Lineup Weakened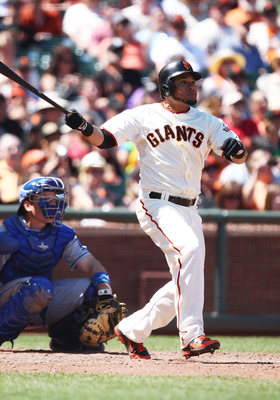 Tony Medina/Getty Images
The San Francisco Giants did their best to keep up with the three trades that the Los Angeles Dodgers made prior to the July 31 MLB trade deadline. The Giants made only one trade—acquiring right fielder Hunter Pence from the Philadelphia Phillies. But they addressed the team's biggest need by improving their lineup and outfield defense.
Now that the Giants have lost Cabrera for the rest of the 2012 season, the addition of Pence will now be outweighed by Cabrera's absence from the lineup.
Removing a player that was second in the National League in batting average (.346) and first in runs scored (84) would be a big blow to any lineup. But it's a greater blow to a San Francisco team that is ninth in the NL in runs scored.
Pablo Sandoval's recent return from the disabled list will help the Giants deal with Cabrera's suspension; but replacing Cabrera's 2012 production will be impossible to do.
Puts Added Pressure on Giants' Pitching Staff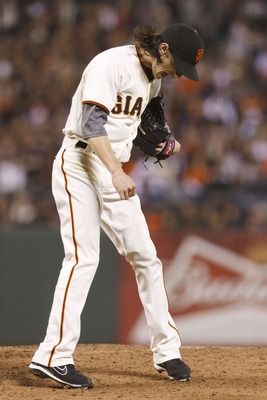 Jason O. Watson/Getty Images
The San Francisco Giants have some the of the best starting pitchers in baseball. But Melky Cabrera's suspension puts more pressure on a starting rotation that hasn't exactly been in top form this season.
Former two-time Cy Young winner Tim Lincecum's struggles this year have been well documented. Although he's pitched well since the All-Star break, going 3-2 with a 2.72 ERA in his last six starts, it's hard to overlook his horrific first half. Giants fans can't be sure that he's back to being the Lincecum of old.
Matt Cain was one of the best pitchers in the National League during the first half. He threw one of the greatest perfect games in MLB history and had the honor of being named the NL starter in the 2012 MLB All-Star Game.
But unlike Lincecum, Cain has pitched poorly in his six post-All-Star appearances, accumulating a mediocre 4.12 ERA.
If San Francisco is going to have a realistic chance of keeping pace with the Dodgers down the stretch, the starting rotation will have to overcome a slimmer margin for error thanks to Cabrera's absence.
San Francisco's Good Luck May Have Run Out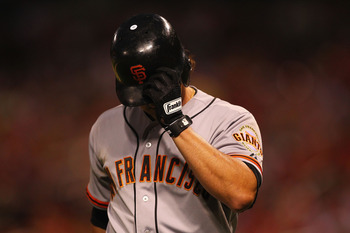 Dilip Vishwanat/Getty Images
The San Francisco Giants overcame a big first half by the Los Angeles Dodgers to take over first place in the NL West shortly before the All-Star break.
The Giants' ability to catch the Dodgers, who had the best record in the majors through mid-June, was due in large part to a hamstring injury that kept Los Angeles' All-Star center fielder Matt Kemp out of the lineup for 58 games. But Melky Cabrera's suspension essentially gives the Dodgers a mulligan on that injury for the last 45 games of the year.
San Francisco had plenty of reasons to be excited about their playoff chances following the acquisition of Hunter Pence, Tim Lincecum's second-half turnaround, Pablo Sandoval's return from the disabled list and Buster Posey's push for NL MVP consideration.
But now the air has been let out of the Giants' party balloons and any positive momentum gained from that series of events has come to a screeching halt.
In addition to killing the team's morale, Giants players will now have to spend the rest of the season answering questions about Cabrera's suspension and any drop-off in the team's play will unquestionably be linked to his absence.
Luck Be a Los Angeles Dodgers Fan Tonight
Sarah Glenn/Getty Images
Melky Cabrera's suspension has to leave San Francisco Giants fans bummed out by their sudden change in fortunes. But Los Angeles Dodgers fans have to feel like they've been at a hot craps table all season, and the dice just keep adding up to 11.
The miserable Frank McCourt era of ownership has quickly been left in the dust as Guggenheim Baseball Management, led by team president Stan Kasten and minority owner Magic Johnson, has done everything possible to make the Dodgers an immediate World Series contender.
Los Angeles fans have been ecstatic with the early returns, and the Cabrera suspension is just the latest sign that 2012 just may be the year of the Dodgers.
The Giants and Dodgers still have nine more head-to-head matchups this year, including a three-game series at Dodgers Stadium beginning next Monday. With a total of six home games against San Francisco, the Dodgers will certainly be looking to kick their hated rivals while they're down.
Keep Reading

San Francisco Giants: Like this team?