10 Opponents CM Punk Needs to Face in the Rest of 2012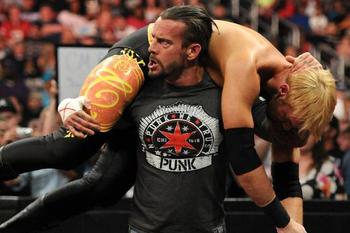 WWE Champion CM Punk delivers a GTS to Christian.
Since the start of 2012, CM Punk has maintained possession of his WWE Championship time and time again, walking out of the arena with the title belt still intact around his waist. Whether it be on Raw, SmackDown or even on a pressured pay-per-view, Punk has consistently stole the show with every title defense thus far against the likes of Chris Jericho, Dolph Ziggler and Daniel Bryan, among others.
Given Punk's recent heel turn that sent shock waves throughout the WWE Universe, this controversial change in character creates a variety of opportunities for the Voice of the Voiceless going forward. There's certainly a handful of tremendous talents that Punk has yet to face, and others I've been highly anticipating to see him face again.
While there's still a few months left before the culmination of the year, I hope to see these exciting matches occur soon. Not only do these selected bouts have the potential to be absolutely amazing, but they could also make for some very intriguing rivalries as well.
Without further ado, let's list the top 10 opponents the Straight-Edge Savior must face by the end of 2012, regardless of whether they're realistic or not.
John Cena

CM Punk vs. John Cena

Of all the competitors featured on this list, John Cena is obviously the most likely opponent for CM Punk. The two have been featured in a ruthless rivalry in recent weeks over the WWE Championship, that have also included the likes of Big Show and Daniel Bryan.
Of course, we've already witnessed Punk battle Cena in a one-on-one contest a few weeks back on Raw 1000, but the title match was inevitably interrupted by the World's Largest Athlete and ended in a disqualification victory for Cena. After their verbal encounter this past week on Raw, there's no doubt in my mind we'll see this contest come to fruition at the Night of Champions pay-per-view.
If you recall their series of matches from last year, you'd know that both Cena and Punk can create magic in the ring if given an appropriate amount of time to shine. If those string of matches are any indication, it's that their eventual championship clash in coming weeks will be nothing short of epic.
Cody Rhodes

CM Punk vs. Cody Rhodes

Since debuting in the WWE nearly five years ago, Cody Rhodes has worked his way up the ranks from enhancement talent to tag team specialist to now an established mid-card act. A former two-time Intercontinental Champion, Rhodes has all the necessary tools to become a main event player in WWE.
While many truly believe that Rhodes should in fact be World Heavyweight Champion this very moment, he's been mostly directionless in recent months after losing his Intercontinental Champion this past spring. However, what better way to have the multi-generation star make an impact than by feuding with WWE Champion CM Punk?
The two haven't competed in a singles match against one another in nearly four years, which also was a very good contest. It's unquestionable that their chemistry would instantly click, so only great things can come out of a bout between these two aspiring Superstars.
Chris Jericho

CM Punk vs. Chris Jericho

I know, we saw CM Punk and Chris Jericho battle numerous times earlier this year over the WWE Championship, but a rekindling of their rivalry would be much different. Given the recent changes in both of their respective characters, it'd be extremely interesting to see the tables turned and the roles reversed this time around.
For months, we saw Jericho mock Punk's straightedge lifestyle and insinuate that he wasn't as "honest" as he claimed to be. Jericho took countless shots at the Second City Saint's family, which eventually culminated in a Street Fight at Extreme Rules that saw Punk score the victory and retain his WWE title.
However, Punk has slowly reverted back to his maniacal ways, while Jericho has reinvented himself as Y2J once again. Although Jericho may be currently "unemployed" by WWE, it wouldn't surprise me to see the two best wrestlers in the world cross paths upon his return to the ring by year's end.
Kofi Kingston

CM Punk vs. Kofi Kingston

In a world that WWE doesn't seem to acknowledge, CM Punk and Kofi Kingston are former World Tag Team Champions together. They joined forces in late 2008 to rival the Legacy faction, and also happen to be very good friends outside of the ring as well.
Their brief, yet fun match together last year on the May 16th edition of Raw was enough to leave me wanting more from these two former ECW stars, as their in-ring chemistry would make for some very exciting matchups.
While a contest between the two may not be all that likely at the moment with Punk being WWE Champion while Kingston is still WWE Tag Team Champion, there's always a chance we could see them lock up by the time the year concludes. Placing the Ghana-born Superstar in the ring with Punk could do wonders for Kingston's career, especially as a singles competitor.
Wade Barrett

CM Punk vs. Wade Barrett

At the tail end of 2010, CM Punk was named the new official leader of the revolutionary Nexus stable. It wasn't long before he and the original head honcho Wade Barrett crossed paths, which saw Punk effectively exile Barrett from the villainous group shortly thereafter.
Although they competed against one another on Raw early last year, the contest ended in a double disqualification thanks to special guest referee John Cena. Since then, I've been anxiously anticipating a rematch between the two, as the clashing of their in-ring styles would make for a solid matchup.
Given Barrett's impending return from injury, the evil Englishman could easily set his sights on Punk and his WWE Championship if he wishes to become the first-ever English-born WWE Champion. A push for Barrett has been rumored for quite sometime now, so don't be surprised to see him give the Voice of the Voiceless a run for his money upon his return.
Sheamus
WWE Champion CM Punk and World Heavyweight Champion Sheamus
Although they may seem like polar opposites, CM Punk and Sheamus truly do have many things in common. Both made a name for themselves on ECW before defeating John Cena to win their first WWE Championships, where they're now both the current reigning WWE and World Heavyweight Champions respectively.
Despite all that, a one-on-one match between the two has yet to be contested. WWE is usually high on Champion vs. Champion matchups, but we haven't witnessed one since before Sheamus captured the World title at WrestleMania 28.
Now that Punk has finally turned in a full-fledged heel, it's more possible than ever that we'll be seeing this match come to fruition sooner rather than later. The face of Monday nights taking on the face of Friday nights would be a sight to see, especially since both Punk and Sheamus have been atop the WWE for many months by this point.
Not only that, but the Celtic Warrior has recently expressed interest in facing Punk during an interview with WWE.com, so expect to see a war of the world (champs) emerge in coming months.
Christian

CM Punk vs. Christian

I've mentioned this dream match in at least a dozen articles here on Bleacher Report over the last two years, and I will continue to do so until we finally see this feud come to fruition. Christian and CM Punk have worked only two matches against one another, with the quality of the contests being so fantastic that I've eagerly awaiting a rematch ever since.
Despite having been in WWE together for the last three years, they never seem to cross paths all that often. The two matches they've had together both occurred on SmackDown in the month of October in 2010 and 2011 respectively, so maybe it'll be third times the charm two months from now.
Regardless of whether who's the heel and who's the face, I'm confident these two former ECW Champions could steal the show if given enough time to shine. Let's also not forget that it was the Straightedge Savior who put Christian on the shelf earlier this year, so he could always that as his reasoning for getting back at Punk.
As Captain Charisma himself would say, how about just one more match?
Randy Orton

CM Punk vs. Randy Orton

Of course, all of CM Punk's WrestleMania matches over the last five years have been excellent, but his grudge match with Randy Orton at last year's WrestleMania 27 event would have to be my favorite. Their in-ring chemistry is astounding awesome, making each and every one of their bouts must-see.
During the course of their feud early last year, Punk was unable to win one match against Orton. That being said, Punk could be looking to avenge the Viper now that he's reverted back to his villainous ways.
By this point, Orton has gone nearly a year without holding any World title gold, so it wouldn't surprise me to see him target Punk in the very near future. Besides, imagine how epic it would be if the Voice of the Voiceless mocked Orton's recent drug suspension and attempted to persuade him into going straightedge?
Undertaker

CM Punk vs. Undertaker

Who could ever forget the ruthless rivalry between CM Punk and Undertaker that occurred over the World Heavyweight Championship in late 2009?
Well, maybe a few people, but that's mostly because it didn't last all that long. It was almost three years ago to the day that Undertaker returned and ambushed Punk following his World Heavyweight title victory at SummerSlam, thus planting the seeds for one of the most furious feuds in recent memory.
The two traded wins over the next few months, which eventually saw Taker defeat the Straightedge Savior at Hell in a Cell to win back the golden prize. However, that was was three years ago when Punk was still honing his craft and and not claiming he was the best wrestler in the world.
With it being nearly two years since their last match together, I'd absolutely love to see Punk challenge Undertaker and his storied streak at WrestleMania 29. Not only that, but with it being heavily rumored that the Deadman could make his presence his felt before 2012 comes to a close, it's entirely possible that we could see another chapter in the on-going Taker-Punk saga sooner than we think.
Brock Lesnar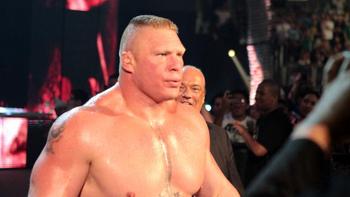 Brock Lesnar
"You know who else was a Paul Heyman guy? Brock Lesnar, and he split just like I'm splitting, but the biggest difference between me and Brock is I'm going to leave with the WWE Championship."
Those infamous words were spoken by CM Punk during his controversial rant promo last June, which still rings true to this day. Now that Lesnar has finally resurfaced in WWE, Punk's choice of words and now more intriguing than ever.
It's pretty well-known that Punk is close with Heyman, whom he tweeted a picture of moments before making a shocking return to Raw earlier this year. Fans have speculated grouping Punk, Lesnar, and Heyman together apart of one super stable, but I still think it'd be wiser to put the two former WWE Champions against one another.
Although the Next Big Thing stated in a Tout earlier this week saying that he's achieved everything he set out to accomplish in WWE, you'd think recapturing the WWE Champion would be one of his primary goals.
Challenging the Second City Saint to a dream match for his prized possession at Survivor Series later this year could be legendary. Of all the matches listed, this would be the one I'd most want to see given the diverse talent involved.
Thanks for reading, Bleachers, and be sure to drop a comment below with your thoughts on my listed CM Punk matches and any other Superstars you'd like to see Punk face by the end of the year. As always, your criticism and overall feedback of my latest piece is welcomed and greatly appreciated.
GSM out.
Visit my website at Next Era Wrestling, and listen to my SAVE US GSM radio show every Thursday at 10/9c for more of my thoughts and writings, along with WWE/TNA news, reviews, recaps and more.
Listen to internet radio with Spoilerspodcast on Blog Talk Radio
Keep Reading