The 50 Worst Overreactions in Sports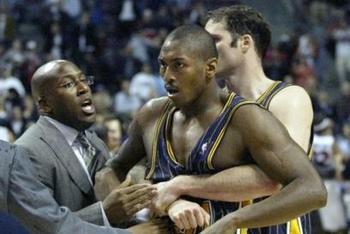 Image via fynalcut.wordpress.com
There was a time when rough wake-ups were made less painful by several clicks of the remote. An eager switch to SportsCenter would offer juicy rumors, magical highlights and intelligent debate. Nowadays, our screens are flooded with Stephen A. Smith and Skip Bayless over-analyzing the Tebow-Sanchez friendship and scrutinizing LeBron for smiling the wrong way. And there's the occasional Eli vs. Peyton chatter thrown in for good measure.
But media coverage as a whole isn't the only overreaction in sports. Plenty of passionate athletes, angry coaches and boisterous commentators continue to add unnecessary (although sometimes preferable) flavor to situations that don't call for it.
Excessive celebrations, historic rants, beer-tossing brawls. We've seen it all. Let's recap the 50 juiciest overreactions in sports.
Slowly-drying paint has never been so exciting.
Keep Reading