UFC on FOX 5: 5 Reasons to Look Forward to This Card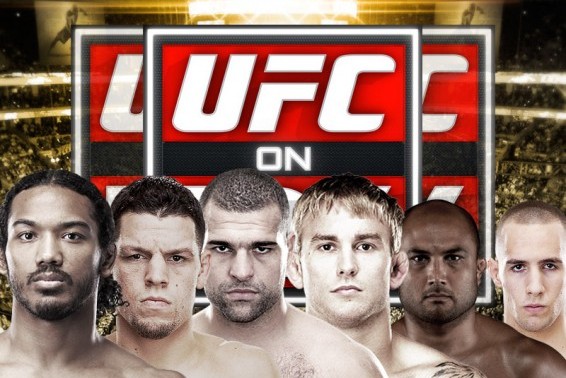 Courtesy of mmacarnivale.com
Only 10 days out of their incredible UFC on Fox 4 event, Zuffa has formally announced their return to network television on December 8.
Along with the official date, fans saw the announcement of three incredible fights with more to be announced in the coming weeks.
If you had the misfortune of missing the last UFC on Fox, you should still be kicking yourself now that one of the most entertaining cards in UFC history has passed you by.
Instead of harping on the past, we should look to the future and get ready for the next UFC on Fox. To help, here are five reasons that you should look forward to UFC on Fox 5.
Begin Slideshow

»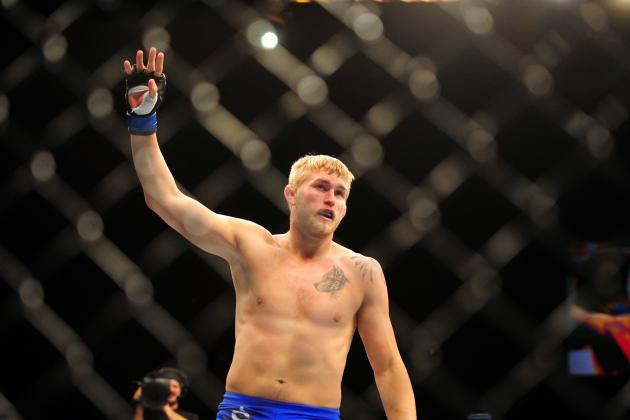 Mark J. Rebilas-US PRESSWIRE

When top prospects are thrown into the deep end, it's either sink or swim. Both Rory MacDonald and Sweden's own Alexander Gustafsson have been pegged as future title contenders, and in their first Fox appearances, both men will get a chance to prove their mettle.
MacDonald steps up to face former champion B.J. Penn in a postponed bout that was originally scheduled for UFC 152. A laceration suffered during training forced this fight to be postponed so Rory could properly heal.
Gustafsson has looked spectacular ever since losing to Phil Davis more than two years ago. Currently riding a five-fight winning streak, "The Mauler" earned a step up by defeating Thiago Silva, Matt Hamill and Vladimir Matyushenko.
In December, Gustafsson meets former champion Mauricio "Shogun" Rua in a battle of elite strikers. Will he fare better than Brandon Vera? Can he shatter the glass ceiling and move into title contention?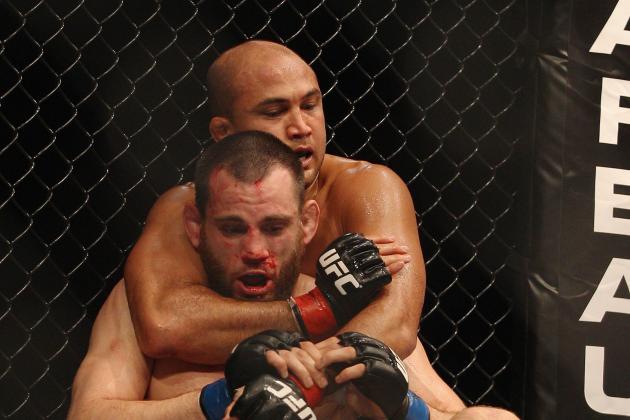 Mark Kolbe/Getty Images

After a hard-fought draw against Jon Fitch at UFC 127, B.J. Penn expressed that he had a desire to hang up the gloves, but changed his mind when the fight gods allowed him to escape the bout without a loss.
Eight months later, a beatdown at the hands of Nick Diaz was enough for Penn to announce his official retirement from the sport. After winning titles in multiple divisions and now losing high-profile fights at both lightweight and welterweight, there wasn't much for the Hawaiian legend to hope for.
Things looked bleak for those who wanted a Penn return, as the future Hall of Famer was quick to shut down the taunting of Josh Koscheck, who was in search of a high-profile opponent for the fall.
Thankfully, the 33-year-old was drawn back into the spotlight after being called out by surging contender Rory MacDonald. Penn stated that the affiliation between MacDonald and Tri-Star's Georges St-Pierre is what made this a fight worth coming back for.
Regardless of his reasoning, B.J. Penn is back and motivated. That is something that we can all be thankful for.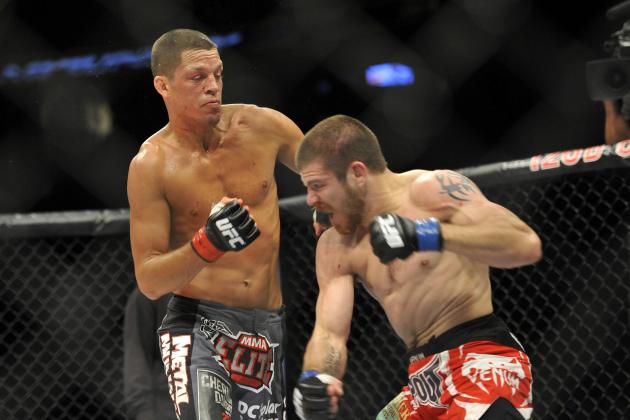 Joe Camporeale-US PRESSWIRE

Championship fights are the pinnacle of any fighter's career. The emotional roller coaster that goes along with the physical beating that these pugilists take is worthwhile as long as they are working their way toward gold.
After an incredible trio of wins over the likes of Takanori Gomi, Donald Cerrone and Jim Miller, popular star Nate Diaz earned himself a guaranteed shot at the UFC lightweight championship.
With Edgar vs. Henderson II in the record books, the younger bad boy from Stockton will look to cash in on December 8 and become the first Diaz brother to win gold in the UFC.
Can the Cesar Gracie standout find a way to beat Benson Henderson? Bendo's story as UFC champion has just begun, and there is no chance that he is going down without a fight.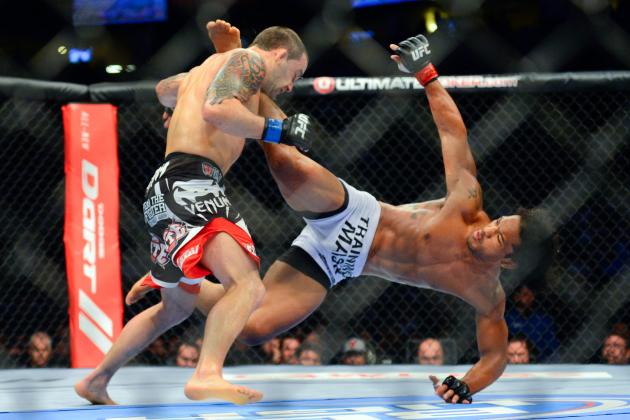 Ron Chenoy-US PRESSWIRE

Late last week, I published an article in which I predicted that Benson Henderson vs. Nate Diaz would be a Fight of the Year candidate. Now that the bout is official, I stand by that prediction 100 percent.
Nate Diaz has crept up on Joe Lauzon's record for Fight Night bonuses, and has accumulated five Fight of the Night and four Submission of the Night honors.
Likewise, champion Ben Henderson is no slouch and has won four Fight of the Night bonuses of his own. What's more, "Smooth" picked up two Fight of the Year awards for his contests against Donald Cerrone and Anthony Pettis.
In the article, I referenced The Lytle List, an inaugural ranking of the most exciting fighters in MMA today, as determined by Kevin Iole of Yahoo! Sports. Henderson comes onto the list at No. 16, while Diaz took the sixth spot.
Like fire and gasoline, when two explosive elements combine, the outcome resembles something out of Backdraft.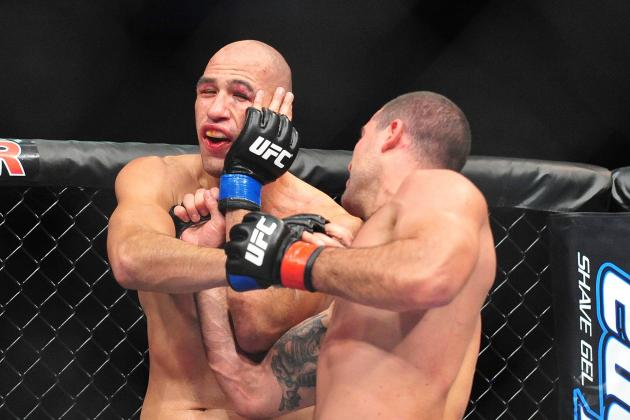 Gary A. Vasquez-US PRESSWIRE

With three relevant and exciting bouts to headline the card, UFC on Fox 5 would make a solid PPV. The fact that this is a free event makes this incredible card even more exciting.
Let's think about this for a second.
At UFC 147, Zuffa asked you to pay $55 to see a non-title main event between two aged fighters who were outside of the realm of title contention. In addition, the finale fights of an international season of The Ultimate Fighter wasted two main-card spots, despite the fact that the tournament finals have historically been free. The entire card included only one ranked fighter from any division, Fabricio Werdum.
In comparison, we will be getting a title fight between two young lions in their prime, a light heavyweight fight that has title implications, and a grudge match between one of the most popular stars in history and a rising contender who is ranked sixth in the world.
Even if this card sticks to a three-fight main card, this is an event to be excited about. Don't miss UFC on Fox 5 on December 8.
Andrew Saunders is a syndicated writer and featured columnist with Bleacher Report. Follow him on Twitter because he wants you to.