4 Catchers the Giants Could Acquire to Move Buster Posey Out of Harm's Way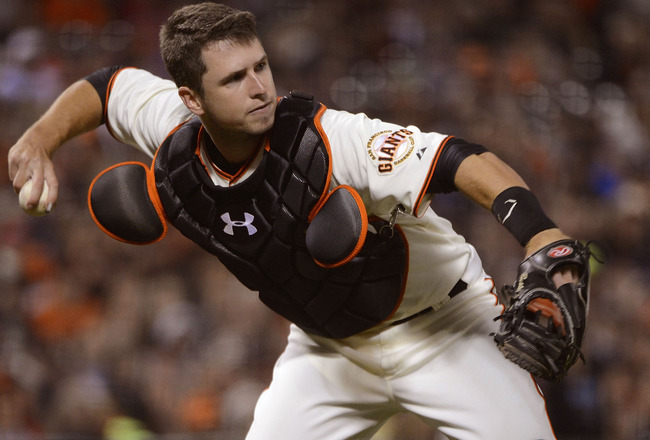 Thearon W. Henderson/Getty Images
When Florida Marlins outfielder Scott Cousins steamrolled San Francisco Giants catcher Buster Posey in a collision at home plate last season, it ignited a debate on how the team should handle their franchise cornerstone moving forward. On the play, Posey suffered a broken leg and missed the vast majority of 2011.
Although Posey's exceptional defense behind the plate is invaluable to the Giants, his main contribution to the team is his middle of the order bat. Without Posey's bat last season, the Giants' offense went dormant for much of the year.
Looking ahead to the future, the team may elect to move Posey to first base and bring in another capable, yet affordable replacement to manage the pitching staff from behind home plate.
Let's take a look at this offseason's free-agent catchers, and then we will examine four specific players that the Giants could target in order to move Posey out of harm's way.
Evaluating Potential Candidates
Jim McIsaac/Getty Images
Let's start this off by saying that if the San Francisco Giants are going to move Buster Posey to first base this offseason, they would likely have to find his replacement through free agency.
In today's MLB, teams do not just trade quality starting catchers anymore. Although other positions seemingly litter the free-agent market with top quality bats on an annual basis, catcher's are a rare commodity nowadays. Unless the Giants are willing to part with some elite prospects and/or major league ready talent, do not expect them to go after a replacement through the trade market.
So now let's take a look at who is going to be available this offseason for the team to sign.
Upper Tier
AJ Pierzynski
Miguel Montero
Mike Napoli
Although any of the above names would be welcome additions to the Giants offense, the team is going to have to commit a sizable amount of resources to Melky Cabrera and Hunter Pence this offseason. While it's not impossible, it's certainly unlikely that the Giants will go after a top caliber replacement for Posey.
Second Tier
Ronny Paulino
Russell Martin
This seems like the most likely group of targets. If the Giants do decide to move Posey out of a catching role after 2012, they could sign either of these players for a reasonable price, and receive modest production.
The Rest
Koyie Hill
Will Nieves
Humberto Quintero
David Ross
Yorvit Torrealba
Nothing more than backup in this group. Most of these players are either too old to take on starting catching duties, or they are so offensively impaired that they are not worth signing.
Mike Napoli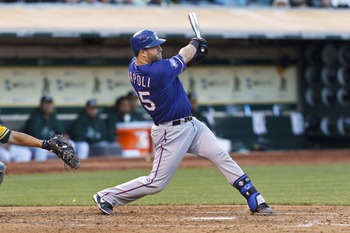 Jason O. Watson/Getty Images
2012 has represented a lost season for Texas Rangers catcher Mike Napoli. The former All-Star has been consistently injured, which has limited his production severely.
After a 2011 campaign in which we saw him hit .320 with 30 home runs, Napoli followed it up this year with a .223 batting average with 17 homers, while battling through injuries and a stint on the disabled list. His power numbers are still there, but his average has dropped of significantly in a short period of time.
Napoli could be the ultimate "buy-low" player of the offseason. Teams may be wary of signing a 31-year-old injury-prone catcher whose production has fallen off. However, if Napoli can get healthy over the offseason and is willing to take a pay cut, he might make sense in San Francisco. His tremendous upside would warrant the risk of signing him.
Russell Martin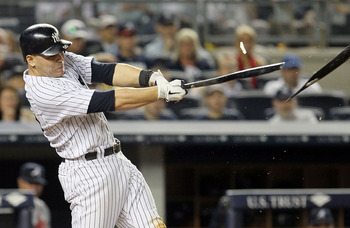 Jim McIsaac/Getty Images
The Yankees may be in the market for a new catcher this offseason. With Russell Martin's drastic drop off in production, coupled with the fact the the team's ace in CC Sabathia prefers to work with backup catcher Chris Stewart, the Yankees could be looking to move in another direction in 2012.
However, for the Giants, Martin could make perfect sense. First off, he will come cheap. Although Martin is making over $7 million this season, his current .197 batting average will not earn him anything near that on the open market this offseason. Furthermore, Martin has played in the NL West before with the Los Angeles Dodgers, so his knowledge on some of the players would give him a leg up on other potential candidates.
If Martin could find a way to get his batting average back up near his career mark of .260, then he would be a steal for any team on this offseason. Basically, this would be another low-risk, high-reward free-agent acquisition.
Ronny Paulino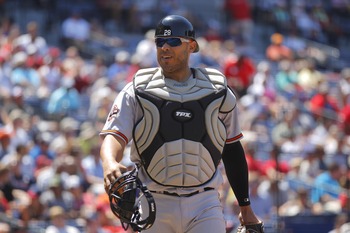 Todd Kirkland/Getty Images
In 78 games with the Mets in the National League this season, Ronny Paulino hit .268 with an on-base percentage of .321. However, Paulino does not hit for power, which means the vast majority of hits hits stay in the ball park. This would fit perfectly in AT&T Park, which happens to be one of the biggest stadiums in all of baseball.
Furthermore, Paulino will not cost the Giants an arm and a leg. Although we may see him get a slight raise over the $1 million he made this season, it won't be significant. With his low cost and steady, yet modest production, Paulino could be a great at the bottom of the Giants' lineup in 2012.
Yorvit Torrealba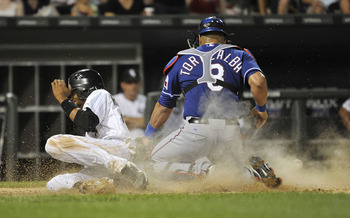 Brian Kersey/Getty Images
Although Yorvit Torrealba was recently released by the Texas Rangers, he proved this season that he could be a one-year stop-gap starting catcher in the major leagues. Through 49 games, Torrealba hit .236 with an on-base percentage of .302. These numbers are below average, but consider that fact that Torrealba will sign for the veteran minimum.
If the Giants decide they want to move Posey to first base without allocating any significant resources at the catchers position, Torrealba could make sense. He's a guy who will play decent defense, while not becoming a disaster offensively.
Replacing from Within: Andrew Susac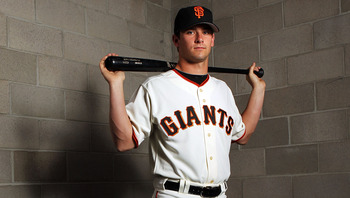 San Francisco Giants top catching prospect Andrew Susac.
Jamie Squire/Getty Images
Although Andrew Susac will not be ready to see significant major league action this season, or maybe even next, they could be the team's best option to allow them to move Posey to first base in the future.
Although all the previously listed candidates are established major leaguers, the Giants' lack of resources will inhibit them from pursuing anyone that would significantly help the offense. Furthermore, moving Posey to first base would mean putting Brandon Belt on the bench.
Although the team is not exactly sure what it has in Brandon Belt, he has hit well enough to earn the starting job at first base. His .267 batting average his nothing to scoff at, especially because he is only 24 years old and will most likely improve on that mark as his career progresses. So while the Giants may want to move Posey out of the catcher's role, there is really nowhere to put him.
This is where the team's top catching prospect in Andrew Susac comes into play. Susac projects to be major league caliber catcher one day. However, he still needs time to develop. By leaving Posey at catcher for one or two more seasons, the team will be able to benefit from his stellar defensive play, further evaluate what they have in Brandon Belt, and allow their younger catching prospects to develop into capable players.
Although leaving Posey at catcher any longer would be a calculated risk, waiting for either Andrew Susac would represent the cheapest, yet most effective method in which to eventually move Posey to first base.
Keep Reading

San Francisco Giants: Like this team?