Power Ranking the Members of the Oakland A's Bullpen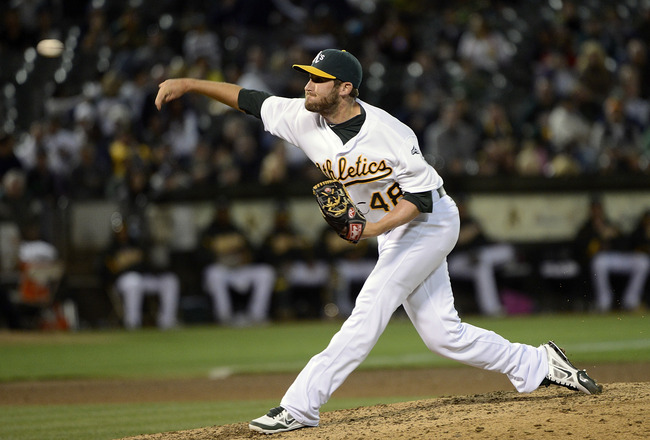 A's All-Star Ryan Cook
Thearon W. Henderson/Getty Images
Ryan Cook might have been the Oakland Athletics All-Star representative in July, but if the bullpen arms were ranked today, he wouldn't be No. 1.
There are currently eight relievers.
As a staff, they have the third best ERA in Major League Baseball. They're also tied for first in most wins and lowest opposing batting average.
Clearly, they're talented.
The members of Oakland's bullpen fair well against the rest of the league—so how do they stack up against each other?
The heaviest factors are total runs allowed and ERA. As a reliever, the main job is to keep the other team from scoring. Walks, strikeouts and hits allowed were considered secondary. Opportunities and innings pitched also play a role in rankings.
It's worth noting: Andrew Carnigan and Joey Devine are out for the season and therefore not on this list. Pedro Figueroa was reassigned to Triple-A and is also MIA.
Here's how the rest compare to their peers.
No. 8: Jordan Norberto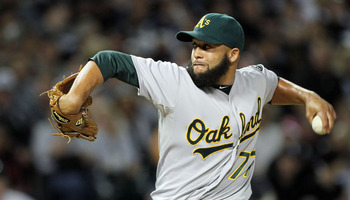 Pictured: Jordan Norberto
Tasos Katopodis/Getty Images
Jordan Norberto has pitched in 49 innings with the Oakland Athletics—fourth most out of the bullpen.
In that time, he's allowed the second most hits, runs and walks. He also has the second highest ERA and WHIP.
In the month of August, his ERA is 3.38, but in the last week alone it was 7.71.
Why is he ranked last if he's not quite at the bottom of a statistic? Norberto has had plenty of opportunity and hasn't done anything special.
No. 7: Travis Blackley
Pictured: Travis Blackley
Greg Fiume/Getty Images
Travis Blackley is a bit tricky to rank because he spent considerable time as a starter.
As a reliever, he has the third lowest innings pitched.
He has the worst ERA on this list at 3.79, and higher ratios of hits and earned runs per innings pitched.
Bouncing between starting and relieving might have an effect on his consistency and psyche.
No. 6: Pat Neshek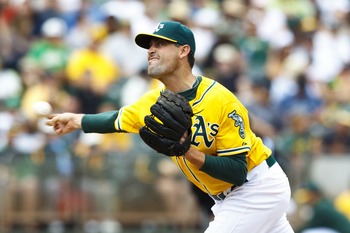 Pictured: Pat Neshek
Jason O. Watson/Getty Images
It is almost unfair to rank a bullpen pitcher with only 4.1 innings pitched this season above two other established arms.
Though he hasn't pitched a lot, Pat Neshek appears here because he shows promise, whereas the other two before him have consistently been average.
Neshek has only given up one run.
In fact, he's only allowed one hit.
He's walked just one batter to seven strikeouts and has an ERA of 2.08. His WHIP is an impressive 0.462.
There's no doubt the possibility of Neshek coming back down to earth is high, but for right now, he's pitching well.
No. 5: Sean Doolittle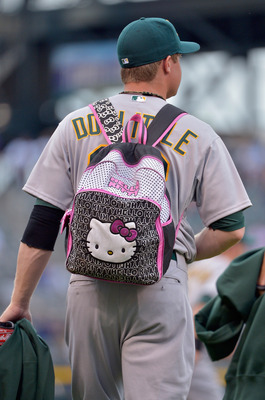 Pictured: Sean Doolittle during rookie hazing
Doug Pensinger/Getty Images
Sean Doolittle sits right in the middle of the pack when ranking the A's relievers.
His 26.1 innings are considerably lower than the more frequently used options.
Doolittle's WHIP is the lowest in the bullpen and his ERA is second from the bottom. Still, he's only given up 11 runs.
Doolittle has also struck out 39 batters and walked just seven.
No. 4: Evan Scribner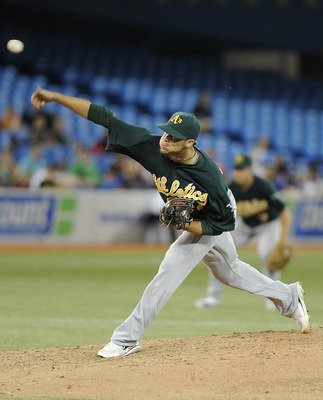 Pictured: Evan Scribner
Brad White/Getty Images
Evan Scribner—like Pat Neshek—has pitched way less than the rest of the bullpen so far.
But in four times more innings than Neshek, Scribner maintains a 1.50 ERA and 1.056 WHIP. His strikeout to walk ratio is 5-1.
Scribner has given up 16 hits, but only three runners have made it home safely.
No. 3: Jerry Blevins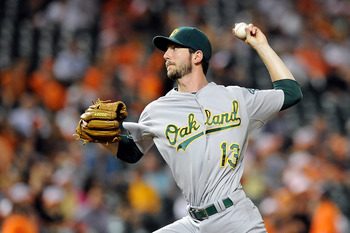 Pictured: Jerry Blevins
Patrick McDermott/Getty Images
Jerry Blevins' loss against the Toronto Blue Jays on August 4 might be the freshest memory many have of the reliever.
One game aside, Blevins consistently gets the job done.
His ERA is 2.61. His WHIP is 1.117.
Blevins sits in the middle of the pack in nearly every category. But the most important factor is stopping runs. In 48 innings, he's only allowed 14 of them.
No. 2: Ryan Cook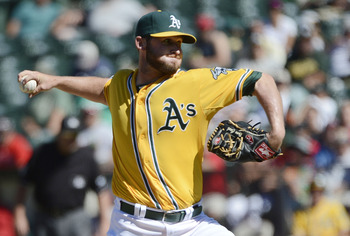 Pictured: Ryan Cook
Thearon W. Henderson/Getty Images
The Oakland Athletics' All-Star closer Ryan Cook has pitched in the second most innings for the bullpen.
Therefore, he deserves a pass for allowing 29 hits and 15 runs.
His 2.72 ERA and 1.047 WHIP cancels all that out anyway.
So why isn't he No. 1?
His 12 saves lead the team, but so do his seven blown saves.
No. 1: Grant Balfour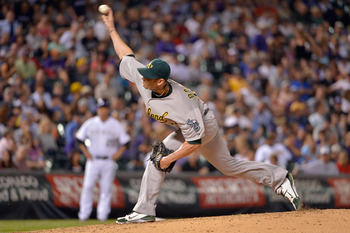 Pictured: Grant Balfour
Doug Pensinger/Getty Images
Grant Balfour is the best relief pitcher on the Oakland Athletics.
Bob Melvin knows it and that's why Balfour has pitched the most innings out of the bullpen this year with 54.
In that span, he's kept his ERA down to 2.67 and carries a WHIP of 1.00.
He also has eight saves.
During his time as the closer earlier in the season, Balfour blew a save or lost a game a combined three times.
Coming out of the pen more frequently than Ryan Cook, Balfour hasn't walked as many batters and has just four fewer strikeouts. He's also allowed just one extra run in six more innings of work.
Keep Reading

Oakland Athletics: Like this team?