Philadelphia Phillies: Old Guys Got Hurt; Also, Water Is Wet, Sun Is Hot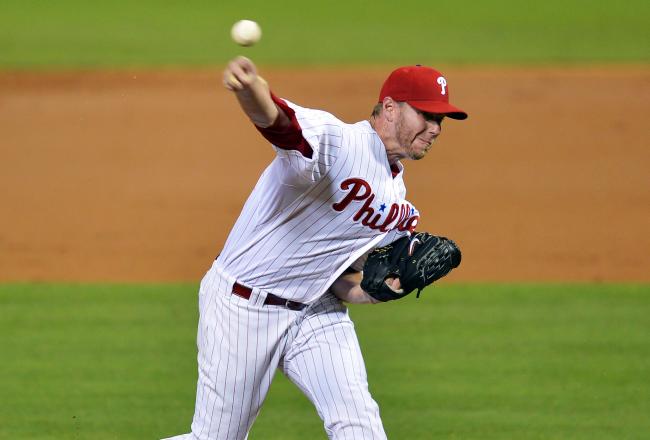 Six weeks on the disabled list was not what Doc ordered.
Drew Hallowell/Getty Images
Ask someone who does not know much about baseball why the Phillies' season is in the hopper and you generally hear some variation of "they had a lot of injuries." The only sane response to that is, "of course they did."
There was a time in baseball when players got better as they got older. It wasn't that long ago, actually.
Barry Bonds hit 73 home runs—after never having hit even 50 before—at the age of 36. Roger Clemens went 20-3 at the age of 38. Luis Gonzalez hit 57 home runs—after never having hit even 32 before—at the age of 33.
Yes, 2001 (the year all that happened) was awesome, if that was your sort of thing.
Draw your own conclusions as to whether all of those feats were nature, coincidence or something else.
But as far as the 2012 Phillies are concerned, all you need to know is that it is not 2001 any more. In 2012, players in their 30s and 40s do not get bigger, stronger, faster and better. Instead, they get smaller, weaker, slower and worse.
And they get hurt. Boy, do they get hurt.
Somehow, the Phillies' front office never saw any of this coming. As an object lesson then, here is a quick look back at the "unforeseeable" injuries that in retrospect aren't quite so shocking.
Jim Thome, 41 years of age, was going to be a stopgap at first base until the incumbent came back from his own horrific injury. Quickly, though, it became apparent that Thome's body could no longer handle the rigors of first base, even sporadically. The Phillies traded Thome to the Baltimore Orioles, putatively so he would be in a position to DH some and prolong his career.
Cliff Lee's injury seemed minor in April. What about now?
Brian Garfinkel/Getty Images
As of this writing, Thome is on the disabled list with a neck issue.
Jose Contreras, 40, was going to serve as a valuable linchpin at the back end of the bullpen. His earned run average was over five when his right elbow more or less exploded. He will not pitch again this season and the jury is very much out on whether he will ever pitch again.
Roy Halladay, 35, was supposed to make another 34 or 35 starts, win another 15-20 games, post an ERA under 3.50 and lead the pitching staff. But he couldn't do that once he came up with a lat injury that knocked him out for almost two months. Again, it's not as if Halladay was making a Cy Young case before hitting the disabled list, not at 4-5 with a 3.98 ERA.
Cliff Lee, 33, was also thought to be an "every fifth day" pitcher. But when his manager, Charlie Manuel, inexplicably decided to have him pitch ten innings, in San Francisco, in April, Lee missed three turns. Is the left oblique strain Lee complained of soon after that game the reason he is presently 2-7? Maybe not. You doubt it helped much, though.
Carlos Ruiz, 33, was slotted as the everyday catcher. He would get appropriate breathers from Brian Schneider, 35, but Chooch was the man on whom the plan largely depended. Ruiz, after all, was entrusted with handling more than $50M worth of starting pitching and an eight-figure closer.
That Ruiz hit .335 with 14 home runs was just icing on the cake…right up to the point where he came up with Plantar fasciitis and landed on the disabled list. He will remain there for the foreseeable future.
Schneider would have helped out, but he missed the entire month of July with his own injury.
You are almost 600 words into this article and you still have not read the names Chase Utley, 33, or Ryan Howard, 32. You may have heard that they missed some time, too.
Well, at least Jimmy Rollins, 33, stayed healthy.
Then again, the calendar still says "August."
This article is
What is the duplicate article?
Why is this article offensive?
Where is this article plagiarized from?
Why is this article poorly edited?

Philadelphia Phillies: Like this team?