Premier League: 10 New Signings Fans Are Most Excited to See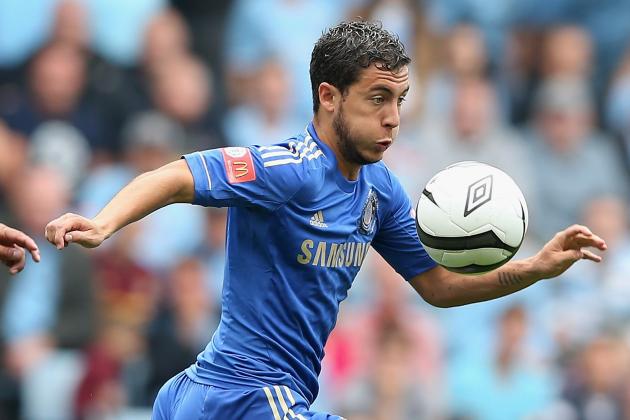 David Rogers/Getty Images

Sergio Aguero capped off his first season in the Premier League with the league-winning goal in the final minutes of the season back in May, taking his personal tally up to 30 total goals, 23 in the league.
Aguero's goal-scoring exploits matched the feat of Manchester United great Ruud van Nistelrooy during his first season in England, and they both sit just one behind Fernando Torres, who holds the record for most goals by a foreign player in his first season.
A lot of offensive power has made its way to England this summer, so there's a good chance that record could fall once again this season.
The 2012-2013 Premier League season kickoff is just days away, but the transfer window still has a couple weeks to go.
Champions Manchester City have made just one signing, bringing over Jack Rockwell from Everton, while their neighbors have also been quiet.
Champions League and FA Cup holders Chelsea have spent a great deal money (just like old times), and they're still fighting to spend some more before time is up. Arsene Wenger has also abandoned his usually stingy transfer policy and loosened the purse strings quite a bit this summer.
There are a lot of new faces to be excited about this season, and many of them will be playing together.
Begin Slideshow

»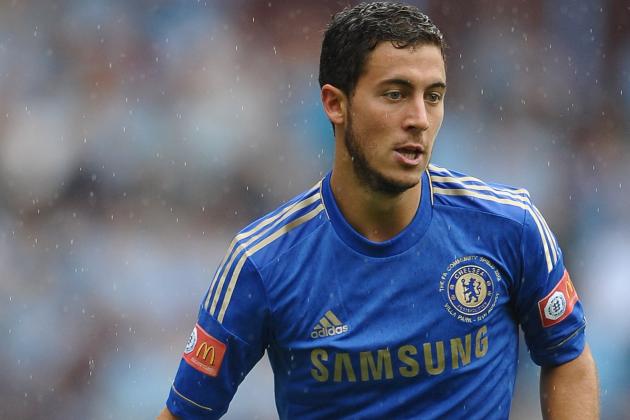 Laurence Griffiths/Getty Images

Belgian attacker Eden Hazard has been one of the most sought-after footballers in the last year, and the 21-year-old surprised many people when he decided to join Chelsea.
The former Lille star saw his first action this past weekend in the Community Shield against Manchester City, and the debut didn't go as well as many hoped.
The EPL is a fast-paced, physical league, something Hazard struggled with Sunday, as he was not involved in much of the game. One game doesn't tell you much, though.
Hazard can play in a central position behind a centre-forward, or he can play on the wing, and he's willing to do whatever his new club needs.
Chelsea certainly stole Hazard from many of their English rivals. Given the presence of Juan Mata, though, it remains to be seen how much of an impact he can have.
Mata was the hero for Chelsea last season, so taking his position just behind Torres won't be easy. Hazard will need a fast start to the season if he wants to be a central part of Roberto Di Matteo's plans.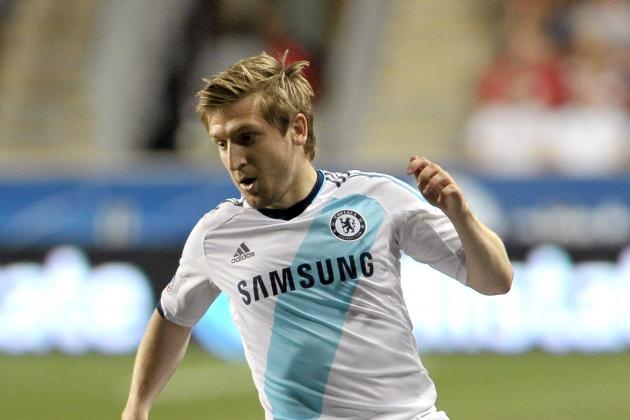 Drew Hallowell/Getty Images

Frank Lampard isn't getting any younger, Michael Essien and John Obi Mikel don't impose the same dominance they once did, and the Raul Meireles experiment didn't quite go as planned for Chelsea last season.
So, Di Matteo has brought in plenty of help, continuing with German attacking midfielder Marko Marin. The 23-year-old has been called the German Messi by some, but it's really too soon for all of that.
Chelsea need him to control the game and create goals, two things he did a great job of with Werder Bremen.
Marin may have to start his Premier League career on the sidelines nursing a hamstring injury, and he can't return soon enough for the Blues.
Chelsea didn't score many goals last season, instead relying on a suffocating defense and Petr Cech in the best form of his life to get the job done.
But for the sake of their aging defense (and the rest of us), they need to put the ball in the back of the net a lot more this season.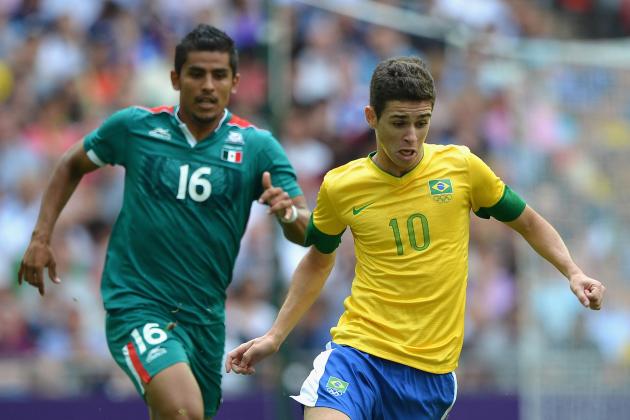 Jeff J Mitchell/Getty Images

Football fans recently saw Brazilian starlet Oscar in the Olympics when he missed a free header that would've pulled his side level with Mexico and sent the gold-medal match into extra time.
Definitely something Chelsea fans are hoping not to see more of.
But aside from that moment, the almost-21-year-old midfielder had a brilliant Olympics in London and will be a welcome addition to an aging Chelsea squad, especially across the middle.
Oscar scores goals just as much as he creates them, and his quick pace and excellent vision will be most appreciated by Torres, who is on his last chance to silence his doubters.
The Blues are still chasing his Brazilian teammate Hulk, though they may be having second thoughts about his steep asking price. Even if by some miracle Chelsea do not pay up, Oscar, Marin and Hazard have been excellent additions to Roman Abramovich's squad.
Chelsea needed youth and speed more than anything this summer, and they got plenty of that with these three.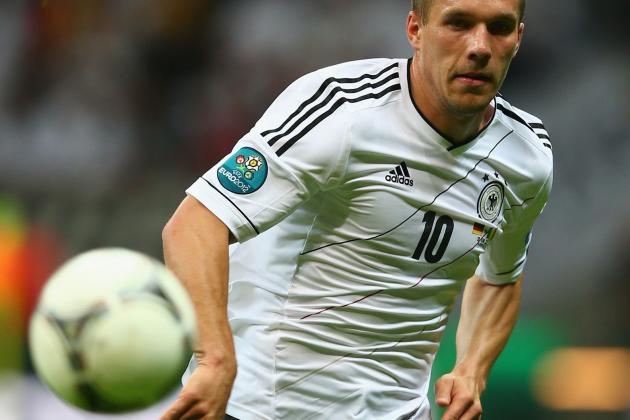 Michael Steele/Getty Images

It seems as though German star Lukas Podolski has already played in England for months, but that's only because Arsenal nabbed the coveted striker way back in April.
The 27-year-old was probably initially brought to the Emirates to be Robin van Persie's partner up front, but since the Dutchman may be looking for a new team altogether, the Podolski signing is even bigger for the Gunners.
Gervinho did not work out last season, and Arsene Wenger thankfully didn't wait all summer, trusting that his star man would stay. He went out and bought someone who could possibly take his place.
Podolski, 27, has plenty of big experience with his national team, having scored 44 goals for Germany in eight years. His club success hasn't been at the same level, but he has the perfect build for a Premier League forward.
Podolski is strong and great on the ball. He can play in the center or from the wing.
Whether he partners fellow left-footed striker van Persie or not, Podolski is a great signing for Arsenal, and the EPL.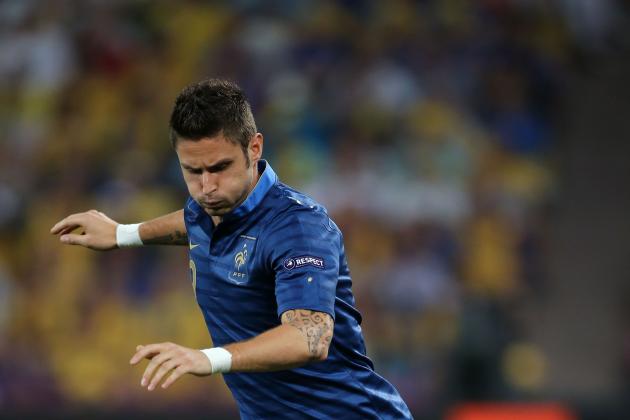 Ian Walton/Getty Images

It wouldn't be a summer transfer window without Wenger bringing at least one Frenchman to Arsenal.
Olivier Giroud signed with the Gunners in June, and the striker's arrival only increased speculation that van Persie is headed out.
Much like Podolski, Giroud has the perfect build for a Premier League striker. He's big, strong, physical and a great header of the ball. Arsenal have plenty of midfielders to cross the ball into the box, and with Giroud to aim at, expect the Gunners to score a lot of goals.
With Podolski and Giroud, 25, added to the ranks, van Persie almost seems superfluous, as crazy as that sounds. RVP scored 37 goals last season and added 15 assists.
However, at age 29, with a history of injuries and that little thing about him not wanting to sign an extension past this year, it seems the Gunners could get by without him; especially since Podolski and Giroud aren't all the offensive firepower Wenger has bought this summer.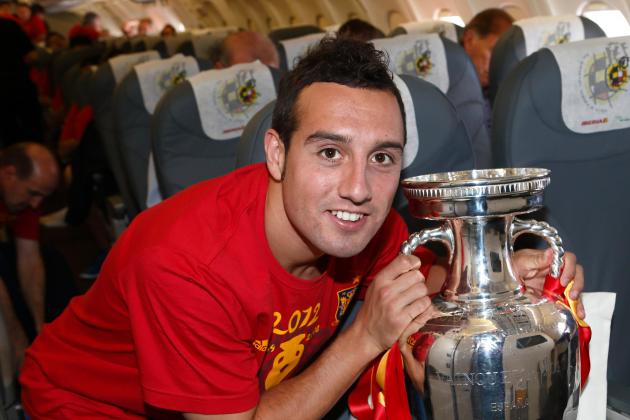 Handout/Getty Images

Santi Cazorla is one of those poor, unfortunate Spanish footballers who were only called up for their country's Euro 2008 and 2012 triumphs and not the World Cup in between.
With the amazing depth Spain has, it's easy to forget about the versatile winger, but he won't go so unnoticed at Arsenal.
The 27-year-old has great pace and dictates the flow of the game brilliantly. He can play on either wing and shoot with either foot, too.
How Wenger nabbed him for only £16 million is beyond me.
Cazorla could take the place of English striker Theo Walcott, who has never lived up to expectations. Granted, the 23-year-old has plenty of time.
With Alex Oxlade-Chamberlain on the other wing and Mikel Arteta—vastly underrated last season—in the center, the Gunners will be scary for opposing defenses.
The problems for Wenger will arise when it's his defense being tested.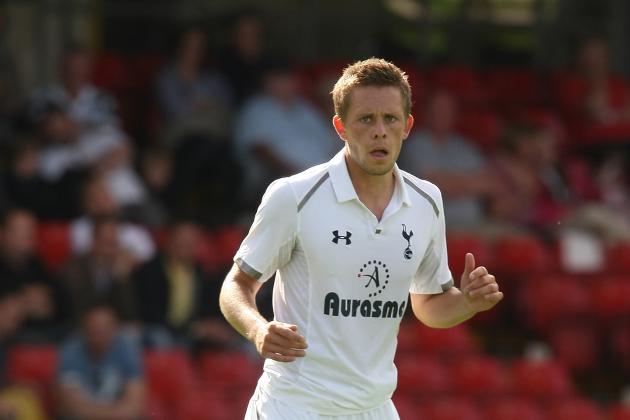 Pete Norton/Getty Images

Arsenal's archrivals weren't going to let them steal all the glory this summer. Tottenham made quite the coup when they signed Icelandic midfielder Gylfi Sigurdsson last month.
Liverpool were also interested in his services, but he chose to join former Chelsea and Porto manager Andre Villas-Boas at Spurs instead.
Sigurdsson is not completely new to England. He spent part of his youth career with Reading, where he played for Liverpool manager Brendan Rodgers for a time. But by the time he joined the big boys, his club had fallen into the Championship. He also played under Rodgers the second half of last season at Swansea, on a loan deal from Hoffenheim.
The 22-year-old is a set-piece specialist, and he can be deadly from long range, meaning he can turn a match on its head in seconds.
As hyped as Sigurdsson was this summer, he better deliver the goods for Tottenham when it counts. Much like Arsenal, Spurs may have bought Sigurdsson for insurance in case Luka Modric decides to leave London or if Scott Parker can't get over nagging injuries.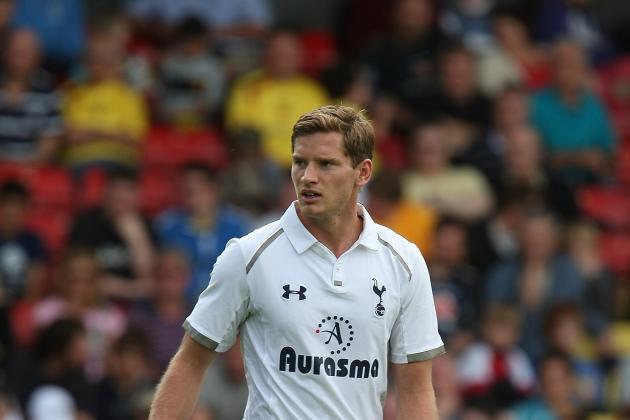 Pete Norton/Getty Images

Tottenham needed defensive help this summer, and they got it in a big way with Belgian centre-back Jan Vertonghen.
Ajax star Vertonghen plays mostly in the center of defense, but he can also play on the left, in a defensive or attacking position. He has a powerful shot if not closed down quickly enough.
Defenders don't usually get as much fanfare as the attacking players do, but it would be a big mistake to overlook this one.
Villas-Boas doesn't have the deepest of squads at his disposal, and Vertonghen's many talents will prove very useful for Spurs this season.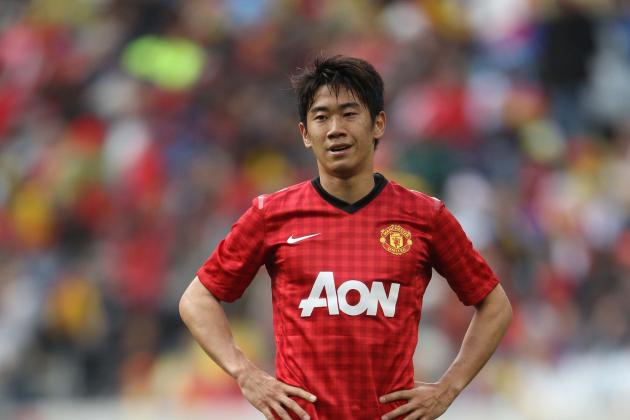 Gallo Images/Getty Images

It seems foolish to say it, but Manchester United may have been preparing for life without Ryan Giggs when they signed Japanese midfielder Shinji Kagawa this summer.
The 23-year-old can play as a central or wide midfielder. He is an excellent passer of the ball, and though it may not seem important with Wayne Rooney and Danny Welbeck in front of him, he scores a good number of goals from the midfield.
His best trait is that he often pushes forward to help in the attack, providing another player for defenses to worry about when facing United.
Giggs and Paul Scholes are ageless wonders, but Kagawa is a future star for the Red Devils.
Chris Brunskill/Getty Images

Brendan Rodgers doesn't have much time for Andy Carroll, and if that wasn't clear enough when he was trying to send him on loan to anywhere but here, he went out and signed Roma striker Fabio Borini.
The Italian, 21, has some experience in England, playing for Chelsea under Carlo Ancelotti, though he hardly saw more than the bench in the league and saw even less in the cup competitions. Before jetting home to Roma, he had a loan spell at Swansea when they were in the Championship.
Borini is Rodgers' first signing as Liverpool manager, and he's already opened his competitive account, scoring at Anfield in the Europa League last week.
Borini will likely partner Luis Suarez at the start of the season, and if he can get the ball inside the woodwork, he'll make a world of difference to the Reds.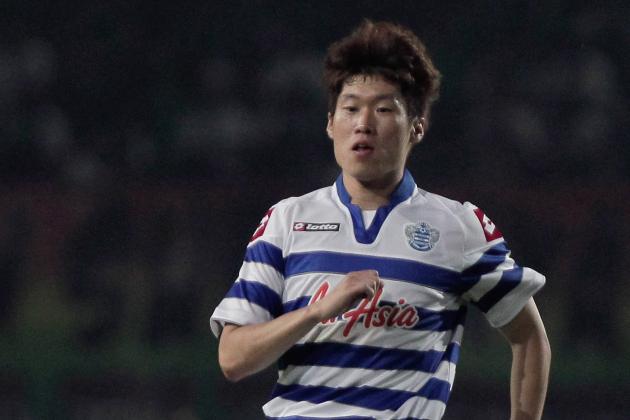 Chung Sung-Jun/Getty Images

Some big Premier League players have jumped clubs this summer, and though it may be odd to see them in different colors, it will be interesting to see how they adapt to their new teams.
Manchester United cult hero Ji-Sung Park joined Queens Park Rangers last month in a bid for more first-team football, and he could well get it. QPR stayed up by the skin of their teeth last season and will be hoping not to keep it so close this go-round.
The South Korean midfielder has not played regular first-team football since he came to England, but this time, he'll be with a team that needs him a whole lot more than he needs it.
Former Wigan striker Hugo Rodallega was finally allowed to leave the Latics after his contract expired, and the Colombian opted to join Martin Jol at Fulham.
Jol likely brought Rodallega in either to entice the highly coveted Clint Dempsey to stay with the Cottagers or as backup in case he leaves. Either way, Rodallega has a good scoring record, and he can be even better if he's not always staving off relegation.
The verdict is still out on whether Dempsey and van Persie will be staying in London or migrating to the northwest for this season, but what's for certain is Premier League fans aren't relying on them for excitement this year.