Houston Texans: Why Superstardom Is on the Horizon for Ben Tate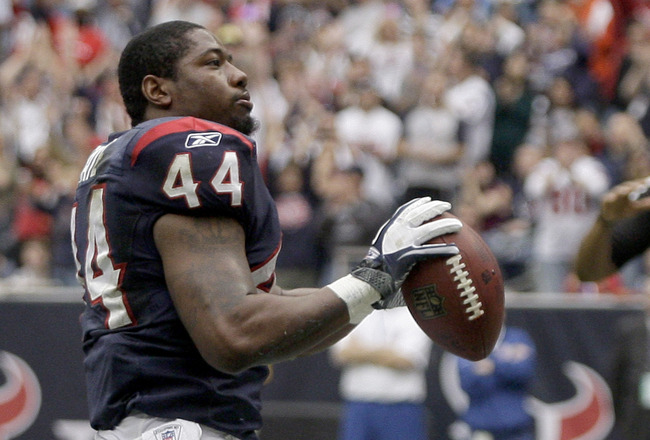 Thomas B. Shea/Getty Images
The Houston Texans boast one of the best running back duos in the NFL. It almost happened on accident as the Texans drafted Ben Tate in the second round in 2010—a year after signing undrafted rookie free agent Arian Foster.
After missing his entire rookie season, Tate emerged in a big way in 2011 establishing himself as the premier backup running back in the league.
In years past, we've seen backup running backs like Michael Turner and Michael Bush hit big pay days in free agency. At this point, it's too soon to tell how the Texans will handle Ben Tate going forward.
Whether it's coming from the Texans or one of the other 31 teams in the league, Tate will likely command star running back money when he hits the market. When that opportunity comes, a new superstar running back could emerge in the NFL.
Here are few reasons why superstardom is on the horizon for Ben Tate.
Production
Grant Halverson/Getty Images
The best case for why Ben Tate could be a star is his production on the field.
The 5.4 yards per carry on 175 carries puts him in elite company in the league. Tate was 18 yards away from becoming the third running back in NFL history to rush for more than 100 yards in his first three starts.
Tate had a yards per carry average over four in 12 games in 2011. In seven games, he had a yards per carry average over five. The most impressive stat for Tate: In six games he had 12 or more carries, and in those games he never had a yards per carry average less than 4.3.
This shows that when Tate was tested with more carries he continued to be effective at a high level.
Supporting Cast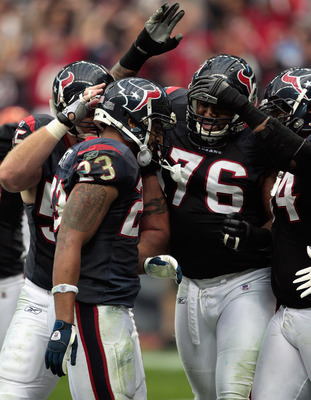 Bob Levey/Getty Images
Not many running backs are fortunate enough to have a future Hall of Fame wide receiver, a former Pro Bowl quarterback and tight end, and one of the best offensive lines in the league around them helping elevate their game.
But that is just the case for Ben Tate.
Arian Foster could be seen as just as much a positive to Tate as a negative. Yes, Foster is blocking Tate from getting full-time carries. But Foster is also softening up defenses and causing defensive coaching staffs to game-plan for him all week.
The number of weapons a team must worry about when facing the Texans allows for Tate to produce at a high level.
Running Style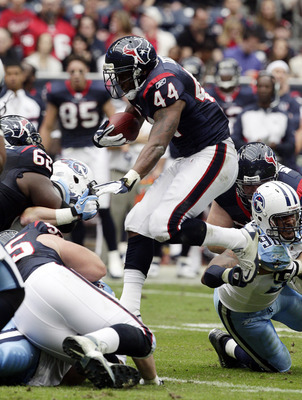 Bob Levey/Getty Images
The "smash mouth" running football teams in the NFL would line up in droves for a running back like Ben Tate.
Tate is one of the few running backs in the NFL who will look to truck over defenders, not run around them. This has led to a number of crushing hits on the gridiron where most, if not all, of which had Tate falling forward.
His style of running is a compatible compliment to Arian Foster's.
The bruising style of running may not lead to a long career as an NFL running back, but when you're doing it as a backup with less than 200 carries on the year, it's not as crippling. When or if Tate becomes a free agent, his style of running will be viewed as a rare asset more than something to be cautious of.
Texans Coaching Staff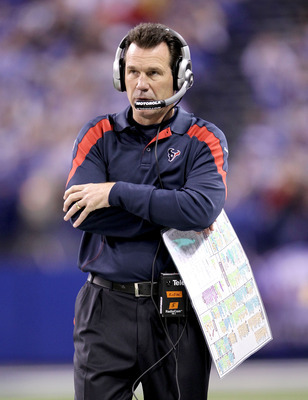 Andy Lyons/Getty Images
Gary Kubiak and his staff have built the Texans offense into one of the best run/pass disguises in all of the NFL. The Texans play-action off of zone runs forces defenses to have to think about the pass, allowing the running backs to take advantage of over or under pursuit. Arian Foster and Ben Tate capitalize on the design of the scheme, which has allowed them to be as productive as they have been.
The scheme Tate plays in should allow for him to have another big year. If he plays two more full seasons as Arian Foster's backup, he should repeat similar production to what he had last year every year because of the consistency the scheme provides.
Tate should be in line for a big pay day when he hits free agency two years from now. Whether it's with the Texans or not, superstardom is on the horizon for Ben Tate.
Keep Reading

Houston Texans: Like this team?