Are the Houston Astros the Worst Franchise in Baseball Right Now?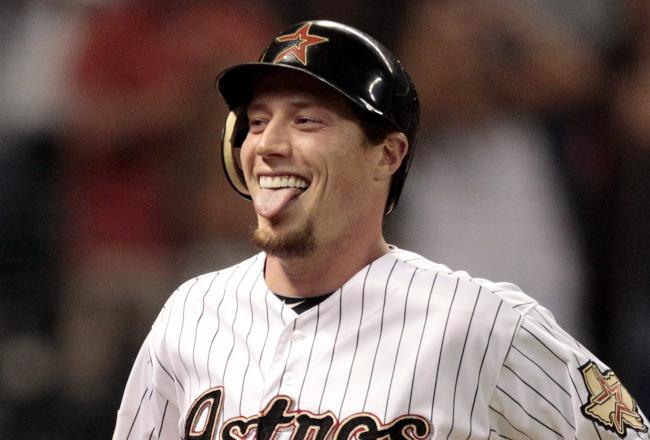 Lucas Harrell has been one of the NL's best rookie pitchers.
Bob Levey/Getty Images
Just how bad are the Houston Astros?
The standings say they're the worst team in baseball. With a record of 38-79 as of Aug. 14, the Astros have MLB's lowest winning percentage at .325 and it's really not even close. The Rockies are the next worst team with a .372 winning percentage and eight fewer losses than the Astros.
The Astros are in last place with a rock. They're sixth in the NL Central, 32 games behind the first-place Cincinnati Reds. They're 8.5 games behind the fifth-place Chicago Cubs.
Actually, since Houston is the home of NASA and the Johnson Space Center, maybe that should be "last place with a rocket." Except rockets go up. They soar. If a rocket went down, plummeting through the earth's crust into the upper mantle and mantle, then "last place with a rocket" would be appropriate.
How bad are the Astros? The Cubs play a three-game series against them this week, from Aug.13-15, and the expectation from the players and reporters who cover them is that they should sweep the Astros in three games.
Look at this quote from the Chicago Tribune's Paul Sullivan.
"While the Cubs are trying to avoid a 100-loss season themselves," Sullivan writes on Aug. 14, "they're still head and shoulders above Houston, which has a .143 winning percentage (6-36) over its last 42 games. The Cubs have won two of their last 13 games."
The underlying sentiment is that the Cubs have to sweep the Astros. Otherwise, doesn't that mean the Cubs could be the worst team in baseball?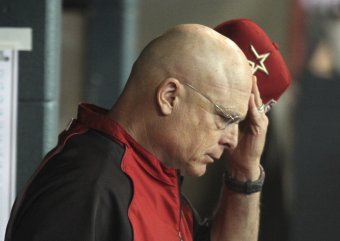 Astros manager Brad Mills has had to watch a lot of losing this season.
Bob Levey/Getty Images
Just wait until the Cubs don't have the Astros to beat up on anymore in the NL Central. Next year, the Astros go to the American League, joining the AL West.
Oh, my goodness—what will happen to the Astros in the AL West? That's home to the Texas Rangers and Los Angeles Angels. Even the teams that were supposed to stink—the Oakland Athletics and Seattle Mariners—are playing good baseball. (Actually, the A's are playing better than good.)
But seriously, just how bad are the Astros really?
Houston went 3-27 in July. Three wins in 30 games. The Washington Nationals got seven wins last week. Of course, three of those victories came against the Astros.
With three wins thus far in August, however, the Astros can at least console themselves with the knowledge that they won't have a worse record this month. One more victory and you can point to the month's win-loss record and see improvement.
Since the All-Star break, the Astros are 5-26. That's a .181 winning percentage.
Their opponents have outscored them by 84 runs. For the season, opponents have outscored the Astros by 156 runs. That's the worst run differential in baseball by 38 runs.
As of Aug. 14, the Astros' road record is 11-47. As ESPN's Jayson Stark points out, they'll need to giddy up if they want to finish worse than the 1963 Mets or 2010 Pirates, both of whom won 17 road games. Can the Astros go 7-16 in their final 23 games away from Minute Maid Park?
OK, we've picked on the Astros enough. The headline to this article asks if this is the worst franchise in baseball right now. I say it is not.
However, let me explain where I'm coming from on this. As a Tigers fan, I watched the 2003 team that went 43-119. The 2012 Astros are going to finish with a better record than that. No, really—they are.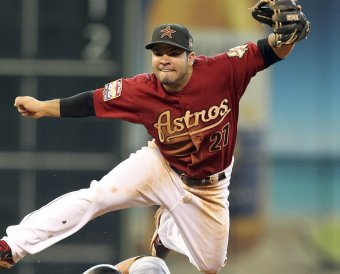 Jose Altuve is one of baseball's most exciting young players.
Bob Levey/Getty Images
That Tigers team had a middle infield of Warren Morris and Ramon Santiago. I would much rather watch Jose Altuve and Jed Lowrie (or Tyler Greene).
Maybe that Tigers outfield (Craig Monroe, Alex Sanchez and Bobby Higginson) was better. After all, the Astros just sent their best outfielder, J.D. Martinez, down to Triple-A Oklahoma City after hitting .130 with a .304 OPS in April. That dropped his season average to .235/.308/.373.
Pardon my self-indulgence there. I just wanted to make the point that I know bad baseball because I've seen a lot of it as a fan.
But I can't call the Astros the worst franchise in baseball right now because I see much reason for encouragement.
General manager Jeff Luhnow has made some excellent trades this season He loaded up on pitching prospects in a 10-player deal with the Toronto Blue Jays. He also may have gotten his third baseman for the future in Matt Dominguez, acquired from the Miami Marlins for Carlos Lee.
Compare that to the San Diego Padres, who inexplicably keep signing veteran players like Carlos Quentin, Huston Street and Mark Kotsay to long-term contract extensions when they should be dealt off for prospects. Maybe those moves will look good in the short term and Padres fans will have a semi-respectable major league product to watch on the field.
But what about the future? Personally, I'd rather have some hope and promise to look forward to, even if highly-touted prospects don't always grow into major leaguers.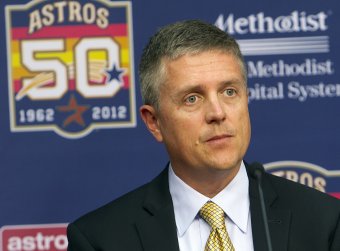 Astros GM Jeff Luhnow is putting together a strong minor league system.
Bob Levey/Getty Images
Maybe that's not a fair statement, though. The Padres have plenty of young talent to follow, including Yonder Alonso, Yasmani Grandal, Andrew Cashner and Cameron Maybin. The Astros should aspire to develop a collection of players like that.
However, Houston could be on its way to doing so. Jonathan Singleton, Jarred Cosart, George Springer and Delino DeShields Jr. should all see the majors during the next season or two. Jason Castro is a promising young catcher, an asset many teams would like to have. And Lucas Harrell and Bud Norris give the pitching staff two younger arms to build around or deal off for more prospects.
That doesn't look like the worst franchise in baseball to me.
I think the future of a team like the Cleveland Indians looks less bright right now. They traded away the best of their farm system for Ubaldo Jimenez, then ownership didn't follow through by supplementing that move with top free-agent signings.
What about the Cubs, who have to carry Alfonso Soriano's dead weight of a contract? Look at the Marlins, who spent big in the offseason only to hold a sell-off at the trade deadline and now face having to win back a dwindling fanbase that feels duped yet again.
But perhaps you feel otherwise. Please share your thoughts in the comments. Are the Astros the worst? If not, which team is?
Follow @iancass on Twitter
This article is
What is the duplicate article?
Why is this article offensive?
Where is this article plagiarized from?
Why is this article poorly edited?