Could Steve Nash Addition Be Fool's Gold for Los Angeles Lakers?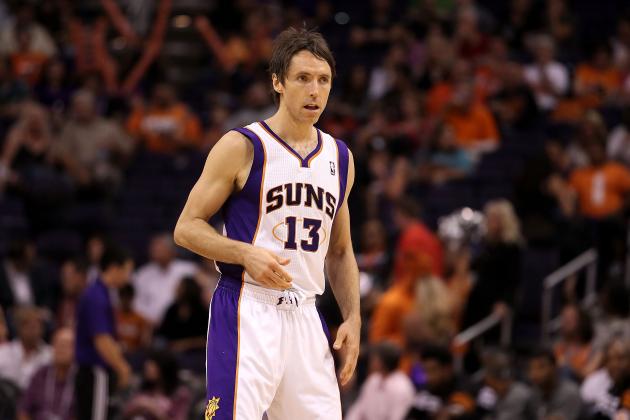 Christian Petersen/Getty Images

The idea that Steve Nash would end up a Laker seemed unfathomable to some fans, but Lakers general manager Mitch Kupchak made it happen.
While news of the trade has been welcomed with mostly positive reaction, Steve Nash may not bring the productivity he has during his time as a Phoenix Sun.
The addition of Steve Nash to the Los Angeles Lakers may prove to be fool's gold.
Begin Slideshow

»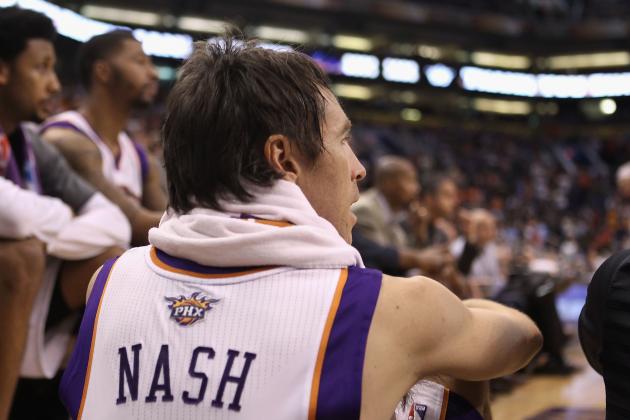 Christian Petersen/Getty Images

As good as Steve Nash is, he is one of the oldest players in the league at 38 years old. He is the oldest, most productive player in the league. While that feat itself is astounding, one has to wonder when his production will drop.
Nash has been performing at an elite level, even now, averaging the most minutes per game at his age in NBA history. The Wall Street Journal notes that the only guard in history to play more minutes per game at 38 years old than Nash is Michael Jordan.
No other veteran point guard has managed to clock in more than 30 minutes per game.
One is left to wonder if Nash will continue his youthful ways or if the statistics will be right. Age may very well catch up to the aging point guard, and soon.
Stephen Dunn/Getty Images

Considering his age, Steve Nash might find it difficult to compete with the fresh legs of the Pacific Division.
The Clippers, Warriors, Suns and Kings all have fairly young point guards on their rosters, and while they're not at the caliber that Steve Nash is, at least offensively, their youth and stamina may slow the veteran point guard down over the span of an entire NBA season.
Teams know they cannot compete with Nash with only one solid point guard on the offensive end, which is why they are going to utilize several rising stars to do so. The Pacific Division, specifically, can make this happen.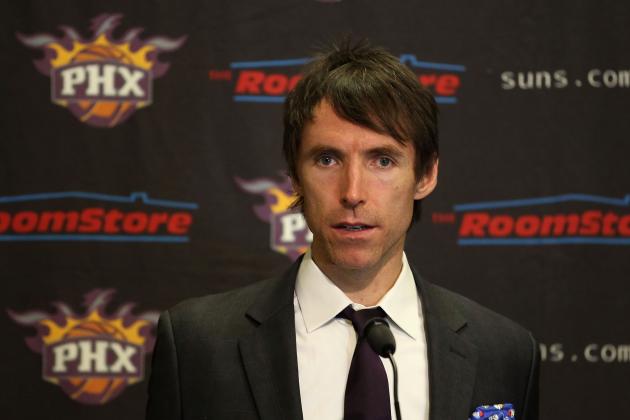 Christian Petersen/Getty Images

The plethora of young rookies going up against Nash in the upcoming season will not only hurt his offensive game; his defensive game will take a hit as well.
To be fair, the veteran point guard is not known as a defensive-minded player for a reason.
As good as Nash is offensively, he may hurt the Lakers on the defensive end, as the young point guards of the Pacific Division will have a field day going up against the former Phoenix Sun.
The Nash-led Phoenix Suns were always known for their explosiveness on offense but lacked the defense to legitimately compete for a championship. And considering that Nash was at the forefront of this, expect the same in Los Angeles.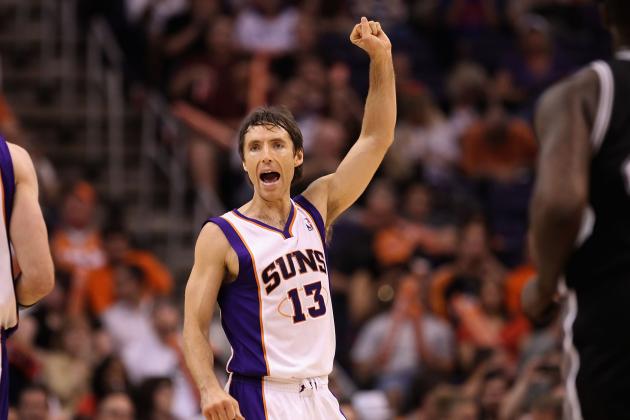 Christian Petersen/Getty Images

Let's face it, as good as Kobe Bryant is, he tends to limit opportunities for his supporting cast.
More importantly, this may affect Nash at what he does best—handing out assists. According to ESPN, only one point guard has averaged more than 7 assists per game since Kobe Bryant joined the Lakers.
Steve Nash, on the other hand, has averaged 8.6 assist per game in his career and has not slowed down. Nash averaged 10.7 assists per game in the 2011-2012 season.
Something has to give. Either Kobe allows Nash to be the distributor on the court, or Nash's superb passing skills become a thing of the past.
Bryant's uncanny ability to take over a game is astonishing. But given the fact that he now has an elite point guard, he has to allow the game to come to him unless he wants an unproductive Nash by his side.