Michigan Football: 3 Reasons the Wolverines Could Shock Alabama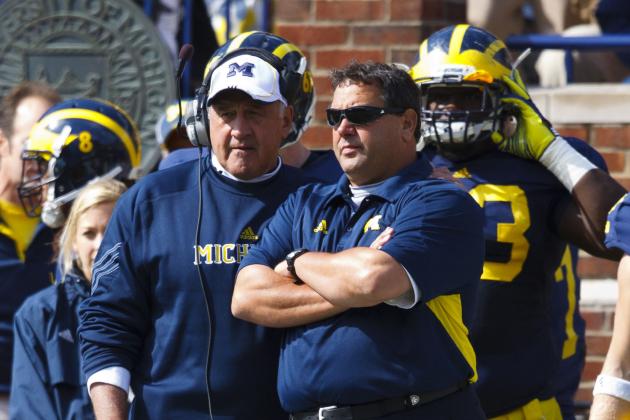 Rick Osentoski-US PRESSWIRE
Michigan Coach Brady Hoke and defensive coordinator Greg Mattison will attempt to draw up the perfect formula to beat Alabama on opening night in 2012
The Michigan Wolverines have come a long way in just over a year under new head coach Brady Hoke. They finished 11-2, claimed a Sugar Bowl title and stand as one of the Big Ten's more formidable programs heading into a new season.
Despite their return to success, the Wolverines are still a considerable distance from being truly considered one of the nation's top contenders.
The Wolverines could completely change the prospects of their 2012 campaign with a victory over the Alabama Crimson Tide on September 1st.
Michigan will face its toughest challenge yet in Texas Stadium, as the team will look to validate its 2011 campaign by competing against last year's national champs. Beating the Crimson Tide will prove an improbable task for the Wolverines.
If the reigning champions are going to fall on opening night, the following factors will have to play out perfectly for Michigan.
Begin Slideshow

»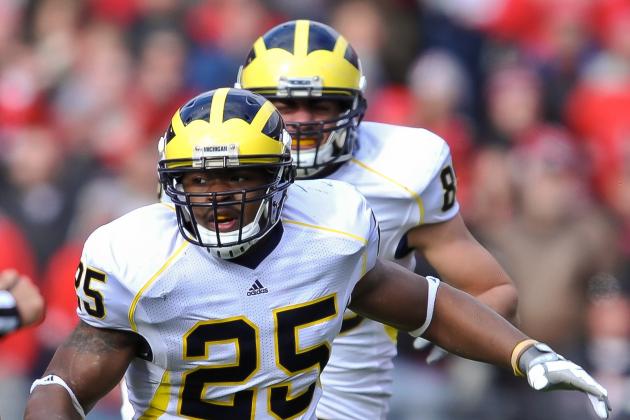 Jamie Sabau/Getty Images
Michigan MLB Kenny Demens will anchor the defense in 2012. His unit's job is to keep the opposition close
In my opinion, the most important feature of a major upset is game flow. Michigan must disrupt Alabama's rhythm early and often, and can do so with imposing defense.
The Wolverines needn't look far for a prime example of defensive emphasis put into practice. The Crimson Tide proved to everyone that a grind-it-out style of play trumps explosive individual play over the course of a game and a season. In 2012, Alabama punished rival LSU to win the NCAA National Championship by a score of 21-0.
LSU never crossed midfield.
Alabama's performance against LSU, while less an upset than a Michigan win in 2012 would be, gives merit to the philosophy based on protecting possession and controlling the clock. They executed to perfection on both sides of the ball, highlighted by committing zero turnovers the entire game.
Michigan needs to impose on Alabama's offense in the same manner that the Tide beat up LSU. Luckily, 'Bama lost key cog RB Trent Richardson to the NFL draft, which should throw off the balance of their offense.
The Wolverines will need to take advantage of a less formidable ground game and put legitimate pressure on QB AJ McCarron throughout both halves. Doing so will keep the maturing QB from picking apart Michigan's still-questionable secondary.
Michigan's defense has room to grow in coordinator Greg Mattison's professionalized system that features an array of positioning and pressure schemes. Several key returning starters (DE Craig Roh, MLB Kenny Demens, DB's J.T. Floyd and Blake Countess) must play the best games of their career to keep the Wolverines close.
With explosive talent on the offensive side of the ball, all the Michigan D has to do is keep the Crimson Tide close. If the Wolverines are within striking distance in the closing minutes at Texas Stadium, anything can happen.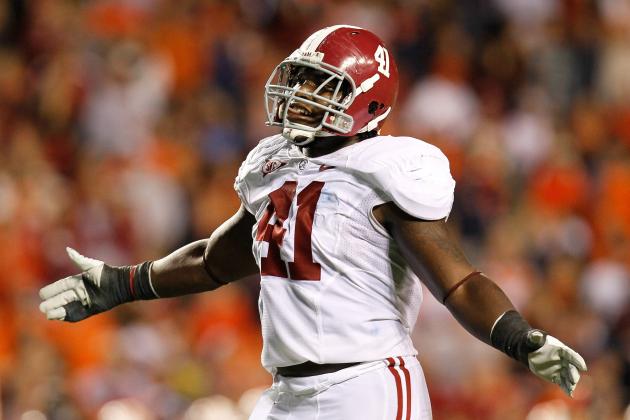 Kevin C. Cox/Getty Images
Former Crimson Tide LB Courtney Upshaw left for the 2012 NFL Draft. So did his 9.5 sacks.
While it is a bit difficult for me to completely buy into the credence of this factor, Alabama does face a challenge in bringing new and younger talent up to speed in 2012.
Playing to Michigan's advantage are the losses of four defensive studs (S Mark Barron, LB/DE Courtney Upshaw, CB Dre Kirkpatrick and LB Dont'a Hightower) who surely would have had a major hand in slowing down Denard Robinson.
That's not to overlook the loss of premier running back Trent Richardson, who finished third in Heisman voting in 2011 and took home the Doak Walker Award for the nation's best running back. The Tide will surely miss Richardson carrying the load with 283 carries for 1,679 yards and 21 touchdowns.
Richardson was able to wear down defenses and put the Crimson Tide in position to win every game last season. Without him, they will have to find a new source of energy for the offense.
It is rare that SEC defenses face running quarterbacks of Denard's caliber, but he still must play one of the best games of his career to even have Michigan in the conversation in the fourth quarter.
Despite a plethora of new faces on the defense, the Crimson Tide will certainly be stacked with talent and athleticism once more. However, it is also the first game of the season; inevitably there will be opportunities for the Wolverines to take advantage of the new-look defense's lack of on-field coordination.
Alabama coach Nick Saban's recruiting skills have already brought his program the most recent national championship.
Undoubtedly, he has plenty of speed, size and field-presence at his disposal to fill the major gaps left by graduates and NFL draftees. Michigan's only hope is that the squad doesn't quite have all of the inevitable early season kinks worked out.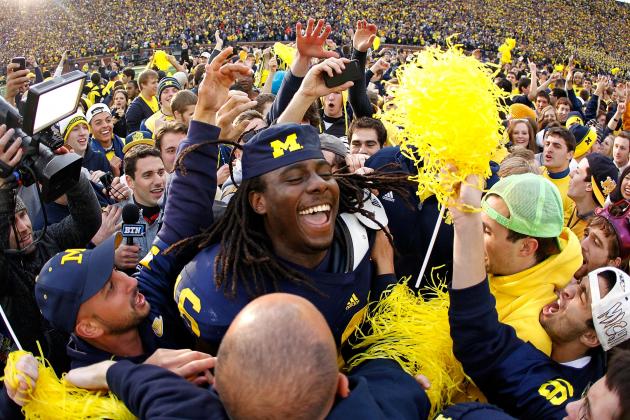 Gregory Shamus/Getty Images
Michigan QB Denard Robinson has already had much to celebrate. His list of accomplishments can reach new stature if he guides the Wolverines to a win vs. Alabama
To this point, I hope I've done an adequate job of outlining my view that Michigan is not on Alabama's level of play. In fact, I don't really think the Wolverines will be able to get it done.
As a result, Michigan has little to lose. Alabama may have some type of championship hangover, and a hungry Wolverines team will have the opportunity to make a huge splash to start 2012. The team is in search of a signature win, and following a narrow Sugar Bowl victory, are provided with the perfect opportunity to do so.
Quarterback Denard Robinson must lead the way.
"Shoelace" has yet to prove himself against the best defenses in college football. This year, he'll be a senior, and will play for his last chance to have his name passed down through Michigan lore.
Perhaps more importantly, Robinson will go all out against a top-level defense in order to prove his NFL draft worth. Not saying he will succeed, just honoring the possibility that he could make it happen with his explosive speed.
The ripple effects of a Michigan win would greatly change the landscape of college football in 2012. If the Wolverines can by some small miracle edge the Crimson Tide, it will be a massive statement win under Hoke's administration and bode well for the future of the program.