5 Things We Learned from the St. Louis Rams' Preseason Opener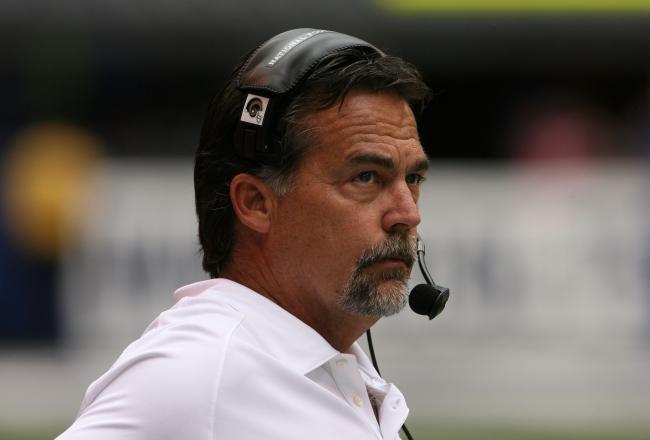 Brian Spurlock-US PRESSWIRE
Jeff Fisher and Les Snead were supposed to bring a new attitude and direction to this team, but after Sunday's 38-3 pounding, they looked like the same old sorry Rams.
However, it was the first preseason game, and the starters only played two series on offense. The defense seemed to go a little bit longer, yet it was hard to tell as Fisher did plenty of mixing and matching of personnel groups.
With the score being as lopsided as it was, it's hard to take away many positives. St. Louis didn't fall completely flat on their face and it was apparent that they are a different team for the long haul.
Scott Linehan's mangled mess and Steve Spagnuolo's choir boys are far removed from the halls of the Edward Jones Dome. Amid the beat down that took place at Lucas Oil Stadium; let's take a look at what can be learned from the Rams preseason opener.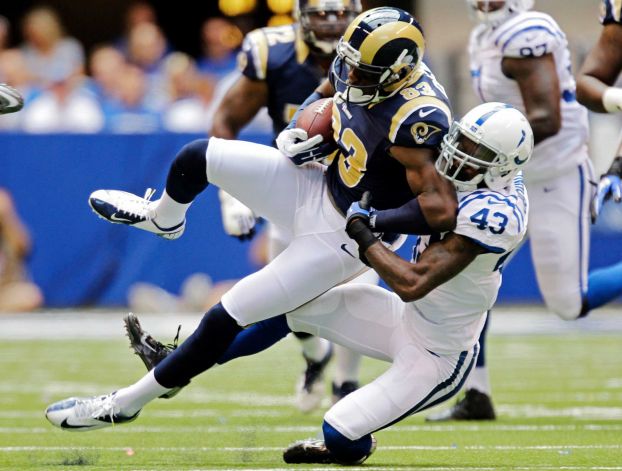 1. Brian Quick Looked Like a Rookie
The first unofficial game of Brian Quick's career appeared to be just that, as he struggled all afternoon in numerous areas.
Indianapolis was relentless in the way they jammed Quick off the line. He seemed overmatched by the Colts' aggressive in-your-face style of cornerback play. Which makes sense, because he only caught one pass and was targeted twice.
Bernie Miklasz of the St. Louis Post Dispatch also had this to say in his Monday morning column:
Quick didn't seem to maintain speed going into, or coming out of, his breaks. This game is going to move a lot faster than what Quick saw at Appy State.
Maybe the game is moving a little too fast for him right now, but does he have time to struggle and work through it? Expectations are running high and he has been highly touted throughout the organization.
2. The Strong Safety Position Is Worrisome
Year after year it seems like outside linebacker and safety are the positions most neglected by the Rams' front office during the offseason.
Quintin Mikell's addition at free safety last year proved to be a bit of a disappointment, but nothing compares to the level of disappointment brought on by Darian Stewart and Craig Dahl. With these two, blown coverages became the norm last season.
And it seems as if Dahl's poor coverage spilled over into preseason as well. On this particular play, St. Louis appears to be running a Cover 2. Cortland Finnegan is at the left cornerback position and his responsibility is to drop into a short zone where he will hand off coverage to the safety who is supposed to be playing over the top of the receiver. Dahl is waiting over the top, but he waited too long and Collie beat him with a post route in the corner of the end zone.
It will be interesting to see how Stewart fares, as he is expected to start their second preseason game, but based on last year things aren't looking too good.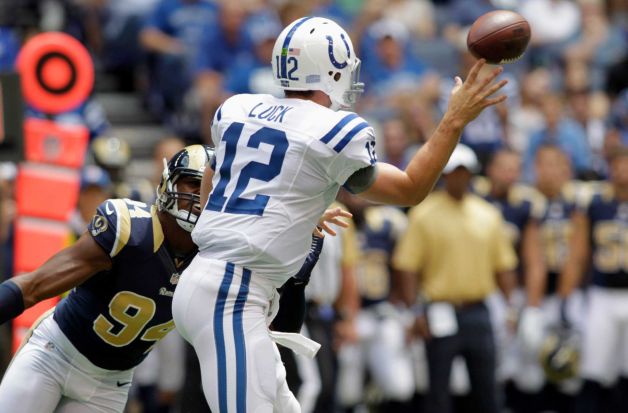 3. The Defensive Line Will Be Strong
One of the few things lost in defeat was the starting defensive line's ability to generate some pressure early on against Andrew Luck.
Both Chris Long and Robert Quinn came off the edge with plenty of momentum. By my count, Long didn't record a sack, but he did manage one quarterback hit and one hurry. Quinn did not record a sack either, despite coming close on two occasions. He had to settle for two hits and two hurries.
Up the middle of the line there was no one player who really stood out, except for Kendall Langford. Langford showed off his quick penetration skills on a couple of different plays.
The most impressive being at the 3:11 mark in the first quarter. As the ball was snapped, he drove Colts center Samson Satele back until he ran into running back Donald Brown for a five-yard loss.
Once the regular season starts, pass rushing numbers might jump a little bit with the additions of Brockers and Langford at defensive tackle, but the biggest improvement will come against the run.
4. Austin Davis Might Have a Future
Most No. 3 quarterbacks are seen as developmental types who might someday blossom into a decent backup with the proper coaching.
Austin Davis, former quarterback of Southern Miss., used the second half of Sunday's game to prove he has more long-term upside than Tom Brandstater.
When watching Davis, it was hard to not like his attributes. He threw on the run well, displayed proper footwork a majority of the time and sidestepped the rush more than once.
While watching this clip, really hone in on the footwork during his five-step drop. It is almost picturesque as he steps into the throw. There is a bounce in his step while he sets his feet that is used as a means of generating momentum.
We will have to wait and see if the Rams carry three quarterbacks into the regular season, but even if they don't, Davis would be a good stash on the practice squad.
5. Third Down Improvement Is Needed
At the end of last season, St. Louis was ranked dead last in third down efficiency. Converting only 28 percent of the time on third down is going to get your offense nowhere in a hurry.
During Monday's press conference, head coach Jeff Fisher noted that third down play was one of his main concerns. As it should be, converting on just 5-of-13 attempts won't win you many games.
St. Louis needs to do a better job of setting themselves up to succeed on first and second down and the only way they can do that is by eliminating penalties. The first string offensive line can be blamed for two penalties that put the offense in a hole.
The biggest penalty for the first team was on a third and manageable play where right tackle Barry Richardson was whistled for a false start. This was their second penalty of the first quarter and it moved third and manageable to third and long.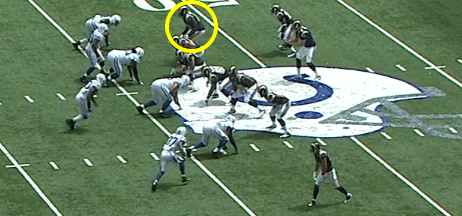 An influx in starters on the offensive line challenges the play as a unit and the familiarity of the quarterback's cadence, but I doubt that's a valid excuse in coach Fisher's eyes, so the Rams have plenty of work to do before Saturday's game against the Chiefs.
This article is
What is the duplicate article?
Why is this article offensive?
Where is this article plagiarized from?
Why is this article poorly edited?

St. Louis Rams: Like this team?