Arsenal Transfers: 5 Reasons Why Alex Song to Barcelona Move Won't Happen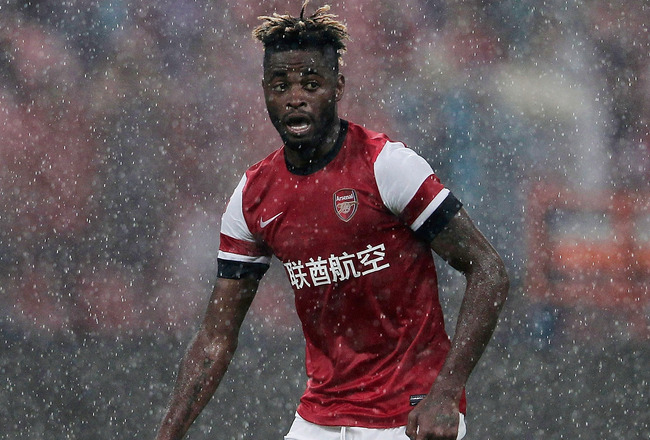 Lintao Zhang/Getty Images
Never mind Robin van Persie, one of the biggest transfer rumours currently making the rounds right now links Arsenal's defensive midfielder Alex Song with a move to Barcelona.
There is no doubt that Song is a world-class player, having reached a real peak in his form during the second half of last season.
Whilst some believe that when the Spanish club come calling they usually get their man, here are five reasons why that won't be the case this time.
Thankfully, for Gunners fans, I must add.
Arsene Wenger Won't Sell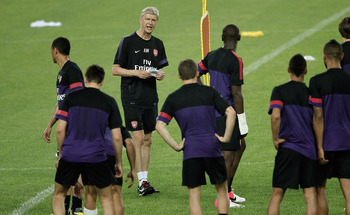 Lintao Zhang/Getty Images
Arsene Wenger has been around for too long and is too experienced to let another club, however big they may be, simply waltz in and make off with one of his biggest assets.
The drawn out sagas of Cesc Fabregas, Samir Nasri and now van Persie show that he is prepared to be patient and stubborn in the face of swirling rumours and speculation.
He knows full well how important Alex Song is to his team's development. If the Cameroonian were to leave, Wenger would have to almost certainly dip back into the transfer market once more—something I'm sure he'd rather avoid having to do.
Even if Barca bid over his valuation, Wenger will not budge.
Alex Song Is Happy at Arsenal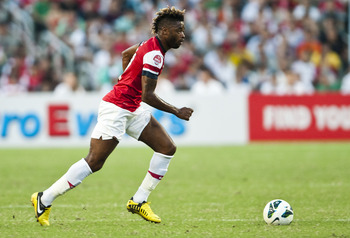 Victor Fraile/Getty Images
There is also an obvious difference between the Robin van Persie saga and this one—Alex Song isn't pushing for a move to Spain.
He has openly expressed his contentment in North London, and will not try to engineer a move during this current transfer window.
Speaking to Sky Sports Monday, Song attempted to ease the fears of Gunners fans.
"I am not going to lie if I said there is no interest but I am at Arsenal, and I am happy at Arsenal," he revealed.
Even if he does want to one day play for Barcelona, it seems Song is prepared to wait for the opportunity.
No More Pep Guardiola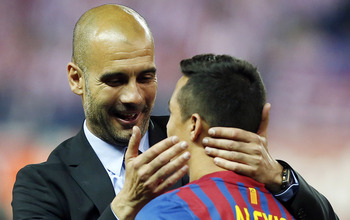 Angel Martinez/Getty Images
It was in Pep Guardiola taking over the reigns at Barca that led to the club elevating itself into the zenith of world football.
Granted, he had a perfect set of players in his squad to implement his style of football, but his importance at the club shouldn't be overlooked.
His presence was also vital when Barca would try to lure other players, and whilst I'm not saying that the Catalan club aren't still one of the biggest draws in football, Guardiola's departure will certainly have an effect.
Until new boss Tito Vilanova wins, and wins consistently, he will always be in the shadow of his predecessor and have less influence in persuading potential signings to join his revolution.
Barcelona Wont Be Able to Meet Arsenal's Valuation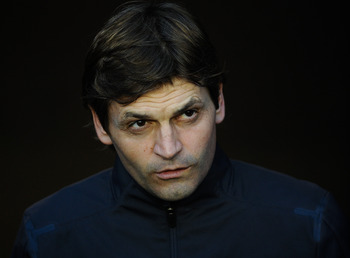 David Ramos/Getty Images
According to a report in Spanish publication El Mundo Deportivo, Barcelona have already made an opening bid of around £11.8million (h/t ESPN).
This offer is almost comical, and will be laughed all the way out of London.
If Barca are going to come anywhere near tempting Wenger to selling, a bid of close to £30million will need to be made.
I can promise you right now: this is not going to happen.
Put simply, Barcelona cannot afford Alex Song right now.
Classic Barca Tactics Starting to Get Old
Handout/Getty Images
The painfully drawn out Cesc Fabregas to Barcelona transfer saw the Spanish club try several different tactics to get their man.
One of the most significant was the way its players tried to tap-up the target for a move, speaking of their admiration and respect for their potential new teammate.
Since Barca were first linked with Alex Song, Sergio Busquets, Andres Iniesta and Gerard Pique have all spoken of their admiration for Song, and desire to see him join them this summer.
Surely, Song is no fool and will not succumb to the emotional pressure that drew Fabregas back to his old club.
Keep Reading

Arsenal: Like this team?