Philadelphia Flyers: 5 Reasons the Defense Is Better Than Last Season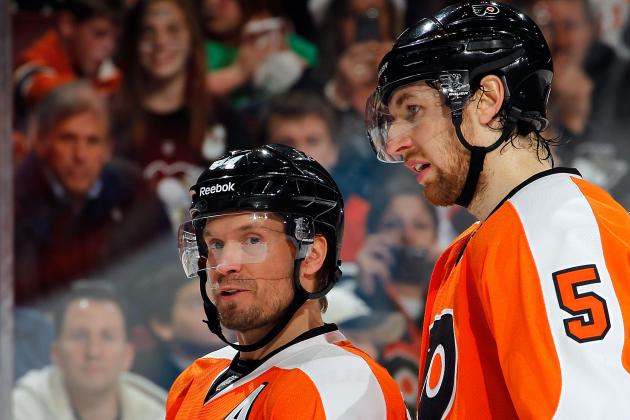 Paul Bereswill/Getty Images

No Ryan Suter. No Shea Weber. Kimmo Timonen is a year older. Andrej Meszaros is out indefinitely with an Achilles' injury. Andreas Lilja is recovering from hip surgery and is not expected back until late-October/early-November.
Given that the Flyers mostly swung and missed in attempts to bolster their blue line this offseason, it would seem ridiculous to think this year's defensive corps is stronger than last season's much-maligned group.
However, after much deliberation, that is the exact conclusion I have drawn.
What Philly's back-enders lack in a big-name defender they make up for with depth and interchangable parts that can contribute on a winning team in a big way.
Don't believe in the grouping of Timonen, Braydon Coburn, Luke Schenn, Nick Grossmann, Bruno Gervais, Marc-Andre Bourdon, Erik Gustafsson and Brandon Manning?
Read on to have your mind changed about the potential of the Bullies' back end.
Begin Slideshow

»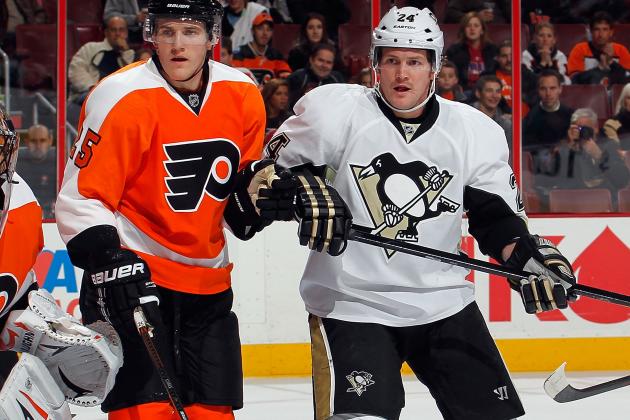 Paul Bereswill/Getty Images
holding hands in front of the net.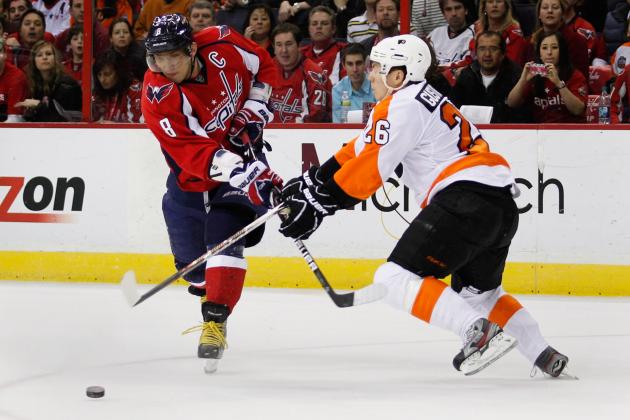 Rob Carr/Getty Images
Say it in a funny accent. "Gustafsson!" Hilarious.
Erik Gustafsson (23), along with recently re-signed Marc-Andre Bourdon (22) and Brandon Manning (22) all gained valuable playing time at the NHL level last season filling in voids on a contending team's blue line and, for the most part, played well.
The trio combined to play in 79 games in 2011-12 and registered a plus-17 rating as a group.
This year, given the unstable nature of the Flyers' veterans, Gustafsson and Bourdon will be counted on to contribute in an even bigger way.
Given the experience they gained filling in last year, they should be better prepared to handle the workload they will be asked to carry.
Unexpected, midseason injuries forced these defensive prospects into the lineup last year, and the simple fact they know they'll be asked to play in the NHL should help their confidence and progression as they prepare for their first chance to become full-time NHLers.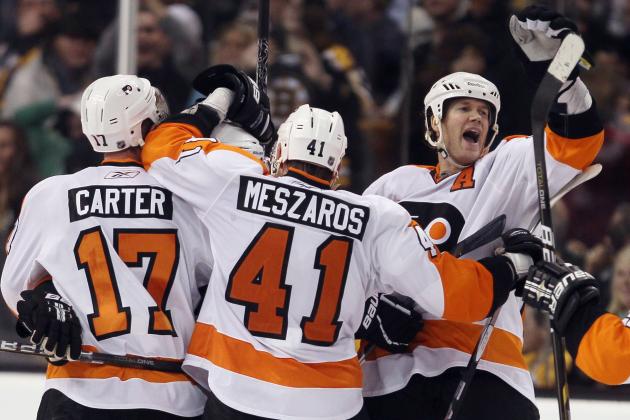 Elsa/Getty Images
I cropped out Carter, just seeing him still hurts.
Last season the rookies named on the previous slide were catapulted into the lineup because of devastating injuries to two of the Flyers' top-four defenders, captain Chris Pronger and Andrej Meszaros.
The team, coaching staff and young defenseman will all be better prepared to deal with losing those same two players this year because nobody is expecting them to contribute anytime soon.
Pronger's career is all but over and Meszaros' Achilles' injury happened early enough in the summer that contingencies are in place to minimize the damage to the team's defense as a whole.
The young guys are preparing to play a big role on the big club, the team is not practicing or getting used to having the skill sets of its best two-way defensemen and that can only benefit them in the long run, although right now it does seem like losing Meszaros is kicking a team when they're already down.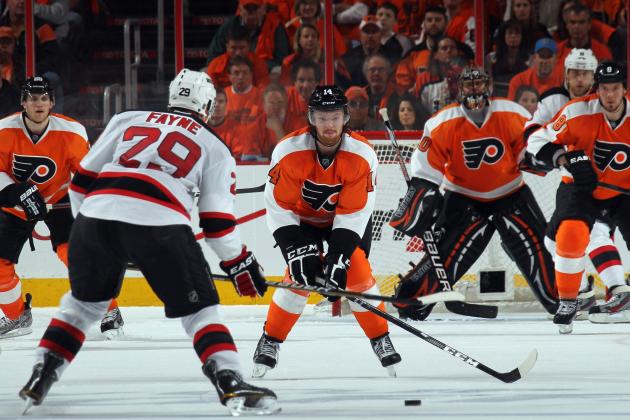 Bruce Bennett/Getty Images
That's a tough teenager.
While the actual defensemen were criticized for the team's problems in their own end last year, the forwards need to be held equally accountable for the 232 goals against in 2011-12.
While coach Peter Laviolette's system is partially to blame for the offense's lack of interest in playing a solid two-way game, personnel was also an issue.
Replacing Jaromir Jagr with Jake Voracek solidifies the top-line defensively, as Voracek showed he is more than an explosive offensive playmaker, finishing fourth among Philly forwards with 35 takeaways, and also contributing on the penalty kill. His passing ability and vision should also help the first line break out of their own zone.
Sean Couturier was lauded for his defensive responsibility in his rookie season and will see expanded ice-time this year.
Matt Read (plus-13) and Eric Wellwood (plus-12) were also effective at both ends of the ice, blocking shots, hitting and using their speed to keep opponents' point-men off balance.
Brayden Schenn was touted as a strong two-way forward comparable to Mike Richards, and his presence on the second line should shore up a weaker defensive line in Danny Briere and Wayne Simmonds.
The addition of Ruslan Fedotenko, as un-sexy as it may have been, will help transform the team from a purely offensive-minded group to a more well-rounded bunch.
Rusty had 86 hits, 57 blocked shots and only 11 giveaways to 22 takeaways in 73 games for the Rangers last year. His hard-nosed grinder style should be a strong compliment to Max Talbot's impressive two-way game.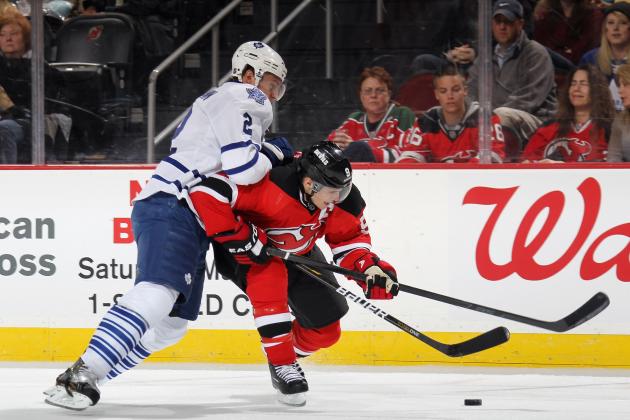 Bruce Bennett/Getty Images

The Flyers D was not tough enough in 2011-12.
Last year's addition of Nick Grossmann at the trade deadline helped solve that issue and having him on the Bullies' blue line for a full season should help the team's intimidation factor.
Luke Schenn's 270 hits lead all the league's D-men last year. The Flyers defensive hits leaders, Coburn and Grossmann (stats with Dallas and Philly), each finished with 164. The Schenn trade made the team much tougher.
Bruno Gervais scored six goals in 50 games to lead the Tampa Bay Lightning. But Gervais also had 42 hits, 63 blocked shots and was the only Tampa defender with more takeaways than giveaways last year. (By comparison, Matt Carle had four goals, 55 hits and 55 giveaways in 82 games in his contract year with the Flyers.)
In only 45 games the 6'0", 206-pound Marc-Andre Bourdon leveled 73 hits and blocked 77 shots for the Flyers.
The Flyers were manhandled in their own zone by the New Jersey Devils and Boston Bruins in the past two Eastern Conference Semifinals.
The front office's additions since last year's trade deadline should work to rectify that issue.
That's it. My reasoning behind my claims. As always, I'd love to know what you think.
Also, what one Flyers D-man are you expecting to have the best season or a breakout year?