Manchester City's 3-2 win over Chelsea in the Community Shield may be a positive start to the season, but the Premier League champions have plenty to improve on if they're to retain the title.
Most noticeably, the defense continues to struggle with a lack of depth.
The club has been linked with a move for Daniel Agger over the last couple of weeks, and he may be the perfect player to tighten up the club's defense.
Brendan Rodgers has said City must make a huge offer for his player (via The Independent). Even so, there are many reasons why Liverpool's centre-back would be a great acquisition for Roberto Mancini's men.
If Vincent Kompany and Joleon Lescott aren't partnered together, the Blues look vulnerable at the back.
This isn't a new issue.
Last season, if Kompany was sidelined, City had a problem. He is arguably the most important player at the club, and with Kolo Toure or Stefan Savic waiting to fill his boots, matches seem to become a little tighter when the Belgian captain is absent.
That said, Kompany can't do it all.
In the Community Shield match against Chelsea, even he looked vulnerable in the first half. Flanked by Savic, the partnership struggled to maintain the threat of Eden Hazard and Fernando Torres right up until Branislav Ivanovic got sent off for a lunging tackle.
Would Daniel Agger be a worthwhile signing for Manchester City?
Although momentum quickly shifted, Savic wasn't seen after halftime. Interestingly, instead of replacing him with Kolo Toure, the only centre-back on the bench, Mancini opted to throw Gael Clichy on for a more dynamic threat.
With three fullbacks playing at the same time, the manager's lack of confidence in his centre-back replacements was emphasized.
If Daniel Agger makes his way to the Etihad, this would no longer be a problem.
The 27-year-old has just enjoyed an excellent season at Liverpool. His partnership with Martin Skrtel ensured the Merseyside club finished with the third best defensive record in the league, behind the two Manchester Clubs, and equal with Everton.
Agger was a huge part of this.
His ability to dictate and start momentum from the back proved vital in a season where Liverpool struggled for goals. Like City's first-team pairing, Agger has turned into the type of player who commits wholeheartedly.
After a frustrating few years with injuries, a consistent run in the Liverpool side has unearthed a sense of purpose that was previously missing.
Agger has spent much of his Liverpool career playing underneath club legends like Jamie Carragher and Steven Gerrard, but with their influence dwindling, his performances have stepped up.
Alongside Kompany or Lescott, the Danish captain has the perfect opportunity to raise his game even further.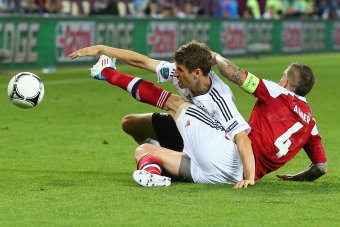 Martin Rose/Getty Images
Agger isn't the most dominant in the air, but I'd argue his ability to mop up trouble would lift some weight off the rest of the team. He's a ball-playing defender who has the intelligence to read incoming threats quickly, something City's understudies can't seem to comprehend.
Neither Savic nor Toure have a defining trait.
The former is undeveloped and has moved to a big club too soon, the latter has lost the bite to make an impact in the side.
Agger currently sits between the two, at the peak of his career, and ready to win major trophies.
Sure, he may have won the F.A. Cup in 2006 and last year's League Cup, but that isn't enough. Two trophies in six years will not satisfy someone of Agger's quality for long.
With City continuing to ascend, the honors will surely flow.
It's well documented that Mancini is frustrated by his lack of summer signings (via The Guardian). Most of this focuses on the club's inability to capture Robin van Persie, but the Italian has more important players to bring in.
Agger is one of those players.
At some point in the season, when Kompany or Lescott can't make the starting lineup, having Agger in the side would consolidate City's power.
Who knows, he may even put pressure on the latter, eventually forcing himself into Mancini's most important plans.